DECEMBER NEWSLETTER 2019
IN THIS NEWSLETTER...
VIP Pickup Party... at the ADC
(Our Annual "Ugly Holiday Sweater" Party)
Report from the Tasting Room
Report from the Cellar
Report from the Vineyard
Report from The Little River Bakehouse
Report from Locksley Farmstead Cheese
Note from Jenni
---
VIP PICKUP PARTY
at the AG DISTRICT CENTER
Friday, December 13th
6:00 pm – 8:00 pm
at The Ag District
(RSVP REQUIRED)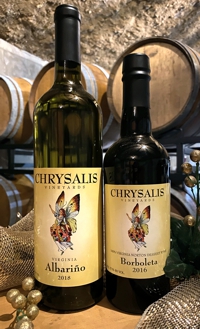 It's hard to believe that it's December already! Our recent bout of freezing temperatures makes it difficult to deny that winter is upon us. But never fear, we have the perfect antidote to those cold winter nights! Come on out to the Ag District for delicious hot food, fine wine and great music! We're open until 8:00 on Fridays and Saturdays and 7:00 on Sundays, so it's the perfect place to wind down after a day of holiday shopping or entertaining the in-laws! We have a great line-up of live music for the holiday season:
Sunday, December 1 - Shane Hines
Friday, December 6 - Matt Burridge
Sunday, December 8 - Michael Huntley
Friday, December 13 - Patty Reece
Sunday, December 15 - TBD
Friday, December 20 - Patty Reece
Sunday, December 22 - Shane Hines
Friday, December 27 - Brad Rhodes
Sunday, December 29 - Shane Hines
Our VIP event for December will be held on the evening of December 13th from 6:00pm until 8:00pm. This is our annual "UGLY HOLIDAY SWEATER" party, so don your gaudiest holiday garb and get ready to have some fun! Please remember to send your RSVP to VIP-Club@ChrysalisWine.com no later than December 9th.
The red wine selection for our VIP Club members this month is Chrysalis Vineyards 2016 Borboleta. Borboleta is Chrysalis Vineyards' Port-style wine made from 100% Norton grapes. It's made in the traditional method, which originates from the Douro Valley in Portugal. The grapes are fermented for a few days, and then distilled grape spirits are added to stop the fermentation. The result is a deliciously sweet dessert wine that portrays the aromas and flavors of Norton. The bouquet and palate are reminiscent of stewed plums, figs, leather, and a touch of vanilla. Reward yourself after an exhausting day of holiday madness - pour a glass of Borboleta and enjoy it with a big slice of bourbon chocolate chip pie!
Our white wine selection for December is Chrysalis Vineyards 2018 Albariño. This 100% Albariño wine is stainless steel fermented to keep it clean and crisp and perserve all the essential aromatics. Aging in 20% new oak enhances its richness and mouthfeel. The palate is full of ripe fruits such as pear, honeydew, and subtle cantaloupe. Pair our Albariño with a nice dinner of trout and garlic lemon butter, rice pilaf, and candied brussel sprouts for a perfect match!
As a reminder to our members, all VIP wine is available for pickup at the Ag District Center tasting room anytime during regular business hours. If you can't make it out to pick up your wines on a monthly basis, we will hold them for you. Due to storage limitations, however, we do ask that you pick them up once you accumulate a case (6 months). We can also arrange for wine to be shipped to most locations, at your request.
Also, please remember that you can always find your paired recipes and detailed tasting notes at www.ChrysalisWine.com in the Private VIP Club Area. Also check in with us or follow us on Facebook for updates and announcements.
NOTE: Please do not reply to this emailed Newsletter. Your email will not be handled in a timely manner or may even be lost.
---
REPORT FROM THE TASTING ROOM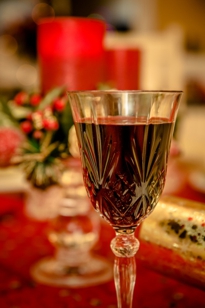 What makes the best holiday gift? Chrysalis Vineyards wines, of course! We have the delicious Petit Verdot and Papillon back on our tasting menu, so now is the perfect time to try them in a flight or glass, and then settle in for those long winter nights to come.
Our 2016 Petit Verdot is always a staff favorite, and it has such wonderful dark cherry and peppery spice notes. The name Petit Verdot, French for "little green," refers to the unfortunate habit of the grapes ripening too late in the season. Even in the optimal weather of the Bordeaux region, the grapes fail to develop and they remain "little green" berries. This French varietal has found a great home in Virginia wine country though, possibly due to the fact that our climate is more agreeable to the grapes than in France—but I won't tell the Bordeaux Châteaus if you won't.
The 2016 vintage of Papillon, (French for "butterfly") is a blend of Petit Verdot and Tannat. The fruity and spicy characteristics of Petit Verdot as well as the tannic structure of Tannat, complement each other so beautifully and creates a very bold, robust, and complex wine. It is also aged in oak for a solid 17 months, so it takes some real willpower to let it age without trying enough samples to drain a barrel.
Both of these full-bodied reds will make excellent gifts, or great pairings with turkey, ham, brisket, or whatever else you're planning for your holiday feasts!
Cheers!
Laurie Stevens, Tasting Room Manager
---
REPORT FROM THE CELLAR
Alright, we are calling it, the 2019 harvest has finally ended. While the post-harvest rituals of deep cleaning the winery are in full swing, production never truly stops around here. The 2019 Sarah's Patio Red has been filtered, fermentation has been arrested, and it is now settling before its late 2019 bottling. Our red vinifera has almost finished going through malolactic fermentation and once it's complete, the reds will be moved to their new home, (the barrel room) where they will age.
The next big event for the production crew, will be preparing for the last bottling of the year. I am most excited about our 2019 Albariño Verde. This was the first varietal harvested this year, and it will be the first wine to go into bottle. A "vinho verde" style wine translates to "green wine," but it refers to its age since the wine is typically bottled within a few months of harvesting the fruit. The 2019 Albariño Verde really pops on the palette with lemon, lime, and grapefruit. The aromatics are mostly tropical, with undertones of honeysuckle and citrus zest. This wine is really going to make you miss the Summer! Look for it in the tasting room in early 2020.
My first harvest with Chrysalis was a whirlwind of excitement and awe. The fruit that arrived everyday on the crush pad was nothing short of magnificent. Our 2019 wines are sure to impress new and returning fans of Chrysalis Vineyards.
Jake Blodinger, Assistant Winemaker
---
REPORT FROM THE VINEYARD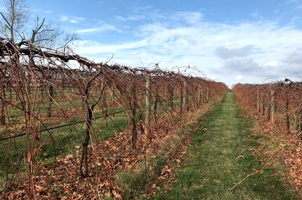 2019 was a great year for the vineyard here at Chrysalis. While we contended with various animals, and a small blight of drosophila (fruit flies), we got some of the best fruit Chrysalis Vineyards has seen in years. Just because the fruit is picked though, doesn't mean the work stops.
As the weather gets colder, the vines begin to enter dormancy. This is a hibernation, of sorts, for them and the vines begin to slowly shut down by abscissing their leaves. After the leaves have fallen, lignification sets in. This is the process of the green shoots becoming hard and rigid. The now hardened shoots or "canes" are pruned in anticipation of the upcoming growing season.
Careful pruning techniques are applied to ensure that a proper "vine balance" is maintained. A vine left unpruned would produce more clusters of grapes than it is able to ripen. Should a vine be over-pruned, it would only produce leaves and a minimal amount of fruit. Pruning also aids in the removal of any diseased or damaged areas on the vine. About 90% of the current season's growth is removed from the vine to allow a new fruiting area to grow. This is paramount in the 2020 growing season and key in Chrysalis wine production.
Jake Blodinger, Assistant Winemaker
---
REPORT FROM THE LITTLE RIVER BAKEHOUSE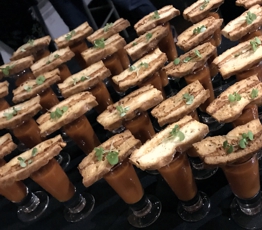 Season's Greetings from the Little River Bakehouse! This is Teri Scott, General Manager here at the Ag District. I'm hijacking this newsletter space to take a moment to recognize and thank Keaton and his staff for all their hard work over the last few months. They've really made some great strides in providing our customers with a delicious menu of pizzas, paninis, tacos, grilled sandwiches, fresh breads, and other assorted goodies.
Keaton has has expanded our menu from pizza on Saturday and Sunday to a full menu on the weekends and hot paninis during the week. Jeremy has worked hard to master bread baking in our somewhat temperamental retained heat oven ("The Beast"). Christina has been a welcome addition to the kitchen and a great help with all the weekly prep work. And Liam and Dan have really improved their pizza making skills, while also helping out with the never-ending cleaning duties. They all work long days, mostly behind the scenes, to help us move toward our overall vision for The Ag District - to become a shining example of local agriculture and producer of local, artisanal, farm-fresh food and wine.
So.....thanks Keaton, Jeremy, Christina, Liam and Dan! We appreciate all your hard work and boy do we love all that delicious food!
Teri Scott, General Manager
---
REPORT FROM LOCKSLEY FARMSTEAD CHEESE COMPANY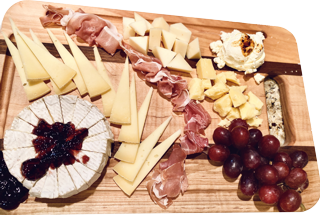 With the holiday season upon us, cheese boards are a fun, versatile, and delicious way to entertain your guests. Not only are they your very own work of art, but they're also lots of fun to put together, and can include something that will satisfy everyone's taste buds. Swing by the Ag District Center to pick up a variety of our LOCAL cow's milk cheeses, fresh baked breads, as well as our hot sauce and Norton grape jelly to add to your boards!
Follow these steps below to assemble the perfect cheese board:
1.) To begin, you'll want to select your board, typically cheese boards are assembled on a slate or wooden tray, but any flat surface will do.
2.) Select a combination of soft and hard cheeses including a variety of flavors and textures:
Soft: Maid Marian Camembert,

Prince John Washed Rind, Friar Tuck Fromage Blanc, Brie, or Chevre

Hard: Nottingham Gouda, Little John Cheddar, Merry Men Manchego, Gruyere

Blue: Gorgonzola, Roquefort, Stilton
3.) Add charcuterie such as salami, sopressata, chorizo, mortadella or my personal favorite, prosciutto.
4.) Add savory items such as olives, pickles, roasted peppers, artichokes, almonds, cashews, spicy mustard or our Chrysalis wine vinegar hot sauce.
5.) Add sweet items, like seasonal dried fruits, candied nuts, preserves, honey, chutney, or perhaps some of our Norton grape jelly.
6.) Offer a variety of breads and/or crackers in various shapes, sizes and flavors.
7.) Finally, finish with garnishes such as edible flowers, fresh herbs, or additional fruits to give your board a seasonal touch and the look and feel you want.
Additional tips:
Be sure to cut each type of cheese in small, bite sizes, but in different shapes. This eases your guests ability to eat your beautiful platter, so that each cheese can be distinguished from the other types of cheeses (cubes, rectangles, triangles - short, long and equilateral work well for hard cheeses).

For softer cheeses such as Camembert or Brie that also have a rind, you may need to let your guests cut their own portions as they are naturally oozy. You can precut the wheel, leaving the slices in wheel shape, together on your board to ensure an equal cheese to rind ratio when your guests are serving themselves. This will eliminate the possibility for the cheese being cut wrong by your guests creating an uneven and messy board.

Also, consider using labels for your board to ensure guests know what they may be eating.

Include knives, spoons, toothpicks, etc. for ease of serving.

Be sure to bring your board out of the fridge and to room temperature before serving, this ensures your cheese is at its peak flavor, giving your guests the highest, and tastiest experience.
Erin Saacke, Assistant Cheesemaker
---
Note from Jenni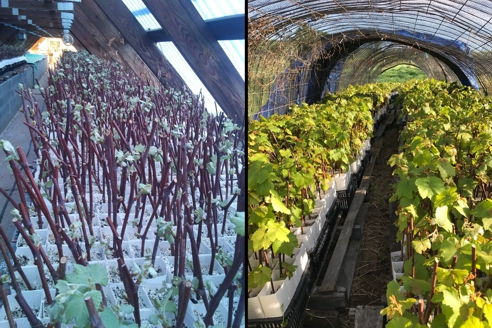 And so begins the months of apparent lifelessness in the vineyard… all that activity just a month ago has disappeared and moved inside it seems. But there's still something important going on in the vineyards. Soon Fredy and his vineyard crew will take cuttings from our Norton grapevines to propagate in our heated greenhouse. We're a fairly large supplier of Norton vines, having developed a program to propagate this stubbornly difficult vine to grow from cuttings.
It took us years to perfect (as much as can be) the steps to have a Norton cutting grow adventitious roots without exhausting all of its energy along the way (adventitious roots are those that develop from non-root tissue… i.e. the bottom of a cutting). The problem was that the cutting would "break bud" in the greenhouse and start growing leaves, with everything looking hunky-dory. But after a week or so it just dies. Upon inspection we found that there were no, or insufficient roots to support the new bud growth. So we had to come up with a complex temperature-controlled planting "bed", heated by a wood-fired boiler with thousands of feet of heat tubes, that warm the root zone while keeping the above-ground temperature cold (keeping the cutting from "breaking bud"). Tough to do.
But, after years of experimentation in the early 2000s, we figured it out and have been supplying Norton vines throughout the east. This has fultilled my desire to be able to support all aspects of growing and making Norton, The Real American Grape!®. We can supply the vines, the fruit (while wineries are waiting for their Norton to grow up), and even Norton wine, if they just can't wait!
Anyway, there is, indeed, a lot of activity that has moved inside. Come see for yourself, and enjoy our new live music program, fine wines, cheeses and other delicious "eats" throughout the winter at the Ag District Center.
Take care, and have a super Happy Holiday,

Jennifer McCloud
Chrysalis Vineyards at The Ag District
39025 John Mosby Highway (Tasting Room)
23876 Champe Ford Road (Winery/Offices)
Middleburg, VA 20117

McCloud@ChrysalisWine.com
Office: 540-687-8222
www.ChrysalisWine.com
Facebook.com/ChrysalisVineyards