JANUARY NEWSLETTER 2018
IN THIS NEWSLETTER...
VIP Pickup Party... at the ADC
Book Signing with Richard Leahy
Wine and Wood with Square & Chamfer

Report from the Tasting Room
Report from the Cellar
Report from the Vineyard
Report from the Farm

Note from Jenni
---
VIP PICKUP PARTY…
at the AG DISTRICT CENTER
Saturday, January 13th
6:00 pm – 8:00 pm
at The Ag District
(RSVP REQUIRED)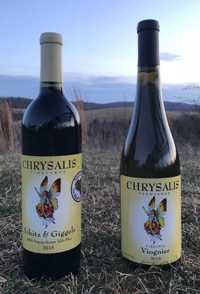 Happy New Year! With another successful year behind us, everyone here at Chrysalis Vineyards is looking forward to what we hope will be a year of new opportunities in 2018. The finishing touches are being made to our plans for a retained heat pizza oven at the Ag District, new products are being tested in the kitchen, and the creamery is taking shape. We have a busy winter ahead of us getting these projects completed before the spring....all in an effort to enhance your experience at the Ag District. So....here's to 2018, may it be a healthy, prosperous year for everyone!

Our VIP Pickup Party this month will be held on January 13th from 6:00 pm until 8:00 pm. This event is FREE for our members (2 tickets per membership), but does REQUIRE advance RSVP no later than January 9th. To RSVP please send an email to VIP-Club@ChrysalisWine.com. Verbal RSVP's and voice mail responses cannot be guaranteed confirmation.
Our fall and winter hours are now in effect and the Ag District Center will be open 10am – 5pm Monday through Sunday. We will be closed on New Year's Day. Please remember… as always, our last tasting will start an hour before closing. Last call for purchases of open bottles or glasses will be 30 minutes before closing!
The red wine selection for our VIP Club members this month is Chrysalis Vineyards 2015 Norton Schitz & Giggels. Despite the whimsical name, this medium bodied red has become a serious tasting room favorite. The aroma greats you with notes of dark chocolate, cedar, blackberry and a 'forest floor' character. Tasting reveals more blackberry, brambles and a touch of vanilla. Like many reds this wine cries out for a rich and hearty dish, with a high protein and fat component. Try pairing our Schitz & Giggels with a hearty pork stew to warm you up on a cold winter evening!
Our white wine selection for January is Chrysalis Vineyards 2015 Viognier. The profile of our Viognier is "elegance and balance." It demonstrates true varietal characteristics displaying a striking aroma of orange blossoms with the perfume of springtime orchard flowers at their freshest. Aging in its lees enhances its rich and creamy mouth feel, with the distinctive fruit flavors of honeydew melon and pears permeating the palate. Our winemaker's sensitive use of oak barrels rounds out the overall flavor with a soft edge of vanilla, still maintaining the bright delicacy of Viognier. Try our Viognier with a nice Sunday brunch featuring quiche made with Jenni's farm-fresh eggs!
As a reminder to our members, all VIP wine is available for pickup at the Ag District Center tasting room anytime during regular business hours. If you can't make it out to pick up your wines on a monthly basis, we will hold them for you. Due to storage limitations, however, we do ask that you pick them up once you accumulate a case (6 months). We can also arrange for wine to be shipped to most locations, at your request.
Also, please remember that you can always find your paired recipes and detailed tasting notes at www.ChrysalisWine.com in the Private VIP Club Area. Pairings and tasting notes are available for wines dating all the way back to 2007 (especially useful for any of those with older, aged vintages). Also check in with us or follow us on Facebook for updates and announcements.
NOTE: Please do not reply to this emailed Newsletter. Your email will not be handled in a timely manner or may even be lost.
---
Book Signing with Richard Leahy
Author of
Beyond Jefferson's Vines
Saturday, January 20th
1pm – 4 pm
at the Ag District Center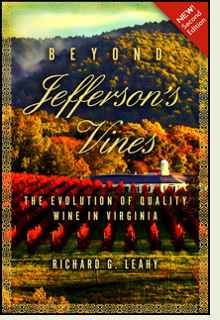 Richard Leahy, a former editor for Vineyard & Winery Management magazine, has written the essential book on Virginia wine, and we're excited to have him share his knowledge and experience with our friends and customers at the Ag District Center on January 20th, from 1:00pm – 4:00pm.
Beyond Jefferson's Vines is the complete story of wine in Virginia, from the Jamestown Settlement, to Thomas Jefferson and his vineyard at Monticello, to the thriving world-class wine industry of today. It focuses on the last decade and explains how vintners today have achieved the success Jefferson only dreamed of. Leahy's complete, indispensable book is a new, expanded second edition, and blends history with travelogue and basic viticulture, along with personal interviews with key industry members, to help you gain a full understanding of the subject.
It's worth mentioning that Richard has lived in Virginia for decades and his knowledge and observations of the wine industry here from early on make his commentary especially engaging and interesting for Virginians. You'll also get the chance to talk with him after his presentation and get an autographed copy of Beyond Jefferson's Vines, which of course should be in anyone's library who's at all interesting in Virginia wines.
---
Wine & Wood
Saturday, January 27th
3:00 pm – 5:30 pm
at the
Ag District Center
39025 John Mosby Highway
Middleburg, VA 20117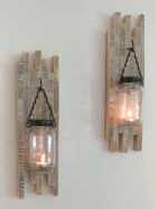 The guys from Square & Chamfer will be hosting a Wine & Wood event (think paint 'n sip with power tools!) at the Ag District Center on Saturday, January 27th from 3:00pm until 5:30pm. They will be leading a Do-It-Yourself workshop to build a set of wooden sconces. Create a unique accent piece for your home. All materials and tools are provided and no experience is necessary. Tickets are $35 each and include one complementary glass of wine to sip while you craft! Limited seating is available and their last workshop filled up quickly, so remember to purchase your tickets in advance online using the link below. Please be sure to arrive at least 15 minutes early so we can get you all set up. You'll be taking home your own handcrafted (by you!) pieces.
https://www.squareandchamfer.com/events
---
REPORT FROM THE TASTING ROOM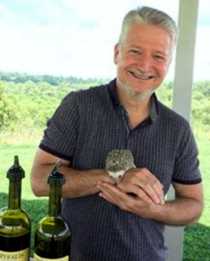 This month I would like to introduce one of our most passionate tasting room associates, Nick Wolfe!

Having been a wine lover since my childhood in Latin America, wine has always been a part of life. Old World Riojas were served every day with dinner and were a central part of the meal. This has led me to a passion for wines that feel like home, and also express the magic of the grape.

As an adult I have pursued my passion for wine through studies, travels, and drinking! All three things come together to make the magic of fermentation turn into the wonder of what's in the glass, and an easy time making friends…with winemakers around the world, and now with Chrysalis VIP Club members. I started pouring at the Ag District Tasting Room earlier this year, but I have been a VIP club member since 2001. I have followed the evolution and development of Chrysalis wines since the 2000 vintage. Watching Chrysalis develop and perfect Norton-based wines has been an exciting adventure. Impossible to get anywhere else in the world!

Next time you are at the Ag District ask me about how our wines age…if you can wait long enough to let them age! I believe deeply that a little bit of knowledge about your own preferences and tastes can make wine a much more deeply rewarding experience. Getting to know club members and Virginia wine aficionados has been one of the highlights of my summer and fall this year. I invite you to share recipes (white sangria with gin and Sarah's Patio White?), food pairings, geeky details of how wine is made, and just a good relaxed time with a new friend.
Cheers! -- Nick

Laurie Stevens, Tasting Room Manager
---
REPORT FROM THE CELLAR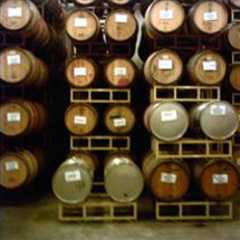 With the holiday season just passed we now begin the preparation of various blends from the 2017 crop. At this stage we have a pretty good idea about how the wines have developed, and will continue to develop, so we can make informed decisions about the best marriages of the various lots to blend together to create the reds and whites from the new vintage. This process will lead to the new Norton blends - Locksley Reserve, Barrel Select, Estate Bottled and Schitz & Giggels - as well as next year's Papillon, Rubiana, the Private Reserve series, Petit Verdot and, perhaps, a surprise or two. These wines are far from being in their final form, but they are being directed along their paths to future glory. And bottling season has begun! Look for new vintages of perennial favorite Albariño Verde in your VIP club shipments shortly, as well as a few wines from the 2016 harvest, including Locksley, Borboleta, and Barrel Select.

Sláinte!
Mark Patterson, Winemaker
---
REPORT FROM THE VINEYARD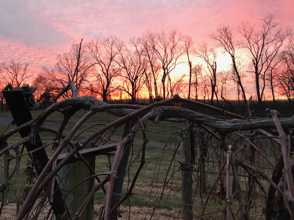 Pruning of the Norton vines is now going full-bore, with an aim to balance the crop load and vine size during next year's growing season. We recently completed liming the vineyards to try to raise soil pH. Soils in Virginia tend to be somewhat acidic, and become more so over time with sulfur fungicide applications and the decomposition of organic matter. Efforts are made to raise soil pH to around 6.5 prior to planting, but it is not possible to use the same techniques to cultivate the soil after planting as root and vine damage become real possibilities. Periodic additions of lime (pure calcium carbonate or dolomitic-calcium & magnesium carbonate) to the soil will help to offset some the pH reduction and allow for the better translocation of essential micro- and macronutrients needed for vine growth and fruit development, including magnesium, potassium, calcium, and nitrogen, which can sometimes be locked up in acidic soils and not available to the roots and vines. The aim is to make sure the cations that we know are in the soil are available to the vine and not being taken up in disproportionate amounts, or being exchanged for other, less desirable, cations that are also bound up in all soils. Healthy soil pH means healthy vines and better quality fruit.
Mark Patterson, Winemaker
---
REPORT FROM THE FARM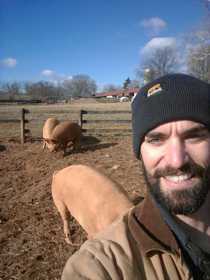 As we ring in the new year we will be bidding a fond farewell to one of the most familiar faces on the farm. After a 12 year tenure as estate manager, Perry Griffin has accepted an opportunity to pursue a new direction. We wish Perry luck in his new ventures and thank him for his years of hard work and contributions to Chrysalis Vineyards and Locksley Farmstead Cheese.

We would like to welcome our new estate manager, Eric Hilgartner, to our team! Eric grew up in Loudoun County and is passionate about all aspects of local agriculture. His degree from Virginia Tech and years of experience will certainly be a huge asset to both Chrysalis Vineyards and Locksley Farmstead Cheese. Eric has been busy in his first few weeks assessing our dairy herd needs, creating plans for rotational grazing, and getting some long overdue maintenance projects completed. He will then be spending some time finalizing preparations in the milking parlor so that we can start our daily milking in the coming weeks! We are all excited to have Eric on the farm. His energy and enthusiasm are just what we need to progress toward Jenni's vision!

---
Note from Jenni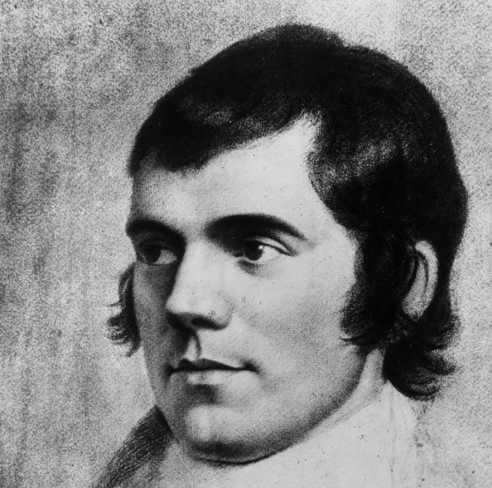 I was thinking about how particularly appropriate the old Scottish song Auld Lang Syne, is for this New Year. The song reminds us that, when good people come and go in your life, it's worthwhile to take a moment to raise a glass and remember those that should never be forgotten.
So, as we say goodbye to 2017, we also say goodbye to Perry Griffin, a friend and valuable, hard-working member of the team at Locksley Estate for many years. We wish him well… and as Auld Lang Syne (this is the translated version of Times Gone By) reminds us,
Should old acquaintances be forgotten
And never brought to mind?
Should old acquaintances be forgotten,
And days of long ago.

For times gone by, my dear
For times gone by,
We will take a cup of kindness yet
For times gone by.

We two have run about the hillsides
And pulled the daisies fine,
But we have wandered many a weary foot
For times gone by.

We two have paddled in the stream
From morning sun till dine,
But seas between us broad have roared
Since times gone by.

And there is a hand, my trusty friend,
And give us a hand of thine,
And we will take a goodwill drink (of ale)
For times gone by.

And surely you will pay for your pint,
And surely I will pay for mine.
And we will take a cup of kindness yet
For times gone by!
But doesn't the song also invite us to look to the future… to the New Year? Sure it does, and that also is appropriate for this year, as we have the very good fortune to have Eric Hilgartner on board as our new Estate Manager and Locksley Estate Farmstead Cheese operating manager. Eric is full of knowledge, bright ideas, and super-charged energy. Welcome, Eric!
All of us here at Locksley Estate and Caeli Farm wish each and every one of you a very safe and Happy New Year, and may all your dreams and aspirations for 2018 become reality.
Jennifer McCloud
Chrysalis Vineyards at The Ag District
39025 John Mosby Highway (Tasting Room)
23876 Champe Ford Road (Winery/Offices)
Middleburg, VA 20117

McCloud@ChrysalisWine.com
Office: 540-687-8222
www.ChrysalisWine.com
Facebook.com/ChrysalisVineyards