FEBRUARY NEWSLETTER 2020
IN THIS NEWSLETTER...
VIP Pickup Party... at the ADC
Friday Night Pizza & Music
Creative Mankind Crafts & Wine
Report from the Tasting Room
Report from the Cellar
Report from the Farm
Report from The Little River Bakehouse
Report from Locksley Farmstead Cheese
Note from Jenni
---
VIP PICKUP PARTY…
at the AG DISTRICT CENTER
Friday, February 7th
6:00 pm – 8:00 pm
at The Ag District
(RSVP REQUIRED)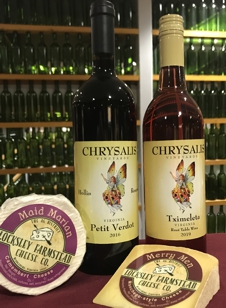 Groundhog day is upon us, the time of year when we are so anxious for spring to arrive that we pin our hopes on the activity of a large rodent. February 2nd actually marks the approximate midpoint between the winter solstice and the spring equinox (the beginning of winter and the beginning of spring), the first day that we are moving out of winter and toward spring. Early Christians celebrated the feast of Candlemas on the day of the midpoint and believed that if it was sunny on Candlemas then there would be 40 more days of cold and snow before spring. Germans who celebrated the feast declared it a sunny day only if badgers and other small animals could see their shadow. German immigrants to Pennsylvania brought the tradition with them and the first Groundhog Day Celebration was established on February 2, 1887 in Punxatawney, PA by the somewhat self-serving Punxatawney Groundhog Club. It's a strange tradition that speaks to our collective yearning for the coming of spring.
The weather forcast for Punxatawney, PA on Sunday is "mostly cloudy" which, I assume, would imply "mostly shadowless". Let's cross our fingers and hope that groundhog decides to stay out.... come on Spring!.
***** ANNOUNCEMENT *****
The Ag District will be hosting a Wine Dinner on March 27th! Our chef, Keaton Beus, will be preparing a four-course menu paired with wines selected by our winemaker, Jake Blodinger. Join us for an evening of gourmet cuisine, fine wine, and relaxing music! A limited number of tickets will be available for sale beginning on February 1st. Visit our website at www.ChrysalisWine.com or call the tasting room for details.
Our VIP Club pickup event for February will be held on FRIDAY, FEBRUARY 7th from 6:00pm - 8:00pm. PLEASE NOTE THE DATE AND TIME and mark you calendars! Please remember to send your RSVP to VIP-Club@ChrysalisWine.com no later than February 4th!
Tasting room hours are 12:00pm - 6:00pm Monday - Thursday, 12:00pm - 8:00pm Friday and Saturday, and 12:00pm - 7:00pm Sunday. We have a great selection of paninis available during the week and a larger hot food menu, including pizzas, available Friday - Sunday. Please remember… as always, our last full tasting will start an hour before closing. Last call for purchases of open bottles or glasses will be 30 minutes before closing!
The red wine selection for our VIP Club members this month is Chrysalis Vineyards 2016 Petit Verdot. Petit Verdot is one of the five principal red varieties grown in the Bordeaux appellation of France. It's also one of the most highly valued grape varieties grown in Virginia. This vintage greets with aromas of plum, lavender, and mocha and follows with hints of cordial cherry and hazelnut. Our Petit Verdot will perfectly complement rich meats like lamb and grilled pork.
Our white wine selection for February is Chrysalis Vineyards 2019 Tximeleta. This wine is made exclusively from the Fer Servadou grape crushed directly into press and left on the skins to extract color before finally being pressed off. The juice is barrel fermented in neutral oak. Occasional battonage (lees stirring) increases mouth feel and texture. Light acidity on the tip of the tongue accompanies freshly ripened strawberries and summer wild raspberries. A slight creaminess on the finish gives a richer mouth feel. Try a cold glass with a Tuna Nicoise salad and a light lemon vinaigrette.
As a reminder to our members, all VIP wine is available for pickup at the Ag District Center tasting room anytime during regular business hours. If you can't make it out to pick up your wines on a monthly basis, we will hold them for you. Due to storage limitations, however, we do ask that you pick them up once you accumulate a case (6 months). We can also arrange for wine to be shipped to most locations, at your request.
Also, please remember that you can always find your paired recipes and detailed tasting notes at www.ChrysalisWine.com in the Private VIP Club Area. Also check in with us or follow us on Facebook for updates and announcements.
NOTE: Please do not reply to this emailed Newsletter. Your email will not be handled in a timely manner or may even be lost.
---
Friday Night Pizza & Music
Every Friday in February
5 pm – 8:00 pm
at the
Ag District Center
39025 John Mosby Highway
Middleburg, VA 20117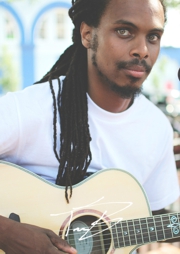 There's no better way to kick off the weekend and unwind after a long week at the office than an evening at The Ag District! Our tasting room is open until 8pm every Friday with live music from 5pm - 7:30pm. We have a great menu of hot foods available including a variety of artisan pizzas featuring our own Locksley Farmstead cheeses. Be sure to try our featured sandwich - Terra di Siena porchetta, Locksley Cheese mozzarella, peperonata, and spinach on house foccacia or maybe a pancetta, red pepper, and mushroom pizza... either way you can't go wrong!
Torrey B. will be performing at the Ag District on Valentine's Day! Impress your favorite Valentine with an evening of delicious food, fine wine, and soulful music.... the memories will last much longer than flowers and candy!
---
Creative Mankind Crafts & Wine
Saturday, February 15th
12:30 pm – 3:30 pm
at the
Ag District Center
39025 John Mosby Highway
Middleburg, VA 20117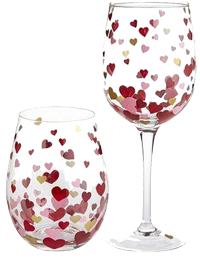 Creative Mankind will be hosting a "craft and sip" event at Chrysalis Vineyards on Saturday, February 15th. This month participants will be painting wine glasses! (From their website: Creative Mankind is an art company that offers art classes and hosts parties and events for all ages. Our motto is "Everyone is a Creative Genius!" It's just a matter of people reconnecting with their creative self. Our mission is to enrich our community with art education and culture in a fun and accessible way.)
So... come on out, escape the cold, and spend a fun afternoon laughing, creating your own masterpiece, and sipping your favorite Chrysalis Vineyards wine! This 3 hour event is just $40 and includes all supplies, an awesome staff, and a lot of fun (wine and food purchases are not included). Participants will be able to choose their 2 pieces from an assortment of glassware and select their design. Time permitting, additional glasses will be available for purchase.
No experience is necessary. For additional information please contact Creative Mankind at 571-403-1912 or go to their website listed below. [Editor's Note: cut and paste this long link if it doesn't activate by clicking on it. Thanks.]
https://www.eventbrite.com/e/valentines-weekend-glass-painting-at-chrysalis-vineyards-wcreative-mankind-tickets-90248141621
---
REPORT FROM THE TASTING ROOM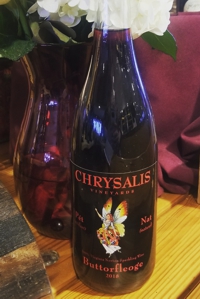 February is a month filled with days to celebrate. Not only does Valentine's Day add the sweet touch of romance to the month, but National Drink Wine Day is just 4 days later! Just think of all the countless ways one can celebrate over those glorious days!
In honor of these two tremendous occasions, our 2017 Buttorfleoge (Chrysalis Vineyards' Sparkling Norton) will be featured on our tastings and flights. We cannot rave enough about this excellent pétillant naturel here in the Tasting Room. Its wonderful complexity quenches our thirst for a natural sparkling wine. It's simply a beautiful Pét-Nat done right!
While enjoying the lovely Buttorfleoge, our staff has come up with some really delicious pairing suggestions for you to enjoy. Locksley Farmstead Cheese Company's Maid Marian Camembert, with its intensely deep and earthy notes, is a perfect pairing. You can enjoy it with a freshly baked baguette or on one of the tasty Paninis the Little River Bakehouse offers. We highly recommend having the Maid Marian Camembert, Norton jelly, and grilled chicken on our house baked Focaccia bread. YUM!
We look forward to having you join us throughout the month, and we hope you will choose us to celebrate these days with.
Cheers!
Laurie Stevens, Tasting Room Manager
---
REPORT FROM THE CELLAR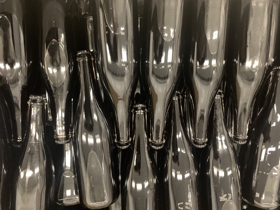 Things have definitely settled down in the cellar, and our largest focus now is prepping for the upcoming bottling. In fact, the 2019 Buttorfleoge was just bottled and is finishing up fermentation in the bottle. In bottle?! What are you talking about?! Our Buttorfleoge is actually a pétillant naturel wine, or more commonly known as a Pét-Nat. Pétillant naturel roughly translates to "natural sparkling" and refers to the Ancestral Method of making sparkling wine. To understand what makes Pét-Nat so unique, you should probably know how Champagne is made.
The most notable difference is that there are two fermentations in Champagne, and only one in a Pét-Nat. To make Champagne, a "base white wine" is fermented to dry and then bottled with a little more sugar, yeast, and wine (called a liqueur de tirage). The wine then goes through an additional fermentation in the bottle, trapping the carbon dioxide and creating the effervescence we all love in sparkling wine. The wine ages on a rack at a 45° angle which allows the sediment to slowly fall to the neck of the wine. The bottles are then "disgorged" which means the sediment is forced out from the pressure in the bottle. The bottle is then topped with more wine or a "dosage" and corked.
It's probably more accurate to think of Pét-Nat as the "pre-cursor" to Champagne. First, the grapes are pressed and settled in a stainless steel tank. After settling, the juice is inoculated with yeast (commercial or wild) and fermentation begins. This is typical winemaking until the wine gets to around 1 Brix. At this point the wine is bottled and laid on its side to receive maximum exposure to the yeast that is still present in the wine. Fermentation continues in the bottle causing carbon dioxide to become trapped in the bottle, and this is your natural sparkle. After sometime, fermentation finishes and the wine is enjoyed in our tasting room.
Wait, you didn't disgorge, so what about that hazy stuff?! The haziness seen in the bottle is part of what makes Pét-Nat so exciting. The sediment, made up of proteins, antioxidants, and yeast can add mouth feel and complexity to a wine. While unsettling to see at first, we recommend simply standing the bottle up and chilling for a couple of hours before enjoying.
Pét-Nat best demonstrates rich fruit flavors, texture, and an acidity from the effervescence that you never knew you wanted. It's believed that Pét-Nat style wines best showcase the terroir and grapes. Our Buttorfleoge is made from our very own Norton! Look for it on our tasting menu during the month of February.
Jake Blodinger, Assistant Winemaker
---
REPORT FROM THE VINEYARD
Freddy is still pruning his way through our 70 acres of vineyard and will probably continue until the beginning of April, just before bud break. What is most exciting is the green house, which is in full swing. The Norton cuttings have been collected, snipped at both ends, and planted in the green house.
While it's all pruning out in the vineyard, Freddy is always thinking about the health of the vineyard in its entirety. For instance, it's not just the vines that go dormant. Did you know that various funguses and diseases go dormant in the vineyard as well? We call this "over wintering" and it's commonly seen with diseases such as black rot, powdery mildew, and downy mildew.
Various diseases (such as the three named above) tend to be found in unpicked fruit. Occasionally, not every cluster is harvested and some remain well into the winter. The fruit begins to shrivel and fall apart, and disease will collect and proliferate. As the temperature drops, the fungus or bacteria will go dormant and wait for the right conditions. For instance, a particular warm day in the middle of winter with plenty of sunshine could be just right for disease growth.
Pruning provides an opportunity to look for any disease that has over wintered, and we can remove it by pruning if we find any. Eventually, all the cuttings will be raked from the vineyard and burned to prevent any inoculums from spreading. With Freddy's 20 years of experience and his keen eye, there isn't too much cause for alarm. What he doesn't cut away, he will spray for at the earliest possibility. The vineyard crew is always hard at work here at Chrysalis Vineyards.
Jake Blodinger, Assistant Winemaker
---
REPORT FROM THE LITTLE RIVER BAKEHOUSE
Greeting from the Little River Bakehouse! I am pleased to announce that we are now carrying locally sourced charcuterie from Terra di Siena, located right outside of Richmond. The charcuterie is made in the traditional Tuscan style, but with locally raised Virginia pigs. We have a variety of their cured meats available in packages and on our charcuterie plates. I personally recommend the Capocollo, which comes from the neck and produces some of the sweetest fat and most tender meat.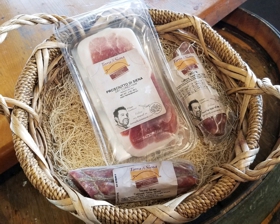 We will be running a pizza and sandwich special for the next couple of weeks utilizing their great cured meats. The pizza is a pancetta, red pepper, and mushroom pizza. The earthiness of the mushrooms, with the sweetness of the red peppers, and the smoothness of our Locksley Mozzarella really brings out the salty and floral notes of the pancetta. The sandwich comes on our house baked Focaccia bread, and consists of Terra di Siena's Porchetta, which is a pork loin that is cured, rolled, stuffed with herbs, and then roasted. It is also topped with bell peppers, onions, stewed tomatoes, and a couple of slices of Locksley Mozzarella. All of these yummy ingredients are brought together before being put into our pizza oven to cook. Don't forget to check out the charcuterie in our retail fridge!
Keaton Beus, Little River Bakehouse Manager
---
REPORT FROM LOCKSLEY FARMSTEAD CHEESE COMPANY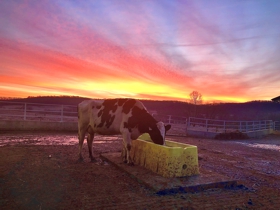 This month we would like to introduce one of our hardworking team members, Holly Gansel. Holly braves the pre-dawn cold to take care of our animals, do the milking chores, and deliver milk to the creamery at the Ag District. Our cows are happy and healthy thanks to Holly and Steven and we all know that happy cows are the first step in producing high-quality farmstead cheese!
Hi, I'm Holly! I'm one of the farm hands at Locksley Farmstead Cheese. Previously, I worked at a vets office helping with both large and small animals. While I had never worked on a dairy farm before, I was already comfortable around large animals as I have horses and goats at home and really love working with animals. Currently, I am helping with day to day chores on the farm that include: milking cows (morning, evening and sometimes both), feeding heifers and bottle calves, cleaning the barns and helping Steven, our dairy manager, with lots of other cow, pasture and maintenance projects. As we milk twice a day, I have gotten to know more about cows, including their unique personalities and their spirited behavior. In the mornings, we start milking before the sun rises and I always anticipate God's beautiful sunrises that are set to the scenic view of the Bull Run Mountains on the farm at Locksley Estate. One of my personal favorite things about working on the farm is bottle feeding the newborn calves. It is so neat seeing their first steps at just barely an hour old and learning to suckle milk. Within a day or two they are bouncing around and so playful both before and after feeding! I am thankful that I have been given the opportunity to be a part of the team here at Chrysalis Vineyards and Locksley Farmstead Cheese!
Erin Saacke, Assistant Cheesemaker
---
Note from Jenni
Is that photo cool, or what? Just look at that glass of blue water. And, yes, that's nearly all just blue water… made blue by the little bit of 2019 Norton that had been left in a glass, overnight, after Jake Blodinger and I did an early-on quick barrel assessment of our Norton wines from 2019.
The reason it's blue is because of the incredible amount of color in Norton that comes from its anthocyanin, a "type of flavonoid, a class of compounds with antioxidant effects. Found naturally in a number of foods, anthocyanins are the pigments that give red, purple, and blue plants their rich coloring. In addition to acting as antioxidants and fighting free radicals, anthocyanins may offer anti-inflammatory, anti-viral, and anti-cancer benefits." - https://www.verywellhealth.com/the-scoop-on-anthocyanins-89522.
So why is it so blue? Anthocyanin is a halochromic substance, which means that it changes color based on the pH environment it's in. The lower the pH (more acidic), the purpler it appears… even approaching black (think of well-made Norton wine!). As the pH rises (gets less acidic or more basic) the color changes to blue. When a glass with a little bit of Norton left in the bottom is filled with water, the Norton turns the water bluish. That's because water has a neutral pH of around 7.0, much more basic than wine (basic meaning the opposite of acidic).
When it turns really blue, like in this photo, that means there are gobs of anthocyanin… and for that matter other "polyphenolic" compounds in the wine (the really good-for-you antioxidants). This is an indication of really extraordinary and complete fruit "extraction" in the wine. And I have to say that the 2019 Nortons are exceptional… perhaps THE most extracted Norton wines we've ever made at Chrysalis Vineyards. They are shaping up to be fantastic. I can't wait!
In the meantime, I invite you to take a break from the winter "cabin fever" and come visit us in the beautiful Bull Run Mountain countryside. It is just so breathtaking.
Take care,

Jennifer McCloud
Chrysalis Vineyards at The Ag District
39025 John Mosby Highway (Tasting Room/Creamery/Kitchen)
23876 Champe Ford Road (Winery/Milking Center/Offices)
Middleburg, VA 20117

McCloud@ChrysalisWine.com
Office: 540-687-8222
www.ChrysalisWine.com
Facebook.com/ChrysalisVineyards