VIP PICKUP PARTY…
at the AG DISTRICT CENTER
Saturday, November 18th
6:00 pm – 8:00 pm
at The Ag District
(RSVP REQUIRED)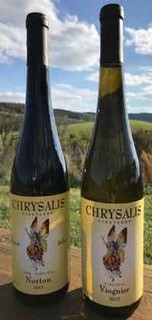 Wow! What a whirlwind month October was! They chose October for Virginia Wine Month for a good reason...it is typically the busiest month at tasting rooms across the state and Chrysalis Vineyards is no exception! Laurie and her staff did their usual superior job of providing the best customer service anywhere, regardless of how busy they were. As we move toward the winter months they will get a bit of a breather as things are a little calmer around here. They will definitely need the rest...spring is just around the corner! Over the next few months we will be perfecting our menu of goodies produced in our new kitchen, so come by, pick up some wine for the holidays, and don't forget to check out our new food offerings!

Our VIP Pickup Party this month will be held on November 18th from 6:00 pm until 8:00 pm. This event is FREE for our members (2 tickets per membership), but does REQUIRE advance RSVP no later than November 13th. To RSVP please send an email to VIP-Club@ChrysalisWine.com. Verbal RSVP's and voice mail responses cannot be guaranteed confirmation.
Our fall and winter hours are now in effect and the Ag District Center will be open 10am – 5pm Monday through Sunday. We will be closed on Thanksgiving Day, Christmas Day, and New Year's Day. Please remember… as always, our last tasting will start an hour before closing. Last call for purchases of open bottles or glasses will be 30 minutes before closing!
The red wine selection for our VIP Club members this month is Chrysalis Vineyards 2015 Norton Barrel Select. The initial impression is of raisins and dates, with underlying notes of blackberry jam and violets. Upon imbibing one experiences more date and black currant with some piney notes. Full tannic astringency suggests the need for pairing with a food higher in fat. Try our Barrel Select with an entree of Venison Medallions in Cumberland Sauce.
Our white wine selection for November is Chrysalis Vineyards 2015 Viognier. This wine created from our Virginia state grape greets you with a perfume with notes of pear, honeysuckle and lemon. The palate is ripe with citrus, tropical fruits, and a creamy finish. Pair our Viognier with many dishes, from omelets and quiches, to delicate lobster dishes rich with butter, and you have an elegant match of food and wine.
As a reminder to our members, all VIP wine is available for pickup at the Ag District Center tasting room anytime during regular business hours. If you can't make it out to pick up your wines on a monthly basis, we will hold them for you. Due to storage limitations, however, we do ask that you pick them up once you accumulate a case (6 months). We can also arrange for wine to be shipped to most locations, at your request.
Also, please remember that you can always find your paired recipes and detailed tasting notes at www.ChrysalisWine.com in the Private VIP Club Area. Pairings and tasting notes are available for wines dating all the way back to 2007 (especially useful for any of those with older, aged vintages). Also check in with us or follow us on Facebook for updates and announcements.
NOTE: Please do not reply to this emailed Newsletter. Your email will not be handled in a timely manner or may even be lost.
---