APRIL NEWSLETTER 2018
IN THIS NEWSLETTER...
VIP Pickup Party... at the ADC
Champe Ford Event Center Open House
Creative Mankind Painting and Wine

Report from the Tasting Room
Report from the Cellar
Report from the Vineyard
Report from the Farm

Note from Jenni
---
VIP PICKUP PARTY…
at the AG DISTRICT CENTER
Saturday, April 14th
7:00 pm – 9:00 pm
at The Ag District
(RSVP REQUIRED)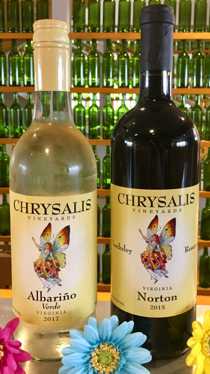 After near 80° weather in February, March certainly took us for a ride! Sustained winds of nearly 60 mph put us out of power for several days at the beginning of the month. We probably should have known that we were getting off too easy this winter and finally got our first real snow accumulation just as spring was officially arriving. We have alot of things going on at the Ag District this month. We have broken ground on the "pizza pavilion" and our retained heat oven should be arriving from Texas soon. Eric and his crew are getting ready to start their daily milking schedule in the dairy and once that milk is flowing we will be using it to craft our first artisan cheeses! Let's hope that April is a bit more cooperative than March so that we can stay on schedule and start getting these delicious new products onto your plates!

We are also exited to welcome back Lenny Burridge, who will be performing at the Ag District on April 1, April 7, and April 14! Come on out, grab a glass, and relax to the sounds of Lenny's Juke Joint and enjoy the fresh spring air!

Our VIP Pickup Party this month will be held on April 14th from 7:00 pm until 9:00 pm (Please note the new time!). This event is FREE for our members (2 attendees per membership), but does REQUIRE advance RSVP no later than April 11th. To RSVP please send an email to VIP-Club@ChrysalisWine.com. Verbal RSVP's and voice mail responses cannot be guaranteed confirmation.
Our spring and summer hours begin on April 1st and we will be open 10am - 6pm Monday through Thursday and 10am - 7pm Friday through Sunday. Please remember… as always, our last tasting will start an hour before closing. Last call for purchases of open bottles or glasses will be 30 minutes before closing!
The red wine selection for our VIP Club members this month is Chrysalis Vineyards 2015 Norton Locksley Reserve. The 2015 vintage is a blend of 75% Norton, 15% Petit Verdot, and 10% Tannat that has been barrel aged for 12 months. Raspberry, potpourri, forest floor, nutmeg and cinnamon introduce themselves to the imbiber. Gustation reveals raspberry, blackberry, a hint of espresso, with well-integrated tannins and balanced acidity. A wine as forward as this one needs equally forward foods. Wild mushroom and mozzarella risotto cakes or wild mushroom soup will make a nice starter. For a main you won't go wrong with a Lamb Kofta Curry.
Our white wine selection for April is Chrysalis Vineyards 2017 Albariño Verde. The opening notes for the 2017 vintage are of Albariño's characteristic peach, with, melon and lime blossoms. This carries through onto the palate, with notes of grapefruit also coming into play and a bracing acidity. It is refreshingly crisp, with just the slightest bit of effervescence, and surprisingly full-bodied for a lower alcohol wine. A wine like this screams for a starter of mussels steamed in a wine, garlic and parsley broth, with plenty of crusty bread to soak up the drippings. For a main you might continue the fish theme and serve it with bacalau and potatoes in a nod to Portugal. Or you could explore a bit and recognize that the crisp acidity and fruit forward nature of this wine would pair nicely with a spicy jambalaya.
As a reminder to our members, all VIP wine is available for pickup at the Ag District Center tasting room anytime during regular business hours. If you can't make it out to pick up your wines on a monthly basis, we will hold them for you. Due to storage limitations, however, we do ask that you pick them up once you accumulate a case (6 months). We can also arrange for wine to be shipped to most locations, at your request.
Also, please remember that you can always find your paired recipes and detailed tasting notes at www.ChrysalisWine.com in the Private VIP Club Area. Pairings and tasting notes are available for wines dating all the way back to 2007 (especially useful for any of those with older, aged vintages). Also check in with us or follow us on Facebook for updates and announcements.
NOTE: Please do not reply to this emailed Newsletter. Your email will not be handled in a timely manner or may even be lost.
---
Champe Ford Events Center Open House
Monday, April 16th
1 pm – 4 pm
at the
Champe Ford Events Center
23876 Champe Ford Rd
Middleburg, VA 20117
Looking for somewhere beautiful and quiet to host your next wedding, rehearsal dinner, birthday party, or corporate event? Why not consider Chrysalis Vineyards? Our original tasting room location is the perfect spot with fantastic views of the Bull Run Mountains and, of course, our lovely vines.
Stop by our Champe Ford Events Center for an open house on Monday, April 16th from 1 pm to 4 pm. We will have wine, cheese, and some exciting things for you to see! Tour our event space, meet with some of our preferred vendors, and welcome our new events coordinator, Morgan Stevens. Please RSVP to events@chrysaliswine.com no later than Monday, April 9. We look forward to seeing you soon!
Morgan Stevens, Private Events Coordinator
---
Creative Mankind Painting and Wine
Saturday, April 28th
1 pm – 4 pm
at the
Ag District Center
39025 John Mosby Highway
Middleburg, VA 20117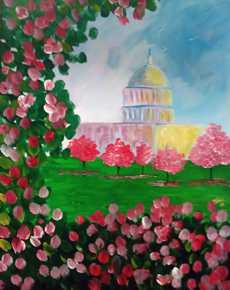 Creative Mankind will be hosting a "paint and sip" event at Chrysalis Vineyards on Saturday, April 28th. (From their website: Creative Mankind is an art company that offers art classes and hosts parties and events for all ages. Our motto is "Everyone is a Creative Genius!" It's just a matter of people reconnecting with their creative self. Our mission is to enrich our community with art education and culture in a fun and accessible way.)
So...spend a fun afternoon laughing, listening to music and creating your own masterpiece! This 3 hour event is just $40 and includes all art supplies, an awesome staff, and a lot of fun. No experience is necessary. For additional information please contact Creative Mankind at 571-403-1912 or go to their website listed below. [Editor's Note: cut and paste this long link if it doesn't activate by clicking on it. Thanks.].
https://sites.cimplebox.com/events/registration.aspx?s=5329&c=3146&eid=390061&r=0.5772204
---
REPORT FROM THE TASTING ROOM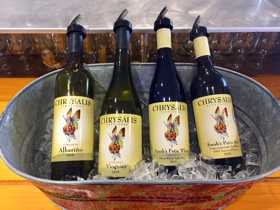 As we approach the blossoming spring here at the Ag District Center we wanted to offer our VIP Club members an exclusive opportunity to come see what goes on behing the scenes in the tasting room! Our tasting room associates would love to spend a few hours with our Wine Club members showing them how tastings run from the other side of counter. Come volunteer a few hours with us to learn more about our wines and what goes into making our tastings so educational and entertaining! If you would like to volunteer your time we will be accepting volunteers on Saturdays and Sundays throughout the spring and summer. Volunteers will get to assist with tastings and experience a day presenting our wines! Contact us today to reserve your spot and learn more details about this exciting opportunity. Reservations can be made by emailing Lstevens@chrysaliswine.com.

Laurie Stevens, Tasting Room Manager
---
REPORT FROM THE CELLAR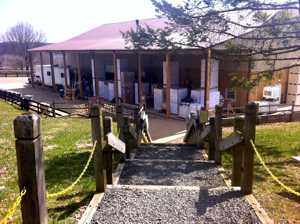 Early April will see several of the red blends from 2016 going into bottle. Rubiana, a lighter-bodied red that showcases the wonders of two of the grapes that we grow at Chrysalis Vineyards. Fer Servadou, a variety sourced from Southwest France, is planted on the Locksley Estate, and shows with perfumey notes, rhubarb, smoke and berry fruits. The other major component of the blend is Tinta CãO, from the Douro region of Portugal, which is one of the highly recommended grapes in Port production, but has extremely low yields leaving it to be a relatively minor player in Portugal now. The wines created from it are very floral and densely colored with a high level of acid and high sugar content. I can attest to its low yields, as the block planted at our Hollin vineyard is one of our lowest producers. Other wines to look forward to in the coming months are the new Papillon, Schitz & Giggels and Private Reserve Red. Tasty offerings coming up.
Mark Patterson, Winemaker
---
REPORT FROM THE VINEYARD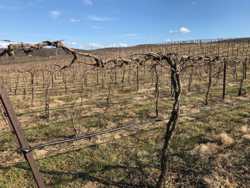 Well, spring has sprung (kinda). As I sit here writing this we are experiencing a few 'minor' flurries, with sporadic bouts of hail and freezing rain thrown in. But it's coming! Really?! I promise! With that in mind, we are beginning to transition towards growing season-related activities. All the farm equipment has been serviced and is ready to engage in planting, spraying, tilling, and hedging as needed. The pruning of the grapevines to prepare for 2018 is almost complete, with only a few rows of Albariño left to finish. The cool weather the last few weeks has likely prevented bud break, when the vines awake from their winter slumber, from occurring too early, but there is always the risk of a late spring frost in the mid-Atlantic, so… fingers-crossed. We still need to lay down a bit more fertilizer in some blocks, but all other dormant season activity is complete. So now we wait.
Mark Patterson, Winemaker
---
REPORT FROM THE FARM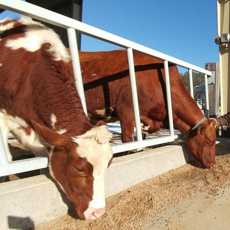 Hello all! --
This month is a big one here on the farm! We are ready to milk cows and make cheese. Rhea, a Red Holstein, should have her calf sometime this week which is something dairy farmers call "coming fresh". After she comes fresh, she will be joined by several other Brown Swiss cows already in milk for twice-daily processions through the parlor. During this process, training and emphasis is 100% focused on our cows. Our intention is to measure performance by cow comfort, longevity, and health rather than just output. In short, happy cows make the best milk, which makes the best cheese! New products should be coming available week by week and, as a grazing dairy, remember that even the same products will have seasonal flavors imparted on them by the changing profile of forages consumed by our cows throughout the year. I am really looking forward to grilling burgers with some of our blue cheese once the weather decides to cooperate!

Eric Hilgartner, Estate Manager
---
Note from Jenni

There's hope after all! I gotta tell ya'… I'm really encouraged, and impressed. Finding people who want to work the land… and that means getting up in the dark nearly every day, working hard outside in any and all kinds of weather (often simply miserable, and even sometimes dangerous), and being responsible and reliable beyond the call of duty (the farm and its animals need care every day without exception), has been really challenging. And I've been privately worrying about how we keep this farm going into the future.
Farming is HARD WORK. Well… I'm relieved to tell you that I'm seeing a new cadre of young, excited and passionate folks who find my vision for this beautiful land to be motivating and valuable to them, too. They want to participate and help create this reality. Cool!
The photo for my Note from Jenni tells this story, I think. To me, it's the whole picture (which is why I cropped it down for Eric's Report from the Farm). It's not really about milk cows; it's about farming, our love of the land… and animals, sharing with you our land and the produce and animals that we nurture in the fields… that we then turn into something (hopefully) sublime. It's about creating food. And it's about you, our friends and customers who make it all so worthwhile, especially when it's in your mouth and we see you really enjoying what we've done!
We're here to provide you with great wine, cheese, artisan breads… wholesome, delicious foods... from right here… from "right over there".
Thanks for doing your part by supporting your local agriculture. Here's to a great 2018 growing season and to our new cheeses and breads!
Take care. See you on the farm.
Jennifer McCloud
Chrysalis Vineyards at The Ag District
39025 John Mosby Highway (Tasting Room)
23876 Champe Ford Road (Winery/Offices)
Middleburg, VA 20117

McCloud@ChrysalisWine.com
Office: 540-687-8222
www.ChrysalisWine.com
Facebook.com/ChrysalisVineyards