MAY NEWSLETTER 2017
IN THIS NEWSLETTER...
VIP Club Pick-up Party... at the ADC

VIP Days at Champe Ford Road (Members Only)
Creative Mankind Painting and Wine
Wine and Wood (NEW !!)

Report from the Tasting Room
Report from the Cellar
Report from the Vineyard
Report from the Farm
Report from the Kitchen (NEW!!)

Note from Jenni
---
VIP PICK-UP PARTY…
at the AG DISTRICT CENTER
Friday, May 19th
6:00 pm – 8:00 pm
at The Ag District
(Please RSVP)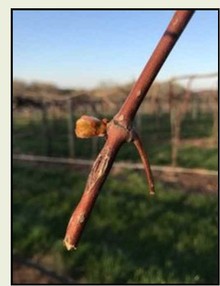 We have bud break!!! What a difference just a few weeks makes in the lifecycle of our vines. When last month's newsletter was sent the vines were still mostly bare and just beginning to show the first signs of life in the form of tiny buds. Now they have young leaves and seem to grow a foot each day. By next month they will be lush and vibrant and ready to welcome summer! ...Where does the time go?
Our spring and summer hours are now in effect and the Ag District Center will be open 10am – 6pm Monday through Thursday and 10am – 7pm Friday through Sunday. Please remember… as always, our last tasting will start an hour before closing. Last call for purchases of open bottles or glasses will be 30 minutes before closing. The Champe Ford tasting room will also be open exclusively for our VIP Club members on select Saturdays and on Mothers' Day, too. See below for dates and times! Be sure to read about all of our May events…there's always something interesting to do at Chrysalis Vineyards!
The VIP Pick-up event for May will be held on Friday, May 19th from 6:00pm – 8:00pm at the Ag District Center. We will have light appetizers to pair with the wines of the month. We do not have a limit for this event, but please remember to send your RSVP to VIP-Club@ChrysalisWine.com so that we can plan accordingly. As always, this event is for VIP Club members only (2 attendees per membership). Verbal RSVP's and voice mail responses cannot be guaranteed confirmation.
The red wine selection for our VIP Club members this month is Chrysalis Vineyards 2015 Petit Verdot. The 2015 Petit Verdot is a blend of 81% Petit Verdot and 19% Tannat that went through malolactic fermentation in steel tanks and was then aged for 14 months in both new and neutral oak. This vintage opens with waves of blackberry and plum, with notes of coffee, toasted oak and maybe a touch of black pepper and sage following. The finish has notes of ripe blackberry, currants, and a touch of dark chocolate with some well-rounded tannins. This wine pairs well with cheese and charcuterie, lamb shanks, BBQ short ribs or a simple lamb or beef stew. As a dessert our winemaker suggests a salted caramel chocolate torte.
Our white wine selection for March is Chrysalis Vineyards 2016 Albariño Verde. This wine is an homage to the Vinho Verde wines of Portugal. This style of wine is characterized by its light and crisp texture, intense fruit, and slight effervescence. No aging in barrels takes place, thus allowing us to capture the intense fruit character and effervescence of wine at this stage in the winemaking process. The result is a light, refreshing, full-flavored wine that is enjoyable with less alcohol than most other whites. The 2016 Albariño Verde announces itself with a pronounced banana nose, followed by tropical fruit, nectarines and other citrus fruit. Refreshingly crisp, with just the slightest bit of effervescence, and surprisingly full-bodied for a lower alcohol wine. Pair it with seafood or light pastas.
As a reminder to our members, all VIP wine is available for pickup at the Ag District Center tasting room anytime during regular business hours. If you can't make it out to pick up your wines on a monthly basis, we will hold them for you. Due to storage limitations, however, we do ask that you pick them up once you accumulate a case (6 months). We can also arrange for wine to be shipped to most locations, at your request.
Also, please remember that you can always find your paired recipes and detailed tasting notes at www.ChrysalisWine.com in the Private VIP Club Area. Pairings and tasting notes are available for wines dating all the way back to 2007 (especially useful for any of those with older, aged vintages). Also check in with us or follow us on Facebook for updates and announcements.
NOTE: Please do not reply to this emailed Newsletter. Your email will not be handled in a timely manner or may even be lost. For further details please see the end of this Newsletter.
---
VIP Days at Champe Ford Road
Saturdays, May 6th, 20th and 27th
Sunday May 14th (Mother's Day)
Noon – 7 pm
at the
Champe Ford Events Center
23876 Champe Ford Road
Middleburg, VA 20117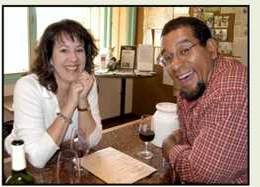 For all of our members who miss the Good ol' Days at our original tasting room, we would like to continue "VIP Days at Champe Ford". The Champe Ford Events Center and Sarah's Patio and Pavilion will be open exclusively for our VIP Club members and their guests on select Saturdays in May in addition to Mothers' Day Sunday. This is an opportunity to buy a bottle or glass and get to know your fellow VIP Club members in the cozy confines of our old tasting room. The grills will be available for you, so stop by the Ag District Center, pick up some Locksley grass-fed beef and come out for a picnic! While we will not be doing tastings, we will have staff on hand to discuss our wines and answer questions. Also, please note that your VIP Club wines will still need to be picked up at the Ag District Center.
---
Creative Mankind Painting and Wine
Sunday, May 21st
1 pm – 4 pm
at the
Champe Ford Events Center
23876 Champe Ford Road
Middleburg, VA 20117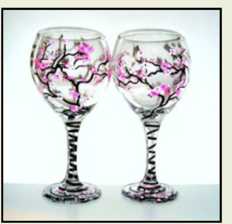 Creative Mankind will be hosting a "paint and sip" event at Chrysalis Vineyards on Sunday, May 21st. (From their website: Creative Mankind is an art company that offers art classes and hosts parties and events for all ages. Our motto is "Everyone is a Creative Genius!" It's just a matter of people reconnecting with their creative self. Our mission is to enrich our community with art education and culture in a fun and accessible way.)
This month we will be painting a set of wine glasses!! So...spend a fun afternoon laughing, listening to music and creating beautiful wine glasses to fill with your favorite Chrysalis Vineyards wine! This 3 hour event is just $40 and includes all art supplies, an awesome staff, and a lot of fun. Two wine glasses are included in the price of registration. Time permitting, additional glasses will be available for purchase. No experience is necessary. For additional information please contact Creative Mankind at 571-403-1912 or go to their website listed below. [Editor's Note: cut and paste this long link if it doesn't activate by clicking on it. Thanks.]
https://sites.cimplebox.com/events/registration.aspx?s=5329&c=3146&eid=305970&r=0.3110771
NOTE: Remember that this event is at our Champe Ford Events Center this month.
---
Wine and Wood
Friday, May 12th
7 pm – 9 pm
at the
Ag District Center
Want to craft your own rustic, wooden wine rack???? Come join the guys from Square & Chamfer at the Ag District, where they will lead a DIY project for you to take home! No experience needed! All materials and tools will be provided. Registration fee of $30 per person includes a glass of wine. There will be limited seating so please email squareandchamfer@gmail.com to reserve your seat!
---
REPORT FROM THE TASTING ROOM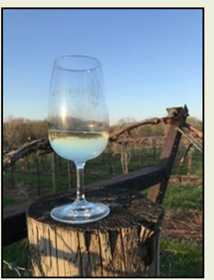 This month we invited one of our loyal VIP Club members to share some of his thoughts about why he loves Chrysalis Vineyards.
Notes from a VIP Member:
It's early April in northern Virginia. Winter and Spring continue their confused courtship. My travel companion Peggy and I have taken twisty back roads to Chrysalis Vineyards' monthly VIP wine pickup party. Today it's a brunch event, a first for us.

In the spacious tasting room we are greeted like family by Tasting Room Manager, Laurie Stevens, and her staff. Soon we are enjoying a large buffet: smoked salmon with cream cheese on bagels, hot sausage links, bite size quiche, fruit, yogurt and more. Then we take advantage of our complimentary tasting. Chrysalis VIP members are offered 4 free rounds of tastings, not just 2, with any visit. The Albariños are fresh and invigorating, as is the Viognier. But the four distinctive varieties of Norton remind us why we keep coming back.

Our monthly pickup includes a 2015 Sarah's Patio Red which is just right for this sunny afternoon. It's all Norton, but fermented in steel emphasizing a native fruitiness. Served chilled, it's a congenial semi-sweet rose that's deceptively dark in color. There's also a 2013 Hollin Reserve Tannat which is hearty and complex and will warm us tonight at home by a late seasonal fire.
There seems to be no better way to shake off the winter chill and celebrate the coming Spring than with Chrysalis wines from the Ag District.

Chip Hunter, VIP Member since 2013
---
REPORT FROM THE CELLAR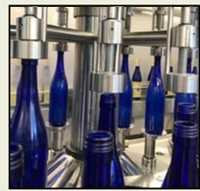 We're heavily into bottling season now, with new vintages of Albariño, Viognier, Barrel Select Norton, Sarah's Patio White and Sarah's Patio Red resting comfortably in our warehouse. I'm particularly excited about the 2016 Albariño and Viognier. The rainy May, hail in June and the hot, dry summer that caused some of the vines to 'shut down' in the heat of August did little to adversely affect the vines at the Hollin Vineyards. We experienced a level of ripening that allowed for the full aromatic development in these varieties, with the Albariño redolent in peach, banana and citrus, and the Viognier expressing notes of mango, peach, honeysuckle and almond. Our next task in the cellar will be finalizing blends for our future red wines. Stay tuned.
Mark Patterson, Winemaker
---
REPORT FROM THE VINEYARD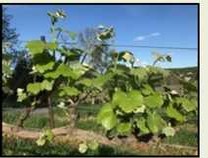 April saw an even budburst across all varieties at both vineyards. This bodes well for another successful growing season for Chrysalis Vineyards. The warm weather in February gave us some cause for concern as warmer, dryer autumns and winters can sometimes lead to unevenness in shoot and fruit development early on which can create some crop management issues further down the line. The next critical point in the growing season is bloom and fruit set, usually sometime in June for most varieties in this region, at which time we hope the rain stays away and the warm sun shines. Anything to the contrary will lead to a poor fruit set, resulting in a 'hen and chicken' situation in the grapes, with berries at different stages of ripening on the same clusters. And, of course, we could do without several hailstorms in June again this year. Just saying!
Mark Patterson, Winemaker
---
REPORT FROM THE FARM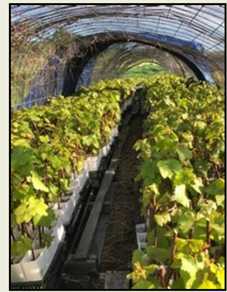 In addition to being among the industries' largest producers of Norton grapes and wine, Chrysalis also operates one of a handful of commercial nurseries that successfully propagates Norton grape vines. Chrysalis has been helping to supply the industry with rooted Norton vines for nearly a decade. Despite ten years of background and experience, Norton remains notoriously difficult to propagate and every year is an opportunity to expand our existing knowledge base.
Generally, the process initially involves careful selection of dormant Norton cuttings for propagation. Selection occurs during our normal winter pruning operations. Once selected, the cuttings are moved to our greenhouse, sterilized, rooting hormone applied, and cuttings planted in a proprietary soilless planting mix. The planted cuttings are placed on heated benches to initiate root growth. Once planted, conditions in the greenhouse must be carefully monitored to maintain an environment conducive for root formation and development. Soil moisture levels, ambient temperatures, root zone temperature, ventilation, and disease must all be closely monitored. At the appropriate time, generally around mid-April, we remove the newly rooted vines from the greenhouse and place them outdoors under shade cloth. This allows the tender indoor grown vines an opportunity to "harden-off" or gradually become acclimated to the effects of sun and wind. By early May, the young vines are ready to be picked up and planted by our customers which range from hobbyists to large commercial vineyards. The young vines look healthy and vigorous this year and we look forward to providing our customers with another successful batch of rooted Norton vines, whether they be planting a new vineyard, planting a few vines for personal use, or expanding an existing Norton vineyard.
Perry Griffin, Estate Manager
---
REPORT FROM THE KITCHEN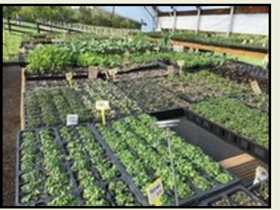 Work is well under way on our new commercial kitchen at the Ag District Center. Chef Hump Astorga has rejoined our staff to guide the design and equipment selection as well as to develop a menu of farm fresh foods that will be available in the tasting room soon. We are super excited to have Hump back on the team and really look forward to all the delicious goodies that he will be cooking up. To supply our kitchen with the freshest farm ingredients we have partnered with Denton Baldwin, farmer extraordinaire. Denton is propagating seedlings for herbs, greens and vegetables in the greenhouse to be planted on several acres at the front of the Ag District. Denton's fresh produce will also be available for sale to our customers this summer. You may have noticed the recently tilled field as you drove up our entrance road. In addition to Denton's vegetables Perry will soon be planting wheat in other areas of the field....Just a few more pieces closer to Jenni's vision for Chrysalis Vineyards and the Ag District Center!!
Chef Hump Astorga
---
Note from Jenni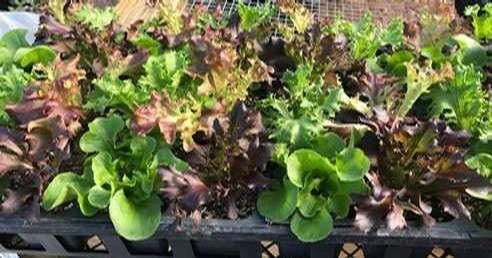 Oh, wow! Don't those little baby lettuces look absolutely delicious? You… I, and everyone we know, not only on this farm, but in all of our lives, have been waiting for us to offer fine artisan breads and other tasty fare, grown on this land, and prepared by talented and passionate foodies! And when I think of the quintessential foodie, no one comes to mind more quickly than Chef Hump Astorga. I know of no one more passionate about food.
As you probably know, Hump has been helping me select and plan the layout of the equipment for the bakery/kitchen, and we're finalizing the finishing touches. Also, we're in the process of creating our menu for delicious, yet simple, foods. Nothing fancy-schmancy, just really good food right off this land. We have the ingredients… as you can see from the last two newsletters, and we're dreaming up how to put everything we grow into foods we'll all love.
I know it's been a long time, and I thank you for your patience. You WILL be rewarded!
Jennifer McCloud
Chrysalis Vineyards at The Ag District
39025 John Mosby Highway (Tasting Room)
23876 Champe Ford Road (Winery/Offices)
Middleburg, VA 20117

McCloud@ChrysalisWine.com
Office: 540-687-8222
www.ChrysalisWine.com
Facebook.com/ChrysalisVineyards