APRIL NEWSLETTER 2019
IN THIS NEWSLETTER...
VIP Pickup Party... at the ADC
Important Announcment
Creative Mankind Painting and Wine
Report from the Tasting Room
Report from the Cellar
Report from the Farm
Report from The Little River Bakehouse
Report from Locksley Farmstead Cheese
Note from Jenni
---
VIP PICKUP PARTY…
at the AG DISTRICT CENTER
Friday, April 26th
6:00 pm – 8:00 pm
at The Ag District
(RSVP REQUIRED)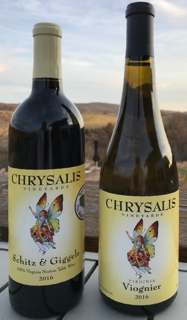 Spring seems to finally be arriving... gradually... pushing away the gray of winter and welcoming the fresh green that signals better weather. Like the change in season, we are ready for new and exciting changes here at the Ag District. Our spring and summer hours begin on April 1st and we will now be open 10:00am until 6:00pm Monday through Thursday and 10:00am until 7:00pm Friday through Sunday. Now that Chef Chris has a great selection of artisan pizza, sandwiches, prepared foods, cheese and charcuterie platters, and other goodies available for purchase (all produced with egss, beef, pork, and cheese produced right here on the farm!) we are also making some changes to our food policies. We hope that you will support our vision of providing farm-fresh, delicious foods and cheeses by purchasing our products to enjoy with your favorite Chrysalis Vineyards wine. In order to continue to increase our menu offerings, provide the highest quality products, and support Chef Chris, we will no longer allow outside food at the Ag District. Jenni's vision for the Ag District has always been about much more than producing fine wines, it's really about re-establishing our connection with the land, supporting local agriculture, and creating a unique experience for our guests. Be a part of celebrating the agricultural history of Loudoun County - Eat Local, Drink Local!
All the new activity at the Ag District and around the farm has created some great opportunities for enthusiastic, hard-working, and passionate people who would like to join our team! We are always looking for tasting room associates and currently have openings in the kitchen as well. If you are interested in exploring these opportunities email us at info@chrysaliswine.com with a brief description of your experience and availability.
Our VIP Club pickup event for March will be held on FRIDAY, APRIL 26th from 6:00pm - 8:00pm. PLEASE NOTE THE DATE AND TIME and mark you calendars! You will have the opportunity to sample the wines in April's VIP selection paired with a sample of food that complements each wine.
Please remember… as always, our last full tasting will start an hour before closing. Last call for purchases of open bottles or glasses will be 30 minutes before closing!
The red wine selection for our VIP Club members this month is Chrysalis Vineyards 2016 Norton Schitz & Giggels. The aroma of this wine immediately greats with notes of dark chocolate, cedar, blackberry and a 'forest floor' character. Tasting reveals more blackberry, brambles and a touch of vanilla. The moderate tannic structure make this a perfect match with hearty dishes that are rich with fat. Try pairing it with with grilled filet mignon wrapped in bacon.
Our white wine selection for March is Chrysalis Vineyards 2016 Viognier. This white wine is 100% Viognier, the state grape of Virginia. The immediate impression is of a mélange of white flowers - orange blossoms, wisteria and lily of the valley, with a definite undercurrent of white pear. Upon gustation, peach comes to the forefront, along with notes of citrus, limoncello, a touch of honey and vanilla. Viognier is a perfect wine to accompany a dish like Macadamia Chicken with Orange-Ginger Sauce and Coconut Pilaf.
As a reminder to our members, all VIP wine is available for pickup at the Ag District Center tasting room anytime during regular business hours. If you can't make it out to pick up your wines on a monthly basis, we will hold them for you. Due to storage limitations, however, we do ask that you pick them up once you accumulate a case (6 months). We can also arrange for wine to be shipped to most locations, at your request.
Also, please remember that you can always find your paired recipes and detailed tasting notes at www.ChrysalisWine.com in the Private VIP Club Area. Also check in with us or follow us on Facebook for updates and announcements.
NOTE: Please do not reply to this emailed Newsletter. Your email will not be handled in a timely manner or may even be lost.
---
IMPORTANT ANNOUNCEMENT
As you probably already know, Chef Chris has been producing delicious pizzas and other gourmet menu items for several months now. In addition, Kelly and Erin have been doing their magic in the Locksley Farmstead Cheese creamery and we now have five different types of farm-fresh artisan cheese available for sale in the tasting room! Now that we have a large (and growing!) variety of delicious snacks available for purchase we will be adjusting our outside food policy. As of April 1st we will no longer allow outside food or beverages at the Ag District. We hope that you will support all the hard work that we have been doing to bring our customers the highest quality wine, artisan cheese and gourmet food. So... next time you visit, pair your favorite Chrysalis Vineyards wine with a wedge of Locksley Farmstead Cheese and a loaf of bread from The Little River Bakehouse... or any of our other delicious treats!
---
Creative Mankind Painting and Wine
Saturday, April 20th
1 pm – 4 pm
at the
Ag District Center
39025 John Mosby Highway
Middleburg, VA 20117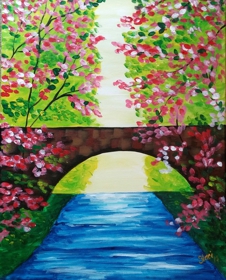 Creative Mankind will be hosting a "paint and sip" event at Chrysalis Vineyards on Saturday, April 20th. (From their website: Creative Mankind is an art company that offers art classes and hosts parties and events for all ages. Our motto is "Everyone is a Creative Genius!" It's just a matter of people reconnecting with their creative self. Our mission is to enrich our community with art education and culture in a fun and accessible way.)
So... come on out, escape the cold, and spend a fun afternoon laughing, creating your own masterpiece, and sipping your favorite Chrysalis Vineyards wine! This 3 hour event is just $40 and includes all art supplies, an awesome staff, and a lot of fun. No experience is necessary. For additional information please contact Creative Mankind at 571-403-1912 or go to their website listed below. [Editor's Note: cut and paste this long link if it doesn't activate by clicking on it. Thanks.].
Please note that the image above is an example of the type of painting that Creative Mankind offers. For information about the specific painting for this event please contact Creative Mankind.
https://sites.cimplebox.com/events/registration.aspx?s=5329&c=3146&eid=455060&r=0.4000423
---
REPORT FROM THE TASTING ROOM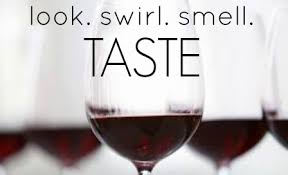 April Showers Bring May Flowers... and spring bursting all around us. It is the perfect time to get out and enjoy some wine tasting! Some of our guests ask if there is a right way to taste wine. The answer is No! However you enjoy wine tasting is the "right" way. This month we are sharing some hints to help you gain the most enjoyment and knowledge from wine tasting with us. Please be sure to ask any of our knowledgeable tasting room associatess for more helpful hints or perhaps share some of yours with us!
Although winemakers will claim that a wine has certain flavors like blueberries, citrus, or even dirt, wines aren't actually "flavored" with anything. The flavors come from the grapes and the process. Infused wines, meaning wines that have been mixed with other fruit juices, are actually flavored.
The first stage of wine tasting is looking over the appearance of the wine. Noting the color and viscosity with your eyes can give an idea of how the wine may taste. For reds, give the glass a quick swirl and hold it up to the light: bolder varieties, like Cabernet and Zinfandel, will leave telltale 'legs' that stream down the inside of the glass.

The second stage is called "in glass," meaning that the aroma is noted. Don't be shy— wine experts stick their nose deep into the glass in order to pick up the complex nuances.

The first aromas to hit the nose are associated with aspects of the grapes, while later aromas are connected to the winemaking process and how the wine aged.

Take a small sip of wine in order to get a good taste. Don't glug, at least not yet. Roll the wine around your mouth with your tongue and note the different flavors. Pursing your lips and inhaling some air while the wine is still on your palate is also a nice way to spread the more complex flavors through your sinuses.

After swallowing, note the aftertaste, which is likely different from how the wine tasted when it first hit your tongue. Draw some conclusions—was this wine too acidic? Too sweet? Too alcoholic?

If you want to be a true connoisseur, write down notes. Record the winery, the grape variety, the year, and your thoughts: that way, if you want to return to the same vintage later, you'll have a solid base point for how your tastes have evolved.
Please come join us for a relaxing time, grab a bottle (or two), some fresh made cheese and some delicious pizza!!
Cheers!
Laurie Stevens, Tasting Room Manager
---
REPORT FROM THE CELLAR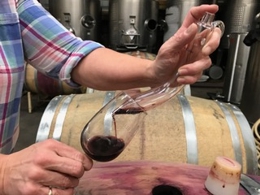 Spring is blending season and April will see us assembling the 2017 Norton Estate and 2017 Norton Locksley Reserve blends. Chrysalis grows Nebbiolo, Tannat, and Petit Verdot to provide tannic blending components for these wines. But blending can involve a lot more than deciding on the ratios of these components. For example, a vintage designated wine is required to have at least 85% wine produced from the stated vintage. This is an opportunity to blend in up to 15% of another vintage. Most of the time this means an older vintage of wine. But nothing prevents us from using a younger vintage in the blend. And the variety statement on a label has even more leeway; this is a 75% requirement. And there's nothing preventing us from using a component that may not be very intuitive. The 2013 Norton Locksley Reserve, for example, was blended with 5% Viognier.
Blending is a curious art. We're often told that blending creates a wine in which the blend is greater than the sum of its parts. Along this line of thought we're led to the Bordeaux model of wine production in which every bottling is a blend of different (though related) varieties. But there are plenty of examples where not blending is the custom. French Chardonnay and Pinot Noir are two obvious examples. Loire wines are often 100% varietal. And French Syrah and Viognier can be found as 100% varietal wines. Of course French law dictates blending requirements (or prohibitions) in order to use a place-name (appellation) on the label. In the US, our appellation system has no such regulations for variety usage, it only guarantees geographic pedigree.
Blending Norton is unlike blending most other wines. This is because blending most often involves using varieties that are very similar in character (think Cabernet Sauvignon, Merlot, and Cabernet Franc). But Norton is unique, its character resembles nothing else in the industry. By itself, it's a wine that expresses intense floral character with an acidic bite and intense color. Barrel aging, malolactic fermentation, and other cellar processes help to temper this character but it still remains a wine very dissimilar to other varieties. This presents both a challenge and an opportunity with blending.
Jason Burrus, Consulting Winemaker
---
REPORT FROM THE FARM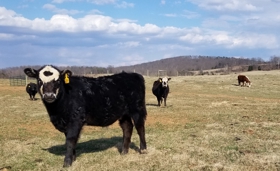 Hello Again, Friends! --
Spring in Virginia is really something to behold. I have decided to make a list of a few things I love about it!
- Daffodil leaves pushing up fallen leaves in a race to bear the first flower of Spring
- A newborn calf, reposed in a patch of mint, batting it's long, wet eyelashes against the sun
- Cows heel-kicking and running tail-high through a gate to pasture Milk that tastes like onion grass
- Rolling a fresh dandelion stem between my fingers
- Cattle strewn about motionless, stretched out left side up to catch the sun
- The squeak of heavily dewed grass as it's chewed by a cow Wind whipping through trees at a changed pitch as trees begin to bud and leaf
The list goes on and on. Things are always busy, but we can all better connect to our surroundings and appreciate the beauty around us by taking just a moment to ourselves.
Warm Wishes!
Eric Hilgartner, Estate Manager
---
REPORT FROM THE LITTLE RIVER BAKEHOUSE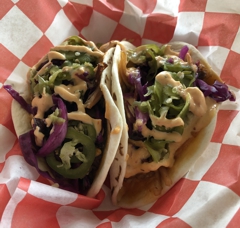 Spring is finally here and the weather is getting warmer! And as the cold weather has slowly been subsiding, we've been hard at work creating a better pizza. The dough recipe has been evolving into what it is today. With the addition of honey and olive oil in the recipe, we've achieved a dough that's close to a New York style. Our oven has been a dream to work with and cooking at an extremely high temperature, the idea is that like a good cast-iron skillet, the oven absorbs flavor into its walls and then imparts it onto new pizzas that are cooked. The New York style slice grew out of Neapolitan style pizza when Italian immigrants brought pizza to America in the early 1900s. New York style pizza has slices that are large and wide with a thin crust that is foldable yet crispy. Our sauce is heavily seasoned, made of olive oil, canned tomatoes, garlic, sugar, salt, and herbs like oregano, basil, and crushed red pepper, as opposed to the simple Neapolitan sauce, made from uncooked crushed tomatoes and salt. And our Locksley Farmstead Cheese Mozzarella is just incredible! So while we are perfecting our pizzas, there will be other menu items like the pulled pork tacos and grill cheese our sourdough with our very own Nottingham Gouda.
Chris Vincenzi, Chef
---
REPORT FROM LOCKSLEY FARMSTEAD CHEESE COMPANY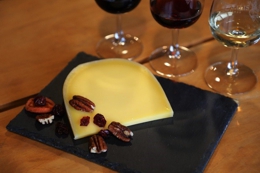 What exactly are these cheeses doing just sitting there on the shelf? You may have been out to the Ag District a week, a month or two months ago and noticed that cheese hasn't moved at all! Hard cheeses like our Little John Cheddar and Nottingham Gouda must age 6-8 months or more to develop the flavors and sharpness we all love. During this aging process, there are both chemical and biological changes occurring. The cultures inside each wheel of cheese that were added during the make process, continue to break down the lactose to lactic acid and the longer it is aged the more sharp and bold the flavor becomes. Additionally, a process known as proteolysis occurs within the curds that have been formed into each wheel. These curds contain complex long chain proteins that break down into smaller amino acid compounds during the aging process and it is these compounds that give aged cheese their unique fruity, nutty, or even smoky flavor. This process of proteolysis also can alter the texture of the cheese and lead to the creation of crunchy crystals in some aged cheeses. Needless to say, those cheeses are doing a lot more than just hanging out on the shelf, taking up space for 6 months in our temperature and humidity controlled aging cells! Just like with wine, the longer the aging, the sharper and richer the flavor of the cheese and it is most certainly worth the wait! Come on by the Ag District today and pick up some of our hard aged cheeses: Little John Cheddar (7 months aged) and Nottingham Gouda (10 months aged). You may just find the start of some crystallization in our Nottingham Gouda, and we can't wait for it to continue to age and develop these crystals!
Erin Saacke, Assistant Cheesemaker
---
Note from Jenni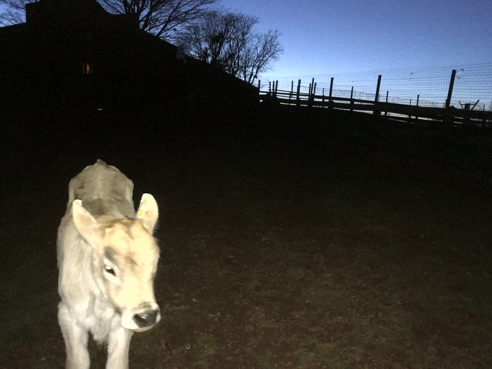 Spring has sprung and that means budbreak in the vineyards, baby calves… and LOTS of eggs. I was closing up the chickens the other night and a curious new Brown Swiss calf just had to see what I was up to. She's a total sweetie-pie, nuzzling up to me and nibbling on my jacket. If you were from outer space, and you had seen a dog or two, you'd swear this was just another breed of dog! She lifts up her head to get scratched and just likes to "hang around" when anyone is the field with her. Just like a dog!
And, oh man, the eggs. Yes, WE HAVE EGGS… lots of them. They are absolutely the best eggs you've ever had. Really! The chickens run all over the pasture, eating the tender new grass and catching the bugs that have just showed up. All this pasture living for them brings out the most delicious flavor in the eggs. And the yolks are practically orange. Definitely NOT your store-bought quality. So, if you like eggs on your Saturday or Sunday morning, you must get a couple dozen of my girls' eggs. I'm not kidding, they're the best you've ever had. While you're at it, add a Buttorfleoge (our sparking pét-nat) mimosa to your late morning brunch. Oh boy, that's a breakfast!
Come visit us this April and enjoy the new growth and new life on the farm.
Take care,

Jennifer McCloud
Chrysalis Vineyards at The Ag District
39025 John Mosby Highway (Tasting Room)
23876 Champe Ford Road (Winery/Offices)
Middleburg, VA 20117

McCloud@ChrysalisWine.com
Office: 540-687-8222
www.ChrysalisWine.com
Facebook.com/ChrysalisVineyards