SEPTEMBER NEWSLETTER 2021
IN THIS NEWSLETTER...
VIP Wines of the Month
Report from the Tasting Room
Report from the Cellar
Report from the Farm
Report from The Little River Bakehouse
Report from Locksley Farmstead Cheese
Note from Jenni
---

As you read this month's newsletter we are just a few days away from harvest. While we had anticipated bringing in fruit for our Albariño Verde this past week, the recent rains have pushed the first pick to next week. It's hard to believe that summer is almost over, but I think we are all looking forward to some cooler weather! When you visit the Ag District remember to look for Chef Keaton's new fall menu items along with new wine releases. We're looking forward to a successful harvest and busy season in the tasting room and hope that you will join us!
NOTE TO OUR VIP CLUB MEMBERS
Our VIP pickup event this month will be held on Friday, September 10th from 5:00pm until 8:00pm. Members must RSVP no later than September 6th by emailing TR-Manager@ChrysalisWine.com. THIS MONTH'S EVENT WILL BE HELD AT OUR ORIGINAL TASTING ROOM LOCATION AT 23876 CHAMPE FORD ROAD. See the Report from the Tasting Room below for details. When planning your visit please remember that we close at 8:00 pm.
The white wine selection for our VIP Club members this month is Chrysalis Vineyards 2020 Sarah's Patio White. This semi-sweet wine greets the palate with a touch of sweetness, honey suckle, and ripe peaches. On the mid-palate, cantaloupe and passion fruit lead to a soft finish that will remind you of relaxing on the front porch... refreshing, clean, and uncomplicated. Perfect for a dinner of fried chicken, mashed potatoes, and home-made buttermilk biscuits.
Our red wine selection for September is Chrysalis Vineyards 2019 Locksley Reserve Norton. Our flagship red best showcases what Norton does when crafted with intention. Elegant aromatics provide herbal notes of sage, further pronouncing tobacco and dark red fruit. Refined characters of Norton are structured and rounded with black pepper, spices, and black currant. This wine is best enjoyed in 5-10 years, so buy a case to enjoy for many years. When you do open a bottle, pair it with Filet mignon with red wine bordelaise accompanied by creamy mashed potatoes and a fresh baked baguette.
As a reminder to our members, all VIP wine is available for pickup at the Ag District Center tasting room anytime during regular business hours. If you can't make it out to pick up your wines on a monthly basis, we will hold them for you. Due to storage limitations, however, we do ask that you pick them up once you accumulate a case (6 months). We can also arrange for wine to be shipped to most locations, at your request.
NOTE: Please do not reply to this emailed Newsletter. Your email will not be handled in a timely manner or may even be lost.
---
REPORT FROM THE TASTING ROOM
Some of our long time VIP Club members will recognize the picture to the left. For newer members, that relaxing setting is Sarah's Patio! Not only is Sarah's Patio the origin for the names of two of our most popular wines (Sarah's Patio Red and Sarah's Patio White), but it's also the location of our original tasting room. While our current tasting room location at The Ag District provides us with more space, a commercial kitchen, pizza and bread oven, creamery, and more, we do miss the cozy confines and views of the vines at the original space.
This month we will be treating our VIP Club members to a special pickup party... a cookout at Sarah's Patio! With the views of the lush, fruit-filled vines and the buzz of harvest activity on the crush pad it's the perfect time of year to relax on the patio. Chef Keaton will be grilling up some delicious burgers and we will, of course, be tasting the wines of the month. We will also have a limited selection of wines available by the bottle or glass.
Be sure to RSVP no later than Sept. 6th so that we can prepare enough for everyone! Just send an email to TR-Manager@ChrysalisWine.com and let us know how many will be attending (up to 2 people per membership). We will also have the September wine selections available for pickup for those that RSVP. We will not be able to provide previous months' wine for pickup, but you can stop by the Ag District if you have additional wine to pick up.
Our hours are 12:00pm - 6:00pm Monday - Thursday, 12:00pm - 8:00pm Friday and Saturday, and 12:00pm - 7:00pm Sunday. We have great wine, pizza, sandwiches, salads, farmstead cheese, fresh bread, eggs, and more - all availble 7 days a week. If you can't stay, you can always place a "To Go" order to enjoy at home! You can place your order ahead of time by calling 540-687-8222 or stop by to place your order at the window.
---
REPORT FROM THE CELLAR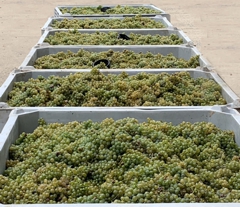 If you will recall last year we picked the Albarino for our Verde wine at 19.5 brix and 3.33 pH and it truly has made a delicious wine. This year, as the pick day drew closer, the tropical storms sent some serious thunderstorms that resulted in delayed ripening. In turn this has made the decision to pick a little more challenging. Pick decisions tend to be the biggest challenge during harvest and leads to much debate.
It's a common belief that winemakers will look at the pH or brix and just say "that looks right" and begin pulling the grapes from the vine. Some days, I wish it were that simple, but simple doesn't make delicious wine. We believe that good Verde is picked from fruit that focuses on lower pH, lower brix , but most importantly when the fruit is still just a bit green. The juice should be green and have an under tone of lime on the aromatics.
Jenni has held on to the long belief that great Viognier isn't about the chemistry, but the color of the juice. The juice should have the color of a cantaloupe and be similar in flavor. This translates to beautiful, robust, Viognier, that pairs extremely well with the native fermentation to elevate the tropical fruit aromatics. This method for determining when to pick is widely viewed as risky but we believe the wine speaks for itself.
When it comes to deciding when to pick varieties like Petit Verdot, Tannat, and Nebbiolo, we carefully consider the pH, brix, and the intended style of wines. Tannat and Petit Verdot make up the back bone of our Locksley Reserve and Papillon so it's important to make sure that the pH leans closer to 3.6 rather than 3.3. We won't these wines to provide structure to our reds, not abrasive acids on the palates.
Our Norton is picked at different time for a variety of styles. For instance, we begin picking Norton the first week of October so the color is brighter and the alcohol is lower, this makes our Sarah's Patio Red really pop on the palate and preserves the cherry flavors. Our Barrel Select Norton is picked from riper Norton where the pH starts at 3.6 and the brix begin to 24. This helps create that "Norton in your face" component that's popular among our Norton aficionados.
While pick decisions can be challenging, Jenni and I will work relentlessly to ensure that careful consideration and intention goes into every glass.
Jake Blodinger, Winemaker
---
REPORT FROM THE VINEYARD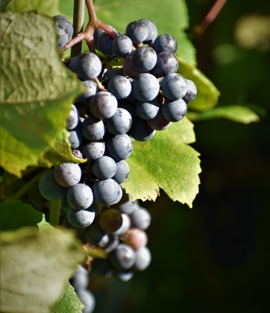 The season started off with too much rain, then it wasn't enough rain, and now we are delayed by a bit of rain. The heat has created a bit of concern as this does impact ripening in a different way.
If you remember in biology class photosynthesis is the process for plants to convert light into chemical energy that in turn allows plants to grow, ripen fruit, and produce oxygen. Unbeknownst to many, photosynthesis actually stops at higher temperatures under drought conditions. This is in part because the stomata found on the underside of the leaves will actually close, limiting the amount of water that evaporates from the vine. This reaction assists the vine in retaining water and results in delayed ripening.
All of that said, there is such a thing as not enough rain in Virginia, I know, I can't believe I just said that either. Luckily, Jenni had the foresight to install irrigation or "drip lines" along the trellis system and we were able to water the vines throughout the hot days. Along the drip lines are what appear to be small discs, called emitters, that drip about 4 gallons per hour of fresh, clean, locally sourced water.
So what's the end result? Well, the fruit looks great and the vines are healthy. Despite the crazy weather, this isn't out of the range of normal here at the foot of the Bull Run mountains. Expect to see less acid in this vintage and more fruit forward characteristics. All in all, we think it's going to be a terrific vintage!
Jake Blodinger, Winemaker
---
REPORT FROM THE LITTLE RIVER BAKEHOUSE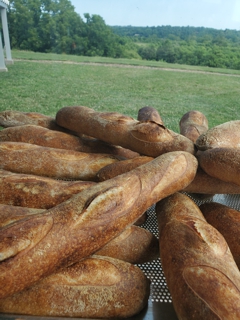 Greetings from The Little River Bakehouse! I don't know about all of you but I for one am excited about the approach of Fall and all the flavors that come with the season... even pumpkin spice everything! One seasonal pizza I am looking forward to putting on the menu again is the Smoked Apple Cheddar pizza which will now have pulled pork on it rather than bacon. We just ran it as a special and it sold out by the second day so be sure to come out try it while it lasts. Another of my favorite fall foods is butternut squash, which will be heavily featured on our fresh made salads and pizzas as well as being the main ingredient on our new fall bruschetta. We will also be swapping out or seasonal foccacia and adding a delicious and nutty caramelized onion and gouda foccacia which was a hit at our last pick up party.
Speaking of pick up parties, this next one is going to be a blast! We are going have a good old fashioned cookout at the old tasting room. We will be doing cheeseburgers featuring Locksley Farmstead cheeses paired with some of the wines we will be tasting that evening. Be sure to reserve a spot because burger supplies will be limited and quantities made will be based on RSVPs. This is going to be one you won't want to miss out on. If you're not a member of our VIP Club yet then now is the perfect time to sign up to join the fun and get all those discounts!
Hope to see you all soon.
Keaton Beus, Little River Bakehouse Chef & Manager
---
REPORT FROM LOCKSLEY FARMSTEAD CHEESE COMPANY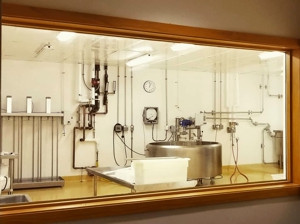 As we transition from the long, hot days of summer to the cool, breezy days of fall, our hard working ladies are looking forward to the much more favorable weather ahead. Did you know the comfort zone of dairy cattle is between 41 and 68 F°? This means that at any temperature above this range a cow experiences what is known as "heat stress." In Virginia, it is uncommon during the summer months that the nights cool off much below 68 F° or at all! These hot days are very tough on cattle as they never get a break to completely cool off and relax like you and I can each night in our air conditioned homes. This stress causes their milk production and butterfat, to decrease as they aren't eating as much, and instead are drinking more water. Additionally, for every 1 day a cow is heat stressed, it takes 3 days to completely rebound from this stress.
Our dairy manager Steven has done an awesome job in making sure our ladies are kept comfortable! During the summer months, the cows go out on pasture at night when it is coolest and are kept up close to our "pack" barn during the day. They have free access to walk under the sprinklers, giant fans with misters, or to lay under the shade of the barn.
These are all things we have implemented to reduce heat stress over the summer months in our cattle. Making sure our ladies are happy and healthy is the most important thing to us. After all we believe that happy cows make the best milk, which in turn makes the best cheese!
Note from Jenni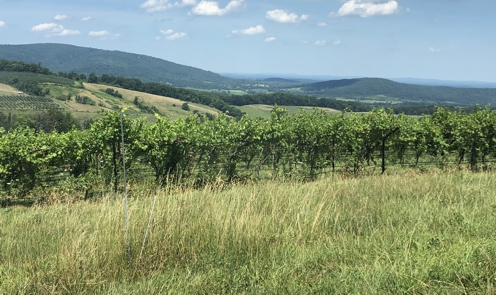 Jake Blodinger, in his Report from the Vineyard, explained the issues we've had this year with drought and excess rains. He explains the issue of high temperatures, particularly with a lack of rain, causing the vines to "shut down" (close their stomata, air breathing holes on the underside of the leaves). This is a key influence to producing Virginia's best wines.
These "Mediterranean-type summers" (2008 and 2010, especially) create wines out of balance. The physiological development of the fruit does not keep pace with the sugar development, and we wind up with wines that I call oafs… wines out of balance with high alcohol levels without the commensurate flavor development.
Anyway, the point being, I'm happy to see the end of our growing season become more traditionally Virginian. Intermittent cloud cover is a good thing, IMHO, that helps keep flavor, aroma and acid development in concert with sugar development (and consequently, alcohol level in the wine). This is why we can produce elegant and balanced wines that speak to our terroir…wines that speak for a particular place… "more elegant, less obvious and, arguably, better with food" (h/t to Michael Franz, formally writing for The Washington Post, and sorry if I've botched his exact words).
Bottom line; we're going to have a stellar vintage if the rains take a break now before harvest.
Hope to see you soon. Take care,

Jennifer McCloud
Chrysalis Vineyards at The Ag District
39025 John Mosby Highway (Tasting Room/Creamery/Kitchen)
23876 Champe Ford Road (Winery/Milking Center/Offices)
Middleburg, VA 20117

McCloud@ChrysalisWine.com
Office: 540-687-8222
www.ChrysalisWine.com
Facebook.com/ChrysalisVineyards