OCTOBER NEWSLETTER 2021
IN THIS NEWSLETTER...
VIP Wines of the Month
Report from the Tasting Room
Report from the Cellar
Report from the Farm
Report from The Little River Bakehouse
Report from Locksley Farmstead Cheese
Note from Jenni
---

October is always the busiest month of the year in the tasting room. With the crisp fall air and colorful fall leaves there's really no better time to visit our hilltop paradise. October also happens to be Virginia Wine Month! To help celebrate we will be offering a special incentive to come visit us at the Ag District during the month of October. With each purchae of 3 bottles of wine we will give you a complimentary 6 oz. slice of Locksley Farmstead Cheese! Nothnig goes better with Virginia wine than Virginia cheese!
NOTE TO OUR VIP CLUB MEMBERS
Our VIP pickup event this month will be held on Friday, October 8th from 5:00pm until 8:00pm. Members must RSVP no later than October 6th by emailing TR-Manager@ChrysalisWine.com. Please include your name, number attending (up to 2 per membership), and your preferred tasting time (5:00, 5:45, 6:30, or 7:15) When planning your visit please remember that we close at 8:00 pm.
The white wine selection for our VIP Club members this month is Chrysalis Vineyards 2020 Mariposa. This approachable claret style wine is filled with aromatics of fresh strawberries and cranberries. Flavors of lingon berries and red cherries are accompanied by bright acidity. Grilled Salmon zested with lemon and herbs on a bed of rice pilaf will pair well with this refreshing wine.
Our red wine selection for October is Chrysalis Vineyards 2020 Barrel Select Norton. The 2020 Norton Barrel Select showcases Virginia's grape at its best. Aromatics are mysterious notes of lush dark fruit, cloves, and leather. An undertone of spiced plums and black currant become revealed as the wine opens up. Flavors of black cherry and
embellished plum are intermingled with notes of mocha and dark chocolate for a smooth
but lasting finish. Our Norton Barrel Select remains the truest example of Virginia's
grape in Virginia's very own oak. This wine would be the perfect compliment to a fall meal of Savory Apple Wood Smoked Pork Chops on a bed of pureed sweet potatoes.
As a reminder to our members, all VIP wine is available for pickup at the Ag District Center tasting room anytime during regular business hours. If you can't make it out to pick up your wines on a monthly basis, we will hold them for you. Due to storage limitations, however, we do ask that you pick them up once you accumulate a case (6 months). We can also arrange for wine to be shipped to most locations, at your request.
NOTE: Please do not reply to this emailed Newsletter. Your email will not be handled in a timely manner or may even be lost.
---
REPORT FROM THE TASTING ROOM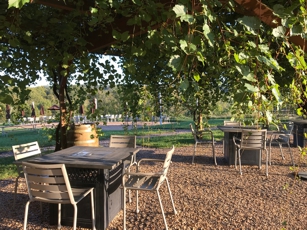 Warm days with gentle breezes have been the norm lately at the Ag District and our guests have been taking advantage of the weather and ample outdoor seating. The most popular seating is always under the arbor. The vines were planted 6 years ago have really developed a lovely canopy over the area.
As the weather starts cooling off we will be lighting the heated tables that we purchased last fall. They provide just the right amount of warmth to cut the fall chill. Be sure to make a visit to the Ag District one of your fall bucket list items! We look forward to seeing you soon!
Our hours are 12:00pm - 6:00pm Monday - Thursday, 12:00pm - 8:00pm Friday and Saturday, and 12:00pm - 7:00pm Sunday. We have great wine, pizza, sandwiches, salads, farmstead cheese, fresh bread, eggs, and more - all availble 7 days a week. If you can't stay, you can always place a "To Go" order to enjoy at home! You can place your order ahead of time by calling 540-687-8222 or stop by to place your order at the window.
---
REPORT FROM THE CELLAR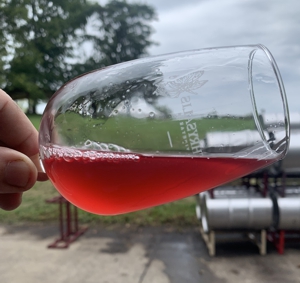 At the beginning of October we will have finished processing all of our red vinifera. The fruit looks incredible (as always) and tastes spot on. Despite the brief spouts of rain every week, the integrity of the fruit is hanging in there. Jenni and I have had quite a few conversations this month discussing what we think is ideal ripeness for our fruit.
This vintage Jenni and I are more focused on the concept of physiological ripeness over chemical ripeness. In other words, instead of focusing solely on ideal pHs, perfect brix, and TAs (titratable acidity) we are looking more closely at the physical characters of the fruit. How do the stems and rachis look? Are the stems lignified and beginning to harden? Are the berries starting to shrivel or are the skins still a bit crunchy? Do the seeds look black or is there a tiny bit of green at the top?
All of these physical attributes are indicators for determining ripeness. I've mentioned many times that picking based on chemistry is a good way to ensure ideal wine styles, but at the end of the day, it's not perfect. If we solely picked fruit based on science, we might actually be picking unripe fruit. This is often realized when you are sipping on a delicious red wine and suddenly this "green" character washes over the palate for just a second. It's often vegetal, similar to a green bell pepper or sometimes it tastes just like a stem from the vines themselves.
By letting the fruit hang a bit longer then the science dictates, you can almost hear the unlocking of a door. Those shriveled berries become super fruity and inviting. The stems don't carry over to the pallet as readily and those seeds, lift the structure of a wine with more tannin. Jenni and I have spent many hours this month looking at clusters of Viognier and juice determining whether or not the shade of the berries and juice are just right.
Understanding the chemistry seems to be the easiest part of harvest. Understanding the fruit and the vintage is the real challenge. Despite all of it, everyone here at the cellar is excited to share another great vintage!
While pick decisions can be challenging, Jenni and I will work relentlessly to ensure that careful consideration and intention goes into every glass.
Jake Blodinger, Winemaker
---
REPORT FROM THE VINEYARD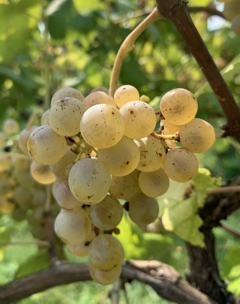 We really need a little more warm weather and a little less rain. The crew is pushing the limits every day zipping through the vineyard picking as much fruit as they possibly can. Even though speed can be important the crew takes extra time to field sort the fruit.
I know we have the most perfect fruit in Virginia, but we also have our fair share of "shot berries" and rot. Let's be honest, this is fruit grown on the East Coast where we actually get rain. Every time it rains, we see a small spike in disease pressure and because it's harvest time, we refrain from applying any chemicals to the berries. Due to this point, the crew spends extra time in the vineyard carefully removing any rot or green berries.
Each cluster is carefully looked over before being picked. The crew members check for rot, bugs, and leaves that may have become trapped in the cluster as it grew in size. If the fruit has more than 15% rot, the cluster is dropped. Rot and green berries impact the overall quality of the wine and can be the main source of faults or flaws found in wine.
As the fruit is picked the crew dumps 25lbs at a time into half ton bins. Freddy then picks through the bins looking for MOG or material other then grapes. MOG is commonly sticks, stems, or leaves. Stems and leaves don't necessarily press out in the juice but as the juice runs over these different contaminants, it can pick up off flavors or characters. In some circumstances, stick have been known to actually pop the bladder within a press.
Luckily, we have the finest crew in Virginia to pick the finest fruit. We count on them every harvest to make sure that only the best fruit is picked.
Jake Blodinger, Winemaker
---
REPORT FROM THE LITTLE RIVER BAKEHOUSE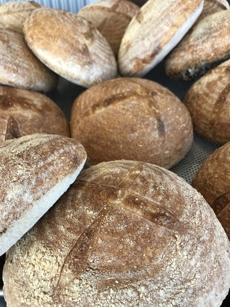 Greetings from The Little River Bakehouse! As summer has given way to fall, our local produce selection is changing. Green and yellow squash has been replaced by butternut, peaches have given way to apples, and tomato season is over....or is it?
Thanks to our friends at Mackintosh Berry Farms we will be well supplied with fresh tomatoes, herbs, and other local produce through the colder months. They will be continuing to grow fresh, local veggies and herbs in their greenhouse for a few select customers and we are lucky enough to be included in that group. This will ensure that our Margherita pizza will continue to have delicious, local tomatoes and basil and our house-made pickles with start with local cucumbers. We really strive to provide fresh, local ingredients in all of our products and our partnership with local growers like Mackintosh is a win-win.
Hope to see you all soon.
Keaton Beus, Little River Bakehouse Chef & Manager
---
REPORT FROM LOCKSLEY FARMSTEAD CHEESE COMPANY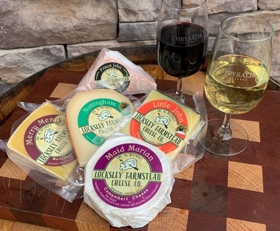 Cheesemaking is essentially the process of transforming a liquid into a solid. One very critical ingredient in this process is rennet, which is used to coagulate (or thicken) the milk into a Jell-O like texture. When the cheesemaking process begins after milk is received, starter cultures are added to change the lactose (milk sugar) into lactic acid, which in turn changes the acidity of the milk aiding in the process of thickening when rennet is added.
Chymosin, the enzyme used to produce rennet, is a protease enzyme that curdles the main protein in milk, casein, separating it from the second milk protein, whey. The whey is a liquid by-product of cheese production, which can then be used in multiple ways such as feeding pigs, producing electricity or making additional cheeses such as ricotta. This same process that is used in making cheese is present in the natural digestion of milk by mammals. Chymosin is found in the stomach lining of mammals, assisting in the digestion of their mother's milk. However, don't worry, animals are not slaughtered just so we can make cheese, rather it is collected when they are sold for meat as a way to ensure the whole animal is used. In addition to animal rennet, there are other types extracted from plants and other microbes such as mold. Plant based rennet is derived from cardoon thistle, artichoke, nettles as well as other plants by soaking the plant in water and extracting a thickening enzyme similar to chymosin. However, this type of rennet can be more challenging to work with as it is not always consistent and can cause vegetal or bitter flavors in cheese. Similarly, microbial rennet is extracted in labs from certain types of molds that have enzymes relatively similar to chymosin, but again it is tricky to work with and not widely used as it can also contribute a bitter flavor and lower yields. All of our cheeses are made possible by this key ingredient/enzyme, rennet!.
Note from Jenni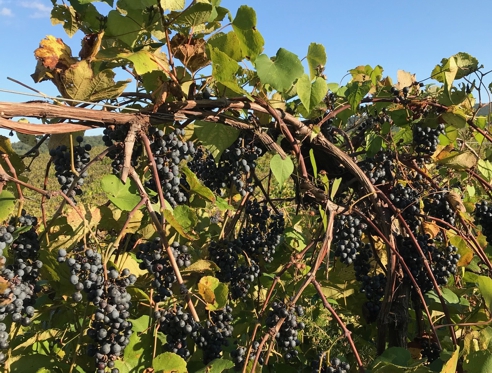 October is Virginia Wine Month, and I just realized I'm celebrating my 25th October marveling at Virginia's breathtaking vistas and fabulous local foods and wines. (I'm sure that must have motivated me to bring all of our great artisan foods and wines to you, our customers, friends, and families.) This month also marks the beginning of the 2nd half of a century of wine production in the Commonwealth… which also made me realize that I've been participating for half of it! Wow… OK… cool.
Speaking of cool, Chef Keaton has prepared some wonderful fare for this fall season, and the cooler weather marks the usual transition from light and fruity white wines to rosés and reds, especially Norton, The Real American Grape!®. And we've got a great selection for you with our upcoming releases. Of course, there's always an exception to the rule, and that's Viognier, which the fall was absolutely made for. So when planning ahead for the harvest feasts, make sure you have a "righteous" supply of our 2020 vintage on hand (a really stellar wine, if we do say so ourselves!), along with your Nortons and other reds.)
Finally, make sure you take us up on our Buy Some Wine, Get Some Cheese offer. This is a good deal, and you'll be pleased at the quality of farmstead cow cheeses as much as you are about our wines. It's our way of thanking you for your support during Virginia Wine Month.
Hope to see you soon. Take care,

Jennifer McCloud
Chrysalis Vineyards at The Ag District
39025 John Mosby Highway (Tasting Room/Creamery/Kitchen)
23876 Champe Ford Road (Winery/Milking Center/Offices)
Middleburg, VA 20117

McCloud@ChrysalisWine.com
Office: 540-687-8222
www.ChrysalisWine.com
Facebook.com/ChrysalisVineyards