APRIL NEWSLETTER 2021
IN THIS NEWSLETTER...
VIP Wines of the Month
Report from the Tasting Room
Report from the Cellar
Report from the Farm
Report from The Little River Bakehouse
Report from Locksley Farmstead Cheese
Note from Jenni
---

The vernal equinox has come and gone, so we can officially celebrate the spring season! While spring can be fickle in Virginia, the days have been noticeably warmer and the sun is staying out longer. Let's all hope that the warming trend continues so that you can all join us at the Ag District for some sunshine, great wine, and delicious food!
The white wine selection for our VIP Club members this month is Chrysalis Vineyards 2019 Private Reserve White, a blend of Viogner and Albariño available exclusively to our VIP Club members. The 2019 vintage is crafted with finesse and respect to each individual varietal. The Viognier is barrel fermented with weekly battonage to encourage complexity while promoting flavors of peaches, honey suckle, and mango. The Albariño is stainless steel fermented to facilitate tropical aromatics. Both varietals are put through a malolactic fermentation to elevate the flavor profile with hints of butter and cream. This elegant white wine pairs well with a dinner of Roasted Herb Chicken, jasmine rice pilaf, and sautéed vegetable medley!
Our red wine selection for April is Chrysalis Vineyards 2019 Estate Bottled Norton. This vintage of our Estate Bottled Norton showcases an amazing vintage in Virginia. Aromatics are easily discernable notes of cherry, vanilla, and spices. Flavors are complex black currant, plums, and espresso. Medium tannin structure carries lingering finish encouraging the next sip. It's the perfect match for roasted spring lamb with mint jelly and pearl couscous.
As a reminder to our members, all VIP wine is available for pickup at the Ag District Center tasting room anytime during regular business hours. If you can't make it out to pick up your wines on a monthly basis, we will hold them for you. Due to storage limitations, however, we do ask that you pick them up once you accumulate a case (6 months). We can also arrange for wine to be shipped to most locations, at your request.
Also, please remember that you can always find your paired recipes and detailed tasting notes at www.ChrysalisWine.com in the Private VIP Club Area. Also check in with us or follow us on Facebook for updates and announcements.
NOTE: Please do not reply to this emailed Newsletter. Your email will not be handled in a timely manner or may even be lost.
---
REPORT FROM THE TASTING ROOM
Warmer temperatures and more daylight means that you can all take advantage of our later hours on Friday, Saturday and Sunday! Skip the dinner preparations and stop by after work on Friday - you can enjoy a relaxing glass of wine while Chef Keaton prepares dinner for you! And while you're waiting, order up something to take home, too! Our new spring menu features salads, sandwiches, calzones, and more. It's also the perfect place to bring the family on a nice weekend afternoon or evening!
Our hours are 12:00pm - 6:00pm Monday - Thursday, 12:00pm - 8:00pm Friday and Saturday, and 12:00pm - 7:00pm Sunday. We have great wine, hot pizza, farmstead cheese, fresh bread, eggs, and more - all availble 7 days a week. If you can't stay, you can always place a "To Go" order to enjoy in the safety and comfort of your own home! You can place your order ahead of time by calling 540-687-8222 or stop by to place your order at the window.
---
REPORT FROM THE CELLAR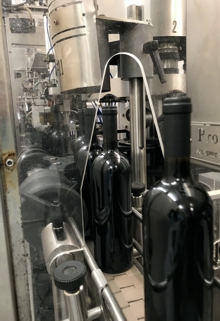 This month we are preparing for our Spring bottling which ironically focuses on putting everyone's Summertime wines in bottle. While preparing the wines for bottling, I had a great conversation with a fellow winemaker on the differences between "gross lees" and "fine lees".
After fermentation, we let the wine rest or "settle", meaning we allow some time (24-48 hours) for particulates present in the wine to fall to the bottom. These particulates are made up of grape skins, seeds, pieces of stem, and dead yeast. The number of particulates that settle out is substantial, this is where the term "gross lees" comes from. While these lees are not necessarily harmful to the wine, they will however break down and give wines off flavors such as a green character from some stems, or a pithiness from left over skins. After the wine is racked off the gross lees, fine lees remain present in the wine.
Fine lees are primarily made up of dead yeast cells, mannoproteins, and a number of other benefits for white wine. Occasionally, winemakers will refer to a technique called "batonnage" or the stirring of the lees. Eventually, fine lees will settle to the bottom of the vessel not really contributing to the wine but if stirred back up, the dead yeast cells can act as oxygen scavengers for added protection against oxidation. The mannoproteins in fine lees will actually help round out the body of white wines and aid in a wine's structure.
We perform weekly batonnage on our Viognier until about a month before bottling. At that time, the wine is left to settle and then racked off the fine lees. People are often surprised by the richness of our Viognier and while that can be attributed to things like pick decisions, wild fermentations, and our care for the wine, we believe that batonnage and aging on fine lees is a big part of what makes Chrysalis Vineyards Viognier so delicious!
Jake Blodinger, Assistant Winemaker
---
REPORT FROM THE VINEYARD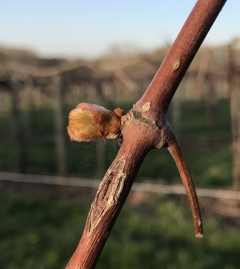 Temperatures are on the rise as we get closer and closer to Summer and it will not be long before bud break is upon us. Freddi and the crew have officially completed pruning, ahead of schedule too! With the pruning out of the way we are just a few weeks from bud break.
The earliest signs of bud break start with what is called "bud swell". On each shoot, the 6-8 buds have begun to swell and will appear almost engorged. As the temperature rises and the vines wakes from dormancy, the buds will continue to swell and appear almost furry. This is called a "wooly bud" and means bud break is only a week or two away. Starting the middle of April, the buds will actually shed that wooly fur and burst with tiny green leaves, this is bud break.
While bud break is the official starting line for harvest, it does cause a bit of tension in the vineyard. Virginia is known for having a late frost or two just after bud break and in the worst of cases, could mean a difficult harvest. Chrysalis Vineyards has taken great care to make sure that frost is not a huge concern by planting the vineyards on rolling hills or higher elevation. Our Hollin vineyard for instance, starts at an elevation of 1,100 feet and goes to almost 1,300 feet. Our Locksley site rests on the foothills of the Bull Run Mountains resulting in most of the cold air settling just below the growing sites.
Our vineyards were planted with great care and consideration for the whimsical nature of weather in Virginia. This coupled with our talented vineyard crew, ensures that we will have another exciting vintage!
Jake Blodinger, Assistant Winemaker
---
REPORT FROM THE LITTLE RIVER BAKEHOUSE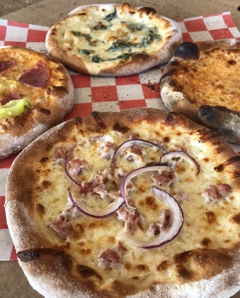 Greetings from the Little River Bakehouse, I am pleased to announce that we are now using 100% locally sourced honey in our pizza dough and many other items on our menu! Which should mean that if you need help beating your seasonal allergies our pizza should be able to help. I am sourcing it from Quail and Hound right here in Middleburg, VA and they have many other products like Smoked Sea Salt, too. I recommend checking them out sometime. Speaking of locally sourced ingredients, foraging season will be upon us soon and Ramps and Morels grow throughout this area. so hopefully I will be able to get out there soon and find some. Be sure to follow our social media to find out if we were able to forage enough for a pizza special in the future!
In the meantime, we are just gearing up in anticipation for a very busy spring and summer. As more vaccines roll out and people start reemerging we will be here to provide fresh baked pizza, breads and sandwiches seven days a week, so you don't have to wait until the weekend to indulge in fine wine, fresh bread and cheeses you can come out any day!
Hope to see you all soon.
Keaton Beus, Little River Bakehouse Chef & Manager
---
REPORT FROM LOCKSLEY FARMSTEAD CHEESE COMPANY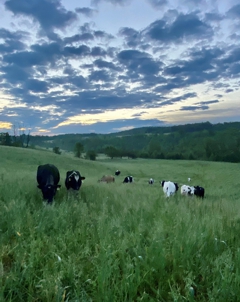 Spring has officially sprung, the cows are beginning to shed their winter coats and are very happy that the GREEN grass is beginning to grow again. The grasses they are consuming, contain a pigment and antioxidant known as beta-carotene, which is also most notably found in carrots.
Beta-carotene is dissolved into the cow's fat stores after she chews her cud, which then as a result forms globules in the milk produced. The membranes surrounding these globules prevent the color from being released into the cow's milk, hence why the milk in fluid form is still the white color we all recognize, however in the cheese making process these membranes are dissolved and release color into the cheese. Our Nottingham Gouda in particular has this rich, buttery yellow color that will continue to deepen with age. During the winter months, the cheeses will not have this rich, yellow color as there is no beta-carotene in the stored forages that the cows are consuming. Naturally the milk, and in return cheese, during the winter months appears more white then that of the spring and summer months with the absence of this pigment. Additionally, goat cheese will always appear bone white, the beta-carotene is broken down differently. Instead of storing it as fat, goats convert it to Vitamin A which lacks color. While all of our different cheeses may not be as yellow as the Nottingham Gouda, they are all just as delicious!
Come on out and enjoy this pretty spring weather with us at the Ag District Center!
Erin Saacke, Cheesemaker
---
Note from Jenni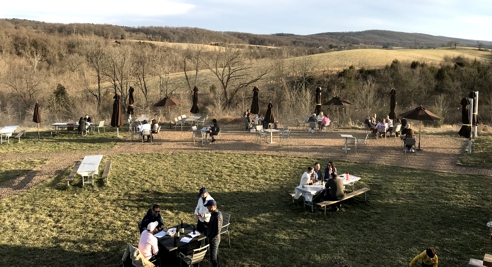 Joyous springtime!... my absolutely favorite season. But, you probably already know that, as I was just saying to my dear old friend, JR, "… since you've read my Note from Jenni over the years."
And this spring promises to be a doozy, since we've all been so drearily cooped up over the winter with "COVID cabin fever", and all… and hopefully, the worst is behind us. I know I'm so looking forward to warm walks in the countryside and chats with old and new friends and customers.
The air is fresh and pure, the green has burst forth in the fields, and we're ready for you! Our grounds are spacious and our doors are open. So come take in the sun, fresh air, and the beauty of the Bull Run Mountain countryside while you enjoy our new spring menu offerings and great Chrysalis Vineyards wines. We guarantee you'll definitely enjoy yourselves.
Hope to see you here… and take care,

Jennifer McCloud
Chrysalis Vineyards at The Ag District
39025 John Mosby Highway (Tasting Room/Creamery/Kitchen)
23876 Champe Ford Road (Winery/Milking Center/Offices)
Middleburg, VA 20117

McCloud@ChrysalisWine.com
Office: 540-687-8222
www.ChrysalisWine.com
Facebook.com/ChrysalisVineyards