Our growing season this year for Locksley Estate and Caeli Farm (The Ag District in toto) has been very unusual, but I'm liking it, as it promises (so far) to produce outstanding fruit. Let me explain.
The growing season got off to an unusually early start this year with warmer than usual temperatures in March and early April. The vines "broke bud" earlier than normal as a result, and had us biting our fingernails over the fear of a late spring frost when all the new growth was "out" so much earlier in the year. Fortunately, we only had one particularly cold morning and only some very minor damage on a couple of lower elevation Norton rows as a result (BTW, Norton, being a Virginia native, is cold-hardy to -25°F over the winter. But… all vines, including Norton, get damage on young growing leaves when temperatures get close or below freezing). Whew!
Then it got cool in May… and stayed cool… and it's still cooler than usual moving into July. That makes sense if El Niño is now active. And it looks like it is. Also, rainfall hasn't been normal, and we're still in a minor draught.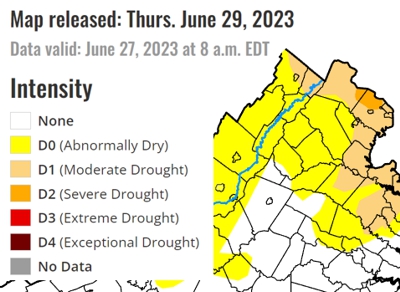 OK, so why am I feeling good about this season? Firstly, a long moderate summer is good for completely ripening fruit to its full potential. Since we started earlier than normal, and since we've had warm but not hot days so far is a good thing. (Fun fact: When temperatures rise over around 85°F vines can begin to shut down if they're draught stressed. Their little "breathing holes" called stomata close to preserve moisture in the plant. Over 95°F things get serious and photosynthesis stops. That means they're not ripening fruit!)
Secondly… and fortunately for us, every vine in our 70+ acres of vineyards are drip irrigated. We've been watering our vines during these dry days, and they're very healthy. I'm concerned for those growers who don't have irrigation, especially those starting out a new vineyard (young vines haven't yet developed the root systems to find moisture in deeper soil levels). If worse comes to worse, we most likely will have some extra fruit to help them out, if needed.
Finally, there is a good side to dry weather; disease pressure is much lower. Virginia's climate is generally humid, and there are many mildews, rots and fungal infections that infect grapevines, particularly European grapevines that evolved without most of these grapevine pathogens that are present in North America. (Another fun fact: Norton, native to Virginia, is the most disease-resistant bunch grape in the world, whether for table fruit, raisins or wine. Not one of… THE most.) When it's dry the fungi are held at bay from developing, and vines are under much less disease pressure.
So, there you have it. Nice and long, warm summer, but not too hot, irrigation if needed, and healthier vines, needing less chemical intervention in the vineyards. Let's hope it keeps up (with a bit more rain, please.)
Oh… BTW, my photo above is from years ago when I walked outside one morning – and went "Whoa… Kodak moment" (yep, I'm that old). Some smoke had been in the area from a nearby fire. These past days of smoky haze reminded me of this majestic sky. The draught has been very severe in the northeast, and Canada has been suffering from vast wildfires, with El Niño then causing the jet stream to push this colder, smoke-laden Canadian air down to lower latitudes… like here in Virginia!
Take Care,

Jennifer McCloud
Chrysalis Vineyards at The Ag District
39025 John Mosby Highway (Tasting Room/Creamery/Kitchen)
23876 Champe Ford Road (Winery/Milking Center/Offices)
Middleburg, VA 20117

McCloud@ChrysalisWine.com
Office: 540-687-8222
www.ChrysalisWine.com
Facebook.com/ChrysalisVineyards