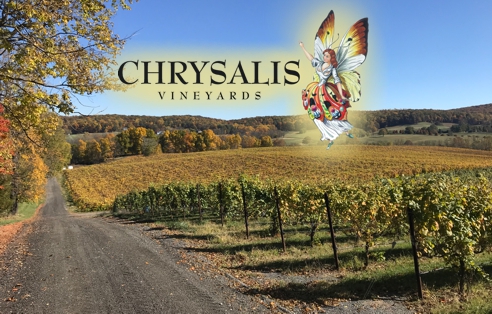 NOVEMBER NEWSLETTER 2019
IN THIS NEWSLETTER...
VIP Pickup Party... at the ADC
Painting and Wine with Creative Mankind
Report from the Tasting Room
Report from the Cellar
Report from the Vineyard
Report from The Little River Bakehouse
Report from Locksley Farmstead Cheese
Note from Jenni
---
VIP PICKUP PARTY
at the AG DISTRICT CENTER
Friday, November 8th
6:00 pm – 8:00 pm
at The Ag District
(RSVP REQUIRED)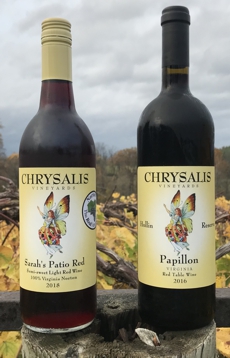 November begins the holiday season, a time filled with friends, family and celebrations that march us toward the new year. Whether you are searching for that perfect gift or looking for those final touches for a dinner party, The Ag District is the place to go! Who wouldn't enjoy a basket filled with local wine, cheese and bread? While you're at it, throw in some delicious Norton jelly and hot sauce! And no holiday feast is complete without Chrysalis Vineyards wine and Locksley Farmstead Cheese on the table! So stop by and talk to our tasting room associates about the perfect pairings and gifts for your every holiday need!
Our VIP event for November will be held on the evening of November 8th from 6:00pm until 8:00pm. Please remember to send your RSVP to VIP-Club@ChrysalisWine.com no later than November 5th.
The red wine selection for our VIP Club members this month is Chrysalis Vineyards 2016 Papillon. Our 2016 vintage is a blend of 55% Tannat and 45% Petit Verdot, which combines to produce a robust, tannic, and aromatic red wine. The Tannat provides structure and acidity while the Petit Verdot offers a spice and pepper character. Aging for 14 months in 22% new oak barrels provides additional structure as well as a hint of oak sweetness (not sugar) while letting the fruit be dominant. It has prominent blackberry and mulberry notes on the nose and palate, with a substantial tannin structure and a smooth finish. Enjoy this delicious dinner companion with a bowl of hearty beef stew!
Our white wine selection for November is Chrysalis Vineyards 2018 Sarah's Patio Red. Sarah's Patio Red is a semi-sweet, light red wine made in the style of a rosé. The grapes were whole-cluster pressed, as they would be for many white wines, but since it's Norton, there's so much color in the skins and pulp that the juice in this very early processing stage has plenty of color and yields a deep red hue. Fresh, fruity, and aromatic, this fragrant wine exhibits fresh picked raspberries, elderberries, and lingonberries. On the palate, this wine explodes with fresh strawberries, red cherries, and a touch of spice. A touch of sweetness and these robust fruits make this an easy drinking wine. Try it with an open faced roast beef sandwich, or with Maid Marian Camembert cheese and Norton jelly on lightly toasted sourdough bread!
As a reminder to our members, all VIP wine is available for pickup at the Ag District Center tasting room anytime during regular business hours. If you can't make it out to pick up your wines on a monthly basis, we will hold them for you. Due to storage limitations, however, we do ask that you pick them up once you accumulate a case (6 months). We can also arrange for wine to be shipped to most locations, at your request.
Also, please remember that you can always find your paired recipes and detailed tasting notes at www.ChrysalisWine.com in the Private VIP Club Area. Also check in with us or follow us on Facebook for updates and announcements.
NOTE: Please do not reply to this emailed Newsletter. Your email will not be handled in a timely manner or may even be lost.
---
Creative Mankind Painting and Wine
Saturday, November 23rd
1 pm – 4 pm
at the
Ag District Center
39025 John Mosby Highway
Middleburg, VA 20117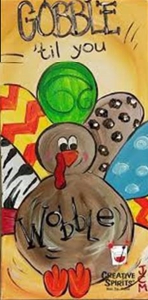 Creative Mankind will be hosting a "paint and sip" event at Chrysalis Vineyards on Saturday, November 23rd. (From their website: Creative Mankind is an art company that offers art classes and hosts parties and events for all ages. Our motto is "Everyone is a Creative Genius!" It's just a matter of people reconnecting with their creative self. Our mission is to enrich our community with art education and culture in a fun and accessible way.)
So... come on out, grab a glass of wine, and spend a fun afternoon laughing and creating your own masterpiece, all while sipping your favorite Chrysalis Vineyards wine! This 3 hour event is just $40 and includes all art supplies, an awesome staff, and a whole lot of fun (wine and food must be purchased separately). No experience is necessary. For additional information please contact Creative Mankind at 571-403-1912.
---
REPORT FROM THE TASTING ROOM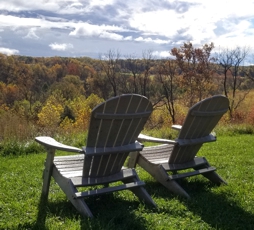 The stars aligned this month, because it let us switch to new vintages of several of our wines at once! The 2017 Rubiana, 2017 Schitz and Giggels, 2016 Norton Estate Bottled, and 2017 Norton Locksley Reserve are all available for purchase in the tasting room or on our website.
Whereas the 2016 Rubiana was a blend of Fer Servadou, Graciano, and Tinta Cão, the new vintage is 100% Fer Servadou grapes—fans of our Tximeleta rosé will most certainly enjoy this heavier Fer Servadou wine. The 2017 Schitz and Giggels remains 100% Norton grapes, which is as fruity and drinkable as ever. The 2016 Norton Estate Bottled has had a bit of a change in its makeup. This time, Norton is joined by Nebbiolo, Tannat, and Fer Servadou, but the Estate Bottled still keeps its trademark spiciness and serves as a great counterpoint to Schitz and Giggels. Finally, the 2017 Norton Locksley Reserve retains its award-winning components of Norton, Petit Verdot, and Tannat—why mess with perfection? Try all of our new vintages in your next tasting or flight! And remember.... if you are a VIP club member those tastings and flights are FREE, one of the best perks of our membership!
Cheers!
Laurie Stevens, Tasting Room Manager
---
REPORT FROM THE CELLAR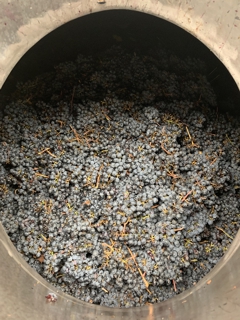 The 2019 harvest is coming to a close. We are on our final pick of Norton and estimate to be finished the first week of November. Unlike all the other fruit we bring in from our vineyard, Norton is put through an unusual winemaking technique called carbonic maceration. Carbonic maceration is a winemaking technique that is notoriously used in Beaujolais, France in the making of their "Nouveau" style wines.
In short, carbonic maceration is the fermentation of grapes in an anaerobic environment. We start this process by pouring whole clusters of grapes into the tops of our stainless steel tanks. Unfortunately, we do not have the ability to use machinery for this process, so our winery and vineyard crew all pitch in and pour the grapes into the tanks, 25 pounds at a time. Just for perspective, our largest tanks will have about 16,000 pounds of Norton in them when we are done (that's about 640 lugs to dump into each tank!). The tanks are then filled with carbon dioxide to remove all oxygen present, thus creating an anaerobic environment. In this type of environment, yeast have a hard time performing fermentation. The lack of oxygen forces natural enzymes, which are present on the grapes, to start fermentation inside the grape. This means that each grape undergoes its own, individual, fermentation. After about a month, the grapes will be removed from the tank, de-stemmed, and placed into bins for primary fermentation.
So, why go through all of this extra work? Well, carbonic maceration is crucial for our Norton production because the enzymes assist in breaking down malic acid, which reduces the overall acidity of our final product. In doing so, this technique creates a very rich and balanced "mouth feel", and elicits fruit flavors that make the wine "pop". Also, Norton's natural aromas will be enhanced, with a particularly fresh and lively appeal..
Jake Blodinger, Assistant Winemaker
---
REPORT FROM THE VINEYARD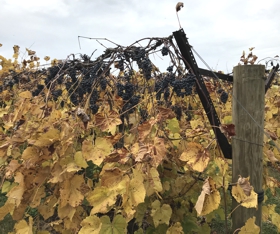 With harvest coming to a close, Freddy and his crew are finishing up the Norton harvest. While the end is near, the crew cannot relax yet. As we progress through fall, the leaves will begin to change colors and defoliate from the vine. Cold temperatures at night will also freeze the leaves causing them to fall off. Once the leaves start to fall on unpicked vines, the fruit is easier to spot.
This is concerning to us because the wildlife, which are foraging for winter food stores, will begin to take advantage of the vulnerable and exposed grapes. Birds, deer, and the occasional bear can clear out whole blocks of Norton in a matter of days. Luckily, Freddy has already taken steps to mitigate the damage. The vineyard crew places temporary netting around the blocks to help deter deer and bears from entering them, and to deter birds, we put out speakers that emit a noise that sounds like a bird in distress.
Our vineyard crew has worked extremely hard this season to ensure the best possible fruit is brought to the winery. We can't thank them enough for their hard work, and the care that they have put into the vineyard this growing season. We are truly lucky to have such a stellar vineyard crew!
Jake Blodinger, Assistant Winemaker
---
REPORT FROM THE LITTLE RIVER BAKEHOUSE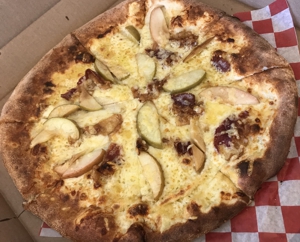 Greetings from the bake house, the weather is starting to cool but we are not without our new fall flavors. I'm most excited about our new Smoked Apple Bacon Cheddar Pizza, that has apples smoked with hickory wood. We are also including our smoked apples in our new Little John Cheddar Grilled Cheese which comes on our very own house made sourdough bread. And what goes better with a warm freshly made sandwich than a nice hot bowl of soup on a crisp fall day. Ask about our daily specials!
The VIP pick up party is coming up on the 8th, so be sure to come out for tastings of both wine and food and our new Merry Men Pizza, which will make its debut that weekend. It will include our new cheese, Merry Men Manchego, offered by the fine folks over at Locksley Farmstead Cheese. Manchego is one of my personal favorite cheeses, so I couldn't resist throwing it on a pizza steeped in Spanish influence, with a house made harissa sauce, castelvetrano olives and grilled chicken topped with our new delicious manchego. Be sure to make it out that weekend to be one of the first to try it!
Keaton Beus, Little River Bakehouse Manager
---
REPORT FROM LOCKSLEY FARMSTEAD CHEESE COMPANY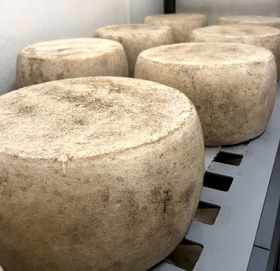 The time has come, our recreation of the well-known Spanish sheep's milk Manchego has hit the shelves and has become a crowd favorite in record breaking time! Merry Men, our cow's milk Manchego style cheese, has been aged with a natural rind for 6 months and boy was it worth the wait! This savory cheese is creamy and tangy with notes of melted butter and beef broth. The piquant notes may remind you of parmesan, but its melt in your mouth texture and citrusy flavors make it truly unique. Try pairing our Merry Men Manchego with your favorite red wine or fig jam, other warm fruits such as plums, and my personal favorite, grating it over pasta dishes. As we are nearing the holidays, be sure to stop by the Ag District as cheese (and wine) make a great gift!
Erin Saacke, Assistant Cheesemaker
---
Note from Jenni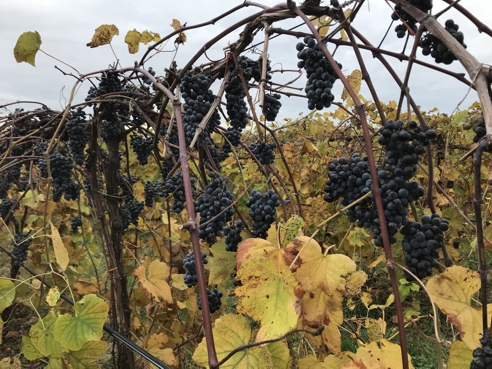 Reviewing the newsletter this month was fun! What great images of our food and wine; our new Manchego cheese (Manchego style, really, since it's from cows' milk, not sheep… but boy, is it good!), that incredible new pizza Keaton's done up (another "hit"). And… the photo I picked for this Note… the last clusters of Norton hanging on the vine.
What an incredible native "gem" Norton is. I remember many years ago, Dr. Richard Smart was lecturing us at Dennis Horton's place in Orange. (Richard Smart is an Australian viticulturist and renowned consultant on viticulture methods. He co-created the Smart-Dyson trellising scheme, named after him and his American associate, John Dyson.) We had lunch (yes, with a bit of wine :-) and perhaps Dr. Smart's social inhibitions had relaxed a little bit, because he proceeded to chastise us Virginia growers something fierce! "What the hell is wrong with you people? Why aren't you growing more Norton? Hell, we'd give our eyes teeth to have a native grape like Norton!" Of course, my head was bobbing up and down the whole time, and he must have thought I had some strange vertical palsy in my noggin!
But I always thought he was right, of course, and I'm as excited now about growing and making Norton wines as I was in 1997. At that time there was just one varietally labeled Norton wine available for purchase, and Chrysalis Vineyards would soon become the second. Now there are nearly 40… maybe more, as I haven't checked in a while!
Norton, The Real American Grape!®... what a plant!
Take care, and have a Happy Thanksgiving.

Jennifer McCloud
Chrysalis Vineyards at The Ag District
39025 John Mosby Highway (Tasting Room)
23876 Champe Ford Road (Winery/Offices)
Middleburg, VA 20117

McCloud@ChrysalisWine.com
Office: 540-687-8222
www.ChrysalisWine.com
Facebook.com/ChrysalisVineyards