MAY NEWSLETTER 2021
IN THIS NEWSLETTER...
VIP Wines of the Month
Report from the Tasting Room
Report from the Cellar
Report from the Farm
Report from The Little River Bakehouse
Report from Locksley Farmstead Cheese
Note from Jenni
---

The annual vineyard cycle that culminates with harvest has begun... we have budbreak! Like alot of things that happen in spring, budbreak signifies new life, hope and potential. It's the first sign that the vineyard is waking up from its winter nap and starting to put energy into producing the delicious fruit that is the first step toward creating a great wine. Every year starts out with the potential to be a great vintage year... let's hope that 2021 is the best year yet for Virginia wines!
The white wine selection for our VIP Club members this month is Chrysalis Vineyards 2020 Tximeleta. This easily quaffable rosé style wine is 90% Fer Servadou grown with intention for rosé production, whole cluster pressed and fermented in stainless steel. It's blended with 10% Albariño to further the tropical aromatics. The nose is met with fresh orange peels and wild summer strawberries. The palate is welcomed with a slight acidity that best encompasses oranges and citrusy fruit. A chilled glass of Tximeleta paired with Rainbow trout, candied brussels sprouts and jasmine rice would be a perfect dinner for a warm spring evening.
Our red wine selection for May is Chrysalis Vineyards 2019 Barrel Select Norton. The 2019 Barrel Select Norton showcases Virginia's grape at its best. Aromatics are mysterious notes of lush dark fruit, cloves, and leather. An undertone of spiced plums and black currant become revealed as the wine opens up. Flavors of black cherry and embellished plum are intermingled with notes of mocha and dark chocolate for a smooth but lasting finish. Our Barrel Select Norton remains the truest example of Virginia's grape aged in Virginia's very own oak. Try pairing this well-balanced red wine with a dinner of savory applewood smoked pork chops on a bed of pureed sweet potatoes.
As a reminder to our members, all VIP wine is available for pickup at the Ag District Center tasting room anytime during regular business hours. If you can't make it out to pick up your wines on a monthly basis, we will hold them for you. Due to storage limitations, however, we do ask that you pick them up once you accumulate a case (6 months). We can also arrange for wine to be shipped to most locations, at your request.
Also, please remember that you can always find your paired recipes and detailed tasting notes at www.ChrysalisWine.com in the Private VIP Club Area. Also check in with us or follow us on Facebook for updates and announcements.
NOTE: Please do not reply to this emailed Newsletter. Your email will not be handled in a timely manner or may even be lost.
---
REPORT FROM THE TASTING ROOM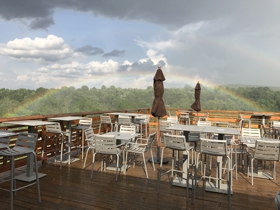 May is always one of the busiest months of the year at the tasting room. Warm temperatures, sunshine and longer days combine for the perfect setting to enjoy the pastoral views that surround the Ag District Center, Our tasting room staff is waiting to welcome you and help you choose the best wine and food to satisfy all your cravings. If you still can't decide what you want, why not pair a wine flight with a pizza flight? Let us know when you've discovered that perfect pairing so that we can share your suggestions, too!
Our hours are 12:00pm - 6:00pm Monday - Thursday, 12:00pm - 8:00pm Friday and Saturday, and 12:00pm - 7:00pm Sunday. We have great wine, pizza, sandwiches, salads, farmstead cheese, fresh bread, eggs, and more - all availble 7 days a week. If you can't stay, you can always place a "To Go" order to enjoy in the safety and comfort of your own home! You can place your order ahead of time by calling 540-687-8222 or stop by to place your order at the window.
---
REPORT FROM THE CELLAR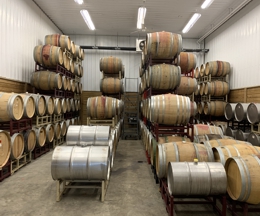 Putting great wine in bottle isn't as simple as some believe. In fact, once the blends have been decided a slew of prep work is involved in getting a wine ready for bottling. Once the blends are decided, we actually start fining the wine.
Fining a wine is done with a number of different products. The most common is called bentonite, which is actually a clay that's taken directly from the earth. Bentonite binds up to proteins and causes them to fall out of solution. Proteins in white wine will actually cause a haze to develop if the wine bottle should reach a temperature greater than 70 degrees for an extended period of time.
Outside of bentonite, we can use albumin to remove some tannin. Albumin actually comes from egg white and in the old world of winemaking it was common to keep a couple of chickens on property just for this reason. Don't worry, we don't use actual egg! Another popular product is casein. This is a protein found in milk and actually removes phenolics in wine that are too bitter and sometimes off-putting.
I'm sure you are wondering why your wine doesn't taste like dirt, milk, or eggs. This is because after a fining agent is added to the wine, we actually give them a week to settle to them bottom of the tank where the fining agents will actually compact into a cake. At this point, the wine is filtered and all traces of these products are 100% removed from the wine.
Fining agents are simply tools in the winemaking cellar to ensure quality wine is always put in the bottle. Chrysalis takes utmost care when prepping a wine for bottling so that you can enjoy a premium product.
Jake Blodinger, Assistant Winemaker
---
REPORT FROM THE VINEYARD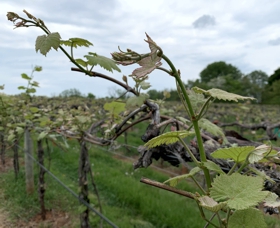 We have bud break! The race has officially begun for the 2021 harvest and the vines have sprung into life. Freddy and crew have a couple of weeks to finish up the last of the general vineyard maintenance before they are back in the vines to make sure they grow best fruit in Virginia!
Bud break is a term that refers to the buds found on the shoots of a vine that have swelled and burst with new leaves. At the tip of the leaves is what's called an apical meristem or the shoot tip where new cells are housed to create new growth. This shoot tip will continue to push all the way through the growing season generating shoots up to 8 feet long if left unchecked.
Freddy and the crew will take some time to let the new shoots develop and grow before they begun "shoot thinning". This term refers to early canopy management where new shoots are removed from the vine. This encourages stronger shoot development and growth from the remaining shoots and also keeps the canopy free of clutter.
With bud break behind us it's just a matter of time before we start to see new clusters form on the vines!
Jake Blodinger, Assistant Winemaker
---
REPORT FROM THE LITTLE RIVER BAKEHOUSE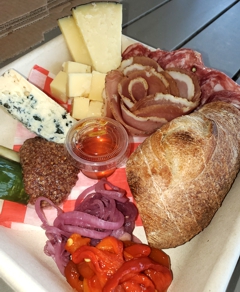 Greetings from the Little River Bakehouse. May is upon us and that means the fresh produce selections are gonna start becoming more and more abundant as we head twoard June. My favorite thing about going into these fresh produce seasons is being able to pickle and preserve fruits and vegetables at their peak of freshness, preserving all that flavor. If you have been by since we launched the spring menu and had one of our charcuterie boards you may have noticed that it comes with a few new items including Albariño dill pickles. These pickles are made with Chrysalis Vineyards Albariño in the pickling process giving them their own unique flavor. As we begin to see more and more fruits and vegetables coming into season you can expect to see more unique and flavorful kinds of pickles appearing on the charcuterie boards.
Speaking of our charcuterie boards, I also wanted to kind of toot my own horn here and let you in on how many items are made right here in our kitchen using ingredients from our farm. First, there's the Locksley Farmstead Chesese produced right here from using milk from dairy cows that you can see grazing in the pasture near the tasting room on occasion. Then our pickles that I just mentioned and our hearth oven baguette. Last, but not least, is our very own Norton whole grain mustard which I make here as well. All these goodies are complimented by cured meats from Terra Di Sienna, just outside of Richmond and the Quail & Hound honey from right here in Middleburg. It truly is a Virginia Charcuterie Board down to each component, so come on out sometime and give it a try.
Hope to see you all soon.
Keaton Beus, Little River Bakehouse Chef & Manager
---
REPORT FROM LOCKSLEY FARMSTEAD CHEESE COMPANY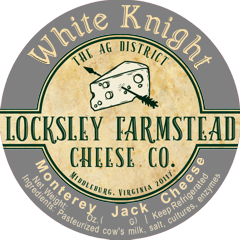 Spring has officially sprung, the cows are beginning to shed their winter coats and are very happy that the GREEN grass is beginning to grow again. The grasses they are consuming, contain a pigment and antioxidant known as beta-carotene, which is also most notably found in carrots.
Beta-carotene is dissolved into the cow's fat stores after she chews her cud, which then as a result forms globules in the milk produced. The membranes surrounding these globules prevent the color from being released into the cow's milk, hence why the milk in fluid form is still the white color we all recognize, however in the cheese making process these membranes are dissolved and release color into the cheese. Our Nottingham Gouda in particular has this rich, buttery yellow color that will continue to deepen with age.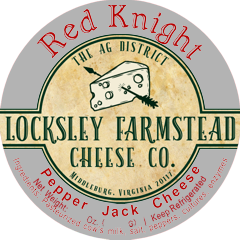 During the winter months, the cheeses will not have this rich, yellow color as there is no beta-carotene in the stored forages that the cows are consuming. Naturally the milk, and in return cheese, during the winter months appears more white then that of the spring and summer months with the absence of this pigment. Additionally, goat cheese will always appear bone white, the beta-carotene is broken down differently. Instead of storing it as fat, goats convert it to Vitamin A which lacks color. While all of our different cheeses may not be as yellow as the Nottingham Gouda, they are all just as delicious!
Come on out and enjoy this pretty spring weather with us at the Ag District Center! And watch for the release of the newest additions to our cheese lineup.... White Knight monterey jack and Red Knight pepper jack!
Erin Saacke, Cheesemaker
---
Note from Jenni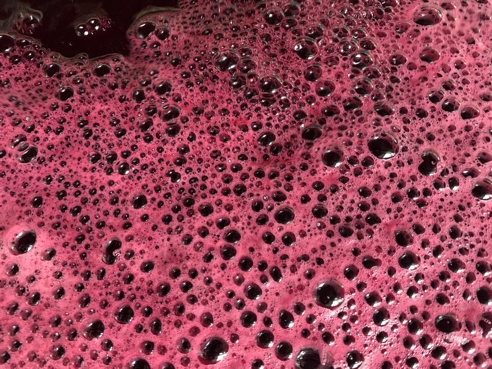 May is a beautiful month at The Ag District. Physically, mentally and spiritually. Nature and all of her wonderful creatures and plants are "full blast" starting the new season. We're all bustling around in our own areas of expertise; Fredy and the guys in the vineyards, Jake in the winery (and at the Manorhouse several times a week crafting our wines with me), Erin in the creamery or on the road showing off our cheeses, Steven, Grayson and Julia in the fields, milking parlor and pack barn, our Tasting Room crew running around preparing for our high season, and Teri Scott, well… Teri's everywhere! Me… I'm bustling, too, but mostly in the realm of computer bits and bytes of communication, strategic planning, technology, finance, marketing and PR. It's OK, it's my job, man! Taking a break now and again, I walk outside and take it all in. Yes, May is a beautiful month.
It's also time for you, our friends and customers to get busting out to the countryside. It's beautiful, it's healthy, it's new and fresh, and you'll leave refreshed and renewed. Guaranteed. And we need your help and support. The winter has been difficult for us not being able to bring folks into the building as we have in the past. So, please, make a plan right now to visit us this spring in the beautiful Bull Run Mountains and help support your local agriculture.
Take a day trip and we'll see you here at The Ag District.
Take care,

Jennifer McCloud
Chrysalis Vineyards at The Ag District
39025 John Mosby Highway (Tasting Room/Creamery/Kitchen)
23876 Champe Ford Road (Winery/Milking Center/Offices)
Middleburg, VA 20117

McCloud@ChrysalisWine.com
Office: 540-687-8222
www.ChrysalisWine.com
Facebook.com/ChrysalisVineyards