DECEMBER NEWSLETTER 2020
IN THIS NEWSLETTER...
VIP Wines of the Month
Report from the Tasting Room
Report from the Cellar
Report from the Farm
Report from The Little River Bakehouse
Report from Locksley Farmstead Cheese
Note from Jenni
---

December marks the last month of this very long year and the beginning of winter. The winter solstice will occur at 8:30 am on December 21st. The solstice is the point in time when the sun is at its southermost point in the Northern Hemisphere and the day of the solstice has the shortest daylight period of the year. It's also the point in time when the days very gradually start to get longer as we begin the march toward spring. While we have some time before we will really notice a difference, we will be turning a corner. Let's hope that this holiday season sees us turning many corners toward a healthy and prosperous new year!
Don't forget...If you're planning some "virtual visiting" over the holidays you might want to consider sending some Chrysalis Vineyards wine to your friends and family ahead of time - we ship to most locations. There's no better way to feel close than sharing a glass of wine with friends and family - even if you can't actually be together.
Even during this crazy year, we can all find something to be thankful for. For all of us at the Ag District we are especially thankful for our loyal customers who have helped us to get through this very difficult year. We wish all of you a Happy Thanksgiving!
The white wine selection for December is Chrysalis Vineyards 2019 Albariño. This 100% stainless steel fermented white has delightful aromas of orange blossoms, beeswax, and ripe bannanas. The palate bursts with fresh kiwi, blood orange, and stone fruit. A slight minerality leaves the palate thirsting for more. This is the perfect wine with your holiday turkey.
The red wine selection for our VIP Club members this month is Chrysalis Vineyards 2017 Borboleta. Borboleta is another showcase of Norton's finesse through its expression of a traditional port style wine. Borboleta is best enjoyed next to a warm fire on a cold night or with your favorite chocolate dessert. The aromatics lean into a smooth mocha and black cherry nose. The palate becomes filled with a soft warmth that easily carries ripe cherry, a hint of coffee, and creamy dark cocoa finish.
As a reminder to our members, all VIP wine is available for pickup at the Ag District Center tasting room anytime during regular business hours. If you can't make it out to pick up your wines on a monthly basis, we will hold them for you. Due to storage limitations, however, we do ask that you pick them up once you accumulate a case (6 months). We can also arrange for wine to be shipped to most locations, at your request.
Also, please remember that you can always find your paired recipes and detailed tasting notes at www.ChrysalisWine.com in the Private VIP Club Area. Also check in with us or follow us on Facebook for updates and announcements.
NOTE: Please do not reply to this emailed Newsletter. Your email will not be handled in a timely manner or may even be lost.
---
REPORT FROM THE TASTING ROOM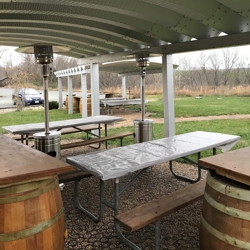 As winter approaches and we head toward the inevitable inclement weather, we are doing our best to create warm spaces for our guests to enjoy during their visit to the Ag District. This is a particular challenge for us this year since we also have to consider the ever changing restrictions designed to help keep our customers and staff safe and keep the COVID pandemic at bay. We have been lucky so far, since we have had relatively mild weather that has allowed our guests to enjoy all of our socially distanced, outdoor seating.
Beginning December 1st, we will have very limited indoor seating for adults 21 years of age and older. We will also have a limited number of outdoor tables that will be under cover and have patio heaters available. As always, you are welcome to enjoy our other outdoor seating when the weather permits. Our largest oudoor tables seat 8 people comfortably, so if you have more than 8 people in your group you will need sit at multiple tables. We ask that you do not move our furniture, but you are welcome to bring your own seating as long as you maintain proper social distancing and group sizes remain within our current restrictions (please call ahead if you have more than 8 people in your group to discuss current restrictions). Regulations and protocols are subject to change at any time, so please call the tasting room at 540-687-8222 or visit our website for updates.
Our hours are 12:00pm - 6:00pm Monday - Thursday, 12:00pm - 8:00pm Friday and Saturday, and 12:00pm - 7:00pm Sunday. We have great wine, hot pizza, farmstead cheese, fresh bread, eggs, and more - all availble 7 days a week. If you can't stay, you can always place a "To Go" order to enjoy in the safety and comfort of your own home! You can place your order ahead of time by calling 540-687-8222 or stop by to place your order at the window.
---
REPORT FROM THE CELLAR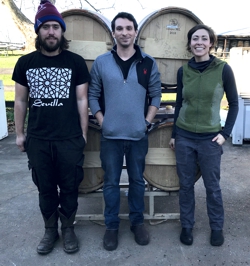 There is a sigh of relief that has filled the winery as the last of the Norton is barreled down. This marks the official end to harvest, and everyone has begun to relax. While the harvest crew works diligently to clean the winery post-harvest, Jenni and I have begun to discuss the next bottling in January. I now have two harvests under my belt here at Chrysalis and while I feel a huge sense of accomplishment, I want to give a very heartfelt and special thanks to our 2020 harvest crew. This year we were fortunate to find two incredibly passionate people to assist with harvest.
The first harvest intern I would like to introduce is Anthony Vaccaro, while he's a guy of very few words, and I mean very few, he is one of the coolest people I have had the pleasure of sharing a crush pad with. Anthony was born and raised in New Jersey, but graduated Virginia Tech with a bachelor's degree in Food Science. Shortly after graduation he made his way out to California for a crash course harvest with Louis Martini Winery. Anthony further cultivated his interest in Denver Colorado while working at Carboy Winery. There he worked with some interesting varietals like Petit Pearl and Teroldego.
While he had a great time working on the west coast, Anthony wanted to see what an east coast harvest was like and landed a 2020 internship with us here at Chrysalis Vineyards. Like all of us here, Anthony has taken a liking to the Norton grape and his favorite wine to sip after a long day of work is the 2019 Norton Barrel Select. Though harvest has come to an end here, Anthony has decided to head to Chile to experience harvest at a biodynamic winery. We wish him the best of luck!
Our other intern this season is Kelly Allen. She is our harvest enologist and has spent countless hours using the spectrophotometer. She has been the guiding star on the science side of things. Kelly caught the wine bug a few years ago while working in a local vineyard. From there she decided to pursue her newfound passion in the wine sales side of things. Kelly worked as a sales rep for a local distributor called Free Run, where she was able to explore wines made by small producers in Europe. Her palate leans heavily towards Italian wines and wines that express a sense of place.
Outside of the lab, Kelly spends all her free time running a local CSA called Artemisia Farms, which focuses heavily on "sustainability, biodiversity, community, and culture". All of the produce grown through Artemisia Farms showcases their growing sites' diversity and the importance of keeping food pathways as local as possible to reinforce local communities. With harvest winding to a close Kelly has begun working on new projects, exploring bitters production for cocktails, developing recipes for aromatized wines, and one day starting her own vineyard and winery. We cannot wait to see what Kelly does next!
I want to personally thank Anthony and Kelly for spending long days with me in the lab and on the crush pad. They've both worked extremely hard to make sure that no grape was neglected, no wine missed a punch down, and no drop of wine stained a barrel. Chrysalis Vineyards can bring another great vintage of wine to our customers because of you both! Good luck and thank you so much!
Jake Blodinger, Assistant Winemaker
---
REPORT FROM THE VINEYARD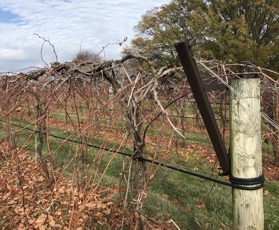 Well, harvest is over. All the green leaves have fallen to the ground and the vineyard enters into its yearly slumber before another growing season. As dormancy takes hold of the vineyard, Freddi and I have already begun talking about the focus for the next growing season. We want to take as many elements of the vineyard into account as we possibly can, even down to the very ground that our vines grow in.
One of the most complicated things to think about when one looks at the vineyard is the soil. Not everything can be done with pruners and tractor sprays. In fact, a lot of the behind the scenes work for a vine happens below the surface of the soil. When looking at soil, we must consider two major things, soil pH and nutrients. Soil pH looks at the alkalinity and acidity of the soil. The optimum range for growing grapes is a soil pH of 5.5 to 8. Anything above or below this range leads to reduced yields and potential vine health issues. This can be seen above soil when one looks at the length of shoots. For instance, Norton has so much vigor that shoots will trail along the vineyard floor and if left unchecked, across the entire vineyard. Soil pH changes with time through the erosion, loss of organic matter, and nutrient uptake from plants.
Balancing soil pH is just as important as focusing on exactly what nutrients are in the soil. Vines need nitrogen, potassium, zinc, and boron primarily. These are commonly referred to as macronutrients and are the primary nutrients needed for all plants. Grape vines tend to be a little more needy though and require additional micronutrients such as iron, magnesium, and manganese. In fact, micronutrients vary on a varietal basis. This can be commonly seen in Fer Servadou, as the vine enters dormancy, the edge of its leaves will turn bright red indicating its need for an iron addition. Ironically (pun intended), the French word for iron is "fer". Norton has a higher requirement for magnesium then other vines, this is essential for "greening" up the leaves to help with fruit ripeness. This is just the "top soil" of the soil science but an essential part of the next growing season.
Jake Blodinger, Assistant Winemaker
---
REPORT FROM THE LITTLE RIVER BAKEHOUSE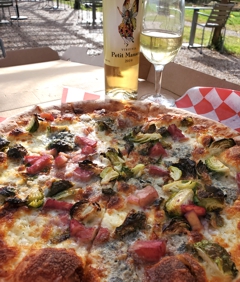 Hello from The Little River Bakehouse! We have been very busy here producing pizzas for the masses and have had the busiest fall season yet. Going into winter I am going to be doing some research and development on new dishes and breads to bake in our brick oven. Even though the winter might slow things down a bit, we will continue to do pizza specials every weekend and have added soups back to the menu to help warm you up. Each soup is made with stocks that we make in house every week and is served with some of our fresh baked Sourdough.
Through the winter we will also continue to run our full menu everyday from open to close. So, even if it is too cold to stay we will have takeout available for you at your convenience. I would also like to take this time to thank my very hard working staff that has been by my side through this pandemic and helping me out every day. If you want to stay up to date on our goings on here be sure to check out our social media for updates on menu changes and new offerings.
Keaton Beus, Little River Bakehouse Chef & Manager
---
REPORT FROM LOCKSLEY FARMSTEAD CHEESE COMPANY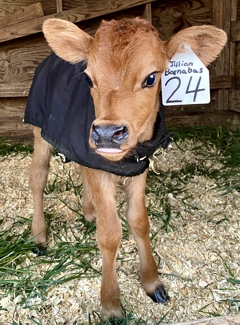 We sure have been spoiled by great weather this year! The cows could not be happier with the abundance of green grass and mild days. Thinking back to the winter of 2018, we already had 7 inches of snow on the ground by mid-November! Here is a picture of one of my favorite Jersey calves, you'll notice this cute little calf is wearing what we call a blanket or jacket. (No we are not crazy, they actually make blankets for calves!) With temperatures dropping well below freezing and the wind chills that often come along with these storms, it is very important for us to keep our herd healthy which starts from the day they are born. Calves are born with little to no body fat, so it is extremely important that they are able to stay warm. We can help out by keeping their bellies full of warm milk and monitoring their environment, making sure they are in an area that is out of the wind and has dry bedding to nestle into.
Typically, we blanket our calves when the temperature drops below 35°F. While our winters may not be as harsh as say the extreme negative temperatures and feet of snow that Wisconsin gets every year, a dairy calf begins feeling the effects of "cold stress" at around 30-40°F. The negative effects of cold stress are further compounded by prolonged days or periods of cold temperatures when calves are not properly cared for. By making sure our calves not only start their lives out healthy, but are raised in a low stress and comfortable environment, we can ensure that they will grow up to be happy, healthy, strong girls producing the best milk for our cheeses for many years! Come by and grab a variety of cheeses to entertain friends and family or enjoy just yourself in your cozy blanket by the fire this holiday season!
Happy Holidays!
Erin Saacke, Cheesemaker
---
Note from Jenni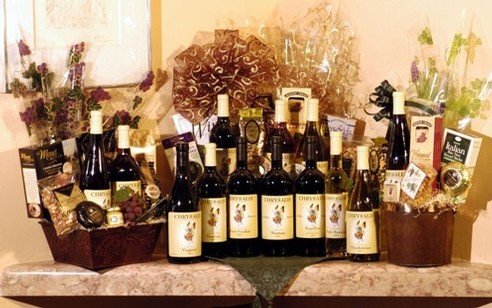 Some of you who get emails when they're sent have probably just finished a huge Thanksgiving meal (since we always endeavor to send out our newsletter on the last Thursday of the month prior to the month of issue). So, I hope it was great and that you, your family and/or friends had a safe and wonderful time.
As we enter the last month of the year, and the beginning of winter, we're very thankful, especially in light of COVID-19 (gosh, I'm tired of hearing this word!), for this year's good fortune and great harvest. And we're very hopeful about the coming year. 2020 has been unusual, to say the least, and we're very proud to have safely served our farm's products with many, many people this past year, despite the lockdowns and changed procedures for us.
Another good thing that has happened this year is the general public's renewed awareness and appreciation of local agriculture. We here at The Ag District have always been blessed with customers and friends that already appreciate what we do here, and we welcome and thank those new folks that have visited and supported us this year. We look forward to continuing our great service and top-flight artisan wines and foods in the coming year.
And, oh... people always love getting gifts of wine, cheese, jellies, hot sauces and other local farm goodies. Come by and get your stuff for some great gifts this holiday season.
Have a very safe and Happy Holiday,

Jennifer McCloud
Chrysalis Vineyards at The Ag District
39025 John Mosby Highway (Tasting Room/Creamery/Kitchen)
23876 Champe Ford Road (Winery/Milking Center/Offices)
Middleburg, VA 20117

McCloud@ChrysalisWine.com
Office: 540-687-8222
www.ChrysalisWine.com
Facebook.com/ChrysalisVineyards