Wow.... December is here again. This past year has certainly flown past! As we enter the busy holiday season we're also beginning to look toward 2023. Jenni and Jake are tasting through all the wines produced from the 2022 harvest, planning blends, and fine tuning things before we head into our first bottling in January. Freddi, Filiberto, and the rest of the vineyard crew are getting things ready for pruning. And everyone at the Ag District is starting to plan for next year. While we are all busy, it's also a time when we can relax a bit more and spend some time with friends and family. We hope that you will all be doing the same and hopefully enjoying some of your favorite Chrysalis Vineyards wines!
We wish all of you a happy holiday season and thank you for all of your support this year!
NOTE TO OUR VIP CLUB MEMBERS
Our VIP pickup event this month will be held on Friday, December 9th from 5:00pm until 8:00pm at the Ag District Center.
Members must RSVP no later than December 5th by emailing TR-Manager@ChrysalisWine.com. Please include your name, number attending (up to 2 per membership), and your preferred tasting time (5:00, 5:45, 6:30, or 7:15). Please arrive in time to check in at least 10 minutes prior to your tasting time. When planning your visit please remember that we close at 8:00 pm.
If you're not a member of our Chrysalis Vineyards VIP Club, remember to ask one of our associates how to join. Our members enjoy complimentary wine flights, discounts on wine and food, exclusive access to VIP events and more!
The white wine selection for our VIP Club members this month is Chrysalis Vineyards 2021 Sarah's Patio White. The nose greets you with a wafting floral note accompanied by honey suckle and tropical fruit. Ripe melon and stone fruit with clean acidity bathe the palate. This semi-sweet white is an easily drinkable wine that prefers to be enjoyed rather then pontificated on.
Our red wine selection for December is Chrysalis Vineyards 2017 Borboleta. Borboleta is another showcase of Norton's finesse through its expression of a traditional port-style wine. Borboleta is best enjoyed next to a warm fire on a cold night or with your favorite chocolate dessert. The aromatics lean into a smooth mocha and black cherry nose. The palate becomes filled with a soft warmth that easily carries ripe cherry, a hint of coffee, and creamy dark cocoa finish.
As a reminder to our members, all VIP wine is available for pickup at the Ag District Center tasting room anytime during regular business hours. If you can't make it out to pick up your wines on a monthly basis, we will hold them for you. Due to storage limitations, however, we do ask that you pick them up once you accumulate a case (6 months). We can also arrange for wine to be shipped to most locations, at your request.
NOTE: Please do not reply to this emailed Newsletter. Your email will not be handled in a timely manner or may even be lost.
---
REPORT FROM THE TASTING ROOM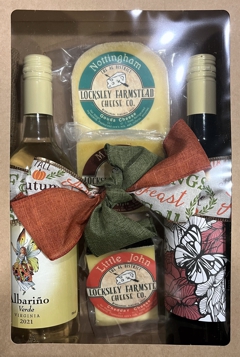 Looking for a great gift to bring to your holiday parties? Need to impress the new in-laws? Having trouble shopping for that hard to please aunt? We've got the perfect answer! Chrysalis Vineyards wines paired with delicious artisan cheese from Locksley Farmstead Cheese! This combo is sure to please everyone!
We have 2 gift sets available through the holidays this year. The first includes our 2021 Albariño Verde and 2021 Bull Run Mountain Cuvee paired with Nottingham Gouda, Merry Men Manchego, and Little John Cheddar.
We are also offering a larger gift set that includes all the items in the first set plus our own Noton jelly, Norton hot sauce, and Norton Chipotle hot sauce. Both packages are decoratively boxed and ready to be delivered to your favorite friends and family! Just stop by the tasting room and give us a few minutes to pack it up... just enough time to enjoy a glass or flight of your own while you're waiting!
Please note that the tasting room will be closed on Christmas Day, but we will be open until 5:00pm on Christmas Eve.
REPORT FROM THE VINEYARD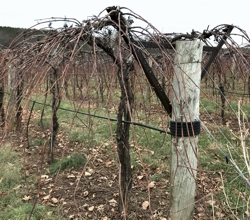 The vines have finally dropped their leaves and gone dormant. The vineyard is completely still and the local deer population seems a bit depressed they can't enjoy a free snack. The first couple of weeks after the last grapes are picked the crew slows and turns their focus to cleaning up the vineyard.
This includes an assortment of tasks like checking the trellis system for wear and tear or flagging damaged vines for replacement. Once the minor tasks are complete, the crew will dedicate a portion of their time to removing dead trees and cutting back some of the tree line.
This includes an assortment of tasks like checking the trellis system for wear and tear or flagging damaged vines for replacement. Once the minor tasks are complete, the crew will dedicate a portion of their time to removing dead trees and cutting back some of the tree line.
This sounds like a task for aesthetics but in reality is part of how we reduce the general insect population down to manageable numbers. It's honestly one of the biggest reasons why we only have to spray insecticides once or twice a year. Most insects don't actually live in the vineyard. In fact, most of the insect population is found in the surrounding woods. More specifically, in thick brush, tall grasses, and dead trees.
These areas act as a sort of sanctuary for various threats to vineyards. Once these insects hit their adulthood they will actually move into the vineyard and begin to feast on different parts of the vine. Eat and multiply. Typically, you can target different aspects of a bugs life cycle and spray insecticides to eliminate threats. This is a war of attrition as you can't possibly nuke them all in one or two sprays. By removing dead trees and burning them, you've effectively eliminated the next generation of future threats.
The result is lower more manageable populations of insects that can be more readily deterred through less rigorous practices. In fact, we actually let the Japanse Beetles munch on the top layer of leaves early in the season. This assists with leaf and lateral removal. Due to the reduced population they tend move slower and the first June thunderstorm almost drowns them out entirely. Other insects like Grape Berry Moth require careful canopy and fruit management. Reducing the population early on allows us to more time to identify the damage earlier in the season and react accordingly.
I know we've only just finished harvest but we are already looking at the next growing season. Freddy, Filiberto, and I have already begun to discuss on ways to keeping improving the way we grow fruit here in Virginia. These guys are relentless, dedicated, and the finest crew members around!
Jake Blodinger, Winemaker
---
REPORT FROM THE CELLAR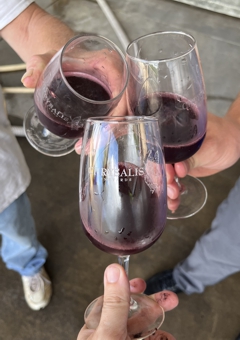 For many, December is the month of holiday parties and celebrations spent with family and friends. We often do this by sharing home cooked meals, exchanging gifts, and giving those closest to us our favorite Chrysalis wines. (Hint! Hint!) Here in the cellar we typically wrap up the harvest with a monumental amount of cleaning and a bottling. This year, we've decided to delay the bottling so we can better dial in wines. Don't worry, we've only delayed it until the first week of January.
The 2022 harvest was an awesome one to say the least. All of the fruit was premium quality and the resulting wines are definitely something we are all proud of. The whites are crisp, floral, and fruity. The reds, while still young, are intensely colored, aromatic, and showcasing dark fruit flavors. It's still too early to determine how great the vintage really was but I'm thinking the 2022 vintage is definitely one for the cellar!
As we wrap up the deep cleaning in the cellar, I want to take a moment to thank both of our harvest interns. First, I'd like to thank Matt Cypher for all of his hard work. Matt is currently finishing up his last year of college and needed something to break up the monotony of projects and papers. Matt has been the most enthusiastic intern I've ever had the pleasure to share a crush pad with. The guy is ready to roll every Monday morning while the rest of us are just waking up.
Next, I'd like to thanks to my father Glen, for coming all the way from North Carolina to help us out. Glen normally enjoys reading old western novels and listening to rock and roll, but has taken a break from the retired life to crush grapes and play with the grand baby. Glen has been the hardest worker I've had the pleasure of sharing a crush pad with and has kept us "young whipper snappers" in check.
2022 has certainly been an interesting year but the harvest has been awesome. We've made some spectacular wines and had a great time doing it. Thanks again to Matt and Glen for helping us craft premium Virginia wine.
Jake Blodinger, Winemaker
---
REPORT FROM LOCKSLEY FARMSTEAD CHEESE COMPANY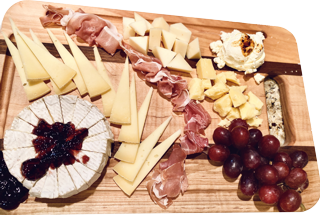 With the holiday season upon us, cheese boards are a fun, versatile, and delicious way to entertain your guests. Not only are they your very own work of art, but they're also lots of fun to put together, and can include something that will satisfy everyone's taste buds. Swing by the Ag District Center to pick up a variety of our LOCAL cow's milk cheeses, fresh baked breads, as well as our hot sauce and Norton grape jelly to add to your boards!
Follow these steps below to assemble the perfect cheese board:
1.) To begin, you'll want to select your board, typically cheese boards are assembled on a slate or wooden tray, but any flat surface will do.
2.) Select a combination of soft and hard cheeses including a variety of flavors and textures:
Soft: Maid Marian Camembert,

Friar Tuck Fromage Blanc

Semi-soft: White Knight Monterey Jack, Red Knight Pepper Jack

Hard: Nottingham Gouda, Little John Cheddar, Merry Men Manchego

Blue: King Richard Blu
3.) Add charcuterie such as salami, sopressata, chorizo, mortadella or my personal favorite, prosciutto.
4.) Add savory items such as olives, pickles, roasted peppers, artichokes, almonds, cashews, spicy mustard or our Chrysalis wine vinegar hot sauce.
5.) Add sweet items, like seasonal dried fruits, candied nuts, preserves, honey, chutney, or perhaps some of our Norton grape jelly.
6.) Offer a variety of breads and/or crackers in various shapes, sizes and flavors.
7.) Finally, finish with garnishes such as edible flowers, fresh herbs, or additional fruits to give your board a seasonal touch and the look and feel you want.
Additional tips:
Be sure to cut each type of cheese in small, bite sizes, but in different shapes. This eases your guests ability to eat your beautiful platter, so that each cheese can be distinguished from the other types of cheeses (cubes, rectangles, triangles - short, long and equilateral work well for hard cheeses).

For softer cheeses such as Camembert or Brie that also have a rind, you may need to let your guests cut their own portions as they are naturally oozy. You can precut the wheel, leaving the slices in wheel shape, together on your board to ensure an equal cheese to rind ratio when your guests are serving themselves. This will eliminate the possibility for the cheese being cut wrong by your guests creating an uneven and messy board.

Also, consider using labels for your board to ensure guests know what they may be eating.

Include knives, spoons, toothpicks, etc. for ease of serving.

Be sure to bring your board out of the fridge and to room temperature before serving, this ensures your cheese is at its peak flavor, giving your guests the highest, and tastiest experience.
---
Happy Holidays, everyone! 'Tis the season for kindness, merriment and joyful times with family and friends. And good food and wine, of course!
I've mentioned many times in my Note from Jenni what pleasure I get from working with everyone at The Ag District to craft and present our fine products. One of my favorite activities is working with Jake Blodinger to craft the very best wines we can. I really do go into detail and taste every single wine we produce multiple times before we put it in the bottle. Jake and I just recently began an assessment of the 2022 wines, and I think they're going to be fantastic. 2022 was our "Year of the Vine" here at Chrysalis Vineyards, and we're proud to report that all the fruit arrived at the winery in beautiful, fully ripe condition.
What the "Year of the Vine" designation means is particularized attention to every aspect of the grape growing and harvesting activities to obtain the very best fruit we can. It's not that we don't normally put high attention to our vineyards… we do... we're known for this. But this year we re-assessed everything that we do in the vineyards, not relying at all on "this is how we always do it". That means we did multiple and deep nutrient analysis of our soils and vine tissues on all blocks, zeroing in with specifically tailored fertilizer/nutrient applications. We made daily visits to the vines to ensure our vineyard crew's viticultural practices were spot-on. We did multiple picking passes through those varieties like Viognier to pull every cluster off the vine at its peak. That sort of thing.
So this is our present to all of you… our customers, friends and family… great wines at attractive prices.
Thank you for your continued support over this past year, and all of us at Chrysalis Vineyards and The Ag District wish you a very merry and safe holiday.
Take care,

Jennifer McCloud
Chrysalis Vineyards at The Ag District
39025 John Mosby Highway (Tasting Room/Creamery/Kitchen)
23876 Champe Ford Road (Winery/Milking Center/Offices)
Middleburg, VA 20117

McCloud@ChrysalisWine.com
Office: 540-687-8222
www.ChrysalisWine.com
Facebook.com/ChrysalisVineyards