OCTOBER NEWSLETTER 2017
IN THIS NEWSLETTER...
VIP Pick-up Party... at the ADC

Creative Mankind Painting and Wine

Report from the Tasting Room
Report from the Cellar
Report from the Vineyard
Report from the Farm
Report from the Kitchen

Note from Jenni
---
VIP PICK-UP PARTY…
at the AG DISTRICT CENTER
Saturday, October 20th
6:00 pm – 8:00 pm
at The Ag District
(RSVP REQUIRED...Don't forget your costume!)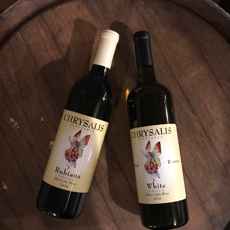 Fall is officially here and with it comes our busiest season. Something about the turning of the leaves and the crisp country air beckons wine lovers everywhere to flock to local wineries. Fittingly, October is also "Virginia Wine Month" a time to celebrate and support the burgeoning wine industry in our state! So, come out and buy a glass or a bottle to show your support of local business, local agriculture and local wine!
Our VIP Pick-up party this month will have a Halloween theme. Costumes are encouraged, but not required. Join us October 20th from 6:00 pm until 8:00 pm for an evening of Spooktacular Fun! This event is FREE for our members (2 attendees per membership), but does REQUIRE advance RSVP no later than October 15th. To RSVP please send an email to VIP-Club@ChrysalisWine.com. Verbal RSVP's and voice mail responses cannot be guaranteed confirmation.
Our spring and summer hours are in effect through the end of October and the Ag District Center will be open 10am – 6pm Monday through Thursday and 10am – 7pm Friday through Sunday. Please remember… as always, our last tasting will start an hour before closing. Last call for purchases of open bottles or glasses will be 30 minutes before closing! Our fall and winter hours will begin on November 1st and we will be open 10am through 5pm Monday through Thursday and 10am through 6pm Friday through Sunday.
The red wine selection for our VIP Club members this month is Chrysalis Vineyards 2014 Rubiana. This medium-bodied, garnet colored wine is a blend of Tinta Cao, Graciano, Fer Servadou and a touch of Norton. Aromas of violets, sour cherry and a hint of pepper and spice precede a palate of thick tannins, with the violets and red fruits in the forefront and a complex mélange of tannins and oak in the finish. For a great pairing try our Rubiana with saffron dishes like a hearty Spanish Paella.
Our white wine selection for October is Chrysalis Vineyards 2016 Private Reserve White. Private Reserve White is Chrysalis Vineyards' creative approach to blending a limited quantity wine that is only available to our VIP Club members. This year's blend opens with notes of ripe Viognier - pineapple, honeysuckle, and apricot, pairing well with the peach, quince and maybe a touch of dried herb character of the Albariño. There is a subtle oak character suggesting honey and cloves and a silky finish derived from the sur lie aging. Pair this wine with pan-seared scallops served alongside grilled carrots, parsnips and asparagus.
As a reminder to our members, all VIP wine is available for pickup at the Ag District Center tasting room anytime during regular business hours. If you can't make it out to pick up your wines on a monthly basis, we will hold them for you. Due to storage limitations, however, we do ask that you pick them up once you accumulate a case (6 months). We can also arrange for wine to be shipped to most locations, at your request.
Also, please remember that you can always find your paired recipes and detailed tasting notes at www.ChrysalisWine.com in the Private VIP Club Area. Pairings and tasting notes are available for wines dating all the way back to 2007 (especially useful for any of those with older, aged vintages). Also check in with us or follow us on Facebook for updates and announcements.
NOTE: Please do not reply to this emailed Newsletter. Your email will not be handled in a timely manner or may even be lost.
---
Creative Mankind Painting and Wine
Sunday, October 8th
1 pm – 4 pm
at the
Champe Ford Events Center
23876 Champe Ford Road
Middleburg, VA 20117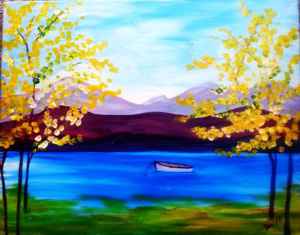 Creative Mankind will be hosting a "paint and sip" event at Chrysalis Vineyards on Sunday, October 8th. (From their website: Creative Mankind is an art company that offers art classes and hosts parties and events for all ages. Our motto is "Everyone is a Creative Genius!" It's just a matter of people reconnecting with their creative self. Our mission is to enrich our community with art education and culture in a fun and accessible way.)
So...spend a fun afternoon laughing, listening to music and creating your own masterpiece! This 3 hour event is just $40 and includes all art supplies, an awesome staff, and a lot of fun. No experience is necessary. For additional information please contact Creative Mankind at 571-403-1912 or go to their website listed below. [Editor's Note: cut and paste this long link if it doesn't activate by clicking on it. Thanks.]
https://sites.cimplebox.com/events/registration.aspx?s=5329&c=3146&eid=346963&r=0.6102611
NOTE: Remember that this event is at our Champe Ford Events Center this month.
---
REPORT FROM THE TASTING ROOM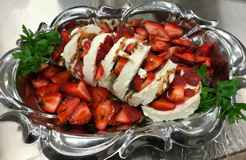 Another VIP appreciation dinner has come and gone, and this year's was better than ever! We had a big turnout for a lovely Indian summer evening. This year we poured flights of the Private Reserve Whites in addition to showcasing our Petit Manseng and Borboleta; we couldn't seem to keep enough Norton Barrel Select on the tables! Of course, none of this could have happened without our fabulous tasting room Manager Laurie and her dedicated staff – if you see her around when you're next in for a tasting, make sure to tell her how much fun you had!

If we told you that October is our busiest time of year, would you believe it? In this area peak fall foliage usually erupts around the 15th of October, so we are gearing back up for another busy month! Give us another two weeks, and our grounds will be aflame with reds, oranges, and yellows. The fields around the Ag District are already filled with fall flowers. Some of our local wildlife has taken up residence again, so if you're arriving later in the afternoons watch out for our flock of wild turkeys!

But for us the best part of fall is red wine! Some of our favorites are available for cooler nights and bonfires. Right now, we have our new 2015 vintage Estate Bottle Norton, the 2013 Petit Verdot, and the 2013 Tannat. One of the staff favorites, the 2014 Papillon, is also back in stock after a long absence. You can pair any of these bold, robust reds with hearty fare. Personally, I recommend the Petit Verdot with a bowl of beef stew.

And next time you're in, we've got our brand new, in-house cheese and charcuterie platters for sale to pair with your wines!

Sabrina Rivera, Tasting Room Shift Lead
---
REPORT FROM THE CELLAR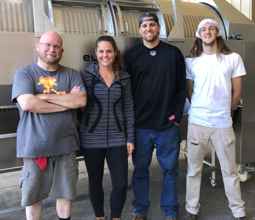 Well, harvest is in full swing. The whites are all in and the reds are next. A few wet days and high temperatures and humidity in September have required us to up our vigilance with our Integrated Pest Management program and drop a bit more fruit, as various rots and mildews accompany warm, wet weather. One notable pathogen is Botrytis cinerea. This is the fungus that gives such an amazingly honeyed and gingered character to the sweet dessert wines of Sauternes, the Tokaji of Hungary, the Beerenauslese and Trockenbeerenauslese of Germany and Austria and the notrytis-affected wines in North America. Provided conditions during the infection period are perfect. Damp. foggy mornings followed by full sun, low humidity and perhaps a bit of wind = Good Botrytis (Noble Rot). Damp, foggy mornings, rain, and high humidity throughout the day = Bad Botrytis (Sour Rot). The balance between Good vs. Bad is razor thin. Sometimes the risk is worth it and lead to some amazing and age worthy wines. Often you're just left with a bunch of moldy grapes.
Mark Patterson, Winemaker
---
REPORT FROM THE VINEYARD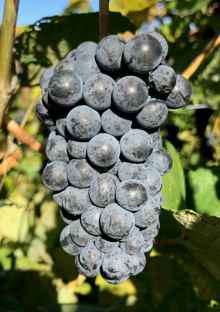 With the whites already in, and the reds on their way, these are busy times in the cellar. Presses, pumps and hoses are being used to full effect. The harvest cellar team, comprised of myself, Jacob, Morgan and Matt, are busily pressing grapes, moving juices and wines, and cleaning, cleaning and more cleaning. Juices are being analyzed chemically and organoleptically on a daily basis as they proceed through fermentation to continue their journey towards bottling, and ultimately into your glass. Soon the reds will come in, which involve a greater deal of consideration, what with all the punchdowns and pumpovers that are performed in order to extract all the flavor, color and aromas expected in the finished wines.
The photo you see at the left here shows a cluster of Norton in all its glory. Even though the fruit looks ripe, it still has a ways to go before it's fully ripened and ready for our dry Nortons. We are getting ready soon to "pull" some Norton fruit off the vines that will be destined for Sarah's Patio Red. We want SPR to be crisp and lively, so a bit of an earlier picking is warranted.
Good times!
Mark Patterson, Winemaker
---
REPORT FROM THE FARM
As you all know, one of the most exciting additions to the offerings at the Ag District will be our Locksley Farmstead Cheese. We are working feverishly to move toward putting cheese on the shelves. Cows are calving so that they are ready for milking, the creamery continues to move toward completion, and of course all the assorted production plans are being finalized. Our consulting cheesemaker, Kelly Harding, has written several newsletter pieces in the past as a means of educating our staff and customers about cheesemaking. This month Kelly has written about the various categories of cheese, how they are made, and their distinguishing characteristics. Please click on the link below to read Kelly's informative descriptions.
Perry Griffin, Estate Manager
---
REPORT FROM THE KITCHEN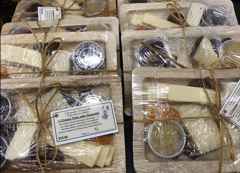 If you have visited us at the Ag District recently you may have noticed a few new items available for purchase in the tasting room! Chef Hump has been busy in our beautiful, new kitchen preparing cheese plates, charcuterie plates (with our own in-house meats!), meatloaf sandwiches (made with Locksley beef!) and delicious pimiento cheese balls. As we develop and perfect our menu we will continue to roll out new and exciting items to enjoy with your favorite Chrysalis Vineyards wine, so remember to check out the refrigerator and grab a plate before you select a bottle and relax in the fresh fall air!
Hump Astorga, Chef
---
Note from Jenni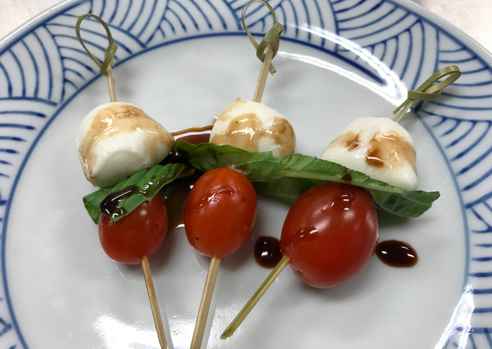 You know, it takes a good bit hard work, beyond the normal… a job very well done, to get me effusive with compliments. I'm not really all that great at at-a-boys (I'm sure our staff will agree!). Alright, I'm tough… but for me, doing a good job is a regular and normal expectation in an organization, and when you're focused on really high-quality products like we are, the job is demanding. That's why we're here.
Now, with that said, I want to share with you my utmost pride in our hospitality staff for the incredible "product" they achieved that was last month's 2017 VIP Club Annual Appreciation Party. How fun it was for everyone… plenty of delicious food and good wine (of course!), always stocked… a clean, inviting space… smooth-flowing to a T… great acoustic music, engaging conversation, friends, family… everything that makes a great party. Our staff made it look effortless. Simple superb.
VVWD (Very, Very Well Done) to Laurie Stevens and all her staff, and Teri Scott for her tireless guidance and support (and those kick-ass mini brown sugar ham sandwiches… OMG!) Believe me; I know that when it looks effortless, there's been a load of hard work, care and planning done behind the scenes. And when it looks effortless, you know that real professionals are at work. Congratulations, guys!
And thanks to our VIP Club members for your invaluable support. For those of you who are not Club member, and who regularly drink a bit of wine, I really encourage to join our VIP Club. It's a small fee to join, and just a couple of bottles a month at a nice discount (and the VIP Club discount applies to every purchase, not just the monthly wines). For that support, we make it our mission to offer the most benefits and the best and varied wines available from any wine club. We sincerely appreciate all our VIP Club members, because we know that without them, we simple wouldn't be here. Period.
Take care, and enjoy October, which is Virginia Wine Month.
Jennifer McCloud
Chrysalis Vineyards at The Ag District
39025 John Mosby Highway (Tasting Room)
23876 Champe Ford Road (Winery/Offices)
Middleburg, VA 20117

McCloud@ChrysalisWine.com
Office: 540-687-8222
www.ChrysalisWine.com
Facebook.com/ChrysalisVineyards