MAY NEWSLETTER 2019
IN THIS NEWSLETTER...
VIP Pickup Party... at the ADC
Creative Mankind Painting and Wine
Report from the Tasting Room
Report from the Cellar
Report from the Farm
Report from The Little River Bakehouse
Report from Locksley Farmstead Cheese
Note from Jenni
---
VIP PICKUP PARTY…
at the AG DISTRICT CENTER
Friday, May 17th
5:00 pm – 8:00 pm
at The Ag District
(RSVP REQUIRED)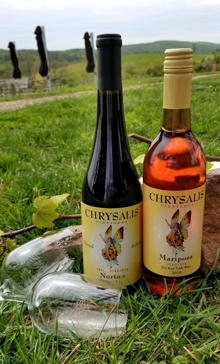 Spring is definitely here and the coming of spring is evident in the rapidly changing colors in the vineyard. The vines are bursting with the vivid green that follows budbreak and you can almost watch the vines growing and reaching toward the sun. Budbreak marks the beginning of a new cycle in the vineyard and winery that culminates in late fall when harvest is complete. It will be a busy seven months or so for everyone on the farm, but the hard work is always worth it when we can enjoy the great wines that result!
All the new activity at the Ag District and around the farm has created some great opportunities for enthusiastic, hard-working, and passionate people who would like to join our team! We are always looking for tasting room associates and currently have openings in the kitchen as well. If you are interested in exploring these opportunities email us at info@chrysaliswine.com with a brief description of your experience and availability.
Our VIP Club pickup event for May will be held on FRIDAY, MAY 17th from 5:00pm - 8:00pm. PLEASE NOTE THE DATE AND TIME and mark you calendars! We will have paired bites to sample with this month's VIP wines in addition to SPECIAL VIP PRICING ON OUR ARTISAN PIZZAS!!!
Our spring and summer hours began on April 1st and we are open 10am - 6pm Monday - Thursday and 10am - 7pm Friday - Sunday. Please remember… as always, our last full tasting will start an hour before closing. Last call for purchases of open bottles or glasses will be 30 minutes before closing!
The red wine selection for our VIP Club members this month is Chrysalis Vineyards 2017 Norton Barrel Select. The initial impression is of raisins, blackberries, dates, and a general 'grapiness, with underlying notes of blackberry jam, cloves and violets. Upon imbibing one experiences more date and blackberry with some herbal notes and a touch of floral. The overall impression is soft, with some oak tannins contributing to a pleasant finish. The raisin, date and blackberry flavors will combine nicely with a nice Mac & Cheese starter or perhaps a grilled guacamole, tomato and garlic dip with tortilla chips.
Our white wine selection for May is Chrysalis Vineyards 2018 Mariposa. The imbiber is immediately greeted with a nose redolent in fresh, ripe strawberry, watermelon, dark cherry and maybe a touch of sage. An initial surge of sweet strawberry and dark cherry is quickly tempered by the refreshing acidity that follows. A glass of Mariposa is the perfect wine to enjoy with one of Chef Chris's delicious grilled cheese sandwiches featuring Locksley Farmstead Cheese Nottingham Gouda!
As a reminder to our members, all VIP wine is available for pickup at the Ag District Center tasting room anytime during regular business hours. If you can't make it out to pick up your wines on a monthly basis, we will hold them for you. Due to storage limitations, however, we do ask that you pick them up once you accumulate a case (6 months). We can also arrange for wine to be shipped to most locations, at your request.
Also, please remember that you can always find your paired recipes and detailed tasting notes at www.ChrysalisWine.com in the Private VIP Club Area. Also check in with us or follow us on Facebook for updates and announcements.
NOTE: Please do not reply to this emailed Newsletter. Your email will not be handled in a timely manner or may even be lost.
---
Creative Mankind Painting and Wine
Saturday, May 11th
1 pm – 4 pm
at the
Ag District Center
39025 John Mosby Highway
Middleburg, VA 20117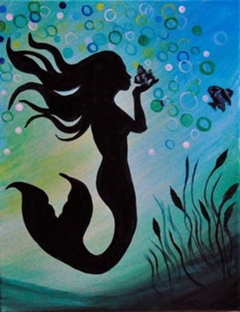 Creative Mankind will be hosting a "paint and sip" event at Chrysalis Vineyards on Saturday, May 11th. (From their website: Creative Mankind is an art company that offers art classes and hosts parties and events for all ages. Our motto is "Everyone is a Creative Genius!" It's just a matter of people reconnecting with their creative self. Our mission is to enrich our community with art education and culture in a fun and accessible way.)
So... come on out, enjoy the warm weather, and spend a fun afternoon laughing, creating your own masterpiece, and sipping your favorite Chrysalis Vineyards wine! This 3 hour event is just $40 and includes all art supplies, an awesome staff, and a lot of fun. No experience is necessary. For additional information please contact Creative Mankind at 571-403-1912 or go to their website listed below. [Editor's Note: cut and paste this long link if it doesn't activate by clicking on it. Thanks.].
https://sites.cimplebox.com/events/registration.aspx?s=5329&c=3146&eid=455062&r=0.5317523
---
REPORT FROM THE TASTING ROOM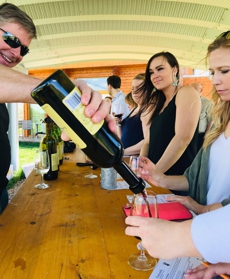 The sun is shining, birds are singing, flowers and trees are blooming and we are ready to enjoy all of this while sipping on our favorite rosé, our very own Mariposa. The name itself means butterfly in Spanish which automatically brings to mind the beautiful butterflies that inhabit our grounds here at the Ag District throughout the spring and summer months.
Rosé wine has become very popular in the last few years and with good reason. Rosés can be paired with fresh from the grill meals, spicy Indian dishes, desserts or simply enjoyed alone. Our Mariposa dazzles the pallet with fresh strawberry and cherry flavors. The beautiful rich pink color is created by allowing the juice to soak with the skins. As soon as the winemaker sees the pretty pink they are looking for they remove the skins and the juice is then allowed to ferment. This always results in our Mariposa having the beautiful deep pink color we all love so much. There is no mistaking the influence of our Norton in our Mariposa once it is bottled and that perfect pink wine has been captured in the bottle for us to enjoy and share with all of you.
Mariposa will be back as one of our tasting selections soon and we can't wait to share this newest vintage with you.
Cheers!
Laurie Stevens, Tasting Room Manager
---
REPORT FROM THE CELLAR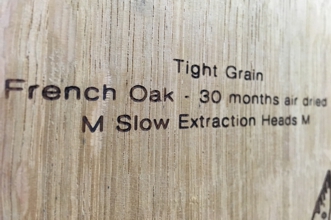 In May we finish making barrel purchase decisions for the upcoming vintage. Oak barrels are made to order and made by hand, so the lead time runs several months, especially if they are produced overseas. Oak barrels are an important part of wine production at Chrysalis Vineyards, so a lot of care is taken to ensure the flavor they impart is appropriate to the varieties of grapes we make wine from.
Oak contributes not just "oakiness" to wine, but also tannin and a sweetness on the palate. Tannin gives the wine structure and, in some cases, a sense of richness. The sweetness imparted is a rich, round, mouth-filling character, not sugar-sweetness. The degree to which these characters are imparted to the wine are a reflection of the oak species, growing region, seasoning, and the cooper's toasting method. When the right pairing of barrel and wine is made, the result is one in which the whole is greater than the sum of its parts. The wine's fruit is accentuated and the palate has a richness and focus that didn't exist before. A bad pairing results in a bitter wine that is overcome with oak character.
Some grape varieties are amenable to a wide range of barrels. Chardonnay and vinifera reds (Cabernet Sauvignon, Merlot, Cabernet Franc, et cetera) are two examples. Other varieties need a more careful pairing. And Norton is certainly at the top of that list! For example, Norton is not a particularly tannic grape variety, so any tannin pickup from the barrel is easily noticed. And Norton has intense character that doesn't integrate as readily with as wide a range of oak as other varieties. One success we've had with Norton is pairing it with Virginia oak. Its mild tannin and oak character are complementary to Norton.
We also use French oak and Hungarian oak barrels. While our Virginia oak barrels are allocated only to Norton, these barrels find a home with the other varieties we make here such as Viognier, Albariño, Petit Verdot, Nebbiolo, Tannat, as well as Norton. One of the joys of making wine is experimenting with various coopers and oak growing regions. This is one of the ways in which wine production is more art than science. This year we'll experiment with putting Norton in barrels traditionally made for white wines, where oak subtlety and elegant tannic structure is emphasized over tannic impact and intense flavors.
Jason Burrus, Consulting Winemaker
---
REPORT FROM THE FARM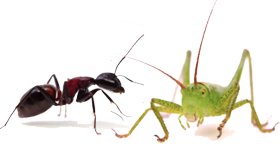 Hello Again! --
Has everybody heard the fable of the Grasshopper and the Ant? To sum it up, the Grasshopper is only interested in having fun all year while the Ant works steadily to store food for winter. All the while, Ant cautions Grasshopper of the error of his ways, and Grasshopper continues to taunt Ant to come play. Well, winter finally does arrive and a hungry Grasshopper who did not heed the advice of his friend or plan ahead is turned away by Ant and left to starve. With its harsh life lessons and constant reminder that "winter is coming" it can only be concluded that the writer of this tale was either 1) a Game of Thrones contributor or 2) a farmer. Or maybe both! (All the more reason to watch the show…)
I believe most farmers with animals to feed through the winter understand the basic principle outlined in the story because we are completely at the mercy of the same cycle of work. There is a lot to do! We have to use the current weather and active plant growth on the farm to prepare for winter- adding body condition to the cows, planting, fertilizing, and making and storing feed. What I don't understand in the story is the implication that the Ant had to give up completely on fun in order to provide through the winter, so we need to as well (or we'll starve). It seems that in this I have found a loophole. If you love what you do, you can get the work done and have fun at the same time!
To some it might be more pleasurable to go on Spring Break, hit the beach, or to travel but to myself and the team here, I really believe we get true satisfaction from the pastoral landscape, the sunshine, happy critters, and a job well done. Why can't the attitudes represented by Grasshopper and Ant be in unison?
Enough fun, time to get back to work! Enjoy spring,
Eric Hilgartner, Estate Manager
---
REPORT FROM THE LITTLE RIVER BAKEHOUSE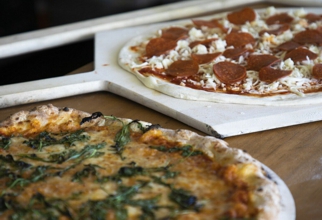 The cherry blossoms may have already reached their full bloom, but we are just getting started here at the Little River Bakehouse. Pizzas are rolling along and we will continue to play around with various flavors. Our house white sauce pizza with smoked onions and ground Italian sausage has been a huge hit and it will now have a permanent home on the menu. We choose to use Vidalia onions, even though they cost a bit more than regular yellow onions. This is because these onions lack the sharp, astringent taste of other onions and really do taste sweet. Walla Walla and Vidalia are the most common kinds of sweet onions. They are fantastic thinly sliced and served in salads or on top of sandwiches. They can range in color from white to yellow and often have a flattened or squashed appearance. We smoke the onions for two hours with apple wood chips until they are soft and juicy. The ground sausage is from our pigs that are whey finished which, though mostly water, contains enough minerals, protein and fat to make a great feedstock for pigs. We cook the sausage with an Italian spice blend that's made in house with dried oregano, marjoram, thyme, basil, rosemary, and sage. You put all this together on top of house made dough with white sauce that has a ton of garlic and bay leaves and you have pure bliss.
Chris Vincenzi, Chef
---
REPORT FROM LOCKSLEY FARMSTEAD CHEESE COMPANY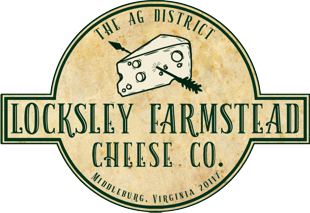 Spring has officially sprung, the cows have shed their winter coats and are very happily grazing the lush, GREEN hills. The grasses they are consuming, contains a pigment and antioxidant known as beta-carotene, which is also most notably found in carrots. Beta-carotene is dissolved into the cow's fat stores after she chews her cud, which then in result forms globules in the milk produced. The membranes surrounding these globules prevents the color from being released into the cow's milk, hence why the milk in fluid form is still the white color we all recognize, however in the cheese making process these membranes are dissolved and release color into the cheese. Our Nottingham Gouda in particular has this rich, buttery yellow color that will continue to deepen with age. During the winter months, the cheeses will not have this rich, yellow color as there is no beta-carotene in the stored forages that the cows are consuming. Naturally the milk, and in return cheese, during the winter months appears more white then that of the spring and summer months with the absence of this pigment. Additionally, goat cheese will always appear bone white, the beta-carotene is broken down differently. Instead of storing it as fat, goats convert it to Vitamin A which lacks color. While all of our different cheeses may not be as yellow as the Nottingham Gouda, they are all just as delicious! Come on out and enjoy this pretty spring weather with us at the Ag District Center.
Erin Saacke, Assistant Cheesemaker
---
Note from Jenni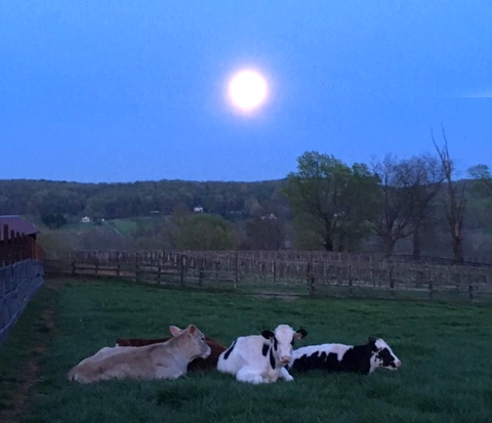 There's GREEN in them thar hills… and lots of it! The vines are taking off, having gone through "bud break" and the wheat in the front fields has become a rich green carpet. Our upcoming cheeses have that special new green grass character that only comes from milk produced right now. What a time of year; I love it. And… we are definitely ready for you.
Our chef, Chris Vincenzi, has greatly expanded our delicious food offerings and you can see him visiting our guests and manning the stone oven with his crew in the Little River Bakehouse. (Take a look at that photo of his pizzas and tell me you don't want one right NOW! Boy, are they good. BTW, our pulled pork tacos are to die for, as well.)
Laurie Stevens, our Hospitality & Events Manager is always ready to ensure you have a great time, offering educational and comprehensive tastings of our wines (and cheeses on most weekends).
From our greenhouse we've got Norton vines for sale at the ADC, so you can take a couple home and plant them in your gardens. And, of course, we have new wine vintages coming up for your drinking pleasure.
AND… drumroll, please… we have Internet for y'all. We finally were able to get Verizon Fios brought out to the ADC, and we just installed it. We're planning for complete Wi-Fi hotspot coverage in all parts of the building and grounds which we're hoping will enhance your enjoyment while you're visiting us. We're installing the latest equipment right now.
Please don't miss this most wondrous time of year. Plan a visit soon, take in the spring vistas and aromas and send a couple photos from the countryside to your jealous city-folk friends (using our fast Wi-Fi!).
Again, we're ready for you, and here to make sure you have a great time. I hope to see you soon.
Take care,

Jennifer McCloud
Chrysalis Vineyards at The Ag District
39025 John Mosby Highway (Tasting Room)
23876 Champe Ford Road (Winery/Offices)
Middleburg, VA 20117

McCloud@ChrysalisWine.com
Office: 540-687-8222
www.ChrysalisWine.com
Facebook.com/ChrysalisVineyards