VIP PICKUP PARTY…
at the AG DISTRICT CENTER
Saturday, June 16th
7:00 pm – 9:00 pm
at The Ag District
(RSVP REQUIRED)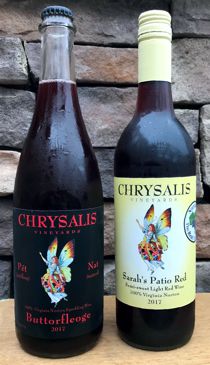 June marks the first month of summer, a season full of outdoor barbeques, pool parties, and long evenings relaxing on the patio. All perfect places to enjoy a bottle of your favorite Chrysalis Vineyards wine! Stop by the Ag District Center and pick up a refreshing bottle of Mariposa or Sarah's Patio White to chill, or maybe a bottle of Schitz & Giggels to go with those ribs you're grilling, or some Viognier to pair with some skewered shrimp, or.....well, whatever you're doing we're sure to have the perfect wine for the occasion! Better yet, come on out and buy a bottle to enjoy at the Ag District before you go home! We will have live music every Saturday from 2:00-5:00 pm (June 2nd, 9th, 16th, 23rd, and 30th). Chrysalis Vineyards wine and live music... no better way to spend a summer day!
On another note..... if you haven't already discovered our NEW WEBSITE please be sure to check it out at ChrysalisWine.com. It's full of great information about Chrysalis Vineyards and the Ag District Center and for those of you who don't have time to get out for a visit, now you can purchase your favorite Chrysalis Vineyards wines online!
Our VIP Pickup Party this month will be held on June 16th from 7:00 pm until 9:00 pm (Please note the time!). This event is FREE for our members (2 attendees per membership), but does REQUIRE advance RSVP no later than June 13th. To RSVP please send an email to VIP-Club@ChrysalisWine.com. Verbal RSVP's and voice mail responses cannot be guaranteed confirmation.
Our spring and summer hours began on April 1st and we are now open 10am - 6pm Monday through Thursday and 10am - 7pm Friday through Sunday. Please remember… as always, our last full tasting will start an hour before closing. Last call for purchases of open bottles or glasses will be 30 minutes before closing!
The red wine selection for our VIP Club members this month is Chrysalis Vineyards 2017 Buttorfleoge. Buttorfleoge (Old English word for butterfly) is our sparkling Norton wine. Using the methode ancestrale technique 'rediscovered' in the Loire in the 1990s, but going back centuries to Limoux and Gaillac, this 100% whole-clustered pressed Norton wine is produced using only the natural microflora found on the skins and rachises of the grapes grown on the Locksley Estate. The result is a true, terroir-driven pétillant-naturel (or Pét Nat). This wine pours with a pleasing garnet-coloured hue, with a healthy mousse. Your nose is greeted with a prickle from the newly-released carbon dioxide, which gives way to a red fruit mélange of blackberries, cherries and strawberries. Upon degustation the upfront fizz gives way to the flavorful medley of the red fruits mentioned above and an impression of sweetness that is not really there, finishing with the bracing acidity that is a Norton trademark. Try pairing Buttorfleoge with a plate of oysters for a decadent summer treat!
Our white wine selection for June is Chrysalis Vineyards 2017 Sarah's Patio Red. Sarah's Patio Red is a semi-sweet, light red wine made in the style of a rosé. The grapes were whole-cluster pressed, as they would be for many white wines, but with Norton, there's so much color in the skins that the juice at this very early processing stage has plenty of color and yields a deep red hue. This wine is fresh, fruity, and bottled early to preserve the fleeting aromas of fermentation. Lighter Norton color, character, and alcohol make this an easy-drinking wine. The initial impression is a nose redolent in ultraripe, red strawberries, followed by a hint of clove and rose petals Upon tasting one is struck by more ripe, red strawberries and a touch of spritz. The wine finishes with a sweet medley of red berry fruits and happiness. Enjoy Sarah's Patio Red refrigerator cold with a perfectly grilled burger and you can't go wrong!
As a reminder to our members, all VIP wine is available for pickup at the Ag District Center tasting room anytime during regular business hours. If you can't make it out to pick up your wines on a monthly basis, we will hold them for you. Due to storage limitations, however, we do ask that you pick them up once you accumulate a case (6 months). We can also arrange for wine to be shipped to most locations, at your request.
Also, please remember that you can always find your paired recipes and detailed tasting notes at www.ChrysalisWine.com in the Private VIP Club Area. Pairings and tasting notes are available for wines dating all the way back to 2007 (especially useful for any of those with older, aged vintages). Also check in with us or follow us on Facebook for updates and announcements.
NOTE: Please do not reply to this emailed Newsletter. Your email will not be handled in a timely manner or may even be lost.
---