SEPTEMBER NEWSLETTER 2017
IN THIS NEWSLETTER...
Annual VIP Appreciation Party... at the ADC

Creative Mankind Painting and Wine

Report from the Tasting Room
Report from the Cellar
Report from the Vineyard
Report from the Farm
Report from the Kitchen

Note from Jenni
---
ANNUAL VIP APPRECIATION PARTY…
at the AG DISTRICT CENTER
Saturday, September 16th
7:00 pm – 10:00 pm
at The Ag District
(RSVP REQUIRED)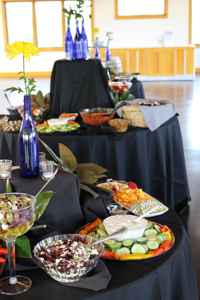 It's that time of year again! Our most anticipated event of the year, the Annual Chrysalis Vineyards VIP Appreciation Party, is just weeks away! Each September we take a brief respite from the craziness that comes with the harvest season to recognize the important role that our VIP members have in the continued success of Chrysalis Vineyards. We really do appreciate our VIP members, their loyalty, and their assistance in promoting our products. So join us for an evening of fun, food, and...of course...wine on September 16th from 7:00 pm until 10:00 pm to raise a glass and toast Chrysalis Vineyards and our fabulous VIP Club members! This event is FREE for our members (2 tickets per membership), but does REQUIRE advance RSVP no later than September 9th. To RSVP please send an email to VIP-Club@ChrysalisWine.com. Verbal RSVP's and voice mail responses cannot be guaranteed confirmation.
Our spring and summer hours are now in effect and the Ag District Center will be open 10am – 6pm Monday through Thursday and 10am – 7pm Friday through Sunday. Please remember… as always, our last tasting will start an hour before closing. Last call for purchases of open bottles or glasses will be 30 minutes before closing!
The red wine selection for our VIP Club members this month is Chrysalis Vineyards 2015 Papillon. Our Papillon is a robust, tannic, and aromatic red wine blend of Tannat and Petit Verdot. The Tannat provides structure and acidity while the Petit Verdot offers spice and pepper character. This wine has prominent black berry fruit on the nose and palate with substantial tannin structure and will age well for years. Drink this with a steak grilled over wood, or with a hearty beef stew with a red wine sauce, and you have the makings of a great meal.
Our white wine selection for September is Chrysalis Vineyards 2015 Sarah's Patio White. The 2015 vintage is a Vidal-based wine with a small amount of Petit Manseng. These two varieties marry well to produce a spicy German-style white wine. The aroma is slightly floral with a wallop of pineapple, citrus fruits and peach. We leave a small amount of natural sweetness to enhance the mouth feel of the wine. This will pair well with fruit and cheeses, fruit based dishes like fruit pies or fruit soups, fragrant spicy Thai or Mexican food, and chicken or pork dishes accompanied by chutneys.
As a reminder to our members, all VIP wine is available for pickup at the Ag District Center tasting room anytime during regular business hours. If you can't make it out to pick up your wines on a monthly basis, we will hold them for you. Due to storage limitations, however, we do ask that you pick them up once you accumulate a case (6 months). We can also arrange for wine to be shipped to most locations, at your request.
Also, please remember that you can always find your paired recipes and detailed tasting notes at www.ChrysalisWine.com in the Private VIP Club Area. Pairings and tasting notes are available for wines dating all the way back to 2007 (especially useful for any of those with older, aged vintages). Also check in with us or follow us on Facebook for updates and announcements.
NOTE: Please do not reply to this emailed Newsletter. Your email will not be handled in a timely manner or may even be lost.
---
Creative Mankind Painting and Wine
Sunday, September 10th
1 pm – 4 pm
at the
Champe Ford Events Center
23876 Champe Ford Road
Middleburg, VA 20117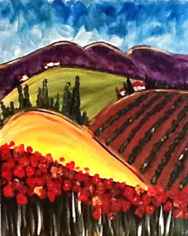 Creative Mankind will be hosting a "paint and sip" event at Chrysalis Vineyards on Sunday, September 10th. (From their website: Creative Mankind is an art company that offers art classes and hosts parties and events for all ages. Our motto is "Everyone is a Creative Genius!" It's just a matter of people reconnecting with their creative self. Our mission is to enrich our community with art education and culture in a fun and accessible way.)
So...spend a fun afternoon laughing, listening to music and creating your own masterpiece! This 3 hour event is just $40 and includes all art supplies, an awesome staff, and a lot of fun. No experience is necessary. For additional information please contact Creative Mankind at 571-403-1912 or go to their website listed below. [Editor's Note: cut and paste this long link if it doesn't activate by clicking on it. Thanks.]
https://sites.cimplebox.com/events/registration.aspx?s=5329&c=3146&eid=340998&r=0.9019020
NOTE: Remember that this event is at our Champe Ford Events Center this month.
---
REPORT FROM THE TASTING ROOM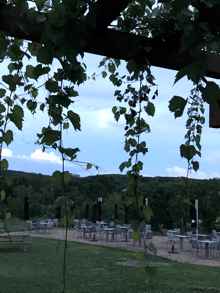 As we see the end of summer approaching we look back on the days with a smile. This summer marked our second summer being fully open here at The Ag District and WOW, what a great summer it was.

So many exciting things happened. We released a new wine to our VIP Wine Club members, a delightful 100% sparkling Norton, Buttorfleoge. The release party for this beauty was one of the highlights of the season for us in the Tasting Room. So many of our VIP Club members joined us to celebrate the Buttofleoge's release. It was truly a fun night for all! We also opened our original tasting room on Champe Ford Road on weekends as a VIP club house for our wine club members. Our VIPs came and enjoyed the beautiful scenery and sanctuary of it. The grills were always going and the smell of BBQ and wine filled the air.

As fall approaches, we look forward to the changing leaves that will be decorating our view with beautiful colors, but we also must say "see you soon and good luck" to some of our staff that will be returning to college this month. Thank you for all your hard work this summer and best of luck to Bob, Brian, Hannah, Jordan, Leah, Matt and Nick. We can't wait to see you all back on your breaks! The tasting room staff here at The Ag District wishes you all a relaxing and fun filled remainder of your summer and we hope you come spend some of that time with us. Come treat yourself with your favorite Chrysalis wine! Cheers!

Laurie Stevens, Tasting Room Manager
---
REPORT FROM THE CELLAR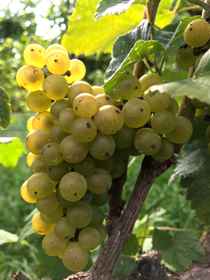 With the last bottling day of the season completed, we are now in full harvest mode. Presses, pumps, tanks, hoses and all ancillary equipment has been cleaned and prepped and has either already been used to begin processing grapes and juice for the 2017 vintage, or will soon be pressed into service to carry out their intended duties. It's still early, so the crazy days of late September through November haven't begun yet, but since there are still new interns to train and grape ripening to monitor, there's still lots to do. We're expecting a good throughput this year, with crop loads back up after last year's devastating hail storms. There will be a few snags along the way (there always are), but it looks like another exciting year ahead.
The first grapes we pick are Albariño for our vino verde style Albariño Verde (Portuguese for green). This wine is spritzy, low alcohol, with a crisp acidity that makes it a perfect wine with seafood, and also very refreshing during the hot summer months. We will leave the majority of the Albariño to hang for another two weeks or so, which will be then harvested for our regular Albariño.
Mark Patterson, Winemaker
---
REPORT FROM THE VINEYARD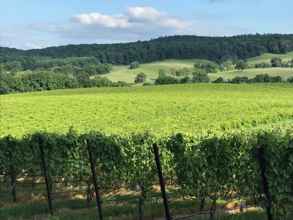 Well, by the time you read this the first load of Albariño will have been picked for the 2017 Albariño Verde. This growing season has brought a lot of rain, with most of it coming in a few intense deluges, but it has also been devoid of the intense heat we experienced last year in August which shut down photosynthesis in many vines and resulted in some uneven ripening in a few varieties. When grapevines, or most plants really, experience sustained temperature above 90˚F the vines go into a kind of "protection mode". Stomata on the leaves shut down and water, with its amalgamated collection of sugar, nutrients, salts and other compounds necessary for vine life and berry development, ceases to translocate through xylem and phloem in order to be preserved within the vine rather than be transpired through respiration. This effectively terminates photosynthesis and consequent Brix accumulation in the berries. The short lesson is that higher heat does not necessarily mean higher sugar and phenolic ripeness. It is also not good for vineyard worker comfort!
Mark Patterson, Winemaker
---
REPORT FROM THE FARM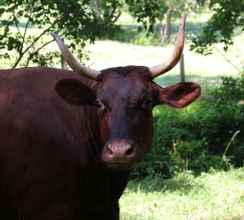 This summer's high heat, humidity and rainfall has led to an explosion in fly numbers. Besides being a general nuisance, flies are the major cause of pinkeye in cattle. Pinkeye, aka, Bovine Keratoconjunctivitis, is a contagious bacterial infection of the eye. Pinkeye is a serious and painful affliction, that left untreated, can lead to the loss of the infected eye. Because pinkeye is highly contagious in cattle, early detection and treatment is critical. Pinkeye can be difficult to control and requires a multipronged approach. First, it is necessary to reduce or control fly populations which are responsible for spreading the bacteria from one cow to another. Fly control is commonly accomplished using a variety of fly repellants. Second, pasture management is important. Pastures should be mowed on a regular basis to prevent tall, coarse vegetation from irritating the cow's eye, resulting in watery eyes. Irritated, tearing eyes attract flies which results in further irritation of the eye and the spread of bacteria that cause pinkeye. Lastly, treatment of acute cases with antibiotics is generally warranted. Pinkeye has been widespread throughout Loudoun County this year and our herd has not been an exception.

Hopefully, the battle against pinkeye is coming to a close with the worst of the fly season behind us. Of course, in rare cases, cattle do get pinkeye even in wintertime.
Perry Griffin, Estate Manager
---
REPORT FROM THE KITCHEN
Our first private wine dinner with food produced in our new kitchen at the Ag District has come and gone, and from all signs, it was a great success! One of our VIP Club members hosted a wine-centered birthday dinner for a small group of her friends and asked me to design a vegetarian menu that was creative, yet approachable. This celebration needed to demonstrate a level of care for her friends that would accurately describe their close relationships and ensure an evening of casual enjoyment. Elegant and fun are often mutually exclusive, where stuffy precludes enjoyment, and effort supersedes relaxation, but this was not the case. For me, the food part is a no-brainer. A vegetarian menu only represents a reason to think outside the box and provide our guests with unique dishes that are not just your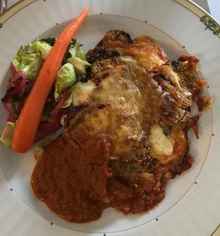 standard "pasta primavera", which is often the only vegetarian alternative offered by restaurants. What helped make the evening great was the environment - the beauty of Locksley, private and serene, coupled with guests enjoying each other's company and feeling they were cared for by our staff and that no desire would be overlooked, all interpreted to comfort and fun. I can hardly wait until we have completed the few outstanding tasks in the wine cave, so that we are able to have more of these types of dinners there, amidst our wines.

Here is a copy of the menu, but for privacy, guests' names have been removed.
Chef Hump Astorga
---
Note from Jenni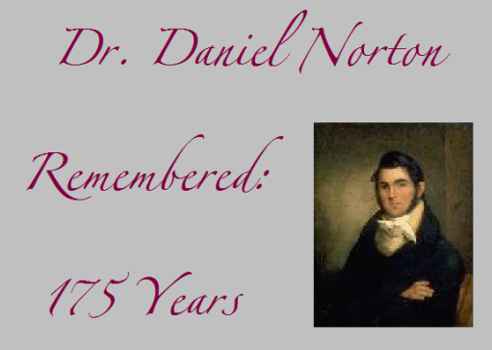 On September 10th, we will take some time in Richmond, Virginia to remember Dr. Daniel Norborne Norton, creator of the Norton grape. Dr. Norton died in 1842 and was buried at Shockoe Hill Cemetery. The cemetery is now on the Virginia Landmarks Register and National Register of Historic Places. A number of important personages are buried there, including Chief Justice John Marshall, Unionist spymaster Elizabeth Van Lew, the Revolutionary War hero Peter Francisco… and of course, Dr. Daniel Norton.
I was thinking that aside from John Marshall, who played a significant role in the development of the American legal system, what person at Shockoe Hill influences us more today, in 2017, than Daniel Norton. His work with the Norton grape put Virginia on the worldwide map of great red wines. Winning multiple gold medals and acclaim from wine lovers and wine judges around the world, Norton brought recognition to American wines decades before California was even "on the map" of great grape-growing regions.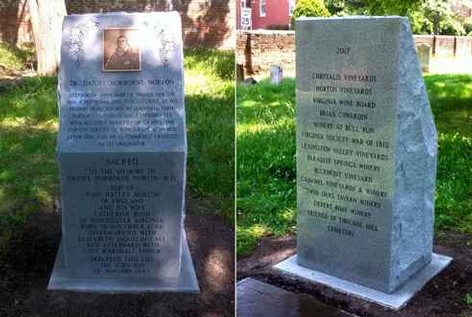 I am proud to have lent a significant hand in helping see the wonderful new monument, that will grace the head of Dr. Norton's original grave marker, come to fruition. The original marker was a flat slab of limestone that has, over the years, been worn and eroded by the elements to the point that it's nearly unreadable. The monument includes the entire inscription of Dr. Norton's gravestone, and displays a beautiful bronze bas-relief image of the man. Click here to see a larger and more readable photo of the monument.
Thanks go to the Friends of Shockoe Hill Cemetery, and especial to its president, C. Clayton Shepherd, for his indefatigable efforts to push this project to completion. Because of him, along with the entire volunteer Friends corps, and the many supporters who provided their money and time, we now have a fitting monument for our beloved Dr. Norton.
So tip your glass (Norton, of course!) on September 10th to Dr. Daniel Norborne Norton.
Jennifer McCloud
Chrysalis Vineyards at The Ag District
39025 John Mosby Highway (Tasting Room)
23876 Champe Ford Road (Winery/Offices)
Middleburg, VA 20117

McCloud@ChrysalisWine.com
Office: 540-687-8222
www.ChrysalisWine.com
Facebook.com/ChrysalisVineyards