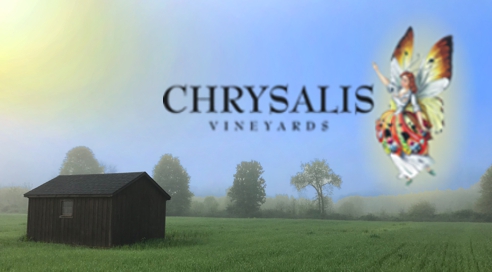 JUNE NEWSLETTER 2019
IN THIS NEWSLETTER...
VIP Pickup Party... at the ADC
Special Offer for Our VIP Club Members
Creative Mankind Painting and Wine
Report from the Tasting Room
Report from the Cellar
Report from The Little River Bakehouse
Report from Locksley Farmstead Cheese
Note from Jenni
---
VIP PICKUP PARTY…
at the AG DISTRICT CENTER
Friday, June 14th
5:00 pm – 8:00 pm
at The Ag District
(RSVP REQUIRED)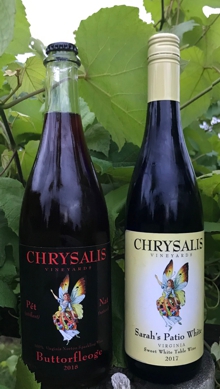 June... the beginning of those lazy days of summer. We've already had some hot summer evenings when the fireflies fill the trees and fields. At the Ag District we want to take advantage of the longer days and warm evenings, so we have decided to stay open later! The extra evening hours will give you more time to enjoy Chrysalis Vineyards wine along with some of the delicious food and artisan cheese that is now offered. We know your days are busy and you might need some late evening relaxation, so come on out ... there's no better way to end your day!
Our VIP Club pickup event for June will be held on FRIDAY, JUNE 14th from 5:00pm - 8:00pm. PLEASE NOTE THE DATE AND TIME and mark you calendars! We will have paired bites to sample with this month's VIP wines in addition to SPECIAL VIP PRICING ON OUR ARTISAN PIZZAS!!! Come on out and make it a "Date Night"...grab some pizza or a cheese plate, your favorite Chrysalis Vineyards wine, and enjoy a relaxing summer eve!
Our new hours begin on June 1st and we will be open Noon - 6pm Monday - Thursday, Noon - 8pm Friday& Saturday, and Noon - 7pm on Sunday. Please remember… as always, our last full tasting will start an hour before closing. Last call for purchases of open bottles or glasses will be 30 minutes before closing! We hope that you will enjoy our extended evening hours Friday - Sunday!
The red wine selection for our VIP Club members this month is Chrysalis Vineyards 2018 Buttorfleoge. Buttorfleoge (Old English word for butterfly) is our sparkling Norton wine. Using the methode ancestrale technique 'rediscovered' in the Loire in the 1990s, but going back centuries to Limoux and Gaillac, this 100% whole-clustered pressed Norton wine is produced using only the natural microflora found on the skins and rachises of the grapes grown on the Locksley Estate. The result is a true, terroir-driven pétillant-naturel (or Pét Nat). This wine pours with a pleasing garnet-coloured hue, with a healthy mousse. Your nose is greeted with a prickle from the newly-released carbon dioxide, which gives way to a red fruit mélange of blackberries, cherries and strawberries. Upon degustation the upfront fizz gives way to the flavorful medley of the red fruits mentioned above and an impression of sweetness that is not really there, finishing with the bracing acidity that is a Norton trademark. Try pairing Buttorfleoge with a plate of oysters for a decadent summer treat!
Our white wine selection for May is Chrysalis Vineyards 2017 Sarah's Patio White. The 2017 vintage of this perennial favorite is 93% Vidal Blanc with an addition of 7% Viognier. The first impression is of green apples, followed by grapefruit, peach, apricot and perhaps a hint of honeysuckle. On the palate, the upfront sweetness lends a silky character which is followed by a cleansing acidity. A glass of Sarah's Patio White and a plate of Locksley Farmstead Cheese is the perfect way to relax on a warm summer evening!
As a reminder to our members, all VIP wine is available for pickup at the Ag District Center tasting room anytime during regular business hours. If you can't make it out to pick up your wines on a monthly basis, we will hold them for you. Due to storage limitations, however, we do ask that you pick them up once you accumulate a case (6 months). We can also arrange for wine to be shipped to most locations, at your request.
Also, please remember that you can always find your paired recipes and detailed tasting notes at www.ChrysalisWine.com in the Private VIP Club Area. Also check in with us or follow us on Facebook for updates and announcements.
NOTE: Please do not reply to this emailed Newsletter. Your email will not be handled in a timely manner or may even be lost.
---
SPECIAL OFFER
VIP CLUB MEMBERS ONLY!!
In July we will begin a direct mail marketing campaign to introduce Locksley Farmstead Cheese and encourage our neighbors in the surrounding area to come out to The Ag District and discover everything we have to offer. Included in the campaign will be a discount offer on all of our products that contain Locksley Farmstead Cheese.
Jenni has always made it her policy that no one gets a better discount or a better deal than our VIP Club members, and they always have access to our wines and special offers first. So... please print the coupon below and bring it out to the Ag District Center during the month of June as a special "Thank You" for all that you do to support The Ag District, Chrysalis Vineyards, Locksley Farmstead Cheese, and Little River Bakehouse.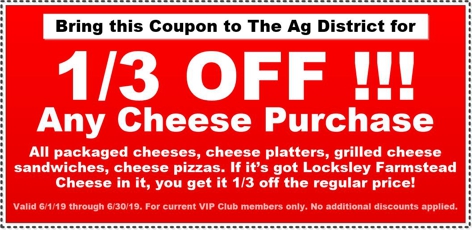 ---
Creative Mankind Painting and Wine
Saturday, June 23rd
1 pm – 4 pm
at the
Ag District Center
39025 John Mosby Highway
Middleburg, VA 20117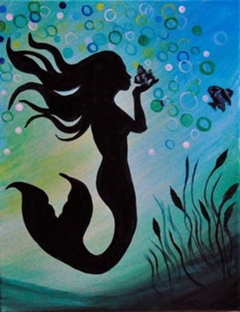 Creative Mankind will be hosting a "paint and sip" event at Chrysalis Vineyards on Saturday, June 23rd. (From their website: Creative Mankind is an art company that offers art classes and hosts parties and events for all ages. Our motto is "Everyone is a Creative Genius!" It's just a matter of people reconnecting with their creative self. Our mission is to enrich our community with art education and culture in a fun and accessible way.)
So... come on out, enjoy the warm weather, and spend a fun afternoon laughing, creating your own masterpiece, and sipping your favorite Chrysalis Vineyards wine! This 3 hour event is just $40 and includes all art supplies, an awesome staff, and a lot of fun. No experience is necessary. For additional information please contact Creative Mankind at 571-403-1912 or go to their website listed below. [Editor's Note: cut and paste this long link if it doesn't activate by clicking on it. Thanks.].
https://sites.cimplebox.com/events/registration.aspx?s=5329&c=3146&eid=481122&r=0.8055759
---
REPORT FROM THE TASTING ROOM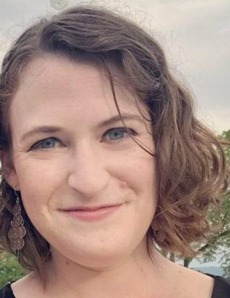 Meet our new assistant manager, Sarah Dougher! Sarah worked at a few other Virginia wineries before finding her forever home at Chrysalis, working as a part-time tasting room associate for three years until starting full time last month. Her favorite thing about Chrysalis is the unique wine list and introducing customers to varietals they may never have even heard of before that end up becoming new favorites. Her second favorite thing about Chrysalis is dressing up as the ghost of Sarah Gertrude Lynn for Halloween. She can often be found singing the praises of Schitz and Giggels or reminiscing with particular fondness about the 2013 vintage of Viognier. Sarah hopes to make Laurie's job easier and continue to deliver the high level of customer service the Chrysalis tasting room is known for. Let her know if there's anything she or the staff can do to improve your visit!
Cheers!
Laurie Stevens, Tasting Room Manager
---
REPORT FROM THE CELLAR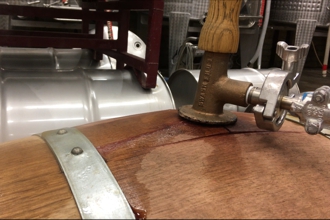 June has us gearing up for a large bottling on the 26th. We're excited to announce another bottling of Nebbiolo from the 2016 vintage. This will be only the third bottling of this varietal following the 2010 and 2013 vintages. Nebbiolo is the grape variety comprising the Barolo and Barbaresco wines of northern Italy. They're characterized by rose, red fruit, and cherry aromas, along with a pale red color and strong tannins. We grow Nebbiolo to blend in tannic character with our Norton wines but in exceptional vintages we produce a varietal bottling. If history is any indicator, we'll be expecting to hold back a little 2019 vintage Nebbiolo for a future bottling.
Along with Nebbiolo we're bottling the 2017 Norton Locksley Reserve, 2017 Private Reserve Red, 2018 Private Reserve White, and a second bottling of Snobby Bitch White Sangria. The bulk of the Snobby Bitch will be canned (beer cans!) two weeks later in July. Snobby Bitch is our fun take on sangria wine. Made with Vidal Blanc wine and natural fruit flavorings, this wine has become one of our most popular wines. Last year we used lemon, lime, pineapple, peach, and orange flavors. This year we'll be experimenting with those plus mango and tangerine to further hone the flavor profile. The packaging in cans allows the wine to be taken to venues that don't allow glass bottles.
Progress continues with the spring cleaning of the winery. We're evaluating every lot of wine and its potential to become a component of a bottling blend. Every empty barrel is getting steam sanitized. It's really amazing how steam works to clean a barrel. In addition to the sanitizing effects of heat, the vacuum that cooling steam produces is strong enough to actually pull the heads of the barrel towards the interior. The intense force of the vacuum pulls out wine and lees (yeast cells) out of the staves. Even after a high pressure water jet treatment of the barrel, there is still wine inside the staves that is removed with the strong vacuum of cooling steam. The effect is so pronounced that a final rinsing of the barrel is required to remove the extracted color.
Jason Burrus, Consulting Winemaker
---
REPORT FROM THE LITTLE RIVER BAKEHOUSE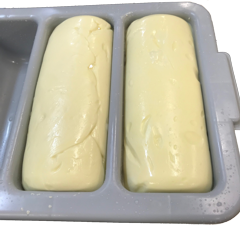 The following article provides us with a little history of that delicious cheese that everyone has been enjoying on the pizzas that are flying out of the oven at the Ag District!
"Cheese is what makes a pizza delicious and is one of the ingredients that complete your whole pizza eating experience. And one of the most famous cheeses to have ever been spread out on top of a pizza is mozzarella.That delicious gooey, stretchy, tangy, and chewy cheese that leaves a tantalizing feeling in your mouth. And let's admit it, it's probably one of the best cheeses in the world.
Legend tells us that mozzarella was first made when cheese curds accidentally fell into a pail of hot water in a cheese factory and sometime shortly after that, the first ever pizza was invented. So what's the true story?
Mozzarella was first made in Southern Italy near Naples. Records show that the Romans were already making a similar kind of cheese from sheep's milk during the middle of the first century A.D. And the cheese got its name because of the tradition during the third century in which the monks from San Lorenzo di Capua would give out bread and self-made cheese which they called "mozza" to the people in need. And the name mozzarella was developed from the mozza which came from the Italian word "mozzare" which means to separate or to cut off. But when water buffalo farming emerged during the 16th century, they quickly switch from making the cheese with sheep's milk to buffalo milk.
Because mozzarella was not made from pasteurized milk and there was no refrigeration that was available during that time, the cheese had a very short shelf-life and it somehow never left the southern region of Italy where it was made. But as technology, transportation systems, and refrigeration improved the cheeses were able to reach other regions of Italy. And in the middle of 20th century, mozzarella was able to be transported all throughout Europe.
There is no doubt that the connection of Mozzarella cheese and our modern pizza is strongly related to the fact that they both have origins in Italy. Mozzarella is the perfect pizza cheese and science has an explanation for it. When scientists experimented with different types of cheese such as edam, cheddar, mozzarella, and provolone they found out that mozzarella's unique elasticity and its water and oil content produces the perfect consistency that everyone looks for in pizza. It also cooks nicely and gives the pizza a mottled and tasty top. Mozzarella does not also collect pools of grease on top of your pizza.
Mozzarella is definitely one of the most popular types of cheese and a slice of pizza can never be complete without it ."
The History of Mozzarella - the Pizza Cheese [Web log post]. (2019). Retrieved May 26, 2019, from http://mentalitch.com.
Here at the Little River Bakehouse we continue this tradition by producing aritsan pizzas topped with the best mozzarella. We are proud that we use our own Locksley Farmstead Cheese mozzarella - "The Monk"!
---
REPORT FROM LOCKSLEY FARMSTEAD CHEESE COMPANY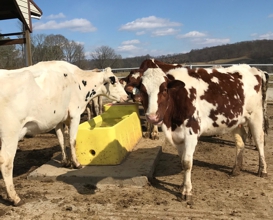 June is dairy month! 2019 marks the 82nd annual celebration of this nutritious and delicious category of products! Dairy products including milk, yogurt and CHEESE provide important nutritional benefits through high-quality protein, vitamins A and D and minerals such as calcium to keep your bones strong and healthy. Did you know that there are 8 grams of protein in just 1, 8oz cup of milk? Not to mention milk is the freshest product you can buy at grocery stores near you, from farm to store in just 48 hours! Milk is a local food that definitely fits the clean eating trend! What better way to end a work-out than with a big glass of my personal favorite, chocolate milk. Proven to be the best post-workout beverage for muscle recovery and energy replenishment. Come celebrate World Milk Day on June 1st with us at the Heritage Farm Museum from 11am-4pm, where you will meet a dairy cow, watch a milking demonstration, taste our delicious cheeses and much more! Busy that day? Stop by the Ag District Center during our new hours any day of the week, to pick up your favorite Locksley Cheeses and joining us in celebrating June is Dairy Month (even though we think every month should be dairy month) and remember, three servings of dairy a day!
Erin Saacke, Assistant Cheesemaker
---
Note from Jenni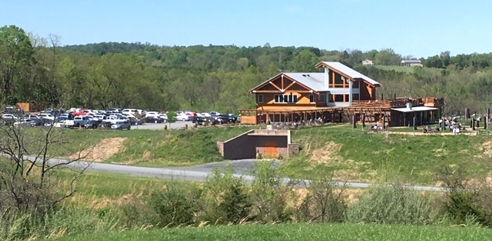 We have some delicious new wine to share with our VIP Club members this month… our third vintage of Buttorfleoge, our unusual and distinctive Pét Nat sparkling wine made from 100% whole-cluster pressed Norton. It's really in-between a red and a white, but because it's now summer, we put it as our red selection this month; perfect for an outside fancy picnic! It's really good, and those "in the know" will appreciate the unique and interesting winemaking technique used to produce it.
Pét Nat, short for Pétillant Naturel, or naturally sparkling, is the old method of producing sparkling wines, used before the advent of Champagne. While the wine is still fermenting the winemaker fills thick-glass bottles and seals them with a bottle cap. As the fermentation continues, most or all of the remaining sugar in the grape juice is consumed by the yeast, releasing carbon dioxide (CO2), which is captured in the sealed bottle. This creates the fizziness of Pét Nat. The French call this the méthode ancestral, or ancestor's method of making a sparkling wine. We named ours Buttorfleoge, the Old English word for butterfly… an old name for an old style of wine! Quite appropriate, I thought.
And, oh… I wanted to encourage you to take advantage of our VIP Club 1/3 Off coupon for any of our Locksley Farmstead Cheese. That's a great discount on really good cheese. If you haven't tried it, now's your opportunity. And if you're not yet a Chrysalis Vineyards VIP Club member, this would be a great time to sign up. You get free tastings, all sorts of special offers and "treats", and now a third off our cheeses during a visit in June.
Enjoy the beginning the summer, and make a point of coming to The Ag District to share some time with us. It's been so pretty outside. It will be a memorable day, I'm sure.
Take care,

Jennifer McCloud
Chrysalis Vineyards at The Ag District
39025 John Mosby Highway (Tasting Room)
23876 Champe Ford Road (Winery/Offices)
Middleburg, VA 20117

McCloud@ChrysalisWine.com
Office: 540-687-8222
www.ChrysalisWine.com
Facebook.com/ChrysalisVineyards