VIP PICKUP PARTY…
at the AG DISTRICT CENTER
Saturday, July 14th
7:00 pm – 9:00 pm
at The Ag District
(RSVP REQUIRED)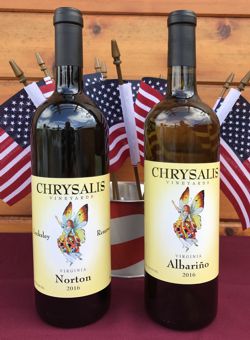 After what seemed like a month of endless rain, July looks like it's set to start out with a spell of sunny, hot weather.... just in time for all those 4th of July picnics celebrating this great nation that we call home. Be sure to make your celebration complete by including some all-American wine! There's nothing more genuinely American than a Chrysalis Vineyards 100% Norton wine. For something cold and refreshing try our Sarah's Patio Red. If you want a nice red to go with that steak on the grill try our Norton Schitz & Giggels or Norton Barrel Select. To top off the night while watching the fireworks try our own sparkler, Chrysalis Vineyards Buttorfleoge! All of them are delicious wines made from our native American wine grape, Norton, grown and produced locally by farmers.... those hardworking people that made our great country possible.
Don't forget.... we have live music at the Ag District Center every Saturday from 2:00-5:00 pm (July 7th, 14th, 21st, and 28th). Chrysalis Vineyards wine and live music... no better way to spend a summer day!
Remember to check out our website at ChrysalisWine.com. It's full of great information about Chrysalis Vineyards and the Ag District Center and for those of you who don't have time to get out for a visit, now you can purchase your favorite Chrysalis Vineyards wines online!
Our VIP Pickup Party this month will be held on July 14th from 7:00 pm until 9:00 pm (Please note the time!). This event is FREE for our members (2 attendees per membership), but does REQUIRE advance RSVP no later than July 10th. To RSVP please send an email to VIP-Club@ChrysalisWine.com. Verbal RSVP's and voice mail responses cannot be guaranteed confirmation.
Our spring and summer hours began on April 1st and we are open 10am - 6pm Monday through Thursday and 10am - 7pm Friday through Sunday. Please remember… as always, our last full tasting will start an hour before closing. Last call for purchases of open bottles or glasses will be 30 minutes before closing!
The red wine selection for our VIP Club members this month is Chrysalis Vineyards 2016 Norton Locksley Reserve. This is Chrysalis Vineyards' flagship dry Norton--The Real American Grape!® For the 2016 vintage, we carefully chose the best lots of Norton wine and blended them with Tannat and small amounts of Petit Verdot and Nebbiolo to produce a complex and deeply-colored wine with a firm tannic structure and refined acidity. Elegant and balanced, our Locksley Reserve has an intense aroma of sweet vanilla, smoke and earth. It is fruit-forward with a wonderful palate of concentrated cherries and blackberries with flavors of spicy black currants and peppery-chocolate. This great wine tastes fantastic now, but time will transform this powerhouse into one of the "best wines of all nations." For summer grilling try our Locksley Reserve with grilled flank steak and mushrooms in a red wine reduction.
Our white wine selection for July is Chrysalis Vineyards 2016 Albariño. Albariño is very rare in the United States, but has found a home at Chrysalis Vineyards, who produces one of the best made in America. Floral aromas of gardenias permeate the nose, reminiscent of cool summer afternoon breezes. Dry and crisp, this wine is filled with rich, bracing flavors of citrus, almonds, apricots and peaches, with an inherent tartness and clean freshness, which is a true varietal characteristic. This small and thick-skinned grape yields low amounts of high quality juice, producing a wine that is like a racy offspring of Riesling and Viognier. Pair our Albariño with a grilled shrimp and peach salad for a refreshing summer treat!
As a reminder to our members, all VIP wine is available for pickup at the Ag District Center tasting room anytime during regular business hours. If you can't make it out to pick up your wines on a monthly basis, we will hold them for you. Due to storage limitations, however, we do ask that you pick them up once you accumulate a case (6 months). We can also arrange for wine to be shipped to most locations, at your request.
Also, please remember that you can always find your paired recipes and detailed tasting notes at www.ChrysalisWine.com in the Private VIP Club Area. Pairings and tasting notes are available for wines dating all the way back to 2007 (especially useful for any of those with older, aged vintages). Also check in with us or follow us on Facebook for updates and announcements.
NOTE: Please do not reply to this emailed Newsletter. Your email will not be handled in a timely manner or may even be lost.
---