VIP PICKUP PARTY…
at the AG DISTRICT CENTER
Saturday, March 10th
6:00 pm – 8:00 pm
at The Ag District
(RSVP REQUIRED)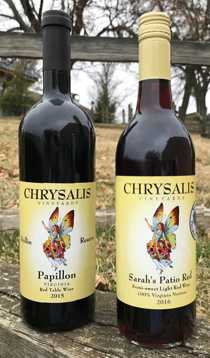 Well....a little over two weeks after the groundhog predicted six more weeks of winter we were basking in the almost 80° sunshine at the Ag District! Virginia weather is certainly fickle and February proved that. It would be nice if we could really believe that winter is over. Unfortunately, March is no less fickle! Good weather or not, the Ag District is open 7 days a week and Laurie and her tasting room staff are ready to give you a warm welcome and a cold glass of wine!

Our VIP Pickup Party this month will be held on March 10th from 6:00 pm until 8:00 pm. This event is FREE for our members (2 attendees per membership), but does REQUIRE advance RSVP no later than March 7th. To RSVP please send an email to VIP-Club@ChrysalisWine.com. Verbal RSVP's and voice mail responses cannot be guaranteed confirmation.
Our fall and winter hours are in effect until the end of March and the Ag District Center will be open 10am – 5pm Monday through Sunday. Our spring and summer hours begin on April 1st and we will be open 10am - 6pm Monday through Thursday and 10am - 7pm Friday through Sunday. Please remember… as always, our last tasting will start an hour before closing. Last call for purchases of open bottles or glasses will be 30 minutes before closing!
The red wine selection for our VIP Club members this month is Chrysalis Vineyards 2015 Papillon. The 2015 vintage is a blend of 66% Tannat and 34% Petit Verdot fermented in stainless steel and barrel aged for 14 months. It opens with notes of black currant, cherry and bit of oaky smokeness with an underlying mélange of pepper, sage, and violets from the Petit Verdot portion of the blend. Flavors to be experienced may include cassis, black cherry, cedar and tobacco with medium tannins finishing off the experience. A big wine such as this Papillon, that is fruit-forward and has a firm tannin structure, will pair with red meats that are well caramelized from grilling or roasting and accompanied by a red-wine based sauce.
Our white wine selection for February is Chrysalis Vineyards 2016 Sarah's Patio Red. Sarah's Patio Red is a sweet, light red wine made in the style of a rosé. The grapes were whole-cluster pressed, as they would be for many white wines, but with Norton, there's so much color in the skins and pulp that the juice at this very early processing stage has plenty of color and yields a deep red hue. This wine is fresh, fruity, and bottled early to preserve the fleeting aromas of fermentation. Lighter Norton color, character, and alcohol make this an easy drinking wine. This wine is redolent of ripe red berry fruit, herbs and a touch of rose petal. Moderately sweet and spritzy, this wine is refreshing and an easy pairing with many foods. Pair this with chicken tortilla soup or with a dessert of mixed berries topped with crème fraîche.
As a reminder to our members, all VIP wine is available for pickup at the Ag District Center tasting room anytime during regular business hours. If you can't make it out to pick up your wines on a monthly basis, we will hold them for you. Due to storage limitations, however, we do ask that you pick them up once you accumulate a case (6 months). We can also arrange for wine to be shipped to most locations, at your request.
Also, please remember that you can always find your paired recipes and detailed tasting notes at www.ChrysalisWine.com in the Private VIP Club Area. Pairings and tasting notes are available for wines dating all the way back to 2007 (especially useful for any of those with older, aged vintages). Also check in with us or follow us on Facebook for updates and announcements.
NOTE: Please do not reply to this emailed Newsletter. Your email will not be handled in a timely manner or may even be lost.
---