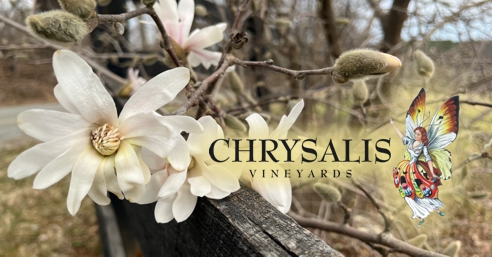 APRIL NEWSLETTER 2022
IN THIS NEWSLETTER...
VIP Wines of the Month
Report from the Tasting Room
Report from the Cellar
Report from the Farm
Report from The Little River Bakehouse
Report from Locksley Farmstead Cheese
Note from Jenni
---

Despite the unpredictable and mostly unpleasant weather that we experienced in March (4 inches of snow on the 12th ?!). Spring has arrived here on the farm and everthing is beginning to stir. Steven has been busy with the arrival of the Spring calving season, the vines have been pruned and are awaiting budbreak, trees are flowering, and every day things are looking just a bit greener.
We're hoping that the April weather will be a bit kinder so that you can all enjoy the beauty of Spring at the Ag District. Be sure to stop by on the first warm day this month, get a table outside, and watch Spring arrive!
NOTE TO OUR VIP CLUB MEMBERS
Our VIP pickup event this month will be held on Friday, April 8th from 5:00pm until 8:00pm at the Ag District Center.
Members must RSVP no later than April 5th by emailing TR-Manager@ChrysalisWine.com. Please include your name, number attending (up to 2 per membership), and your preferred tasting time (5:00, 5:45, 6:30, or 7:15). Please arrive in time to check in at least 10 minutes prior to your tasting time. When planning your visit please remember that we close at 8:00 pm.
If you're not a member of our Chrysalis Vineyards VIP Club, remember to ask one of our associates how to join. Our members enjoy complimentary wine flights, discounts on wine and food, exclusive access to VIP events and more!
The white wine selection for our VIP Club members this month is Chrysalis Vineyards 2021 Albariño. This single varietal wine is whole-cluster pressed and stainless steel fermented. Delightful aromas of orange blossoms, tropical fruit, and beeswax greet the nose. The palate bursts with hints of kiwi and apricot. The tantilizing acidity on the mid palate is remenincent of tangerines. Try a cold glass with one of Chef Keaton's Carnitas Verde pizzas the next time your at The Ag District.
Our red wine selection for March is Chrysalis Vineyards 2019 Locksley Reserve Norton. Our flagship red best showcases what Norton does when crafted with intention. Elegant aromatics provide herbal notes of sage, further pronouncing tobacco and dark red fruit. Refined characters of Norton are structured and rounded with black pepper, spices, and black currant. Best enjoyed in 5-10 years. Buy a case and enjoy over years.
As a reminder to our members, all VIP wine is available for pickup at the Ag District Center tasting room anytime during regular business hours. If you can't make it out to pick up your wines on a monthly basis, we will hold them for you. Due to storage limitations, however, we do ask that you pick them up once you accumulate a case (6 months). We can also arrange for wine to be shipped to most locations, at your request.
NOTE: Please do not reply to this emailed Newsletter. Your email will not be handled in a timely manner or may even be lost.
---
REPORT FROM THE TASTING ROOM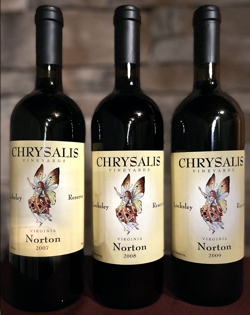 This month we have a special offer for our VIP Club members! We are releasing a 3-bottle set of Locksley Reserve Norton from our library. Beginnning with our first vintage of Norton wine, Jenni had the forethought to set aside a limited number of cases of Locksley Reserve Norton and Estate Bottled Norton from each vintage to allow them to age in bottle. We know how difficult it is to lay those wines down and resist the temptation to drink them, so we've done that for you!
Our first release of library wines features the 2007, 2008, and 2009 vintages of Locksley Reserve Norton. These wines all scored 91 points when they were evaluated by James Suckling several years ago (see Note from Jenni photo below). Our first release will be limited to 36 sets of these incredible wines and they are being offered to our club members first! Order online (don't forget to set up your online login to apply your VIP discount), stop by the tasting room, or give us a call to take advantage of this unique offer!
Our hours are 12:00pm - 6:00pm Monday - Thursday, 12:00pm - 8:00pm Friday and Saturday, and 12:00pm - 7:00pm Sunday. We have great wine, pizza, sandwiches, salads, farmstead cheese, fresh bread, eggs, and more - all availble 7 days a week. If you can't stay, you can always place a "To Go" order to enjoy at home! You can place your order ahead of time by calling 540-687-8222 or stop by to place your order.
---
REPORT FROM THE CELLAR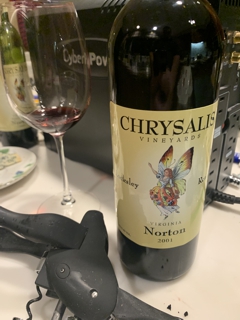 March was spent racking the 2021 vintage and discussing the upcoming 2022 harvest. Yes, we have already begun planning a vintage still more than three months out. During one of the most recent tasting sessions with Jenni and Teri, we launched into a discussion of "age worthy" wines. This is a concept that we spend much of our time talking about in the tasting room and with our VIP guests but never really talk about what "it" actually is.
An "age worthy" wine refers to the idea of a wine that will not only last in bottle, but will actually get better in the years to come. I'm sure you are wondering, "if it's in a bottle, how can it possibly change?" First off, think about the closure we use, it's real, natural cork. Despite cork being an excellent closure for wine bottles, it does more than stop the liquid from falling out of the bottle. Cork, which is from the bark of a tree, is actually porous and allows an exchange of air and water molecules.
As the air enters the bottle, it actually binds with the tannin creating longer polymer chains which translates to a smoother feel on the palate. For instance, the 2019 Nebbiolo is really good right now, but in the next five years, you'll notice that the tannins which sort of stop on the mid-palate, will actually make their way across the palate creating a long and lingering finish. That roughness becomes smooth and velvety. Some of you have commented that the acidity in our 2019 Tannat is bright and the tannins are a bit rugged. Over the years to come, the acidity and tannin will mellow out and create a softer feel on the palate, though this will take a bit longer then our Nebbiolo.
What about the Norton? Norton is known for having its own proprietary acid accompanied with that classic Norton aroma and smell. Over time these characters become complex and sophisticated showcasing dried purple flowers, cedar box, and aged spices. The acid softens and aids in keeping the wine fresh feeling despite having the sagely appearance of an aged wine. Norton really does play its cards close to its chest, only showing its hand after years of bottle age.
I will tell you that my experience comes from the few occasions when Jenni decides to pull an old Norton from her cellar to evaluate its age. While I've had the pleasure to taste some of the finest wines being made in VIrginia, I've personally tasted the intention of crafting wines to enjoy in the years to come. Chrysalis Vineyards spends a great deal of time crafting age worthy wines so if you have the opportunity, purchase a case and drink for years to come.
Jake Blodinger, Winemaker
---
REPORT FROM THE VINEYARD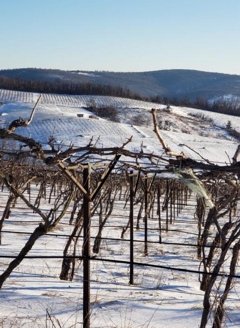 I sort of feel like the weather in Virginia is like asking your partner what they want for dinner, they just never ever know. Luckily, we've been in a pretty solid relationship with our vineyards for over two decades. Despite the up and down temperatures of spring, we've prepared for the highs and lows. Specifically with our white varieties which are most at risk for cold damage.
The last few months the crew has worked its way through the 70 acres of vineyard pruning vine by vine. There's actually an order in how we prune and it's according to what breaks bud last. Starting in the later weeks of December, the crew starts with the 40 acres of Norton. From there, they move to Hollin and begin pruning through the red vinifera there. Each vine is handled independently by our experienced crew and the appropriate amount of buds are left based on each vine's own health.
At the end of March the crew begins pruning our white varieties but instead of a total buzz cut the crew actually utilizes a technique called "rough pruning". Instead of removing all but 2-3 buds from each shoot, the crew will actually leave 4-6 buds. Our goal with rough pruning is to leave extra buds in case of a late spring frost, or in this case, late freezes. April is the month of budbreak and in colder years, which 2022 is looking to be, this could mean the end of the growing season long before we are out of the gate.
By leaving extra buds on each shoot, the vine will actually break bud furthest away from the vine itself and the lower buds will actually remain dormant a bit longer. Essentially we are sacrificing 2-3 buds at the tip in order to preserve the growing season. Once we are past the free windows (second or third week of April) the crew will actually finish pruning the remaining buds. If there is any frost damage present, they may remove an extra bud to prevent any long term damage.
Just a couple of weeks ago Freddy was assessing the snow and potential frost damage at our Hollin site. Luckily, we hadn't started pruning our Albariño or Viognier yet so no damage was suffered. It's going to be an interesting growing season!
Jake Blodinger, Winemaker
---
REPORT FROM THE LITTLE RIVER BAKEHOUSE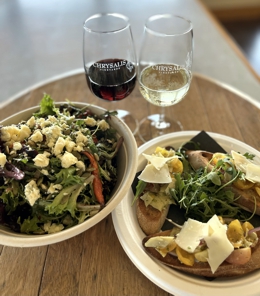 Greetings from the Little River Bakehouse, Chef Keaton here to give you some updates on the kitchen side of things here at The Ag District. The new Spring menu has been released and the favorite so far has been the Beet Pesto pizza which profiles some of the great produce available in the early spring with the sweet and earthy beet pesto, herb roasted mushrooms, caramelized onions and the creamy tang of our Friar Tuck fromage blanc. I also recommend this pizza with our new 2021 Albariño being released this month, they go wonderfully together. If beets aren't your thing then the Artichoke Spinach pizza will also make a great accompaniment with that wine as well.
As we begin to ramp up for the Spring our baking schedule will be changing around a bit to insure quality. We will begin to have fresh baguettes on Wednesdays, Fridays, Saturdays and Sundays. The Sourdough Boules will be baked on Fridays and the Rye Boules on Saturday. Rosemary Foccacia will be available fresh on Fridays, Saturdays and Sundays. If you stop by the tasting room on any of those days just ask for the fresh bake of the day and we wll be happy to accommodate you.
Keaton Beus, Little River Bakehouse Chef & Manager
---
REPORT FROM LOCKSLEY FARMSTEAD CHEESE COMPANY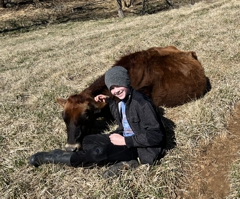 Blue cheese is a semi-soft cheese made with cultures of the mold Penicillium, giving it spots or veins of the mold throughout the cheese, which can vary in color through various shades of blue and green. This carries a distinct smell, either from that or various specially cultivated bacteria. Some blue cheeses are injected with spores before the curds form, and others have spores mixed in with the curds after they form. The characteristic flavor of blue cheeses tends to be sharp and salty. Their distinct smell comes from both the mold and types of bacteria encouraged to grow on the cheese. A portion of the distinct flavor comes from lipolysis (breakdown of fat). The metabolism of the blue mold further breaks down fatty acids to form ketones to give blue cheese a richer flavor and aroma.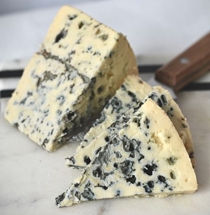 Blue cheese is believed to have been discovered by accident when cheeses were stored in caves with naturally controlled temperature and moisture levels which happened to be favorable environments for many varieties of harmless mold.
Penicillium roqueforti creates the characteristic blue veins in blue cheese after the aged curds have been pierced, forming air tunnels in the cheese. When given oxygen, the mold is able to grow along the surface of the curd-air interface. The veins along the blue cheese are also responsible for the aroma of blue cheese itself.
John Cline, Head Cheesemaker
---
Note from Jenni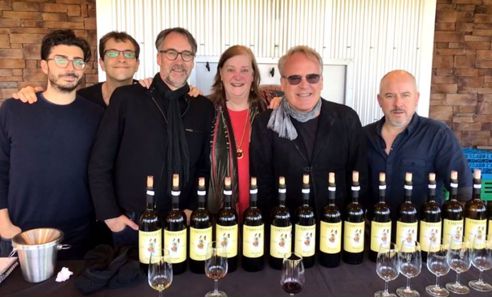 Chrysalis Vineyards made its first Locksley Reserve Norton in 2000. When we bottled that wine in March, 2002, I made the decision to lay down each vintage of our Locksley Reserve and Estate Bottled Nortons for years into the future. As our winemaker, Jake Blodinger, described in his Report from the Cellar, aging red wines allows for positive chemical changes to occur in the wine… in the "mouthfeel", flavors and aromas. Of course, proper storage conditions are necessary, hence our constant pleading to get a wine closet or build a cool and stable-temperature cellar.
I had the pleasure to enjoy a huge range of red wines over the years (Classified Growth Bordeauxs, Burgundies, Spanish Reservas, etc.) and I knew that our Nortons would benefit from the same slow aging in proper cellar conditions.
Well, here's your chance to experience what we're talking about. Teri and Jake have twisted my arm so far over the last months that I finally said "uncle", and agreed to start releasing our older vintages, both for the Locksley Reserve and Estate Bottled Nortons. I've started with three contiguous vintages that all received the same score of 91 points by James Suckling when he and his team evaluated our wines in October, 2018. We're only releasing these three cases of each right now, so don't dilly-dally, or you'll miss out. Also, our VIP Club members get first crack at purchasing these wines, so if you were considering joining our Club, this is a great time do so.
I hope you take this opportunity to taste some fine older vintages of Norton, and find out why those wine lovers from around the world before Prohibition loved Norton, The Real American Grape!®
Take care,

Jennifer McCloud
Chrysalis Vineyards at The Ag District
39025 John Mosby Highway (Tasting Room/Creamery/Kitchen)
23876 Champe Ford Road (Winery/Milking Center/Offices)
Middleburg, VA 20117

McCloud@ChrysalisWine.com
Office: 540-687-8222
www.ChrysalisWine.com
Facebook.com/ChrysalisVineyards