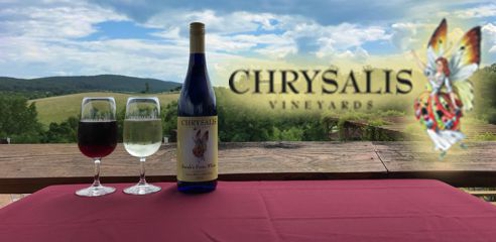 JULY NEWSLETTER 2021
IN THIS NEWSLETTER...
VIP Wines of the Month
Report from the Tasting Room
Report from the Cellar
Report from the Farm
Report from The Little River Bakehouse
Report from Locksley Farmstead Cheese
Note from Jenni
---

Announcing the next big step toward normalcy.... VIP Pickup Parties are returning! After a long hiatus due to complications from Coronavirus, we are happy to announce that the reboot of this monthly event will be on Friday, July 9th from 5:00pm - 8:00pm at the Ag District Center. As always, this event is exclusively for our VIP Club members (two people per membership). It's a great opportunity to meet your fellow club members and try the VIP wines of the month. We will also offer special VIP pricing on selected pizzas during the event. Mark your calendars and plan to join us for a great evening!
MEMBERS MUST RSVP NO LATER THAN JULY 5TH BY EMAILING TR-MANAGER@CHRYSALISWINE.COM. WE WILL BE CONDUCTING PAIRED TASTINGS AT 5:00, 5:45, 6:30 AND 7:15. PLEASE INCLUDE YOUR NAME, NUMBER ATTENDING (1 OR 2) AND TASTING TIME PREFERENCE IN YOUR EMAIL.
The white wine selection for our VIP Club members this month is Chrysalis Vineyards 2020 Viognier. This wine is a blend of both wild and commercial fermentation. The wild fermentation provides fresh tropical aromatics, while the commercial fermented Viognier lends itself to more of the traditional characteristics of old world Viognier. Our 2020 Viognier showcases tropical aromatics and bright tangerines. The palate features balanced acidity with flavors of cantaloupe and peaches. A soft creamy finish lingers from the extensive battonage. A grilled salmon fillet over fresh spring mix and micro greens with cranberries, apricots, and balsamic dressing would complement this wine well.
Our red wine selection for July is Chrysalis Vineyards 2020 Rubiana. This vintage of Rubiana is a Crianza inspired wine produced from 100% Tinta Cao fruit. Inviting aromatics of leather and raspberries greet the nose while flavors of spicy fruit, cloves and wild blackberries grace the palate. Create an after dinner treat by pairing this wine with a slice of raspberry cheesecake.
As a reminder to our members, all VIP wine is available for pickup at the Ag District Center tasting room anytime during regular business hours. If you can't make it out to pick up your wines on a monthly basis, we will hold them for you. Due to storage limitations, however, we do ask that you pick them up once you accumulate a case (6 months). We can also arrange for wine to be shipped to most locations, at your request.
Also, please remember that you can always find your paired recipes and detailed tasting notes at www.ChrysalisWine.com in the Private VIP Club Area. Also check in with us or follow us on Facebook for updates and announcements.
NOTE: Please do not reply to this emailed Newsletter. Your email will not be handled in a timely manner or may even be lost.
---
REPORT FROM THE TASTING ROOM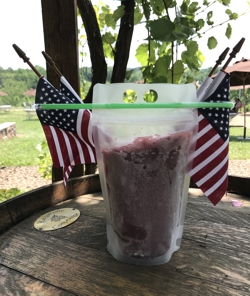 The summer heat has descended on us, but you can beat the heat at Chrysalis Vineyards with an icy-cold wine slushy. Our slushies are made with real fruit concentrates and Chrysalis Vineyards wine! No neon blue or green mystery flavors here! The selection varies from day to day, but look for flavors of strawberry, mixed berrry and mango and be sure to let us know which is your favorite!
If wine slushies aren't your thing try a cold glass of Sarah's Patio White or Sarah's Patio Red to lower your temperature. Or Mariposa, Tximeleta, Albariño, Viognier, or Albariño Verde.... so many ways to quench your thirst and squelch the heat!
Our hours are 12:00pm - 6:00pm Monday - Thursday, 12:00pm - 8:00pm Friday and Saturday, and 12:00pm - 7:00pm Sunday. We have great wine, pizza, sandwiches, salads, farmstead cheese, fresh bread, eggs, and more - all availble 7 days a week. If you can't stay, you can always place a "To Go" order to enjoy in the safety and comfort of your own home! You can place your order ahead of time by calling 540-687-8222 or stop by to place your order at the window.
---
REPORT FROM THE CELLAR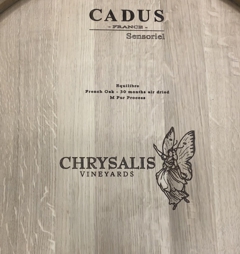 July is a busy month for the cellar, Jenni and I are finalizing the blends for the August bottling and prepping the cellar for the 2021 harvest. Outside of our focus on the August bottling and pre-harvest prep, Jenni and I are re-examining our barrel selection for the upcoming vintage.
Making our barrel selections is never as simple as choosing French oak over American oak or one cooper over another. It's more complicated than that because barrel selection effects varietal typicity, structure, mouth feel, flavors, aromatics, and the overall wine style. A new barrel has a ton of impact on a wine and can easily overpower the character resulting in a wine that can be easily mistaken for liquid popsicle sticks. To avoid this, we start by examining our wine styles.
For instance, our Barrel Select Norton is this concept of "Norton in your face" and so the oak impact should ideally further the character of Norton and only be detectable if you look for it. Norton is a powerful varietal that handles new oak extremely well and we love the idea of using Virginia's oak for Virginia's grape. Virginia oak tends to preserve aromatics, enhance fruitiness, and elevate that Norton character. The total new oak percentage ranges from 30-40% meeting the criteria of preserving the intended wine style and varietal characteristics.
French oak is commonly applied to our reserve wines where the goal is to create a wine that can be laid down for years to come. Oak barrels provide additional tannin which contributes complexity as well as other benefits. In fact, this tannin helps create longer tannin chains to prevent early precipitation, in turn extending the potential bottle aging. French oak commonly expresses itself as mocha and exotic spices, which conveys itself as richer dark fruit. This tends to fall more in line with varietals like Petit Verdot and Tannat, which play well with the austere characters of French Oak.
At the end of the day, Chrysalis Vineyards takes careful consideration when selecting barrels for wine production. Choosing the right barrel for the right wine is only a single piece of a greater puzzle found in every bottle of Chrysalis Vineyards wine.
Jake Blodinger, Assistant Winemaker
---
REPORT FROM THE VINEYARD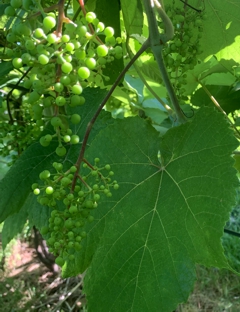 Last month I discussed how bloom was an important time and that fruit set would be the next stage of growth. I'm happy to report that we had almost perfect fruit set and now we are wading through the days watching "bunch closure".
Bunch closure is the process of the grapes growing to fill in a complete cluster. Once the berries mature they actually touch their neighboring berry and then begin to ripen. Like other stages, this is an important time for the vineyard, as maintaining clean fruit starts here. This doesn't refer to washing the fruit with soap and hand scrubbing, but actually preventing disease buildup directly on the fruit.
If diseases such as black rot, powdery, or downy make their way onto the cluster as it grows, it will actually become sealed inside becoming a constant vector for the various diseases mentioned above. In addition to chemical sprays that act as protectants or eradicants to address this issue, maintaining the proper canopy is a large portion of the battle.
Removing leaves and allowing "dappled sun light", that's a bit of direct sunlight on the berries themselves, creates a difficult micro-climate for fungus to grow. Leaf pulling or "combing" also creates air flow through the canopy, which prevents standing water from settling and becoming pools for diseases to jump and transmit throughout the vineyard.
The crew has begun the long hours of canopy management leading up to veraison, the French term for ripening. It won't be long before we are discussing in more detail the fast approaching harvest.
Jake Blodinger, Assistant Winemaker
---
REPORT FROM THE LITTLE RIVER BAKEHOUSE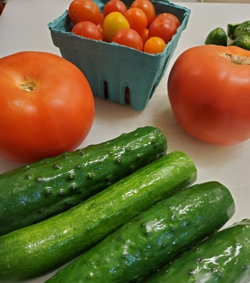 Greetings from the Little River Bakehouse, Chef Keaton here to tell you about the return of the VIP pick up parties! I'm really looking forward to seeing all of our club members on July 9th. These events give me an opportunity to try new pairings and get a little more face time with our club member's since I always seem to just be making their pizzas. We will be doing things differently then we did at past events. We'll be by breaking things up into timed blocks to allow us to create a much more organized tasting and pairing experience and allow us to put more focus on presentation and freshness of the paired food. I will be featuring hor d'oeuvres of Honey Whipped Fromage Blanc with Terra Di Sienna Coppa and Raspberry Couli, Salmon and Chive Arancinis, Caramelized Endive with Nottingham Gouda and Locksley Beef Sirloin wrapped asparagus. Be sure to select your time slot and RSVP by the deadline to ensure that there will be plenty to go around for everyone attending.
I am also pleased to announce that tomatoes are now in season and are plentiful! We will be sourcing the majority of our produce from one of my favorite farms in the area, Makintosh Fruit Farm located off of Route 7 in Berryville. I just picked up a few boxes of their tomatoes and cucumbers this past week and they are incredible. I have also been getting inquiries about where we source the honey on our chacuterie boards. We source our honey from a local farm down the road from us called Quail and Hound and you can find them at the Purcellville Farmers market on Saturdays. Be sure to get out there and support some of these wonderful local farms.
Hope to see you all soon.
Keaton Beus, Little River Bakehouse Chef & Manager
---
REPORT FROM LOCKSLEY FARMSTEAD CHEESE COMPANY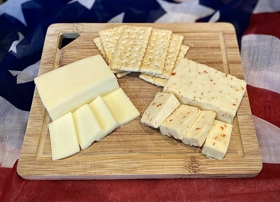 Happy 4th of July! What better way to celebrate than with a cheese that was born in the USA! Our White Knight Monterey Jack and Red Knight Pepper Jack is here and is the perfect snack for your holiday weekend. Monterey Jack earns its rightful position as a true "American" cheese, originating from the Mexican Franciscan friars of Monterey, California. All around the Monterey region, monasteries were making a semi-firm, creamy, mild cheese from cow's milk that they aged for a short period of time. It did not take long for an American entrepreneur by the name of David Jack to realize its commercial value and begin selling it all over California. This cheese came to be known as "Monterey Jack's" or "Jack's Monterey" and eventually acquired the name that we all are familiar with today, Monterey Jack.
This cheese is commonly used in Mexican and Spanish cuisine as it is known for its ability to melt really well and mild flavor. While we enjoy this cheese as the perfect lake day snack, cut up on crackers, it also is amazing made into queso or melted on burgers or sandwiches. So what are you waiting for? Stop by the Ag District and stock up on this American classic that is handcrafted from the milk of our very own dairy herd, right here in Northern Virginia, just an hour from the nation's capital! Now that's Patriotic! We hope everyone has a wonderful Fourth of July weekend!
Erin Saacke, Cheesemaker
---
Note from Jenni

Boy, have we got a bunch of great food and wine for the summer. Refreshing Albariños, Viognier, rosés, the Sarah's Patio White and Red, Teri's special slushies. Delish!
On the food front, just look at that summer produce photo in Report from the Little River Bakehouse. Our talented chef, Keaton Beus, has put together a wonderful selection of mouth-watering summer fare, including a fabulous Pizza Primavera (I'm not the world's biggest veggie fan, but I'm lovin' it!), crisp, fresh salads (try the Honey Dew melon with Merry Men Manchego… outstanding) and uniquely delicious sandwiches made with our farm products. Of course, a cheese and charcuterie platter with our own cheeses, baguette, along with Keaton's special jams, mustards and pickles is always a good choice. Getting hungry? You know where to go!
Our vineyards are in great shape, and after a bit of earlier musical chairs with staffing, we've really put together a talented and stable vineyard crew. (We had staffing issues like a lot of businesses after the past year, and frankly, people are feeling really good about getting back to work.)
Our animals are all doing great, including the new batch of chicks, which have literally grown likes weeds. So, you egg lovers have just a few months before these girls start laying. (BTW, if you've ever tried the eggs from our truly free-range chickens, you will not want to buy another grocery store egg ever again!)
Jake and I continue to work closely together, multiple times each week, to craft very high-quality wines that stand on their own merits on the world stage, without any compromises or excusing explanations (you know, those "That's pretty good for a Virginia..." prefaces). NO! That's not what we do here!
Anyway, we're firing on all cylinders across the boards, and we look forward to serving you our delicious summer bounty from The Ag District.
Hope to see you soon. Take care,

Jennifer McCloud
Chrysalis Vineyards at The Ag District
39025 John Mosby Highway (Tasting Room/Creamery/Kitchen)
23876 Champe Ford Road (Winery/Milking Center/Offices)
Middleburg, VA 20117

McCloud@ChrysalisWine.com
Office: 540-687-8222
www.ChrysalisWine.com
Facebook.com/ChrysalisVineyards