OCTOBER NEWSLETTER 2020
IN THIS NEWSLETTER...
VIP Wines of the Month
Report from the Tasting Room
Report from the Cellar
Report from the Farm
Report from The Little River Bakehouse
Report from Locksley Farmstead Cheese
Note from Jenni
---

As this newsletter reaches you we are about halfway through harvest and running headlong into our busiest month of the year. Fall is a beautiful time to soak in the views from the Ag District and enjoy a glass of your favorite Chrysalis Vineyards wine. It's also Virginia Wine Month - the perfect time to show your support for local agriculture and small businesses by exploring all the farm fresh products that we have to offer. So stop on by, have a glass of wine, check out our farm fresh cheeses, and take some Norton jelly or hot sauce home with you! We appreciate your support!
When you visit, please remember that we are still operating under COVID restrictions. Social distancing at all times and wearing masks while in the building are still mandates that everyone must observe. You can see the full list of rules by clicking here.
Our hours are 12:00pm - 6:00pm Monday - Thursday, 12:00pm - 8:00pm Friday and Saturday, and 12:00pm - 7:00pm Sunday. We have great wine, hot pizza, farmstead cheese, fresh bread, eggs, and more - all availble 7 days a week. You can place your order ahead of time by calling 540-687-8222 or stop by to place your order at the window.
The white wine selection for October is Chrysalis Vineyards 2019 Sarah's Patio Red. Sarah's Patio Red is a sweet, light red wine made in the style of a rosé. The grapes were whole-cluster pressed, as they would be for many white wines, but with Norton, there's so much color in the skins and pulp that the juice at this very early processing stage has plenty of color and yields a deep red hue. Out of the bottle and into the glass, this fragrant wine shows fresh picked raspberries, elderberries, and lingonberries. On the palate this wine explodes with fresh strawberries, red cherries, and touch of spice. A touch of sweetness and robust forward fruits make this an easy drinking wine. A cold glass of Sarah's Patio Red is a perfect companion to one of Chef Keaton's chicken and Maid Marian paninis - housemade focaccia, Maid Marian camembert, grilled chicken and strawbery jam - Yum!
The red wine selection for our VIP Club members this month is Chrysalis Vineyards 2019 Private Reserve Red. Our Private Reserve wines are crafted exclusively for members of our VIP club. The 2019 vintage of this wine is a perfect blend of Norton, Tannat, Nebbiolo and Petit Verdot. Aromas allude to a nicely aged wine with leather and vanilla from barrel age. The French oak and Nebbiolo create a nice cordial cherry with added notes of licorice, smoke, and hazelnut. A silky mouth feel from the Norton gives way to soft tannins from the Tannat and raspberry from the Petit Verdot. Try this with some Prince John washed-rind cheese from Locksley Farmstead Cheese Co. The wild, meaty and savory flavor of this cheese is the perfect complement!
As a reminder to our members, all VIP wine is available for pickup at the Ag District Center tasting room anytime during regular business hours. If you can't make it out to pick up your wines on a monthly basis, we will hold them for you. Due to storage limitations, however, we do ask that you pick them up once you accumulate a case (6 months). We can also arrange for wine to be shipped to most locations, at your request.
Also, please remember that you can always find your paired recipes and detailed tasting notes at www.ChrysalisWine.com in the Private VIP Club Area. Also check in with us or follow us on Facebook for updates and announcements.
NOTE: Please do not reply to this emailed Newsletter. Your email will not be handled in a timely manner or may even be lost.
---
REPORT FROM THE TASTING ROOM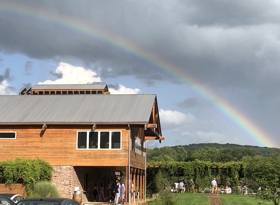 October is always the busiest month of the year at The Ag District. Something about the crisp fall air and changing color of the leaves beckons people to the Virginia countryside to drink wine.
Our spacious lawn overlooking rolling pastures and the Bull Run Mountains is the perfect place to take in some fall air while enjoying our delicious wines, farm fresh cheese, artisan pizza, paninis and other freshly baked goodies. We recently released new vintages of our Mariposa (rosé), Viognier, and Sarah's Patio Red and Keaton has rolled out some new fall menu items. So, even if you have stopped by recently there's always something new to try!
Cheers!
Laurie Stevens, Tasting Room Manager
---
REPORT FROM THE CELLAR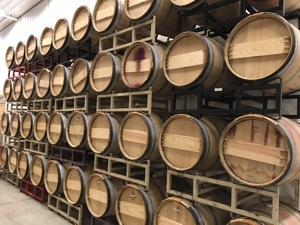 It's surely harvest here at Chrysalis and the workload has been nonstop. Starting at the first of last month, we pulled in around 5.5 tons of Albariño for our Albariño Verde wine. The fermentation went smoothly and the wine really personifies that vino verde style. The rest of the Albariño followed just a couple of weeks later, and proved to be just as delicious.
Probably the leading topic was the decision to bring in our Fer Servadou for our Tximeleta wine. Due to some weather constraints, we decided to pick the fruit earlier than initially intended. The fruit was beautiful, but just a little less ripe, which proved advantageous, because the color seems to be spot on. It's still just a bit early to see the end results, but once the fermentation ends, and the lees settle to the bottom we will have a better indication of its final characteristics.
While we wait on the Tximeleta to finish fermentation, we've turned our focus to Viognier. The fruit looks amazing, but the flavor is just a little too green for our liking. If you will remember last year, I talked about how the ripeness of our Viognier and it should be closer in both color and taste to a cantaloupe. Currently, it's leaning towards honeydew. We want to push that ripeness for a more complex wine. Our finger is on the trigger and we are ready pick at any moment.
While the whites are slow to ripen, the reds have not fallen down on the job. Our red varietals are starting to ripen and I will say the Tannat is looking particularly gorgeous. Both the Petit Verdot and Tinta Cao are becoming juicy and super flavorful. Come the first week of October it will be Norton season. It marks the half way point for us at harvest, but easily the most intense part of harvest. All in all, harvest is looking pretty good!
Jake Blodinger, Assistant Winemaker
---
REPORT FROM THE VINEYARD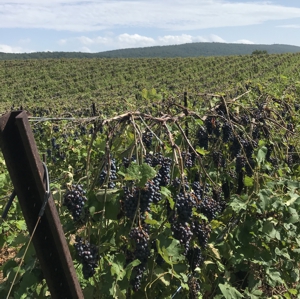 I'm not sure who said that "the forces of nature are unpredictable," but they were spot on. Just after a long day of walking the vineyard and admiring all the beautiful fruit, a hail storm attacked. For a solid 15 minutes or more, hail the size of large marbles sliced through all of Freddi's hard work. It was incredibly heartbreaking to see beautiful clusters of Petit Manseng, Albariño, and Viognier shattered.
I think for a solid day everyone here at Chrysalis was just stunned. We wondered if we had lost the 2020 harvest before we had even really started. Freddi, being the 20 year veteran of Chrysalis, immediately leaped into action. He set out removing clusters too far gone and spraying blocks for the oncoming disease pressure. Once berries split, they begin to act as a vector for disease, specifically sour rot.
Sour rot, basically ferments the berry pulp on the spot and turns it to grade A vinegar. It can be easily spotted by its tan or brown berries that appear almost engorged or swelled. If left unchecked, it moves berry to berry slowly rotting whole clusters. Under the right conditions, sour rot can take out an entire block in under a week. Sour rot stems from unchecked bird damage, unprotected fruit, and hail...which we learned pretty fast.
While the whites suffered a little, Freddi and his crew were able to save most of the fruit. However, this did force us to pick the fruit a few days earlier then intended. Due to Norton's late ripening characteristic, the berries were still too hard to suffer any real damage. Proving once again, Norton is an incredibly resilient varietal. It was a close call at the beginning of harvest and while we learned how unpredictable the forces of nature can be, we were also reminded how grateful we are to have Freddi and the vineyard crew.
Jake Blodinger, Assistant Winemaker
---
REPORT FROM THE LITTLE RIVER BAKEHOUSE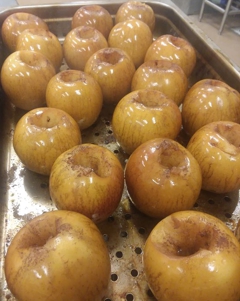 Greetings from The Little River Bakehouse, I'm pleased to announce that we will be switching over from our Summer menu to our new Fall menu this weekend. This will include favorites such as the Smoked Apple, Bacon and Little John Cheddar Pizza and a couple of new paninis as well. However, no need to worry about losing that Sausage, Mushroom Gouda pizza because we will be adding it to our regular menu! Of course we will continue to be using fresh and local produce, meats and cheeses as much as possible through the fall and winter.
We have also been busier than ever making sure every customer is getting a hot and fresh pizza with some of the best Virginia sourced ingredients we can find. We hope to see you again soon to try out or new fall menu. Thank you and I hope you stay safe.
Keaton Beus, Little River Bakehouse Manager
---
REPORT FROM LOCKSLEY FARMSTEAD CHEESE COMPANY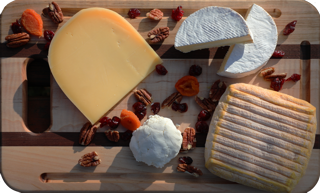 Did you know it takes around 10 POUNDS of milk to make just 1 pound of cheese?! To put this into perspective, a gallon of milk weighs 8.6 pounds, which means more than 1 gallon of milk is needed per pound of cheese. That's a lot of milk!
Our grazing dairy cows average 50-60 pounds of high quality milk or between 5-7 gallons per day. This means that each week our cows produce 350-420 pounds of milk or 35-50 gallons each! We typically milk between 10-18 cows, currently we are on the lower end milking 12 cows. Each week our cows are producing 4,000-5,000 pounds of milk, which we turn into 400-500 pounds of cheese! Hopefully you're still with me and I haven't lost you in the math yet! This equates to nearly a quarter of a MILLON pounds of milk produced by our girls per year and around 25,000 POUNDS of delicious artisan cheese. While this sinks in, come on out and enjoy this cooler weather with cheese, wine and one of Chef Keaton's pizzas too, Happy Fall!!!
Erin Saacke, Cheesemaker
---
Note from Jenni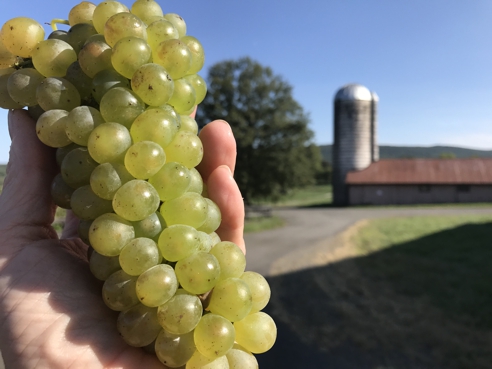 October is Virginia Wine Month, in case you hadn't heard. That made me chuckle because I've been celebrating Virginia Wine Month for nearly 25 years. How could you NOT know it's Virginia Wine Month? (Well, I suppose that's easy to answer. Every person on this planet has their own lives, with their own focus, front and center, and most everything else is, frankly, peripheral.)
But take a minute, please, to think about what has happened with Virginia wine in the last 25 years. The journey to quality in Virginia wines has been phenomenal; incremental, sure… but steady and true, nonetheless. Those of us who were interested in sampling Virginia wines had a whole lot easier time of it 25 years ago, because there were only 46 wineries in Virginia when I started out (I think there's more than that, now, just in Loudoun County!). And, it's true, a lot of the wines produced back then were made in what our illustrious Emeritus Professor and State Enologist, Dr. Bruce Zoecklein would sometimes refer to as "bucket and funnel winemaking". And, yes, there were a lot crummy wines out there back then.
And that's my point. Virginia wines have improved so dramatically in the last couple of decades that we're now producing some of the finest wines in America, and for a number of varieties, we're on the short list for some of the best in the world.
So revel in Virginia wines, and help us celebrate Virginia Wine Month by doing your part, which is fun and pretty simple: Drink Virginia Wine!
Stay healthy… and take care,

Jennifer McCloud
Chrysalis Vineyards at The Ag District
39025 John Mosby Highway (Tasting Room/Creamery/Kitchen)
23876 Champe Ford Road (Winery/Milking Center/Offices)
Middleburg, VA 20117

McCloud@ChrysalisWine.com
Office: 540-687-8222
www.ChrysalisWine.com
Facebook.com/ChrysalisVineyards