FEBRUARY NEWSLETTER 2021
IN THIS NEWSLETTER...
VIP Wines of the Month
Report from the Tasting Room
Report from the Cellar
Report from the Farm
Report from The Little River Bakehouse
Report from Locksley Farmstead Cheese
Note from Jenni
---

A recent shot of colder temperatures has reminded us all that winter is actually here. So far, we've enjoyed a fairly mild season, which has allowed visitors to the Ag District to enjoy our new outdoor heated tables. With the need to still be cautious about the spread of COVID, these spaces have created the perfect way to enjoy our wines, cheeses, and menu items in a safe and comfortable environment. February is the last full month of winter and warmer weather may be getting closer, but in the meantime be sure to stop by and cozy up by the fire with a glass of your favorite Chrysalis Vineyards wine and a delicious pizza from Little River Bakehouse!
The white wine selection for this month is Chrysalis Vineyards 2019 Mariposa. This wine showcases two different winemaking styles for rosé. Tannat, Petit Verdot, and Tinta Cao are macerated into the press and left to rest on the skins for color extraction before being pressed. The Nebbiolo is saigneed (French for "to bleed") into the tank to further embellish the cherry flavors. The combined winemaking techniques demonstrate a fruity wine with delicate acid that will leave you wanting more. A salad of fresh greens topped with grilled salmon and lemon vinaigrette and a glass of cold Mariposa is a refreshing match.
Our red wine selection for February is Chrysalis Vineyards 2017 Petit Versot. Petit Verdot is one of the five principal red varieties grown in the Bordeaux appellation of France. It's also one of the most highly valued grape varieties grown in Virginia. This vintage opens with waves of blackberry and plum, and notes of coffee, toasted oak and maybe a touch of black pepper and sage following. The palate is greeted with ripe blackberry, currants, a touch of dark chocolate and some well-rounded tannins. Open a bottle with a bowl of piping hot beef stew to keep you warm on a cold winter evening.
As a reminder to our members, all VIP wine is available for pickup at the Ag District Center tasting room anytime during regular business hours. If you can't make it out to pick up your wines on a monthly basis, we will hold them for you. Due to storage limitations, however, we do ask that you pick them up once you accumulate a case (6 months). We can also arrange for wine to be shipped to most locations, at your request.
Also, please remember that you can always find your paired recipes and detailed tasting notes at www.ChrysalisWine.com in the Private VIP Club Area. Also check in with us or follow us on Facebook for updates and announcements.
NOTE: Please do not reply to this emailed Newsletter. Your email will not be handled in a timely manner or may even be lost.
---
REPORT FROM THE TASTING ROOM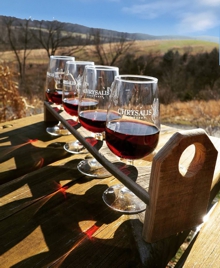 In last month's newsletter we hearalded the delivery of our new heated tables. I'm happy to announce that our staff completed the assembly and we now have 11 cozy heated tables for you to enjoy! Each of the tables seats up to 4 people and provides a welcome respite from the cold weather. Be sure to stop by in the coming weeks and try one out!
All of our seating, both indoors and outdoors, is first-come, first-served. We have limited indoor seating for adults 21 years of age and older on our upper floor and very limited indoor seating for groups with children on our main floor. We also have plenty of outdoor seating (some covered) with heat tables and patio heaters available at many tables. Our largest oudoor tables seat 8 people comfortably. We ask that you do not move our furniture, but you are welcome to bring your own seating as long as you maintain proper social distancing and group sizes remain within our current restrictions (please call ahead if you have more than 8 people in your group to discuss current restrictions). Regulations and protocols are subject to change at any time, so please call the tasting room at 540-687-8222 or visit our website for updates.
Our hours are 12:00pm - 6:00pm Monday - Thursday, 12:00pm - 8:00pm Friday and Saturday, and 12:00pm - 7:00pm Sunday. We have great wine, hot pizza, farmstead cheese, fresh bread, eggs, and more - all availble 7 days a week. If you can't stay, you can always place a "To Go" order to enjoy in the safety and comfort of your own home! You can place your order ahead of time by calling 540-687-8222 or stop by to place your order at the window.
---
REPORT FROM THE CELLAR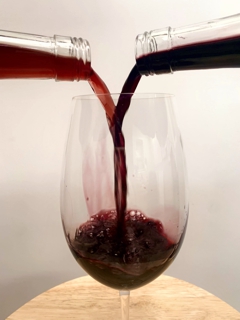 February is often seen as the month of love and I personally believe there is nothing more romantic than wine. This month we're bottling our 2019 reds! The concept of blending is an examination of individual components and what they can bring to the glass when "married" with another wine. (See what I did there? I thought it was clever.) There was careful blending done to ensure we are bringing you the best wines possible.
Jenni and I have spent a lot time looking at two particular varieties, Petit Verdot and Tannat. Petit Verdot is fruity, brilliant with color, has mild tannin, but at the same time, is still missing something. Tannat is has a lovely spiced nose, tannic palate, and plum flavor; but like Petit Verdot, it feels that there is a piece missing. Though, something amazing happens when we blend them together. The harsh tannins of the Tannat are tamed by the structure of the Petit Verdot's milder tannins and darker fruit, making the palate richer and more complex. The aromatics evolve into notes of spiced dark fruit with an undertone of chocolate or mocha. These are the two varietals that create everyone's favorite robust red wine that demonstrates "the sum of the parts make a greater whole", Papillon.
Another one of my favorite examples of blending to create a beautiful melody of flavors and aromatics occurs with our Norton Locksley Reserve. Norton demonstrates a depth unseen by other varieties in the region through its unusual fruit profile and bright acid. In all its greatness, Norton can still appear a bit thin in the mid-palate. With just the smallest amount of blending from Petit Verdot, Tannat, or Nebbiolo; Norton can be elevated to even greater heights. That soft mid-palate becomes embellished with darker fruits, spices, and round tannins. Like any good "marriage", Locksley Reserve gets even better with time.
In February, we are bottling these beautiful wines and I can't wait to share all the love and patience that has gone into these wines with you. For now, let's celebrate this month of love with someone special and your favorite Chrysalis wines!
Jake Blodinger, Assistant Winemaker
---
REPORT FROM THE VINEYARD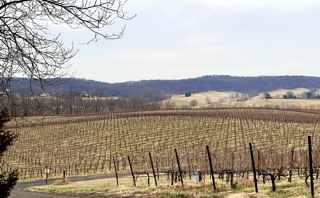 Brrrrrrr! Is it me or does it feel colder than last year? Winter tends to be viewed as the time when the vines receive a 'haircut' before the next growing season. While that is true, the effects of colder temperatures on the overall health of the vineyard also merit consideration.
Colder temperatures will actually eliminate certain pests before the upcoming growing season. Insects like the Glassy Wing Sharpshooter, which are vectors for Pierce's Disease, will actually overwinter in trees and weeds. Towards the end of winter when temperatures begin to rise, they will begin their life cycle again causing them to become an immediate threat even before the growing season starts. When temperatures remain low, their water sources will freeze causing death through dehydration. Don't feel too bad, these guys can wipe out entire acres in a matter of months! Other pests such as Leaf hoppers, Mealy bugs, and Japanese beetles also become stunted with freezing temperatures.
While cold temperatures can eliminate harmful pests they can also create concern towards the health of the vine. When vines go dormant they retain water, which under certain circumstances could freeze and cause the vine to burst. This looks like splits or cracks on the surface of the vine. These areas, if not removed from the vine, will eventually become entry ways for disease. This type of damage is commonly seen in younger vines and new growth that has yet to be pruned away.
Sustained freezing temperatures will often result in frozen ground which is harmful to new root systems that have yet to fully establish themselves. It's like frost bite for roots and results in the root tendrils dying. When the vine emerges from dormancy, it will struggle to pull up water and nutrients. This can be circumvented by choosing rootstock that is cold tolerant and prefers to dig in deeper to the soil. Norton for instance, is self-rooted, meaning it's not grafted to root stock and because it's "Virginia's Grape" it's adapted properly to the climate here. The roots run deep in the soil and with 20 years of development, root systems can easily be 6 feet to 15 feet into the soil!
The vineyards here at Chrysalis are 20 years old and rarely see issues with cold temperatures but it never hurts to be ready. Simply being present and aware of the vines health makes a huge difference in the quality of wine produced. Luckily, we have an experienced crew that works extremely hard to do just that!
Jake Blodinger, Assistant Winemaker
---
REPORT FROM THE LITTLE RIVER BAKEHOUSE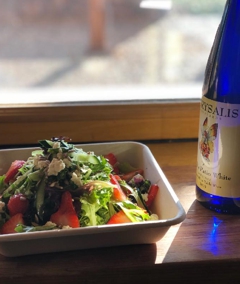 Greetings from the Little River Bakehouse, Chef Keaton here with some big updates for all of our hungry patrons. We are gearing up to launch new menu items on March 1st for our new spring menu which will include 3 new seasonal pizzas, several new paninis, appetizers and fresh salads utilizing our very own Locksley Farmstead Cheese. More details will come out closer to March so be sure to check out our social media for updates. Another big update to our menu is a change to our panini bread. We will no longer be serving our paninis on foccacia bread, instead we have a new ciabatta bread that we bake in our retained heat oven. It's incredibly delicious with a nice crunchy crust and a soft chewy inside making an ideal panini.
With spring right around the corner I will be focusing more on locally sourcing our produce as more fruits and vegetables begin to come into season. This will of course help to shape our weekly pizza specials and our menu. We hope to see you all in the spring as it begins to warm up and the days grow longer. In the mean time, be sure to stay up to date and if you haven't signed up for our wine club yet I recommend it for the discount on the wine and food when you visit.
Keaton Beus, Little River Bakehouse Chef & Manager
---
REPORT FROM LOCKSLEY FARMSTEAD CHEESE COMPANY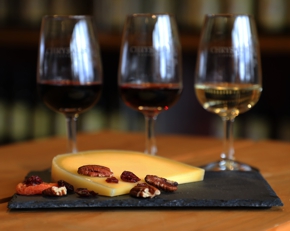 Hello cheese enthusiasts! This month I wanted to share a couple of fun cheese pairings to help get you through this last full month of winter! Also, HINT HINT these are great for a stay at home date night, friends/family get together or as gifts for Valentine's Day, birthdays or anniversaries. So come see us at the Ag District and grab a couple of these pairings to try at home! Be sure to tag us in all of your posted pairing fun!
Chrysalis Vineyards Estate Bottled Norton with Nottingham Gouda – this pairing I would consider our "flagship." This medium bodied, smooth oak aged wine, exhibits the classically unique and fruit forward character of Norton with notes of dark cherry, raspberry, dark chocolate and a touch of mint, finishing with an understated oak character and some vanilla and cocoa, mingling harmoniously with the overt fruit character of Norton and the fine tannins of the added Nebbiolo which holds its own against the sweet notes of toasted hazelnuts and butter in our smooth, well-aged Nottingham Gouda.
Chrysalis Vineyards Sarah's Patio White with Maid Marian Camembert – the palate is greeted with a touch of sweetness, honeysuckle and ripe peaches with a soft finish that will instantly refresh and cleanse you pairing perfectly with the silky, spreadable texture of the Maid Marian Camembert which also brings mild earthy, mushroomy aromas to the table.
Chrysalis Vineyards Petit Manseng (Iced) with King Richard Blue Cheese – this decadent, sweet dessert wine, pairs wonderfully with the earthy, salty and sweet acidic notes of the King Richard Blue, the perfect little sweet and savory touch to the end of any meal or special occasion.
IPA with Nottingham Gouda – for all of you beer lovers, grab your favorite IPA and try our Nottingham Gouda which is smooth and sweet with notes of toasted hazelnuts and butter, the bitterness from the IPA will cut the sweetness of this cheese accentuating tropical fruit characteristics of the beer that will cleanse your palate.
Happy Holidays!
Erin Saacke, Cheesemaker
---
Note from Jenni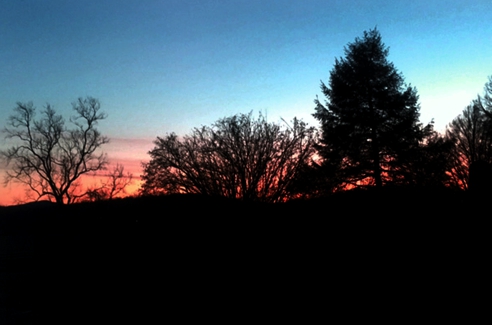 Chickens are very interesting and fun farm animals. All day they cruise around in my "backyard", scratching and exploring for bugs, treats and other tidbits that I can only imagine are a welcome relief from their boring chicken feed. If you spend any time with them, you soon realize that they all have different personalities, too… some are "chicken" and run for the hills if you approach them, some are gregarious and bold, and some are just sweetie pies.
Interestingly, every late afternoon, as dusk approaches, they all go home to their "chicken tractor" we built for them some years ago. It's like clockwork, without fail; every night before you might need a light to walk around on a dark country night, they're all snug in their tractor, roosting for the night. All you have to do is close the door so that no nighttime predators can get to them. (BTW, a chicken tractor is a chicken coop on wheels with a screen bottom small enough that they can walk on it, but big enough to let their poop fall onto the ground. Every couple of days you just move it to a fresh patch of ground. This spreads wonderful fertilizer around the field and keeps the grass from dying because of a lack of light or being burned from too much of a good thing!
Anyway, I was closing up the chickens the other night and glancing west I saw this most beautiful winter sunset twilight. The photo doesn't quite do nature justice, but I think you get the idea. It was breathtaking. Made me smile widely and take account of how fortunate I am to live in the beautiful Bull Run Mountains.
Come and visit for an afternoon and let us share with you this beautiful land and our delicious foods and wines. You'll love it.
Take care,

Jennifer McCloud
Chrysalis Vineyards at The Ag District
39025 John Mosby Highway (Tasting Room/Creamery/Kitchen)
23876 Champe Ford Road (Winery/Milking Center/Offices)
Middleburg, VA 20117

McCloud@ChrysalisWine.com
Office: 540-687-8222
www.ChrysalisWine.com
Facebook.com/ChrysalisVineyards