NOVEMBER NEWSLETTER 2020
IN THIS NEWSLETTER...
VIP Wines of the Month
Report from the Tasting Room
Report from the Cellar
Report from the Farm
Report from The Little River Bakehouse
Report from Locksley Farmstead Cheese
Note from Jenni
---

November brings with it the beginning of the holiday season, a time normally filled with parties, dinners, and family gatherings. This year will probably be a bit different for most of us, with less travel and smaller groups around the dinner table. But that shouldn't stop us from enjoying our normal holiday traditions on a somewhat smaller scale! The normal family gathering of 30 people might be scaled down to a more intimate dinner for 8, but the wine, food and fellowship will be just as good! We hope that you will stop by the Ag District to pick up some Chrysalis Vineyards wine, Locksley Farmstead Cheese, and Little River Bakehouse bread to share and enjoy!
If you're planning some "virtual visiting" over the holidays you might want to consider sending some Chrysalis Vineyards wine to your friends and family ahead of time - we ship to most locations. There's no better way to feel close than sharing a glass of wine with friends and family - even if you can't actually be together.
Even during this crazy year, we can all find something to be thankful for. For all of us at the Ag District we are especially thankful for our loyal customers who have helped us to get through this very difficult year. We wish all of you a Happy Thanksgiving!
The white wine selection for November is Chrysalis Vineyards 2019 Petit Manseng. Our 2019 Petit Manseng is filled with inviting honey and refined citrus notes with a floral undertone hinting at orange blossoms. This wine weighs the palate down with rich clover honey and reinforces the aromatics with an orange marmalade. A subtle golden apple finish lingers on the tongue begging for another sip. Enjoy this wine young or in 10+ years. This dessert wine is best enjoyed after dinner with good company and light sipping. Pair our Petit Manseng with some King Richard blue cheese from Locksley Farmstead Cheese for a perfect after dinner treat!
The red wine selection for our VIP Club members this month is Chrysalis Vineyards 2019 Barrel Select Norton. This wine showcases Virginia's grape at its best. Aromatics are mysterious notes of lush dark fruit, cloves, and leather. An undertone of spiced plums and black currant become revealed as the wine opens up. Flavors of black cherry and embellished plum are intermingled with notes of mocha and dark chocolate for a smooth but lasting finish. This wine remains the truest example of Virginia's grape in Virginia's very own oak. Try a pairing with a meal of savory apple wood smoked pork chops on a bed of pureed sweet potatoes.
As a reminder to our members, all VIP wine is available for pickup at the Ag District Center tasting room anytime during regular business hours. If you can't make it out to pick up your wines on a monthly basis, we will hold them for you. Due to storage limitations, however, we do ask that you pick them up once you accumulate a case (6 months). We can also arrange for wine to be shipped to most locations, at your request.
Also, please remember that you can always find your paired recipes and detailed tasting notes at www.ChrysalisWine.com in the Private VIP Club Area. Also check in with us or follow us on Facebook for updates and announcements.
NOTE: Please do not reply to this emailed Newsletter. Your email will not be handled in a timely manner or may even be lost.
---
REPORT FROM THE TASTING ROOM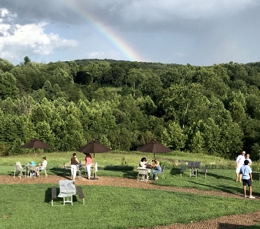 As a reminder to our tasting room visitors, all of our outdoor seating is first-come, first-served. When you visit, please remember that we are still operating under COVID restrictions. Social distancing at all times and wearing masks while in the building are still mandates that everyone must observe. You can see the full list of rules by clicking here. Our largest tables seat 8 people comfortably, so if you have more than 8 people in your group you will need sit at multiple tables. We ask that you do not move our furniture, but you are welcome to bring your own seating as long as you maintain proper social distancing. We are working on seating protocols for the colder months, so please feel free to call or visit our website before visiting.
Our hours are 12:00pm - 6:00pm Monday - Thursday, 12:00pm - 8:00pm Friday and Saturday, and 12:00pm - 7:00pm Sunday. We have great wine, hot pizza, farmstead cheese, fresh bread, eggs, and more - all availble 7 days a week. You can place your order ahead of time by calling 540-687-8222 or stop by to place your order at the window.
Cheers!
Laurie Stevens, Tasting Room Manager
---
REPORT FROM THE CELLAR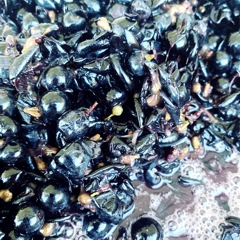 This harvest has been a strange one to say the least. While the whites arrived mostly on time, the reds experienced an unexpected delay. Thanks to hurricanes and unusual cold weather! The Tannat, Petit Verdot, Tinta Cao, and Nebbiolo have been crushed and reside in our open fermenters or "T-bins".
Instead of whole cluster pressing these varietals, we take the more traditional approach of destemming and then crushing the fruit into T-bins. This has a few applications for making impactful red wines. By removing the stems we immensely reduce the "green" or leafy characteristic that can be off-putting in full bodied reds. As a reminder, all of the major grape compounds such as color, fruit flavors, and tannin are actually found in the skin of the berry, not the pulp itself.
After the fruit has been destemmed and crushed, we begin primary fermentation. As the fruit ferments, CO2 pushes the berries to the top of the bin forming what is commonly referred to as a "cap". This cap actually traps the fermentation and if left unchecked, can be problematic often causing undesirable flavors, off aromas, and even prevent fermentation from finishing. To remedy this, we perform a "punch down" 2-3 times per day. Simply put, a punch down refers to using a stainless steel plunger to push the cap down, breaking it up.
As punch downs are performed, the berries are further pressed and broken up. This further pushes color and tannin extraction, improving upon the end product. Throughout fermentation, the bins are tasted and assessed for color, flavors, aromas, and tannin. We specifically look at bitterness and tannin development as a sort of guide for the number of punch downs to perform. A common example would be Tannat which is known for its rough astringency and almost abrasive tannin structure. This typically gets 2 punch downs a day and by the end of fermentation, only one.
The last of the reds are finishing up fermentation and it's just a few more days before they barreled down for malolactic fermentation. The last of the Norton is arriving and carbonic maceration is underway. Only a few more weeks of processing before we can begin to relax… if only for a moment.
Jake Blodinger, Assistant Winemaker
---
REPORT FROM THE VINEYARD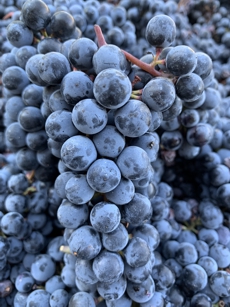 I don't think any harvest proves to be uneventful or routine. I discussed last month the effects of hail damage and how a few varietals were harvested a bit earlier. This month it's been a war of attrition. The hurricanes pushed a little more rain our way than we expected. This combined with cooler temperatures has slowed the ripening of our red varietals.
The rain brought some unwanted disease pressure that was easily manageable, but the major impact came from the cooler temperatures and cloudy days. It's not a secret that plants require sunlight and warm temperatures to grow. These cooler days have forced the vines to slow their berry development. This is measurable through brix, or sugar analysis. For about a week Freddi and I scratched our heads as the sugar development came to a complete halt and the acids remained unchanged.
At this point, there's almost nothing that can be done. Believe me, doing nothing is the hardest thing to do during harvest. The better part of the week was spent monitoring the vineyards and looking at the forecasts. It wasn't until the middle of October that we saw warm temperatures and sunny days again. Freddi and the vineyard crew set out picking the last of the fruit at our Hollin vineyard and have made their way to the Norton now.
November marks the end of harvesting fruit in the 2020 vintage and I know the crew is relieved. They will turn their focus to some minor vineyard management and sprays to ensure healthy vines for next year.
Jake Blodinger, Assistant Winemaker
---
REPORT FROM THE LITTLE RIVER BAKEHOUSE
Greetings from The Little River Bakehouse. The month of October has been a crazy one - breaking new personal records every Saturday in pizza sales, so thank you everyone that has been coming out. We will continue to do weekly specials that start every Friday, so just give us a call on Friday to find out what it is or follow us on the Social media platforms.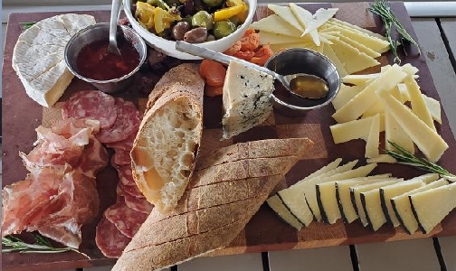 Now to talk about November the upcoming holidays starting with the first big one, Thanksgiving. I know many people will be flexing their new found cooking skills from months of being quarantined, but please allow us to take some of the burden off your shoulders. We will be offering pre-ordersf or our various breads which includes baguettes, sourdough boules, foccacia and even dinner rolls! Dinner rolls will come in bags of 20 for $10, baguettes are $4, and sourdough and focaccia are $6. Bread orders will be taken from November 1st through November 20th for pickup on November 25th.
If you are really looking to wow any family coming over we will also take orders for Charcuterie Boards featuring our Locksley Cheeses and Terra Di Sienna cured meats. A Charcuterie Board that serves 5 to 8 people is priced at $60. Hopefully we can make your holidays a little less stressful, especially when you grab some wine as well! I hope to see you soon!
Keaton Beus, Little River Bakehouse Manager
---
REPORT FROM LOCKSLEY FARMSTEAD CHEESE COMPANY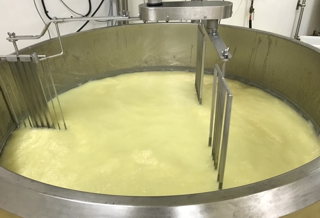 Milk for lots of cheese!
There is a growing love for cheese in America that is evident in more ways than one. Cheese & charcuterie boards are now a must for any gathering and of course that artistic touch must be shown off on social media for all to drool over. A recent statistic from the United States Department of Agriculture (USDA) shows that Americans eat on average 38 lbs of cheese per year. This is nearly 10 more pounds of cheese when compared to 20 years ago when consumption was only 28 pounds per capita. That's a lot of cheese!
To break it down even further, we all have our favorite cheese or maybe a couple come to mind, but over the past couple of years Mozzarella has strung its way to the top, taking the prize for highest per capita consumption at 12.48 pounds with Cheddar sliding to just 10 pounds.
Despite this growing love for cheese in America, we still have a long ways to go to catch up with the European countries, especially France and Germany, with per capita cheese consumption of over 50 pounds! So, make sure you drop by the Ag District in your holiday preparations to pick up lots of cheese for your guests and those delicious artisan pizzas with our very own mozzarella. We look forward to seeing you!
Erin Saacke, Cheesemaker
---
Note from Jenni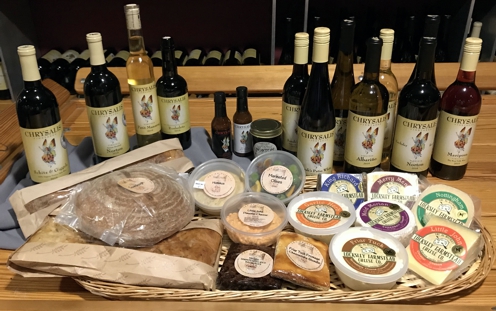 It's been a tough year… and it's not over yet! But in November we all try to set aside our trials and tribulations and give thanks for those many things in life that we sometimes take for granted in our workaday world of busy lives… like our families and friends and our workmates. I hope that most of us come to the conclusion that we're pretty darned fortunate. Just think about the early Thanksgivings, before anyone even called it that. These tough people were giving thanks for just being alive (and yet knowing that some didn't make it through the past year, they still were thankful). And they were thankful for what must have been tremendous relief knowing that their harvest would sustain them through the winter. Indeed, these were tough folks.
When I think about tough and resourceful people it brings to my mind all the staff here who work so hard farming our land… a very demanding profession… to bring forward our bounty from The Ag District. Look at the photo I've chosen for this Note from Jenni. I AM SO PROUD of what we've accomplished and so proud of the hard-working people who bust their buns every day to make it happen. They do so with care, and good-natured enthusiasm. I am thankful for their hard work and their camaraderie.
And I'm thankful for all our friends and customers who have stood by us and come to eat our foods and drink our wines at The Ag District. Thank you, thank you, all.
Finally, I have a favor to ask. We're moving into the late autumn and winter months, and you may not be able to comfortably sit outside in the beautiful Bull Run Mountains as you've enjoyed over the summer and early fall. But we still need your support and patronage, and we'll soon be opening our doors with procedures in place to ensure your safety, and careful attention to ensure that you have the positive experience that we've come to be known for.
Hopefully, you're thankful for what we do here and the experience and delicious products we offer you. So, please continue your support during the late fall and winter months so that we can continue to bring forth the bounty from The Ag District. We're giving you our harvest and our labors. Please take them and help sustain us through these leaner months ahead.
Happy Thanksgiving… and take care,

Jennifer McCloud
Chrysalis Vineyards at The Ag District
39025 John Mosby Highway (Tasting Room/Creamery/Kitchen)
23876 Champe Ford Road (Winery/Milking Center/Offices)
Middleburg, VA 20117

McCloud@ChrysalisWine.com
Office: 540-687-8222
www.ChrysalisWine.com
Facebook.com/ChrysalisVineyards