JUNE NEWSLETTER 2021
IN THIS NEWSLETTER...
VIP Wines of the Month
Report from the Tasting Room
Report from the Cellar
Report from the Farm
Report from The Little River Bakehouse
Report from Locksley Farmstead Cheese
Note from Jenni
---

Summer's here, the weather is hot, and the fireflies are lighting up the fields in the evening. Thankfully the cicadas haven't descended on us and since the grounds at the Ag District were disturbed during construction since the last big emergence, we aren't likely to be bothered by them. When you are looking to escape the heat and the constant buzz of insects as they enjoy their 17 year reunion, come on out to the Ag District for some cold wine and peaceful countryside!
The white wine selection for our VIP Club members this month is Chrysalis Vineyards 2020 Albariño. This delicious white wine is 100% whole-cluster pressed and stainless steel fermented. It opens with delightful aromas of orange blossoms, tropical fruit, and beeswax. The palate bursts with hints of kiwi and apricot and has a tantilizing acidity on the mid-palate reminiscent of tangerines. Albariño is a natural complement to seafood such as scallops, shrimp or lobster.
Our red wine selection for June is Chrysalis Vineyards 2019 Nebbiolo. Our Nebbiolo is a proper nod to the classic Nebbiolo's of Italian Barolos. The aromatics are reserved with hints of roses, cigar box, and red fruit. The palate is covered in large tannins, with notes of spices such as anise. To truly enjoy this young red, lay it down to age in your cellar for 5-10 years. If you can't wait, buy a case and taste over the years to come. Try it with one of Chef Keaton's house italian sausage and crimini mushrooms pizzas!
As a reminder to our members, all VIP wine is available for pickup at the Ag District Center tasting room anytime during regular business hours. If you can't make it out to pick up your wines on a monthly basis, we will hold them for you. Due to storage limitations, however, we do ask that you pick them up once you accumulate a case (6 months). We can also arrange for wine to be shipped to most locations, at your request.
Also, please remember that you can always find your paired recipes and detailed tasting notes at www.ChrysalisWine.com in the Private VIP Club Area. Also check in with us or follow us on Facebook for updates and announcements.
NOTE: Please do not reply to this emailed Newsletter. Your email will not be handled in a timely manner or may even be lost.
---
REPORT FROM THE TASTING ROOM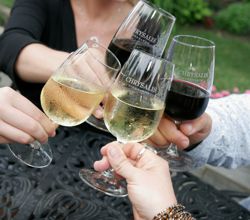 It's been said that the only constant in life is change. I don't know who said it first, but they sure were right 'cuz here we go again! As of midnight on May 28th most of the previous COVID restrictions will be lifted in Virginia. Our customers will be allowed to forego masks if they are fully vaccinated and at least two weeks have passed since their final shot. We will also be able to lift the 6 foot social distancing regulations, which will allow us to create more indoor and deck seating. And for those of you who insisted on standing right next to other customers in line, you are now free to snuggle up (assuming they're ok with that).
While the removal of these mandates is certainly welcome and reason to celebrate, let's not get too crazy. As a business we have our own policies regarding visits to the Ag District. If you plan to visit with a group of more than 8 people, please call in advance so that we can provide you with our guidelines for larger groups. The governor might want to host a party of 250 at his house, but unfortunately that's not something that we can accomodate. We also have areas that are off-limits to kids, or pets, or the general public due to safety reasons or health codes. Please respect our signage and avoid those areas.
Come on out the the Ag District, get a glass of your favorite Chrysalis Vineyards wine and toast the end of all the COVID restrictions! We sure look forward to seeing everyone's unmasked, smiling faces again!
Our hours are 12:00pm - 6:00pm Monday - Thursday, 12:00pm - 8:00pm Friday and Saturday, and 12:00pm - 7:00pm Sunday. We have great wine, pizza, sandwiches, salads, farmstead cheese, fresh bread, eggs, and more - all availble 7 days a week. If you can't stay, you can always place a "To Go" order to enjoy in the safety and comfort of your own home! You can place your order ahead of time by calling 540-687-8222 or stop by to place your order at the window.
---
REPORT FROM THE CELLAR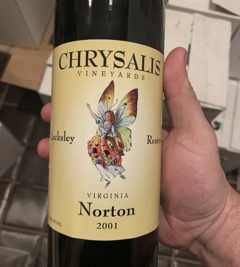 Summer is upon us and the temperatures have really started to heat up. Things in the cellar remain busy with one more bottling in August. With the increase in temperature outside I thought I would take some time to discuss the proper ways to store wine at home. A common question we often get is, "how long should I wait before opening this bottle of Norton Locksley Reserve?" Before answering that question, its best to discuss the best ways to store wine.
Wine is often purchased and stored somewhere in your kitchen to be enjoyed later. This is fine until a few bottles are stored on top of the fridge and down the road you open that bottle to find that it doesn't taste quite right. This is because refrigerators only keep the food and beverages on the inside cold, not the things stored on top. In fact, the top of your refrigerator is one of the warmer places and will actually heat your wine up, aging the wine rapidly. Find an area in your home that's kept around 57-60 degrees all year around. The most important thing with temperature is that it's consistent. You want to avoid huge temperature swings as this will cause your wine to age rapidly, and then not at all.
Another common mistake made is storing your wine standing up. For instance, that certain occasion rolls around that you've been saving that bottle of 2016 Locksley Norton for. You show off the bottle, cut the foil, insert the corkscrew, and that natural cork falls apart. All the pieces drop into the wine and you have to break out the coffee filters or you spend 15 minutes pulling bits of red cork out of your glass. You finally remove the debris and taste the wine and it just doesn't taste as good as you remember it. This is because the cork has dried out and since it's just tree bark it decomposes. Lay your wines on their sides. This allows the wine to come in contact with the cork, helping to keep it moist, preventing it from drying out.
All of this said, "how long should I wait before opening that bottle of Norton Locksley Reserve?" Well, we are still working on that. We lay a few cases from every vintage back so that one day we can answer that question and that's the joke. With proper care and attention, that bottle of Norton will last for many years to come. The hardest part is the waiting.
Jake Blodinger, Assistant Winemaker
---
REPORT FROM THE VINEYARD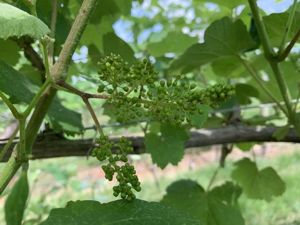 Things have really heated up and the vines sure do appreciate the warm weather. We've seen anywhere from 12-16 inches of shoot growth in the last month. It honestly feels like yesterday I was talking about the excitement of bud break and now here we are waiting for bloom.
On every shoot found on our grape vines are what appears to be small green clusters of what will one day soon be fruit. Right now, there are small flowers with a tiny cap over the top. This cap will fall away so the flower underneath can bloom. A sweet aroma will take hold of the vineyard and two to three clusters of the flowers, also called "inflorescence" can be found on each shoot.
This is a tricky time in the vineyard as too much rain or too much wind can mean a loss of fruit or even no fruit at all. Damage done during flowering often looks like a few grapes in a cluster have been removed and replaced with tiny green nubs. Flowering can last anywhere from 2-3 weeks. After which "Fruit set" takes place, this is the stage where the grapes actually start to grow.
While the weather never seems to stop being an issue, fruit set is the first indication on how bountiful (or not) harvest will be. We've really lucked into some great growing days and the late afternoon showers have been nice to encourage shoot growth. Hopefully soon, we will begin to see those tiny berries form.
Jake Blodinger, Assistant Winemaker
---
REPORT FROM THE LITTLE RIVER BAKEHOUSE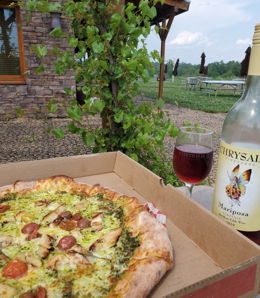 Greetings from Little River Bakehouse, Keaton here with a lineup of our new seasonal pizzas that are sure to make you hungry. I call the first one Pizza Primevera and it features roasted summer squash, zucchini and red onion with our house made marinara. We top it with fresh basil as it comes out of the oven for that added touch. It compliments our recently released 2020 Schitz & Giggles very well. Our second seasonal pizza is topped with chicken, basil pesto and heirloom cherry tomatoes to combine some of my favorite summer flavors. Try this one with a cold glass of 2019 Mariposa, our dry rose. The last, but far from the least, is a spicy Chicken Tikka Masala Pizza featuring a creamy tikka masala sauce, chicken, red onions and cilantro. If there's a bit too much heat then a glass of Sarah's Patio Red is sure to help out with that.
As restrictions ease we are hoping to start up our club pickup parties again. We've missed holding these monthly events! For those who have become new members through the pandemic, these events were an opportunity to try the wine coming out in the club shipments paired with hor d'oeuvres to accompany each wine. I'm hoping to start this membership benefit again as soon as we can iron out the details. I look forward to the opportunity to get a little bit more creative outside the realm of pizza. If you get this newsletter and haven't gotten a membership yet then I would get ahead of the curve now so you can join us at our first event.
Hope to see you all soon.
Keaton Beus, Little River Bakehouse Chef & Manager
---
REPORT FROM LOCKSLEY FARMSTEAD CHEESE COMPANY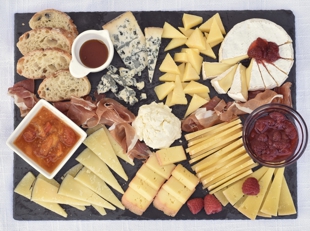 June is Dairy Month! 2021 marks the 84th annual celebration of this nutritious and delicious category of products! Dairy products including milk, yogurt, and CHEESE provide important nutritional benefits through high-quality proteins, vitamins A and D as well as minerals such as calcium to keep your bones strong and healthy. Did you know that there are 8 grams of protein in just ONE, 8 oz cup of milk? Not to mention milk is the freshest product you can buy at grocery stores near you, from farm to store in just 48 hours!
Milk is a local food that definitely fits the clean eating trend! What better way to end a work-out than with a big glass of my personal favorite, chocolate milk. Proven to be the best post-workout beverage for muscle recovery and energy replenishment. Celebrate World Milk Day on June 1st with us and dairy farmers around the world by raising a big glass of your favorite white, chocolate, or strawberry milk beverages!
Mark your calendars, Friday, June 4th is National Cheese Day! Come on out and celebrate with us! We have a cheese for everyone to enjoy from hard to soft cheeses as well as our mouth-watering Mozzarella topping the Little River Bakehouse's artisan pizzas!
Snap a photo enjoying our cheeses and artisan pizzas during your visit or at home and be sure to tag us @LocksleyCheese on Instagram and Facebook, using the hashtags #NationalDairyMonth and #UndeniablyDairy to celebrate June is dairy month. I can't wait to see all of your wonderful pictures and ways you are enjoying our cheeses along with all of your other favorite dairy products this month!
Erin Saacke, Cheesemaker
---
Note from Jenni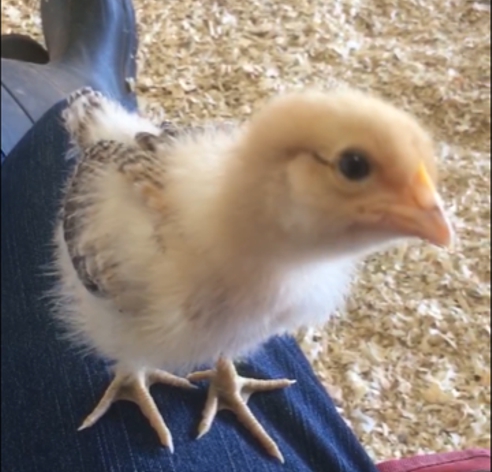 Speaking of smiling faces, mine has been doing a lot of that recently. The weather has been great, new life has exploded all over the farm… in the vineyards, the barns, the fields… and even in my garage!
Garage!? Yes, that little buddy of mine in the photo is one of 124 chicks thriving in the baby chicken nursery that has again been set up in one of my garage bays at the Manorhouse. She (or he, maybe) always jumps up on my knee to investigate when I sit down for a few minutes to see how everyone's doing. Without fail, this little chick always comes to say "hi". How sweet is that? That makes me laugh and smile.
And being able to see another person's smile is also a wondrous thing. I've truly missed that so much over the past year, and I look forward to seeing your lovely smile here at The Ag District.
The delight and good cheer of folks enjoying what we've created here at The Ag District really does make all our hard work so worthwhile. It is, by far, the most satisfying part of what we do; seeing you light up with the beauty of our countryside and enjoyment of our artisan wines and foods. It's why we're here.
So come out and give us a big smile. We want to smile with you, too!.
Take care,

Jennifer McCloud
Chrysalis Vineyards at The Ag District
39025 John Mosby Highway (Tasting Room/Creamery/Kitchen)
23876 Champe Ford Road (Winery/Milking Center/Offices)
Middleburg, VA 20117

McCloud@ChrysalisWine.com
Office: 540-687-8222
www.ChrysalisWine.com
Facebook.com/ChrysalisVineyards