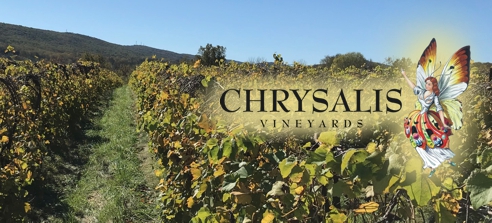 NOVEMBER NEWSLETTER 2021
IN THIS NEWSLETTER...
VIP Wines of the Month
Report from the Tasting Room
Report from the Cellar
Report from the Farm
Report from The Little River Bakehouse
Report from Locksley Farmstead Cheese
Note from Jenni
---

Harvest is winding down and the holiday season is ramping up! It's only a few weeks 'til Thanksgiving which traditionally starts a stretch of parties, get-togethers, and other social events that culminate with New Year's Day. If you're hosting an event, make your life a little easier with a stop at The Ag District! Our staff can help you choose the perfect wines, cheeses, and breads to go with any meal. If you're lucky enough to be the guest don't forget to pick up a gift for your host! A bottle or two of Chrysalis Vineyards wine and some Locksley Farmstead cheese will be sure to get you invited back!
NOTE TO OUR VIP CLUB MEMBERS
Our VIP pickup event this month will be held on Friday, November 12th from 5:00pm until 8:00pm. The paired tasting will focus on how to choose wines for your holiday events!
Members must RSVP no later than November 8th by emailing TR-Manager@ChrysalisWine.com. Please include your name, number attending (up to 2 per membership), and your preferred tasting time (5:00, 5:45, 6:30, or 7:15) When planning your visit please remember that we close at 8:00 pm.
The white wine selection for our VIP Club members this month is Chrysalis Vineyards 2019 Petit Manseng. Our 2019 Petit Manseng is filled with inviting honey and refined citrus notes with a floral undertone hinting at orange blossoms. This wine weighs the palate down with rich clover honey and reinforces the aromatics with an orange marmalade. A subtle golden apple finish lingers on the tongue begging for another sip. Enjoy this wine young or in 10+ years. Try our Petit Manseng with some King Richard blue cheese from Locksley Farmstead Cheese for a perfect appetizer or even dessert!
Our red wine selection for November is Chrysalis Vineyards 2019 Petit Verdot. This full bodied wine embellishes lush dark cherries and sage with hints of violets on the aromatics. Flavors of sweet chocolate covered cherries and a lingering finish of mocha or espresso greet the palate. A big wine like Petit Verdot pairs well with rich, fatty foods like lamb stew.
As a reminder to our members, all VIP wine is available for pickup at the Ag District Center tasting room anytime during regular business hours. If you can't make it out to pick up your wines on a monthly basis, we will hold them for you. Due to storage limitations, however, we do ask that you pick them up once you accumulate a case (6 months). We can also arrange for wine to be shipped to most locations, at your request.
NOTE: Please do not reply to this emailed Newsletter. Your email will not be handled in a timely manner or may even be lost.
---
REPORT FROM THE TASTING ROOM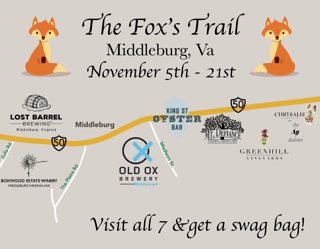 This month we will be participating in a promotion to support some of our favorite local businesses. Enjoy some of the best wine, beer, cider and oysters Middleburg has to offer on the Fox's Trail. Follow our fox to all seven businesses, make a purchase, and "like" or "follow" the business on social media to get a stamp on your trail pass! Collect all 7 stamps to get a swag bag full of goodies and be entered into a drawing for a Grand Prize worth $350! Trail passes will be available beginning Nov 5th at all participating businesses.
Come on out and support local business while enjoying some great food and drink!
Our hours are 12:00pm - 6:00pm Monday - Thursday, 12:00pm - 8:00pm Friday and Saturday, and 12:00pm - 7:00pm Sunday. We have great wine, pizza, sandwiches, salads, farmstead cheese, fresh bread, eggs, and more - all availble 7 days a week. If you can't stay, you can always place a "To Go" order to enjoy at home! You can place your order ahead of time by calling 540-687-8222 or stop by to place your order.
---
REPORT FROM THE CELLAR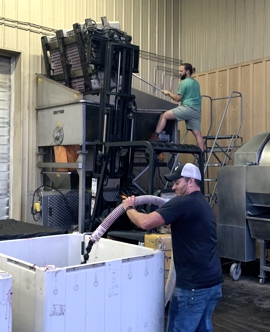 November marks the end of the harvest here at Chrysalis Vineyards. The final tons of Norton started arriving in the cellar the last week of October and will continue until the 1st or 2nd week of November. I must say, as this is my third vintage here at Chrysalis, the Norton fruit has never looked better. Instead of droning on and on about how the fruit is amazing and the vintage has been a kind one, I'd like to take a moment to be thankful.
Truth is, the 2021 vintage started a bit rough, finding seasonal help in the cellar actually proved to be the single most challenging aspect of the vintage. Even the wine industry has felt the effects of the labor shortage. When the fruit started to arrive the pressure definitely increased and things almost seemed hopeless. How could a single person process almost 150 tons of fruit?
That's when our VIP Club members stepped up. This harvest I've been truly blessed to have several of our VIP Members in the cellar assisting me. Never have I been a
part of a winery with such a dedicated group of wine club members. Every volunteer that
has walked through the cellar door has picked up a shovel, checked fermentations, or even operated a press. The resolve among our VIP members to ensure that their favorite winery continues to provide world class wines has been a humbling and moving experience for us here at Chrysalis Vineyards.
The 2021 vintage was already turning out to be an exciting one, but for us it's a special one. I believe I speak for everyone here at Chrysalis Vineyards when I say we are truly thankful for the support our club members provided. Here's to another wonderful vintage!
Jake Blodinger, Winemaker
---
REPORT FROM THE VINEYARD
By the time you read this, the vineyard crew will be entering the last couple of weeks of harvest by finishing the Norton pick. They are surrounded by the colors of Fall as the vine's leaves begin to turn yellow and float away. Fall is a beautiful time in the vineyard and you can feel the crew's excitement as they race to the finish line.
Despite the popular belief in picking fruit long before the temperature drops, we at Chrysalis Vineyards know that the acids need to be reigned in long before it arrives in the cellar. Most wineries are focused on sugar development as a way to determine peak ripeness. Norton's sugar levels rise substantially in the first few weeks of October so we can definitely check that box.
Over 20 years of growing Norton and making wine has taught us that sugar content
isn't the only key factor in producing prominent wines. In fact, as the temperatures drop,
the vines begin to utilize the acids found within the berries as a survival method for the
cold temperatures. These acids are consumed within the vine and make the
fruit more enticing to outside pests. The sweeter the fruit, the more likely Bambi is to
partake in the bountiful harvest that is the Locksley Estate. Good thing we have deer
netting!
As the leaves give away to the shelves of delicious Norton fruit and the temperatures drop signaling that dormancy approaches, our skilled Vineyard Crew meticulously begins the pick. We appreciate their hard work and patience as we wrap harvest up!
Jake Blodinger, Winemaker
---
REPORT FROM THE LITTLE RIVER BAKEHOUSE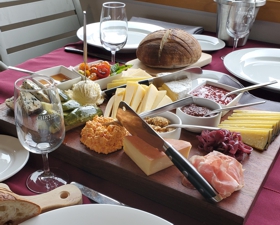 Greetings from the Little River Bakehouse, Chef Keaton here with the bakehouse happenings. We have been really busy during October getting hot pizzas out to all the people that stopped by to celebrate Virginia Wine Month!
We've added a new and exciting bread to our shelves... Sourdough Rye Boules. This bread is made using our now 2 year old sourdough starter, rye, caraway seeds and just a touch of Quail and Hound wildflower honey. This is one of my new favorite things to make here! It makes a superb ham and swiss on rye or toast it up with some corned beef hash and over easy eggs.
Now with the holidays quickly approaching, even if it is a little too fast, you've got friends, family and plus ones that you'll want to impress. What better way than with a great spread of dips, cheeses and fine cured meats. So, as my gift to you I'm going to share a few tips and tricks to setting up an impressive meat and cheese platter. Let's start with the main feature... the cheese. It's always a good to have a soft cheese such as our Maid Mairien Camembert, a semi-soft cheese like our Merry Men Manchego and a harder cheese such as the Nottingham Gouda. This way you cover a wide range of palates and tastes to please everyone. When you choose our Locksley Farmstead cheeses you get to be twice as impressive by saying you're serveing locally produced cheeses. That's sure to wow your out of town guests! If you want to impress your guests by being able to identify the cheese with out placards I recommend cutting them into different shapes like cubes and wedges so you can more easily tell them apart.
With the cheese in place let's move on to the charcuterie, which can seem daunting but is pretty easy to do especially if you know a good butcher. When selecting your meats think about how many people you are serving and some of their taste preferences. I love a good spicy salami like a cured chorizo or calabrese salami, but some may find those a bit too spicy. For a less spicy choice a good finocchiona or a soppressatta is always a good bet. Also try to include a cured muscle such prosciutto which is generally easy to find. If you want something a little different I recommend coppa which comes from the neck of the pig and the fat tends to be a bit sweeter than other muscles. If you have some picky eaters with you I would avoid the Pates and Rilletes but if you find a good bourbon fig rillette I recommend using it as well.
With the cheese and meat selections done what else should you throw on there? I bet you'll want to break things up a bit with some spreads and accoutrements. I love to make a southern classic like pimento cheese with our Little John Cheddar but a hummus or a french onion dip are always good standbys. Fresh or dried fruit is always a great addition. Try dried figs or pears to please those with more of a sweet tooth. For the more savory loving bunch I recommend cornichon pickles or a flavorful marinated olive to really round out the whole set up and have a little something for everybody.
Hope to see you all soon.
Keaton Beus, Little River Bakehouse Chef & Manager
---
REPORT FROM LOCKSLEY FARMSTEAD CHEESE COMPANY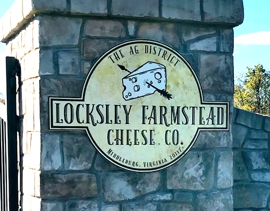 We recently bid adieu to Erin Saacke, our cheesemaker here at Locksley Farmstead Cheese as she moved from the area to pursue new opportunities. Erin came to us as an intern after graduating from Virginia Tech's dairy sciences program. Through her diligence, hard work, and professionalism Erin became a skilled cheesemaker and invaluable member of the Ag District team. We're thankful for her efforts and will miss her cheerful nature, but we wish her the best of luck in her future endeavors.
Cheesemaking is a pretty specialized occupation, so we were concerned about finding someone who could take on the position without any compromises in the quality of our products. Fortunately, we found a great candidate with many years of experience and the "can-do" attitude that is required in any small business, especially an agrucultural business. We are happy to announce that John Cline has been hired as Head Cheesemaker for Locksley Farmstead Cheese Co.
John began his cheesemaking career and gained experience at an award winning, artisanal goat cheese company in rural western Maryland. When looking for post-pandemic opportunities, he was drawn to The Ag District's philosophy and farmstead approach of cheesemaking. He's excited about the expansion of the cheese program and elevating the current line of great cheeses, as well as expanding availability to a broader market through different retail approaches. On a personal note, John is excited about the arrival of his first child, a daughter, in early December.
John has actually been making our cheeses for almost 3 months now and has done a fantastic job maintaining our quality standards, improving efficiency, and even starting a few "special" projects. He's a great addition to the team and we're excited to see how he can help us grow!
Note from Jenni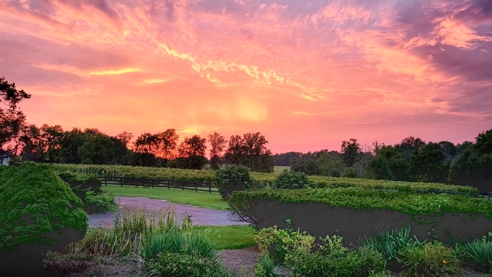 It only took me a few minutes to know what I wanted to talk about in my Note from Jenni; how beautiful it is where we live, and how we should really give thanks to be here. And the "we" I'm talking about is not just those of us here who have the great satisfaction to work the land and produce our artisan wines and foods. No… I'm really talking about you, our friends and customers just to the east or north of us. (Now, technically, I'm not really directing this to the folks on our email list, since practically all of you must have visited us to get on our list in the first place! This is a more general, rhetorical "you"… all the hundreds of thousands of folks that live in DC, northern Virginia and southern Maryland who enjoy a glass of wine (or two... or three!), and profess to support their local agriculture.)
I remember thinking some years ago that anyone interested in local foods… interested and enjoying artisan wines… must have absolutely ventured just a few minutes further west or south from home to visit us. I mean, shoot, I would travel from distant states to visit interesting wine regions. But I was amazed to learn how many people don't even know (or more generously, are only vaguely aware) that there are wineries in the county that they live in or are near to. They head home and never venture just a few miles more to "old" Loudoun County… the remaining agricultural land that George Washington had declared "the bread basket of the American Revolution". Yes, that Loudoun County. Most of "you" live right next to a great up-and-coming wine region, with an incredible historical foundation of productive agriculture. And when you visit us here in western Loudoun, you get the added benefit of being in some of the most beautiful, bucolic countryside in the world. Truly!
So… grab ahold of some friends, kick 'em in the bottom, and drag their butts out here. All of us need to be "Ambassadors of Goodwill" and support local agriculture.
And we will certainly give thanks to you for doing so.
Take care… and Happy Thanksgiving,

Jennifer McCloud
Chrysalis Vineyards at The Ag District
39025 John Mosby Highway (Tasting Room/Creamery/Kitchen)
23876 Champe Ford Road (Winery/Milking Center/Offices)
Middleburg, VA 20117

McCloud@ChrysalisWine.com
Office: 540-687-8222
www.ChrysalisWine.com
Facebook.com/ChrysalisVineyards