FEBRUARY NEWSLETTER 2018
IN THIS NEWSLETTER...
VIP Pickup Party... at the ADC
Creative Mankind Painting and Wine
Book Signing with Author Eric W. Buckland
Valentine's Day Weekend Winery Tours

Report from the Tasting Room
Report from the Cellar
Report from the Vineyard
Report from the Farm

Note from Jenni
---
VIP PICKUP PARTY…
at the AG DISTRICT CENTER
Saturday, February 10th
6:00 pm – 8:00 pm
at The Ag District
(RSVP REQUIRED)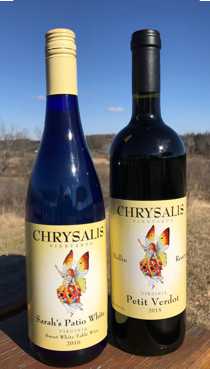 February is the last month of what we traditionally consider winter (even though the first day of spring isn't until 3 weeks into the month of March). Our friend the groundhog will be making his annual appearance in a few days to give us his prediction about how quickly spring weather will be with us. It's funny how we are so anxious for any sign of warmer weather that we actually turn to an oversized rodent to give us some hope! Whether he sees his shadow or not we can at least be certain that we are getting closer every day! While you are waiting for those warm days when you can visit the Ag District and bask in the sunshine on the deck, remember that we have plenty of warm space inside.The Ag District is a great place to bring your sweetheart for Valentine's Day or any of the other events during the month.

Our VIP Pickup Party this month will be held on February 10th from 6:00 pm until 8:00 pm. This event is FREE for our members (2 tickets per membership), but does REQUIRE advance RSVP no later than February 7th. To RSVP please send an email to VIP-Club@ChrysalisWine.com. Verbal RSVP's and voice mail responses cannot be guaranteed confirmation.
Our fall and winter hours are now in effect and the Ag District Center will be open 10am – 5pm Monday through Sunday. Please remember… as always, our last tasting will start an hour before closing. Last call for purchases of open bottles or glasses will be 30 minutes before closing!
The red wine selection for our VIP Club members this month is Chrysalis Vineyards 2015 Petit Verdot. Petit Verdot is one of the five principal red varieties grown in the Bordeaux appellation of France. It's also one of the most highly valued grape varieties grown in Virginia. This vintage opens with waves of blackberry and plum, with notes of coffee, toasted oak and maybe a touch of black pepper and sage following. Upon ingestion, at first one tastes ripe blackberry, currants, and a touch of dark chocolate with some well-rounded tannins. Petit Verdot would go perfectly with a meal of barbeque short ribs or a rich lamb stew.
Our white wine selection for February is Chrysalis Vineyards 2016 Sarah's Patio White. The first impression is of citrus, grapefruit in particular, followed by peach, apricot and perhaps a hint of honeysuckle. On the palate, the upfront sweetness lends a silky character which is followed by a cleansing acidity. More grapefruit and apricot and a touch of honey finish the experience. Pair this with Orange Chicken and Pork-Fried Rice and you can't go wrong!
As a reminder to our members, all VIP wine is available for pickup at the Ag District Center tasting room anytime during regular business hours. If you can't make it out to pick up your wines on a monthly basis, we will hold them for you. Due to storage limitations, however, we do ask that you pick them up once you accumulate a case (6 months). We can also arrange for wine to be shipped to most locations, at your request.
Also, please remember that you can always find your paired recipes and detailed tasting notes at www.ChrysalisWine.com in the Private VIP Club Area. Pairings and tasting notes are available for wines dating all the way back to 2007 (especially useful for any of those with older, aged vintages). Also check in with us or follow us on Facebook for updates and announcements.
NOTE: Please do not reply to this emailed Newsletter. Your email will not be handled in a timely manner or may even be lost.
---
Creative Mankind Painting and Wine
Saturday, February 10th
1 pm – 4 pm
at the
Ag District Center
39025 John Mosby Highway
Middleburg, VA 20117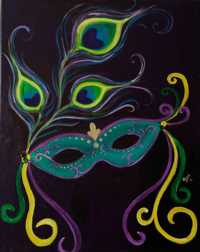 Creative Mankind will be hosting a "paint and sip" event at Chrysalis Vineyards on Saturday, February 10th. (From their website: Creative Mankind is an art company that offers art classes and hosts parties and events for all ages. Our motto is "Everyone is a Creative Genius!" It's just a matter of people reconnecting with their creative self. Our mission is to enrich our community with art education and culture in a fun and accessible way.)
So...spend a fun afternoon laughing, listening to music and creating your own masterpiece! This 3 hour event is just $40 and includes all art supplies, an awesome staff, and a lot of fun. No experience is necessary. This Paint & Sip Party will feature Mardi Gras themed prizes, grab bags, give-aways and more! Laissez les bon temps roulez, ya'll!! For additional information please contact Creative Mankind at 571-403-1912 or go to their website listed below. [Editor's Note: cut and paste this long link if it doesn't activate by clicking on it. Thanks.]
https://sites.cimplebox.com/events/registration.aspx?s=5329&c=3146&eid=376787&r=0.0230578
---
Book Signing with Author Eric W. Buckland
Saturday, February 17th
10 am – 4 pm
at the
Ag District Center
39025 John Mosby Highway
Middleburg, VA 20117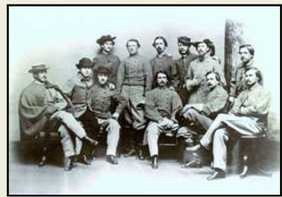 Eric Buckland, the author of six books about some of the men who rode with Mosby's Rangers during the Civil War, will once again be visiting The Ag District Center on February 17th from 10 am until 4 pm.
Eric was recently featured on C-SPAN3's American History TV Civil War Series with his presentation of "John S. Mosby: The Perfect Man in the Perfect Place". His first book, "Mosby's Keydet Rangers", tells the stories of the 58 men who matriculated at the Virginia Military Institute (VMI) and rode with Mosby's Rangers. His next five books, the "Mosby Men" series, collectively tell the stories of 120 more men who rode with Mosby.
Eric Buckland retired from the United States Army in 1999 as a Lieutenant Colonel. The majority of his military career was spent in Special Forces. Some of his awards include the Special Forces and Ranger Tabs, Master Parachutist Badge, Special Operations Combat Diver Badge and the Expert and Combat Infantryman's Badges.
Join us at The Ag District Center on July 8th and enjoy a lengthy and entertaining chat with Eric Buckland. History's "Gray Ghost" and his men ride again!
---
Valentine's Day Weekend Winery Tours
Saturday, February 17th
1:30 pm & 3:00 pm
at the
Champe Ford Events Center
23876 Champe Ford Road
Middleburg, VA 20117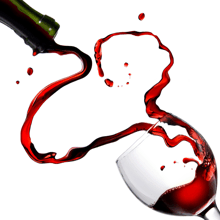 Escape the city for a relaxing winery tour at Chrysalis Vineyards on Saturday, Feb 17th. Join our seasoned tour guides as we dive into the heart of Virginia Wine Country. Go behind the scenes and follow the transformation from grapes to wine while enjoying a vertical tasting through some of our award winning library wines. Tours will be given at 1:30 and 3:00. We have limited availability and advance reservations are required, so don't wait -- make your reservation now!

To reserve your winery tour call 540-687-8222, Ext. 0 or email Jeremy Levey. Fees are $15 per person for non-membesr and $10 for VIP Club members.
---
REPORT FROM THE TASTING ROOM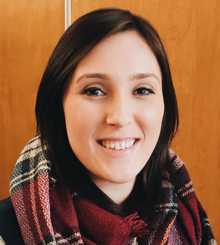 This month I would like to introduce the newest member of our Chrysalis team, Morgan Stevens!

After working here during summer breaks from 2013-2015 I am happy to finally join the Chrysalis Team full time as the new Events Coordinator!

In December I graduated from the University of Nevada, Las Vegas with a Bachelor of Science in Hospitality Management. During my time at UNLV I studied all areas of Hospitality Management, but enjoyed Meeting and Events most. I worked mostly in the food and beverage industry throughout college, but recently completed an event planning internship with the athletic department at UNLV. During my internship I decided that event planning was my calling!

I look forward to using the skills and knowledge I obtained during my time in college to help create unique and beautiful events for Chrysalis! Please contact me through our event coordinator email, events@chrysaliswine.com, if you have any questions or if you would like to begin planning your event at Chrysalis Vineyards!
--- Morgan

Laurie Stevens, Tasting Room Manager
---
REPORT FROM THE CELLAR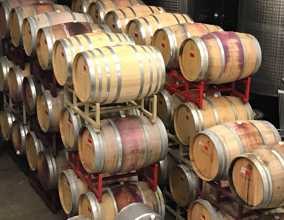 It's an exciting time in the cellar. The 2017 vintage of your perennial favorite, Mariposa, will be bottled in a few days. This year's blend takes some of the best red grapes from our two vineyard sites - Tannat, Petit Verdot, Nebbiolo, and, of course, Norton - to create the bright strawberry-colored wine we have come to love. This year's edition offers gobs of strawberry, watermelon and pink grapefruit aromas and flavors, with maybe a touch of clove from the Norton component. These grapes are picked slightly before they would be for normal red winemaking and whole-cluster pressed without destemming in order to limit the amount of tannins in the finished wine. Often this method would give a decidedly light peach-colored final product, but with the varieties we use - Petit Verdot, Tannat and Norton, in particular - yield a much deeper reddish hue. An even deeper hue could be attained using the saignée method, where the newly destemmed and crushed red grapes are allowed to macerate on the skins for a variable period of time and then a portion of the juice drained off to make rosé, while the rest continues on to make a true red wine, but with the notable tannins found in Tannat and Nebbiolo pressing without this step makes a better product, in my estimation. Look for it on the shelves of the Ag District in the coming months.

Sláinte!
Mark Patterson, Winemaker
---
REPORT FROM THE VINEYARD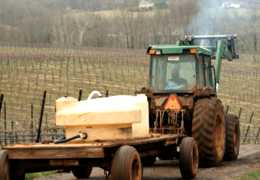 We experienced a couple of weeks of Canada-like weather in early January (No, I didn't get homesick!), with some frosty temperatures and numb fingers and toes that resulted, but the lows were not enough to cause any winter Injury to our vines. The vines had almost ideal fall and early winter temperatures to properly acclimate to the cold and not be unduly stressed by the low temperature at night. Winter injury in grapevines, characterized by dead buds and canes, split trunks and cordons, is likely to occur if temperatures dip to about 4º F or less for a prolonged period, OR, and this is more likely in the Mid-Atlantic, when a sustained period of warmer weather is followed by a very rapid cooling off. The warmer temperatures trick the grapevines into thinking spring is on the way, so the internal processes that take place to acclimate the vine for cold weather begin to reverse. As a result, the vines are less able to defend against colder temperatures and internal damage will occur as the water that is in the vines freezes again. Not a good scenario, but one that is more common further north than we are.
Mark Patterson, Winemaker
---
REPORT FROM THE FARM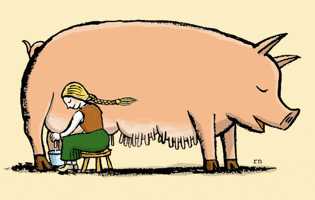 As we quickly approach the beginning of our milking operation in the dairy, many questions have been asked about how we'll be milking the cows, how much milk the cows will produce, how we will transport the milk, what products we will produce, and on and on. One question that hasn't really been asked is "why do we milk cows?". Since all mammals produce milk to feed their young, just how exactly did mankind determine that cows would be the mammal of choice to provide the liquid that we use to supplement our nutrition, produce other food products, and wash down our cookies. While there is a smaller demand for the milk of other mammals such as goats, sheep, water buffalo, yak, camel, etc., cow's milk is the hands down king of the milk world.

One of the primary reasons that cows are preferred is actually linked to their stomachs. Cows are ruminants, as are almost all mammals that produce milk for human consumption. Ruminants are mammals with multiple stomachs that eat plant-based, high-fiber foods. Their complicated digestive system makes them very efficient at extracting nutrients from their food and then producing milk high in nutrients. Basically that means cheap, plentiful food in – and large quantities of valuable, nutritious food out.

Another reason for the popularity of cow's milk is its versatility. The cream is easily separated from the milk which makes it more drinkable, and the cream can be used for many other products such as cheese, ice cream, butter, etc. Sheep produce milk that is twice as high in fat content as cows, which makes it great for cheese production, but not for drinking. Goats produce a rich, flavorful milk that is drinkable and also good for other products, but they don't produce anywhere near the volume of milk that a cow does. Pigs produce milk that is very similar to cow's milk but slightly higher in fat content. So, why you might ask, don't we milk pigs? Well…. simply put, it irritates the pigs.

So…the next time you pour yourself a glass of milk (and maybe add some chocolate syrup) have a little toast to cows…the perfect dairy animal.
---
Note from Jenni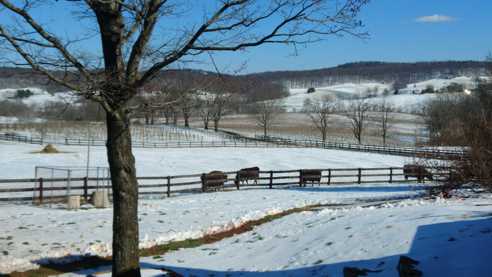 2018 has started off with a BANG, and that's just what's going on around here. Eric Hilgartner, our new Estate Manager, is getting everything whipped into shape, clearing out years of "stuff" and he and the guys got a jump on Spring Cleaning when it was nice outside for a few days earlier in January. He reports that the Milking Parlor is ready for action and just waiting on the completion of the creamery to start milking cows. (BTW, I apologize to anyone that came into the ADC on those days that the paint was fresh in the Creamery. It was smelly... but no one really complained about fresh paint smell when they heard it was the final touches being put on the Creamery!)
We have a bunch of indoor fun things to do in February, so look over our February Special Events and pick one or two to attend… or heck, do 'em all! Some of our customers, and even some of our newer VIP Club members, have never visited our winery facility on Champe Ford Road. This month is a good time to remedy that by coming out on Saturday the 17th with your Valentine. Or come out to just sit down, sip some wine and look out the ADC second floor windows at the Bull Run Mountains. Although we're busy as all get out, as I'm sure most of you are, the vistas present a winter peacefulness and stillness that is captivatingly beautiful and relaxing. Take a little break and come experience it with us.
Take care, stay warm, and drink wine!
Jennifer McCloud
Chrysalis Vineyards at The Ag District
39025 John Mosby Highway (Tasting Room)
23876 Champe Ford Road (Winery/Offices)
Middleburg, VA 20117

McCloud@ChrysalisWine.com
Office: 540-687-8222
www.ChrysalisWine.com
Facebook.com/ChrysalisVineyards