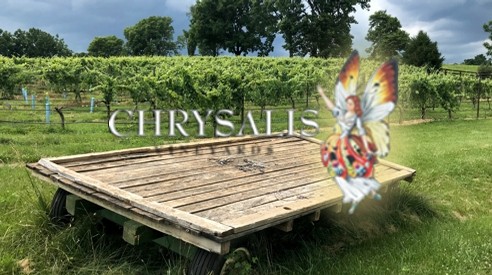 JULY NEWSLETTER 2019
IN THIS NEWSLETTER...
VIP Pickup Party... at the ADC
Special Offer for Our VIP Club Members
Chalk Painting and Wine
Creative Mankind Painting and Wine
Report from the Tasting Room
Report from the Cellar
Report from the Vineyard
Report from The Little River Bakehouse
Report from Locksley Farmstead Cheese
Note from Jenni
---
VIP PICKUP PARTY…
at the AG DISTRICT CENTER
Friday, July 12th
5:00 pm – 8:00 pm
(RSVP REQUIRED)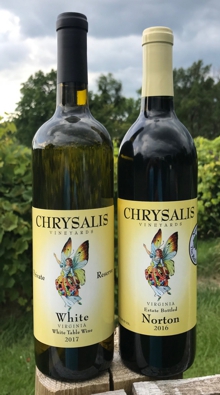 July is a month full of picnics, barbeques, and pool parties and the month that we celebrate the birth of our great nation. What better way is there to celebrate all that is American than by toasting our country with a glass of wine from our native American wine grape, Norton? As you probably already know, Jenni's mission to restore Norton to its previous world-renown has come a long way since she first planted Norton vines in 1998. Chrysalis Vineyards is now home to the largest single planting of Norton in the world! Our years of experimentation have led us to the production of five distinctly different 100% Norton wines in addition to several other Norton blends. We also provide Norton fruit to many other Virginia wineries and propogate Norton vines for sale to other vineyards. The disease resistant characteristics of the Norton vine allow it to flourish in our climate and once it gets going it practically grows like a weed! The rise of Norton from an almost forgotten varietal to a grape that produces world-class wines is truly a story that epitomizes the opportunities available to us as Americans. With hard-work, persistence, resiliance, grittiness, and determination we have the ability to achieve almost anything as individuals and as a country. So... raise a glass of Norton this Independence Day and celebrate all that is American!
Our VIP Club pickup event for July will be held on FRIDAY, JULY 12th from 5:00pm - 8:00pm. PLEASE NOTE THE DATE AND TIME and mark you calendars! We will have paired bites to sample with this month's VIP wines in addition to SPECIAL VIP PRICING ON OUR ARTISAN PIZZAS!!! Come on out and make it a "Date Night"...grab some pizza or a cheese plate, your favorite Chrysalis Vineyards wine, and enjoy a relaxing summer eve!
Our new hours began on June 1st and we are open Noon - 6pm Monday - Thursday, Noon - 8pm Friday & Saturday, and Noon - 7pm on Sunday. We offer hot foods from the kitchen on Friday from 4pm to closing and during business hours on Saturday and Sunday. All food orders must be placed at least 45 minutes prior to closing. Please remember… as always, our last full tasting will start an hour before closing. Last call for purchases of open bottles or glasses will be 30 minutes before closing! We hope that you will enjoy our extended evening hours Friday - Sunday!
The red wine selection for our VIP Club members this month is Chrysalis Vineyards 2016 Norton Estate Bottled. This wine is Chrysalis' largest bottling of Norton and our traditional introduction to Norton as a variety. Smooth and rich, this aromatic wine exhibits the classically unique and fruit-forward character of Norton with notes of dark cherry, plum, raspberry, dark chocolate with a touch of mint. The added Nebbiolo offers more red berry character and structure from the high tannins natural to the varietal. The wine finishes with an understated oak character with some vanilla and cocoa which mingle harmoniously with the overt fruit character of Norton and the fine tannins provided by the Nebbiolo and Norton. Try this wine with a big slice of Locksley Farmstead Cheese Little John Cheddar!
Our white wine selection for July is Chrysalis Vineyards 2018 Private Reserve White. The 2018 vintage of this exlusive VIP club wine is a blend of 50% Viognier and 50% Albariño. Oak spice is prevalent on the nose while the palate is characterized by a soft entry followed by mild tannin and chalky characters. The finish presents hints of white peach and nectarines. This wine will pair perfectly with a plate of fried calamari and marinara sauce for dipping!
As a reminder to our members, all VIP wine is available for pickup at the Ag District Center tasting room anytime during regular business hours. If you can't make it out to pick up your wines on a monthly basis, we will hold them for you. Due to storage limitations, however, we do ask that you pick them up once you accumulate a case (6 months). We can also arrange for wine to be shipped to most locations, at your request.
Also, please remember that you can always find your paired recipes and detailed tasting notes at www.ChrysalisWine.com in the Private VIP Club Area. Also check in with us or follow us on Facebook for updates and announcements.
NOTE: Please do not reply to this emailed Newsletter. Your email will not be handled in a timely manner or may even be lost.
---
Chalk Painting and Wine
Friday, July 12th
6:00 pm - 8:30 pm
at the
Ag District Center
39025 John Mosby Highway
Middleburg, VA 20117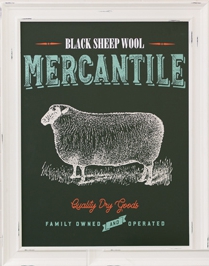 Chalk Couture will visit the Ag District on Saturday, July 12th. Chalk Couture gives guests an opportunity to design, create, and personalize rustic artwork for their home. You can choose the background surface for your piece and select one of over 40 designs to paint. Instructors will guide you through the process as you enjoy a glass of wine....or two!
The cost for this event varies from $35 to $45 (wine not included) depending on the surface chosen and includes all supplies. No experience is necessary. Check them out at http://chalkcouture.com or on Facebook at Chalking w/ Theresa.
You must register, pre-pay, and select your surface and design in advance by going to the link below.
[Editor's Note: cut and paste this long link if it doesn't activate by clicking on it. Thanks.].
https://forms.gle/iVjZ3dP5CL8XNfiH8
---
Creative Mankind Painting and Wine
Saturday, July 20th
1 pm – 4 pm
at the
Ag District Center
39025 John Mosby Highway
Middleburg, VA 20117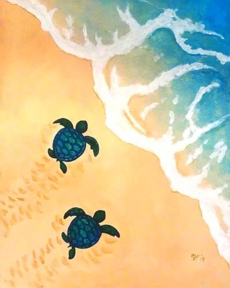 Creative Mankind will be hosting a "paint and sip" event at Chrysalis Vineyards on Saturday, Juy 20th. (From their website: Creative Mankind is an art company that offers art classes and hosts parties and events for all ages. Our motto is "Everyone is a Creative Genius!" It's just a matter of people reconnecting with their creative self. Our mission is to enrich our community with art education and culture in a fun and accessible way.)
So... come on out, enjoy the warm weather, and spend a fun afternoon laughing, creating your own masterpiece, and sipping your favorite Chrysalis Vineyards wine! This 3 hour event is just $40 and includes all art supplies, an awesome staff, and a lot of fun. No experience is necessary. For additional information please contact Creative Mankind at 571-403-1912 or go to their website listed below.
[Editor's Note: cut and paste this long link if it doesn't activate by clicking on it. Thanks.].
https://sites.cimplebox.com/events/registration.aspx?s=5329&c=3146&eid=481123&r=0.9985228
---
REPORT FROM THE TASTING ROOM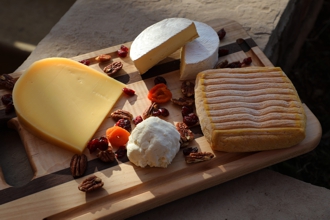 As we approach our 4th Anniversary here at The Ag District we are spending time reflecting on the changes we have seen come to the Tasting Room during this exciting time especially over the last year.
We have seen all our hopes and dreams for the Ag District come true this year. The Little River Bakehouse has a full menu every weekend offering delicious artisan pizzas, tacos, grilled cheese sandwiches, and many other delicious items all made with ingredients produced here on our Locksley Estate. Locksley Farmstead Cheese Company is now producing a whole line of delicious cheeses. All of these delicious creamy cheeses are available for purchase in our Tasting Room. We recommend coming to visit on a Saturday when a member of their team offers tastings of the cheeses available for purchase. If you can't make it on a Saturday come by during the week and watch the cheeses being made in the creamery in the lower level of the Ag District. It is fascinating to watch!
Lastly, but never least, our tasting room continues to sell the best wines that Northern Virginia has to offer. Our tasting room associates will be more than happy to help you with pairing our wines with any of your selections from the Little River Bakehouse and Locksley Farmstead Cheese Co.
Come by and Celebrate with us! The future is bright and we have A LOT to look forward to and celebrate!
Laurie Stevens, Tasting Room Manager
---
REPORT FROM THE CELLAR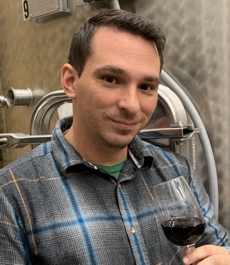 The big, exciting news this month is the announcement of our new Assistant Winemaker, Jake Blodinger! Jake comes to Chrysalis Vineyards from our neighboring state, North Carolina, where he decided to pursue winemaking after years of managing a fine dining restaurant. After stepping away from the restaurant business, Jake wanted to get experience under his belt and took a job with a boutique winery in North Carolina as an Assistant Winemaker. Here he had the opportunity to work with an array of varieties; such as, Diamond, Sangiovese, Viognier, and various fruit wines. Jake quickly realized that he wanted to gain a more in-depth knowledge of winemaking and sought a degree in Viticulture and Enology from Surry Community College. It was here that Jake developed a passion for Albarino and sparkling wine. It was also where he first heard of Chrysalis Vineyards, after reading "The Wild Vine".
Before joining our winery team, Jake was in the deep south working for several wineries. During his short stint in Georgia he worked on a special project developing a line of sparkling fruit and Muscadine wines. He also had the opportunity to work with a number of other European varieties. During this time Jake further developed a passion for native varieties and realized that his next goal was to work with Norton. As luck may have it, Jake saw that there was a position available at Chrysalis Vineyards and he jumped at the chance to join the team.
When asked what he's looking forward to here at Chrysalis Vineyards, Jake replied, "I'm extremely excited to work with Jenni and Jason to further expand upon the potential of Norton." His current favorite wines at Chrysalis are the Albariño, the 2016 Norton Locksley Reserve, and the 2017 Buttorfleoge. When he is not at the winery, Jake enjoys playing his guitar, to the dismay of his cats, and enjoying a beautiful day out hiking with his wife, Emily, and their dog Max.
Jason Burrus, Consulting Winemaker
---
REPORT FROM THE VINEYARD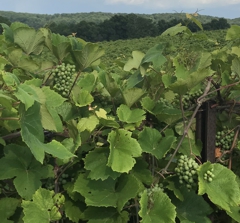 Much of what's happening in production this month is in the vineyard. By July the vines have achieved much of what they will look like for the rest of the growing season with a full and dense canopy. We're happy to see a large fruit set this year. Fredi and I have focused a lot of effort on a critical time during the growing season – bloom. For about seven days in late May the vineyard produces flowers as the first step in setting fruit. Even though cultivated grape vines are self-fertile they still need to go through the flowering process to generate fruit. But rain and the application of some fungicides can interfere with this process. So we eliminated two fungicides that have demonstrated or suspected ability to disrupt this process. Rain is always a factor during bloom because it's a tall order not to get any rain at all for a week in Virginia. Regardless of the confluence of vineyard management or luck, it looks like we'll be harvesting a healthy amount of fruit this year.
In July we continue to battle the vigorous growth in the vineyard. We want grapevines to grow like little, manicured trees. But they just want to survive to perpetuate the species. They produce a lot of green growth (shoots, leaves, tendrils) that we really don't need to ripen fruit. Plus they get in the way of being able to effectively farm the vineyard. So we thin excess shoots and leaves to open up the canopy and allow in sunlight and encourage air movement. This isn't just a farming practice though. The fruit needs exposure to sunlight to develop the kind of fruit suitable for winemaking.
Jason Burrus, Consulting Winemaker
---
REPORT FROM THE LITTLE RIVER BAKEHOUSE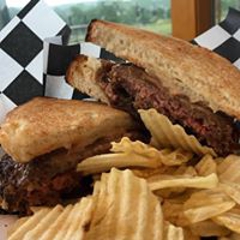 There are so many exciting things happening here in the kitchen at Little River Bakehouse! We welcomed the newest addition to our team over Memorial Day weekend; a beautiful brushed steel barbeque grill. This has allowed us to expand our menu to include some other items besides our made fresh pizzas. We are now doing a patty melt which is made from Locksley Farm grass fed beef on grilled Texas toast with our Nottingham cheese, caramelized onions, pickles and special sauce. We are also offering bratwursts with sauerkraut on a brioche bun as well as all beef hot dogs topped with chili and diced onions. These are not the only additions to the menu because we now have a rice bowl with beef bulgogi and a pork belly banh mi on house made bread. The pork belly is lacquered and topped with a pickled daikon and carrot salad and is simply delicious. We are so excited to bring a variety of food items to the kitchen and will continue to push the menu to highlight all of the fun things we are doing here at The Ag District. We are working hard to make these things come full circle from our beef in the burgers, our pork in the tacos, to the cheese that tops our pizzas. Come out and try one of our new menu items while you enjoy the sunshine and our delicious wine!
Chris Vincenzi, Chef
---
REPORT FROM LOCKSLEY FARMSTEAD CHEESE COMPANY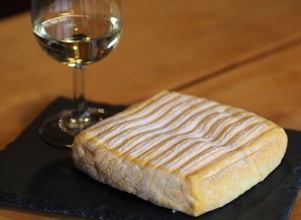 What does it mean to be a "washed rind" or a "bloomy" rind cheese? A washed rind cheese is one that is washed by hand in a brine (saltwater) solution to inhibit mold growth and encourage growth of a specific bacteria called brevibacterium linens (commonly referred to as B. Linens) which thrive in this briney environment and result in a tacky, orange, smelly rind. A sulphur compound called Methanethiol produced by B. Linens is the molecule largely responsible for the pungent, stinky aroma. Needless to say, our stinky, washed rind cheese lives up to it's antagonistic (or "bad guy") name, Prince John!
In contrast, in our Maid Marian Camembert, a bloomy rind or soft ripened cheese, we have encouraged the growth of white mold on the rind by inoculating or adding a powdered form during the cheese make. Other bloomy rind cheeses have a combination of mold (Penicillium candidum, Penicillium camemberti), yeast, or yeast-like fungus (Geotrichum candidum) that bloom like tiny flowers on the exterior of a ripening cheese. This live rind breaks down the fats and proteins of a cheese, causing an increasingly creamy to runny texture over time. Bloomy rind cheeses, such as our Maid Marian Camembert, have "mild and lactic" flavors that often resemble onion or mushroom. Stop by the Ag District Center and pick up our Prince John Washed Rind and Maid Marian Camembert to see this flavorful contrast! And remember...don't be afraid to eat these rinds, it's where most of that great flavor comes from!
Erin Saacke, Assistant Cheesemaker
---
Note from Jenni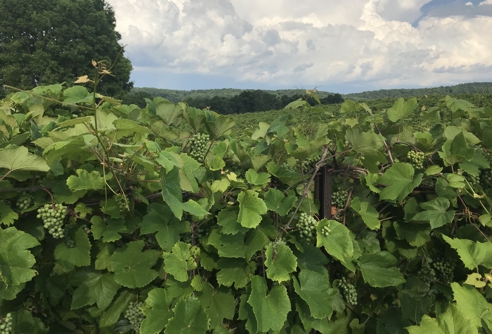 Sometimes I get asked what is The Ag District… what does it mean? Well, I'll tell you, but first a little background.
I came to Virginia to grow grapes, specifically to grow Norton. Wine had been a passion of mine since I had been a young adult, and when I first tasted Norton, the Real American Grape!®, I fell in love… what an unusual and distinctive wine it made. This was in 1995 at the American Society for Enology & Viticulture (ASEV) Eastern Section meeting in Charlottesville. When I learned that Norton was native to Virginia, and that it was the most disease resistant grape grown for any kind of grape production in the world (table, raisins or wine), that sealed the deal for me. I thought, what a great and laudable game to play; helping to restore this great American gem to the world renown it once enjoyed in the late 1800s and up until prohibition, when it died out in Virginia. I wanted to help bring it back.
In 2005 I began to explore what else we could do here to utilize the non-vineyard land, to bring forth more agricultural production, to do something new that would be additive to our total farm production (vineyards require relatively large tracks to be efficient). I advertised and took on a partner, and we started Locksley Farmstead Cheese Co. My partner, Perry, was as passionate about cows and making artisan cheeses as I was about grapes and making Virginia Wine.
Then it came to me. This land was like a big magnet… an agricultural zone, a district… a region of attraction, drawing in those who are passionate about the land and who want to express their own vision of what to grow and nurture that will produce artisan foods of the highest caliber. Then I learned about actual Agricultural and Forestal Districts in Virginia! Wow! No kidding. These are protected and registered regions of agriculture, acknowledged within the law to protect Virginia's agricultural and forestal heritage. An Ag District. Cool. So I registered the Chrysalis Vineyards – Locksley Estate Agricultural & Forestal District, and named it The Ag District. There you have it.
But now, let me get to my point. After all these years, with all the new ag enterprises and incredibly delicious new products, for which I'm so very proud… milk, cheese, the foods, the breads… at the bottom of it all remains my true passion - growing grapes and making wine. When I saw the photo Teri Scott had set up for the Report from the Vineyard, a wave of admiration ran over me, and I wanted to share it with you. Just look at those beautiful Norton vines with all their little green grapes. Soon they will turn almost black and become wine.
What better way to preserve the fruit of the harvest? Transformed by the natural fermentation action of yeast, grape juice becomes wine, and when done just right under the careful guidance of a skilled winemaker, a sublime beverage emerges that can live on and improve for decades. How cool is that? For me, it's very cool, and it's my life.
Take care,

Jennifer McCloud
Chrysalis Vineyards at The Ag District
39025 John Mosby Highway (Tasting Room)
23876 Champe Ford Road (Winery/Offices)
Middleburg, VA 20117

McCloud@ChrysalisWine.com
Office: 540-687-8222
www.ChrysalisWine.com
Facebook.com/ChrysalisVineyards