DECEMBER NEWSLETTER 2021
IN THIS NEWSLETTER...
VIP Wines of the Month
Report from the Tasting Room
Report from the Cellar
Report from the Farm
Report from The Little River Bakehouse
Report from Locksley Farmstead Cheese
Note from Jenni
---

With harvest behind us now and winter temperatures setting in you might think that we are entering a slower time of year around the farm. While everyone here could use a breather, there's still lots of work to do. The vineyard crew is busy cleaning up after the harvest and prepping for the pruning season, and Jake is starting his prep for the last bottling of 2021. The dairy and creamery crew continue to care for our cows every day and cheese production never slows down. And the tasting room staff is always busy serving up all your favorite wine and food!
We might not be able to slow down, but we certainly welcome all of you to take a break from your busy holiday schedule to stop by and relax at the Ag District. You can even make your holiday shopping easier by picking up some delicious wine, cheese, jelly and hot sauce for your favorite friends and relatives!
NOTE TO OUR VIP CLUB MEMBERS
Our VIP pickup event this month will be held on Friday, December 10th from 5:00pm until 8:00pm at the Ag Distrcit Center.
Members must RSVP no later than December 6th by emailing TR-Manager@ChrysalisWine.com. Please include your name, number attending (up to 2 per membership), and your preferred tasting time (5:00, 5:45, 6:30, or 7:15). Please arrive in time to check in at least 10 minutes prior to your tasting time. When planning your visit please remember that we close at 8:00 pm.
The white wine selection for our VIP Club members this month is Chrysalis Vineyards 2020 Albariño. Delightful aromas of orange blossoms, tropical fruit, and beeswax are prominent. The palate bursts with hints of kiwi and apricot, while a tantilizing acidity on the mid-palate is remenincent of tangerines. A platter of raw oysters and a bottle of Chrysalis Vineyards Albariño would make the perfect holiday appetizer.
Our red wine selection for December is Chrysalis Vineyards 2017 Borboleta. Borboleta is another showcase of Norton's finesse through its expression of a traditional port-style wine. Borboleta is best enjoyed next to a warm fire on a cold night or with your favorite chocolate dessert. The aromatics lean into a smooth mocha and black cherry nose. The palate becomes filled with a soft warmth that easily carries ripe cherry, a hint of coffee, and creamy dark cocoa finish.
As a reminder to our members, all VIP wine is available for pickup at the Ag District Center tasting room anytime during regular business hours. If you can't make it out to pick up your wines on a monthly basis, we will hold them for you. Due to storage limitations, however, we do ask that you pick them up once you accumulate a case (6 months). We can also arrange for wine to be shipped to most locations, at your request.
NOTE: Please do not reply to this emailed Newsletter. Your email will not be handled in a timely manner or may even be lost.
---
REPORT FROM THE TASTING ROOM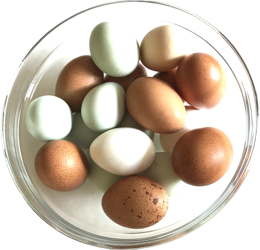 When you plan your visit to the Ag District Center are you coming to pickup a bottle of your favorite Chrysalis Vineyards wine, one of Chef Keaton's delicious pizzas, or maybe a selection of cheeses from Locksley Farmstead Cheese? We hope that no matter what brings you to The Ag District you take the time to try all of our delicious farm products.
If you take a look around while you're here you'll discover all kinds of products that incorporate ingredients straight from our farm! If you've never tried our Norton jelly or one of our hot sauces your really should pick up a bottle. The jelly is made from pure Norton juice that we pull off during harvest. It's full of intense Norton jammy flavors and really is the best grape jelly! Our hot sauces are crafted from red wine vinegar that Jenni makes herself and they're great on everything from scrambled eggs to mac and cheese! You might also notice that we have farm-fresh eggs available for you again! We replenished our flock of free-range chickens this past spring and they are laying like crazy! Jenni's chickens are cared for like pets and happy chickens produce the best eggs! They have rich, dark yolks and a variey of colorful shells, too!
Come on out and support local agriculture while enjoying some great food and drink!
Our hours are 12:00pm - 6:00pm Monday - Thursday, 12:00pm - 8:00pm Friday and Saturday, and 12:00pm - 7:00pm Sunday. We have great wine, pizza, sandwiches, salads, farmstead cheese, fresh bread, eggs, and more - all availble 7 days a week. If you can't stay, you can always place a "To Go" order to enjoy at home! You can place your order ahead of time by calling 540-687-8222 or stop by to place your order.
---
REPORT FROM THE CELLAR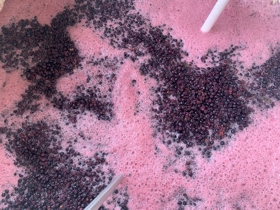 December starts with a bottling of some of your favorite wines. The 2021 Albariño Verde, Mariposa, and both Sarah's Patio White and Red will be put into bottle. All these wines are truly fantastic as always and we are proud to release them, next year. A popular question I've been asked at all the VIP events is when you should open your favorite Chrysalis wines. Truthfully, whenever you would like, honestly, the answer is more complicated than that.
Aging wine in bottle is dependent on several factors such as pH, alcohol, tannin structure, variety, vintage, and producer. Before you get overwhelmed, think about bottle age-ability this way, should you lay it down? If you really love the way our 2019 Estate Bottled Norton tastes right now, don't be afraid to purchase a case and enjoy a bottle every night. If you really love something, why wait?
If you insist on laying those Nortons down (and we recommend doing so) then here are some key tips. Tannin, pH, and alcohol have a symbiotic relationship in the bottle. Higher alcohol wines (13%+) protect the wine against spoilage organisms, but they also assist in the polymerization process of tannin monomers in the wine or the binding or tannins to one another. As tannin polymers develop the degradation from oxygen or oxidation, slows. This doesn't always mean that high tannin varieties will age better. Part of what let's tannins slow oxidation is also the pH. Low pHs (3.4 or under) are less sensitive to oxidation and in turn let tannin work unobstructed.
From a bird's eye perspective this means that pH, alcohol, and tannin need each other to
preserve the wine. What about white wines though? They usually have little to no tannin available and tend to oxidize faster once the cork is popped. Again, this isn't always true. White wines do have small amounts of tannins and acids are usually higher which tend to make up for the deficiency of tannin. Typically, white wines have a shorter life in bottle unless they were barrel aged. Barrels have tannins that are medium to long without being as prominent as red wine tannin, because of this you can in fact age white wines longer than 5 years.
I know this still doesn't simplify the answer for you, but here's a pro tip. When Jenni designed the package for our wines, she had the foresight to answer the question, "how long do you age our wines?" Wines under a screw cap typically last for 3-5 years but are best enjoyed within 2 years. Wines under screw cap are captured at a specific moment and best enjoyed at your convenience. Wines under yellow capsules have potential to be aged and can be enjoyed at any time. Wines are under black capsules are crafted for ageability and should be enjoyed over years to find when they hit their peak.
All of this said, we really mean it when we suggest buying a case of our Locksley Reserve and laying it down. Enjoy a bottle or two every year until you feel its best. We craft these wines so you can enjoy them for years to come!
Jake Blodinger, Winemaker
---
REPORT FROM THE VINEYARD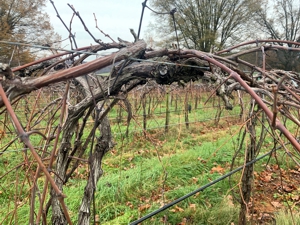 Well, it's winter in the vineyard now and when the wind blows it really looks like the vineyard is shivering. The crew is busy prepping the vineyard for the long winter. All of the irrigation lines have been purged of resting water, the pumps have been dissembled and purged, and the crew is beginning to sharpen their pruners.
With 70 acres to prune the crew starts in December pruning each individual vine. All the pruning's are carefully shredded and redistributed throughout the blocks. This provides a small nutrient benefit for the next growing season. The finest cuttings are pulled aside and used for propagating new vines in our green house. Due to the demand of Norton vines, we've set out to propagate the largest amount of Norton vines we've ever done, 10,000!
As the crew prunes each block of Norton, they check the cuttings carefully for viability. Each cutting must be at least pencil width and thickness. This indicates a mature shoot which is more likely to be able to handle the process of developing new roots. Each cutting must have 6-8 prominent buds, this is easily identified on the shoots. The buds must be lignified, round, and seem enlarged when compared to other cuttings. Strong buds are more likely to push new growth that's healthy and disease free.
Lastly, cuttings are checked for winterized disease, this is commonly seen as black splotches that can be rubbed off easily. Disease presence doesn't mean the cuttings can't be saved; it just means they must be soaked in a non-toxic sterilizer for about 10 minutes. Once the cuttings are soaked, they are wrapped in newspaper, dampened with water, and stored at a constant 50 degrees. This process ensures that the cells active within the cuttings are preserved, they are neither cold enough to freeze or warm enough to attempt new growth.
Once all the cuttings are collected, they are dipped in a root hormone that stimulates root
growth. The cuttings are then placed into small boxes filled with pure nutrient enriched soil. The boxes are placed inside the green house where they rest on small tubing with warm water running through it. This warms the soil, stimulating the cells causing new roots to develop. With the onset of Spring, buds will break open, pushing strong green shoots. Look for your very own Norton vine this Spring!
Jake Blodinger, Winemaker
---
REPORT FROM THE LITTLE RIVER BAKEHOUSE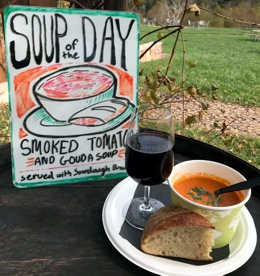 Greetings from The Little River bakehouse, Chef Keaton here to announce that Soup Season is here! We are putting a few new twists on some of your classic soups, like our Smoked Tomato and Gouda soup with tomatoes smoked over a bed of Norton Schitz and Giggels barrel chips and Nottingham Gouda rinds for that delicious cheesy flavor. I have been wanting to try this one out for a while since I really love smoking fresh produce to see the results. The the outer layer (close to the wax rind) of our Nottingham Gouda is added while the soup simmers, similar to when you add Parmesan rinds to a minestrone. That's just one of many soups you will see rotating throughout the winter months.
Now, if you are anything like me, large holiday gatherings can get very loud and a bit overwhelming. We will be open every day this month other than Christmas Day to offer you a peaceful, quiet refuge with a glass of wine, warm bowl of soup and hot pizza at any of our heated tables. If anybody asks why you stepped out, we've got the perfect cover story. Just pick up some of our farm-fresh bread, eggs, cheese and wine and tell everyone you went grocery shopping so that your crowded house is none the wiser to your escape!
Happy Holidays from Little River Bakehouse!
Keaton Beus, Little River Bakehouse Chef & Manager
---
REPORT FROM LOCKSLEY FARMSTEAD CHEESE COMPANY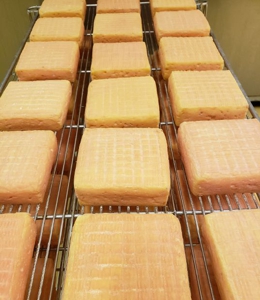 As the winter months set in and the temperatures drop, the cows drink less water for hydration and from the relief of the hot summer sun. What this means is less water in the milk itself and a rise in the fat levels. When these levels rise in the milk, they do so in the cheese as well. And with that, the quality of the cheese produced also increases. This is when you're going to find some of the best tasting cheeses of the year, full flavored and often very 'buttery' in nature. This is when the softer, faster aged cheeses really shine.
With our Prince John washed rind and our Maid Marian Camembert style blooming rind, you may see more of a deep yellow starting to come through. While the Friar Tuck fromage blanc will even show slight hues. The fat will bring buttery notes that enhance our full flavored cheeses. And a nice paste that sticks to your mouth, along with the flavors.
See for yourself and try one now and again in the summer, you'll find a big difference in the fullness of flavor.
John Cline, Head Cheesemaker
---
Note from Jenni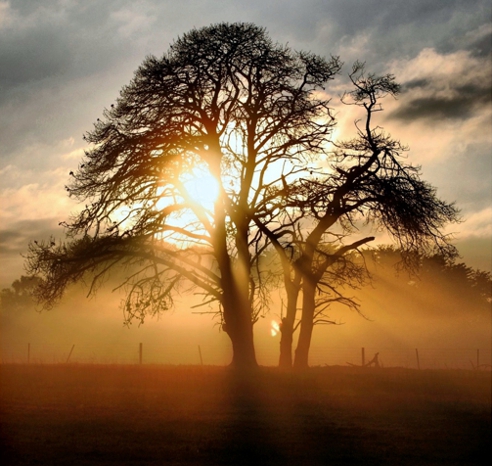 The holidays are a time that people "come home" to visit friends and family, most often returning to familiar surroundings that bring forth fond memories. That brought forth in my own recollections how many folks over the years keep "coming home" to Locksley Estate and The Ag District. This most beautiful land is like a magnet to those who have spent any amount of time here, or have put heart and soul into this magical place.
A couple days ago, River, our Tasting Room manager for several years in the early 2000s came back for a visit, drawn to the beauty and activities we engage in on this land. He was drawn to The Ag District, specifically, but also to the tranquil beauty of western Loudoun County. He wants to move back. (BTW, he took the photo 16 years ago that I've added for this Note from Jenni!)
Over the years many, many people keep coming back; the owner who built the Manorhouse here that I have the good fortune to live in, the builder of this house, the key workmen on this house, folks that built the winery, the milking center and parlor, other staff from Chrysalis Vineyards going back decades.
We've all just given thanks for the blessings in our lives, and now we look forward to the pleasurable times during the December holidays. Please let us contribute to your joys this holiday season by offering our artisan products to your festivities and dinner tables. Come out and join us in this beautiful piece of paradise..
Take care… and Happy Holidays,

Jennifer McCloud
Chrysalis Vineyards at The Ag District
39025 John Mosby Highway (Tasting Room/Creamery/Kitchen)
23876 Champe Ford Road (Winery/Milking Center/Offices)
Middleburg, VA 20117

McCloud@ChrysalisWine.com
Office: 540-687-8222
www.ChrysalisWine.com
Facebook.com/ChrysalisVineyards