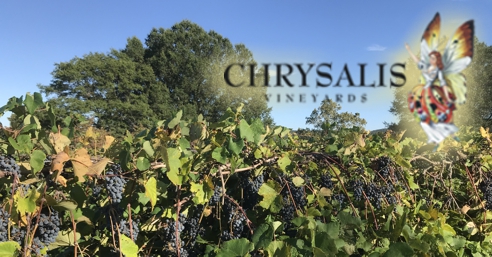 OCTOBER NEWSLETTER 2019
IN THIS NEWSLETTER...
VIP Pickup Party... at the ADC
Floral Arrangements and Wine
Report from the Tasting Room
Report from the Cellar
Report from the Vineyard
Report from The Little River Bakehouse
Report from Locksley Farmstead Cheese
Note from Jenni
---
VIP PICKUP PARTY
at the AG DISTRICT CENTER
Friday, October 18th
6:00 pm – 8:00 pm
at The Ag District
(RSVP REQUIRED)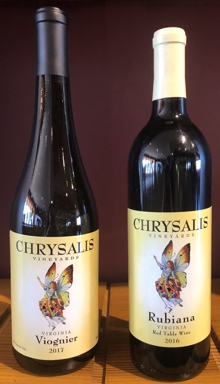 October is typically the busiest month of the year in the tasting room. Something about the fall colors and cooler weather beckons people to the countryside to drink wine. The Ag District is the perfect place to view the fall foliage with a glass of wine and some fresh artisan cheese! The Bull Run Mountains always put on a spectacular show around this time of year! So... come on out to the Ag District and help us celebrate Virginia Wine Month!
Our VIP event for October will be held on the evening of October 18th from 6:00pm until 8:00pm. Please remember to send your RSVP to VIP-Club@ChrysalisWine.com no later than October 14th.
The red wine selection for our VIP Club members this month is Chrysalis Vineyards 2016 Rubiana. The Spanish name Rubiana implies the Iberian roots of this wine. This red blend is medium-bodied and garnet in color, with an intensely aromatic nose and nuances of spice. Flavors of black fruits, pepper and earth make this a perfect accompaniment to food. Try this with an entrée of roasted chicken and garlic.
Our white wine selection for October is Chrysalis Vineyards 2017 Viognier. Its rich mouth feel comes from the sur lie and bâtonnage technique or "stirring of the lees" which is done during fermentation. The nose greets you with subtle rose and honey suckle, while white peaches and nectarine fill the palate. A slight, crisp acidity completes this well balanced wine. Enjoy our 2017 Viognier with a wheel of Locksley Farmstead Cheese Company's "Maid Marian" camembert cheese.
As a reminder to our members, all VIP wine is available for pickup at the Ag District Center tasting room anytime during regular business hours. If you can't make it out to pick up your wines on a monthly basis, we will hold them for you. Due to storage limitations, however, we do ask that you pick them up once you accumulate a case (6 months). We can also arrange for wine to be shipped to most locations, at your request.
Also, please remember that you can always find your paired recipes and detailed tasting notes at www.ChrysalisWine.com in the Private VIP Club Area. Also check in with us or follow us on Facebook for updates and announcements.
NOTE: Please do not reply to this emailed Newsletter. Your email will not be handled in a timely manner or may even be lost.
---
Alice's Table Floral Arrangments and Wine
Friday, November 1st
6pm - 8pm
at the
Ag District Center
39025 John Mosby Highway
Middleburg, VA 20117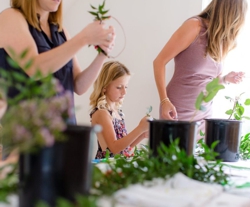 Kick off the weekend by enjoying the hilltop beauty of the Ag District! Learn how to create a seasonal floral arrangement that you can take home with you! The flower arranging can take anywhere from one to two hours, depending on the complexity and format of the arrangement. Alice's Table provides aprons for you to wear for the duration of the event. Working with flowers can be messy, so make sure to wear something you won't mind getting a little dirty! You don't need to bring anything out of the ordinary with you - we provide the flowers, vases, and tools you will need to create your arrangement. Don't forget... the tasting room will be open to purchase wine, snacks and artisan pizza to enjoy during the class. To purchase a ticket for this event please click on the link below or cut and paste it into your favorite browser.
https://alicestable.com/events/experience-fall-in-middleburg-with-florals-and-chrysalis-vineyard_1563593341
---
REPORT FROM THE TASTING ROOM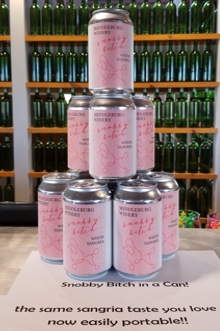 Virginia is for Wine Lovers!!! October is Virginia Wine Month and with over 300 wineries in Virginia now, there are numerous places to celebrate. But there's no better place than Chrysalis Vineyards! Not only do we offer a beautiful selection of award winning wines to enjoy, we also offer a full menu from our Little River Bakehouse and delicious artisan cheeses made here by Locksley Farmstead Cheese Company. Come enjoy our breathtaking views, as the first hint of fall colors kiss the landscape surrounding the Ag District. We have a wine for everyone, from the sweetest of wine lovers to the boldest of pallets, we even have wine in a can! We have it all for you to enjoy. All you need to bring is your appetite, and we will take care of the rest! We hope you will choose us as your Virginia Wine Month destination. We look forward to celebrating with you!
Cheers!
Laurie Stevens, Tasting Room Manager
---
REPORT FROM THE CELLAR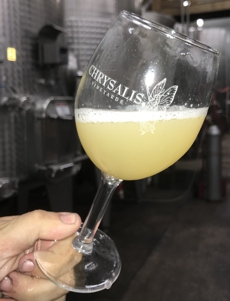 The hottest topic this month, amid harvest, has been the Viognier. While Chrysalis Vineyards is well known for its Albariño and Norton; the Viognier is a tried and true favorite for many of our customers. Jenni and I have been talking about this year's vintage of Viognier quite a bit. So, I thought I would share some of the key points and insights on what makes our Viognier so unique.
Chrysalis Vineyards Viognier truly showcases its varietal characteristics not when the grape chemistry is ideal, but when it's just starting to become over ripe. This isn't to say that we wait for rotten berries, but it's more along the lines of a higher brix and certain flavors in the grapes that we wait for. Flavors such as: ripe cantaloupe, honey dew, and even a tinge of mango are Chrysalis Vineyards' key identifiers.
The next unique feature of Chrysalis Vineyards Viognier is the use of wild fermentation. A wild ferment, or natural fermentation, is when we separate some juice and allow ambient yeast or yeast floating around in the air or already residing in the juice, to begin fermentation. A wild ferment will serve to increase those ripe characteristics and add even more complexity to the wine overall. We do this in separate carboys, and only after careful evaluation is it used in place of commercial yeast.
Lastly, our Viognier is always barrel fermented in neutral oak. This allows us to push the concept of mouthfeel through "bâtonnage" or stirring of the lees. Just after fermentation, we will begin stirring the lees that have settled at the bottom of the barrel. The lees, made up of dead yeast cells, act as oxygen scavengers and provide that rich mouthfeel for our Viognier. All the stars have lined up this year and we are exceptionally excited for this vintage!
Jake Blodinger, Assistant Winemaker
---
REPORT FROM THE VINEYARD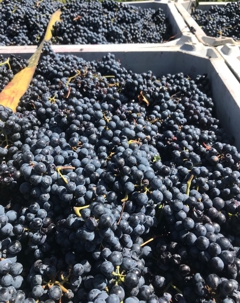 When looking at the past growing seasons and comparing them to this year, one thing has become glaringly obvious. We are about two weeks ahead! This means almost every grape is ripening two weeks early. You would think that means we could let the fruit easily hang on the vine a little longer, and normally you would be right. Due to the lack of rain, drosophila, or fruit flies, have begun to take advantage of the heat. If left unchecked, they spread rot like a plague, often ruining entire blocks of beautiful fruit. Luckily, Freddy has a keen eye and was able to intervene long before they could become a problem.
With all our white varietals picked, Freddy and his crew are hoping to finish up the last of the Tannat, Nebbiolo, Petit Verdot and Tinta Cão next week. But, even with all of our red vinifera coming in early, this still leaves the Norton. It's the largest pick of every season, 40 acres to be exact. Harvest on Norton alone typically takes around 5 weeks. If the weather holds out, Freddy and his crew are looking at finishing this harvest season about 2 weeks early. Here's hoping!
Jake Blodinger, Assistant Winemaker
---
REPORT FROM THE LITTLE RIVER BAKEHOUSE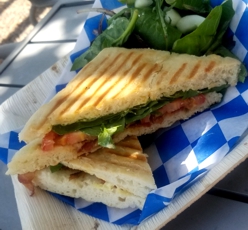 Greetings from The Little River Bakehouse! We've got big things cooking up here and some new changes to our menu! The first thing I would like to tell you about, is our brand new weekday lunch menu, featuring made to order paninis that are served hot and fresh. Each one will be served on our freshly baked, house-made foccacia bread.
The second big announcement is the addition of "Pizza Flights" to our regular pizza menu, which sounds like the best airline around. A pizza flight consists of four, six inch pizzas of your choosing. If you can't decide which of our delicious pizzas you want to enjoy, then a pizza flight is the perfect option! Hope to see you soon!
Keaton Beus, Little River Bakehouse Manager
---
REPORT FROM LOCKSLEY FARMSTEAD CHEESE COMPANY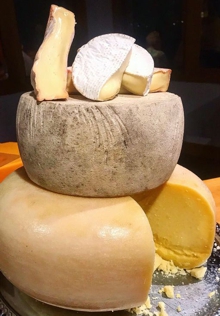 As we have now entered the first official weeks of fall, I wanted to take a moment and update you on all the neat things we have been up to, both in and outside of the creamery!
A few members of our team spent the weekend sampling and selling cheese at the 50th annual Bluemont Fair, along with Magnolias at the Mill's, Chef Erik Foxx-Nettnin. He griddled up some phenomenal gourmet grilled cheese sandwiches with our Little John Cheddar, Nottingham Gouda, Maid Marian Camembert and Friar Tuck Fromage blanc! One of our favorites included our Maid Marian Camembert, melted along with lobster and crab on buttery brioche.
Additionally, we have been working with International Gourmet Foods in distributing our cheeses locally, across the state, and in surrounding states. We were thrilled to have several members of their team come out to tour both the farm and creamery facilities, giving us the opportunity to tell our story as well as answer questions about the production of our delicious cheeses. You may start to see that familiar arrow shooting through the cheese in some of your favorite restaurants and shops!
Our cheesemakers, Kelly Harding and Erin Saacke, enjoyed an evening sampling and interacting with wine club members at the Annual VIP Club Appreciation Dinner in mid-September. Check out the "Cheese Cake" created for the party and pictured here, for a hint as to what our next release will be! Any guesses?? Our cow's milk Manchego/Tomme style is the middle tier on this cake with its natural brown (edible) rind. Keep your eyes peeled towards the end of October for a new creamy and somewhat fruity character hitting the retail case!
Come and see us at the Ag District Center for all of your fall wine, cheese and bakery needs!
Erin Saacke, Assistant Cheesemaker
---
Note from Jenni
So, I was working on the newsletter photos late this afternoon (Thursday, 9/26), and my eyes popped open wide when I saw our new Focaccia BLT from The Little River Bakehouse. Damn, that looks good! I love BLTs, and I want one… maybe two!.
Then I got to the Locksley Farmstead Cheese photo. (BTW, our newsletter is obviously a group effort, and at the end of the process I edit the photos that mostly Teri and others have taken, and do my Note from Jenni. So I don't usually see the newsletter photographs until we're putting the final touches on it.) Wow, that pile of cheese is a site for hungry eyes, too.
Well, two things happened next. I called Keaton to order up that BLT and some of his (very unusual, but tasty) garlic cookies for dinner and dessert. And then I looked at the photos again and starting thinking thoughts of pride and accomplishment… for what we here at The Ag District have achieved. This is local agriculture at its finest. Truly. We work very hard to bring to you, our friends and neighbors, high-quality wines and foods right from our own backyard (literally).
It's important that a community support its local agriculture. This has been the norm throughout all of human history. Today, of course, we have foods and wines from all over the world available in our markets and grocery stores, especially here in the DMV region. So, we know that you have a lot of choices, and it's not lost on us that you've chosen to patronize Chrysalis Vineyards and our other Ag District value-added ag companies. So, thank you.
And, you know what, you should support your local agriculture. It's YOUR responsibility, too, along with us, to keep this beautiful and historically significant farmland productively sustained. Just like The Ag District is a team effort to bring to you our fine products, so is restoring… and preserving… our agricultural heritage, a team effort. And that means you… 'cause you're on the team!
So thank you again for supporting your local agriculture, and in particular, of course, The Ag District.
Take care,

Jennifer McCloud
Chrysalis Vineyards at The Ag District
39025 John Mosby Highway (Tasting Room)
23876 Champe Ford Road (Winery/Offices)
Middleburg, VA 20117

McCloud@ChrysalisWine.com
Office: 540-687-8222
www.ChrysalisWine.com
Facebook.com/ChrysalisVineyards