JANUARY NEWSLETTER 2020
IN THIS NEWSLETTER...
VIP Pickup Party... at the ADC
Friday Night Pizza & Music
Creative Mankind Crafts & Wine
Report from the Tasting Room
Report from the Cellar
Report from the Farm
Report from The Little River Bakehouse
Report from Locksley Farmstead Cheese
Note from Jenni
---
VIP PICKUP PARTY…
at the AG DISTRICT CENTER
Friday, January 17th
6:00 pm – 8:00 pm
at The Ag District
(RSVP REQUIRED)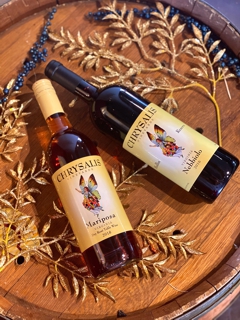 As the last few days of 2019 are winding down, many of us will take time to reflect on the past year. While we certainly accomplished quite a bit in 2019, I would rather focus on what we have ahead of us in 2020. Over the last several months Jake and the cellar staff have been working their magic to create some outstanding wines from this year's harvest. The 2019 Mariposa and 2019 Albariño Verde are now in bottle and WOW, are they delicious! It'll be a couple more months before they are released, but they are definitely worth the wait! Albariño and Viognier will be finished soon and I'm sure they are going to be just as good. We'll have to wait much longer for the 2019 reds, of course, but based on how things are shaping up in the cellar all of the 2019 vintage wines should be outstanding. All the hard work that our vineyard and cellar crews did during 2019 is about to pay off as we get to enjoy the fruits of their labor throughout the New Year!
All the new activity at the Ag District and around the farm has created some great opportunities for enthusiastic, hard-working, and passionate people who would like to join our team! We are always looking for tasting room associates and currently have openings in the kitchen as well. If you are interested in exploring these opportunities email us at info@chrysaliswine.com with a brief description of your experience and availability.
Our VIP Club pickup event for January will be held on FRIDAY, JANUARY 17th from 6:00pm - 8:00pm. PLEASE NOTE THE DATE AND TIME and mark you calendars! Please remember to send your RSVP to VIP-Club@ChrysalisWine.com no later than January 13th!
Tasting room hours are 12:00pm - 6:00pm Monday - Thursday, 12:00pm - 8:00pm Friday and Saturday, and 12:00pm - 7:00pm Sunday. We have a great selection of paninis available during the week and a larger hot food meny available Friday - Sunday. Please remember… as always, our last full tasting will start an hour before closing. Last call for purchases of open bottles or glasses will be 30 minutes before closing!
The red wine selection for our VIP Club members this month is Chrysalis Vineyards 2016 Nebbiolo. Nebbiolo, the wine grape of the famed Barolo and Barbaresco regions of Italy, is grown right here in Virginia at our Hollin Vineyard in Delaplane. The 2016 Nebbiolo is Italian in style but with a hint of New World impact and fruit-forward character. Ripe, red berry fruit fills the aroma and palate. Intensely tannic (the way Nebbiolo should be), this wine will benefit from years of aging. Pair our Nebbiolo with a big plate of angel hair pasta covered in a hearty Bolognese sauce!
Our white wine selection for January is Chrysalis Vineyards 2018 Mariposa. The nose on this dry rosé is redolent in fresh, ripe strawberry, watermelon, dark cherry and maybe a touch of sage. An initial surge of sweet strawberry and dark cherry is quickly tempered by the refreshing acidity that follows. A glass of Mariposa is the perfect wine to enjoy with a plate of Locksley Farmstead cheese!
As a reminder to our members, all VIP wine is available for pickup at the Ag District Center tasting room anytime during regular business hours. If you can't make it out to pick up your wines on a monthly basis, we will hold them for you. Due to storage limitations, however, we do ask that you pick them up once you accumulate a case (6 months). We can also arrange for wine to be shipped to most locations, at your request.
Also, please remember that you can always find your paired recipes and detailed tasting notes at www.ChrysalisWine.com in the Private VIP Club Area. Also check in with us or follow us on Facebook for updates and announcements.
NOTE: Please do not reply to this emailed Newsletter. Your email will not be handled in a timely manner or may even be lost.
---
Friday Night Pizza & Music
Every Friday in January
5 pm – 8:00 pm
at the
Ag District Center
39025 John Mosby Highway
Middleburg, VA 20117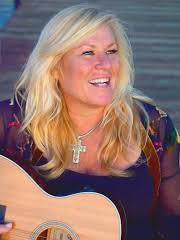 There's no better way to kick off the weekend and unwind after a long week at the office than an evening at The Ag District! Our tasting room is open until 8pm every Friday with live music from 5pm - 7:30pm. We have a great menu of hot foods available including a variety of artisan pizzas featuring our own Locksley Farmstead cheeses. Keaton has also been cooking up some delicious fresh soups that are sure to warm you up on a cold winter evening.
This month our music lineup will feature Patty Reese and Shane Hines, among others. So, duck the traffic by spending a relaxing evening of great music, great wine and great food! You deserve it!
---
Creative Mankind Crafts & Wine
Friday January, 17th
6 pm – 8:00 pm
at the
Ag District Center
39025 John Mosby Highway
Middleburg, VA 20117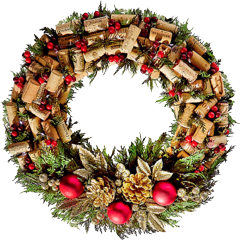 Creative Mankind will be hosting a "craft and sip" event at Chrysalis Vineyards on Friday, January 17th. This month participants will be making a cork wreath! (From their website: Creative Mankind is an art company that offers art classes and hosts parties and events for all ages. Our motto is "Everyone is a Creative Genius!" It's just a matter of people reconnecting with their creative self. Our mission is to enrich our community with art education and culture in a fun and accessible way.)
So... come on out, escape the cold, and spend a fun evening laughing, creating your own masterpiece, and sipping your favorite Chrysalis Vineyards wine! This 3 hour event is just $50 and includes all supplies, an awesome staff, and a lot of fun. No experience is necessary. For additional information please contact Creative Mankind at 571-403-1912 or go to their website listed below. [Editor's Note: cut and paste this long link if it doesn't activate by clicking on it. Thanks.]
https://www.eventbrite.com/e/cork-wreath-making-at-crysalis-winery-ag-district-with-creative-mankind-tickets-87196000585
---
REPORT FROM THE TASTING ROOM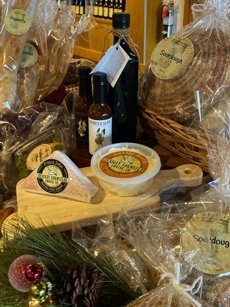 Did you make a resolution this year? One of the most popular New Year's resolutions is getting organized! If that was on your list, then we have some great tips for you when it comes to personal wine storage.
Did you know that one of the worst places to store wine is on top of a refrigerator? The compressor and other internal components work to keep the interior cool, but that can result in the top of the refrigerator being quite warm. An ideal temperature range that you should store your wine is between 45 to 65 degrees Fahrenheit. Warmer temperatures can result in flat aromas and flavors. It's almost as if you are cooking your wine when they are stored in a warm place. Did you also know that certain light bulbs can produce enough heat to prematurely age your wine as well? Also, don't store your wines upright for an extended period of time. If wine is not touching the cork, it will begin to dry out over time and can result in a smelly, funky and prematurely oxidized wine. Our advice is to find a cool, dark place with a little humidity to lay your wine down. If it feels or looks like a (wine) cave, then its perfect!
Here at The Ag District, we store all of the VIP Wines (up to six months) in our "wine cave" for the VIP Club members. After six months, we gently remind them that their wines are waiting for them. We hope that your New Years is off to a wonderful start, and we look forward to seeing you in 2020, here at The AG District!
Cheers!
Laurie Stevens, Tasting Room Manager
---
REPORT FROM THE CELLAR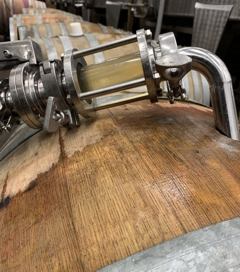 We may be past harvest and through all of the cleanup, but that does not mean the winemaking is done. In January, our focus now switches from starting and building our wines, to maintaining them. Our stainless-steel tanks are topped with gas once a week to limit oxygen exposure, which is essential for maintaining aromatics, as well as a few other things. We are performing Bâttonage, (stirring of the fine lees) on a regular basis, to encourage the rich mouthfeel that our longtime fans have come to know and love so much. One of the most essential tasks that we do though, is topping off our barrels.
Top offs refer to the act of filling a barrel to the top of the bung hole (yes, that's a technical term). Believe it or not, oak barrels are liquid tight, but not airtight. Oak is a porous material that will allow water to escape, through evaporation, over time. After a couple of weeks, a barrel filled with 59 gallons of wine could easily be down to 58.5 gallons of wine, just from evaporation. We have over 150 barrels, so that half gallon adds up quickly! Should an incident occur, and a barrel does not get topped off on a regular basis, the wine will continue to evaporate out and leave room for air to flow into the barrel through the wood itself. As air begins to enter the barrel, oxidation can take place, which could create considerable problems in the future. Therefore, we dedicate a couple of days every month to simply refilling the barrels to the top of the bung hole with wine.
2020 is going to be an exciting year filled with new wine releases. I think that our guests, old and new, will be thrilled to try the 2019 vintages which certainly boasts some of the best fruit Chrysalis Vineyards has ever seen! I am personally most excited about the Norton because I have never worked with a varietal so complex and robust.
Jake Blodinger, Assistant Winemaker
---
REPORT FROM THE VINEYARD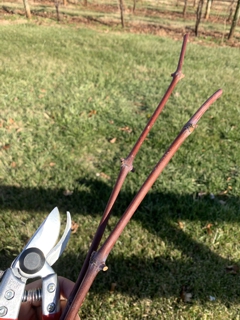 Did you know that Chrysalis Vineyards has the largest planting of Norton in the entire world? Out of the 70 acres of grapes that Chrysalis grows, 40 of those acres are solely dedicated to Norton (the Real American Grape!®). You may wonder where most of those Norton vines came from and the answer is obvious, Chrysalis Vineyards of course!
Amid all the pruning, Freddy and a few crew members will soon begin taking cuttings and replanting them in our own greenhouse. As the crew is pruning, they will be looking for shoots that are no more than a pencil thick to make new cuttings. Once selected, the shoots are cut at both ends and then placed in nutrient enriched soil. After a few weeks, the cuttings will begin to sprout new roots. They are then carefully maintained with the help of daily watering and extra warmth.
In the Spring, these vines are planted in our nursery vineyard, where they will start to mature while they wait to be planted for production. A grow tube is placed around the baby vine to protect it against damage. It takes roughly 3 years for a vine to produce enough quality fruit to make wine, and at least 4 years to reach full maturity. Norton is a truly amazing vine that has a long and mysterious history here in Virginia. Chrysalis Vineyards proudly grows Virginia's native grape and we hope to share it with the world. Look for your own Norton vine at the Tasting Room this Summer!
Jake Blodinger, Assistant Winemaker
---
REPORT FROM THE LITTLE RIVER BAKEHOUSE
Greetings from The Little River Bakehouse! Winter may be upon us once again, but our brick oven is hotter than ever. We're still pushing out fresh made-to-order pizzas every weekend, on top of soups made from scratch and sandwiches made from our house-baked breads. If you came out to our VIP pickup party last month, you may have tried a Mushroom and Friar Tuck Ravioli with a White Wine Nottingham Gouda Cream Sauce, which we received excellent reviews about. Everything we served that night was made from scratch, so we filled, cut, and folded each ravioli by hand the day of the party.

Pasta, and more specifically filled pasta, are some of my favorite dishes to make... other than pizza, of course. Pasta (for the most part) is usually made from the same ingredients: flour, egg, salt and olive oil. The way you shape it, handle it, and roll it though, can change each pasta dish in various ways. It was a fun and fulfilling endeavor to serve freshly made ravioli to everyone that night, and I hope to do it again in the future. The winemaker, Jake, and I are going to be hard at work very soon collaborating for a special winemaker's pairing dinner sometime this winter, so be on the lookout for more details as they develop. We hope to see you out here soon to celebrate the New Year and to enjoy some music, pizza, pasta and wine!
Keaton Beus, Little River Bakehouse Manager
---
REPORT FROM LOCKSLEY FARMSTEAD CHEESE COMPANY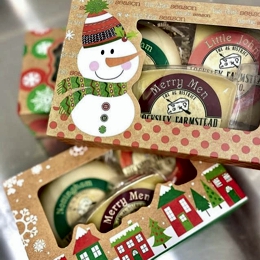 Happy New Year! Looking back at 2019, we started the year with a small selection of 4 types of cheeses, and we have now ended it with 7 varieties of both soft and hard cheeses. That certainly makes for a well-rounded cheese board in my opinion. We also have a few more in the works for 2020! Remember to mark your calendars for Monday, January 20th... not only is it a great day to come out to the Ag District to enjoy our artisan farmstead cheeses, but it's also Martin Luther King Jr. Day and National Cheese Lovers Day! For the month of January, be sure to say "Brown Swiss" at check out and receive 20% off your cheese purchases. Here are the 7 varieties we are starting 2020 with:
Nottingham (Gouda) - smooth texture, mild and sweet with notes of toasted hazelnuts and butter, currently aged 8-10 months.
Little John (White Cheddar) - rich and creamy with a nice developing sharpness, and a naturally crumbly artisan texture. Aged 10 months-1 year.
Merry Men (Manchego-style) - creamy and tangy with notes of melted butter and beef broth. The piquant notes may remind you of Parmesan, but its melt in your mouth texture and citrusy flavors make it truly unique. Aged 6-8 months.
Friar Tuck (Fromage Blanc "White Cheese") - soft, crumbly, spreadable cheese. Flavors of young cream with a bold tang and a salty finish. Similar to goat cheese, but it's made fresh with our cow's milk on a weekly basis. Very versatile for mixing with a balsamic, Norton jelly, or a blend of herbs.
Maid Marian (Camembert Style) - earthy, with a slight mushroom aroma, similar to Brie. However it has deeper, stronger flavors and a spreadable texture. Try it topped with something sweet, like our Norton jelly!
Prince John (Washed Rind "Stinky Cheese") - soft, silky texture with a mild, meaty, and savory flavor. Hints of fruit and nuts with a pungent, stinky, fun aroma.
The Monk Mozzarella - made with whole milk, and used exclusively in our kitchen for menu items such as mozzarella sticks, paninis, sandwiches, and our delicious artisan brick-oven pizzas.
We hope you have a very, very happy New Year and we are particularly thrilled to have brought fresh, local, artisan cow's milk, cheese back to Loudoun County and you! See you soon!
Erin Saacke, Assistant Cheesemaker
---
Note from Jenni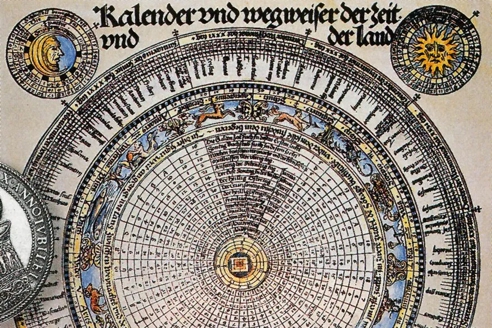 So… a new decade begins.
Wait a minute… no, no it doesn't. I thought I better just check on that, and the third decade of this century doesn't actually start until January 1, 2021! Since the Gregorian Calendar adopted by the western world did not start with a year '0', the new centuries and decades start on the beginning of the '1' year.
Huh! I'm still learning things new every day (although I must admit, it seems that somewhere in my mind's foggy past I recall knowing that. Maybe I looked it up back when 2000 was approaching. Whatever, I get a senior moment, now and again!)
So, we get one more year of the second decade of the 21st century. Whoohoo! (Hey, time is flying by too fast as it is, as I get older. We don't need to be pushing things forward!)
Anyway, I had gotten into a sorta Auld Lang Syney mood, but that's gone now. What's not gone, though, is my gratitude for all our great friends and customers who've supported us all these many years, and my love and appreciation for all of my teammates that work so hard here to bring to our community the fine artisan food products of The Ag District. Thank you, everyone!
Take care and have a Very Happy New Year!

Jennifer McCloud
Chrysalis Vineyards at The Ag District
39025 John Mosby Highway (Tasting Room/Creamery/Kitchen)
23876 Champe Ford Road (Winery/Milking Center/Offices)
Middleburg, VA 20117

McCloud@ChrysalisWine.com
Office: 540-687-8222
www.ChrysalisWine.com
Facebook.com/ChrysalisVineyards