VIP PICKUP PARTY…
at the AG DISTRICT CENTER
Saturday, August 11th
7:00 pm – 9:00 pm
at The Ag District
(RSVP REQUIRED)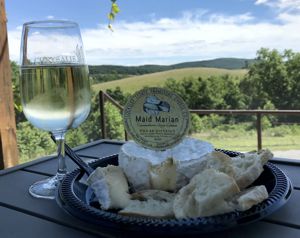 With all the craziness that comes with the spring and early summer at the Ag District, new wine releases and the focus on preparing our bread oven for production we really haven't put enough attention on making our loyal customers aware of our other new product.... CHEESE!!! Yes, after years of planning, building, and testing, our sister company, Locksley Farmstead Cheese Company, is now producing artisan cheeses from our own farm fresh milk. You may have noticed our first release, Friar Tuck, in the retail refrigerator. Friar Tuck is a spreadable fromage blanc similar to cream cheese. It is available plain or incorporated into spreads that are produced in our kitchen. Last month we released our Maid Marian, a camembert-style cheese that is simply delicious. Rich, creamy and intensely flavorful it has quickly become a favorite among staff and customers alike. Our Nottingham, a Gouda, is just about finished aging and will be released soon. Those of us that have been allowed to do "taste tests" can't wait for it to be available for sale. So... next time you are at the Ag District don't forget to try some cheese.... the most recent addition to our farm to table vision!
Don't forget.... we have live music at the Ag District Center every Saturday from 2:00-5:00 pm (August 4th, 11th, 18th, and 25th). Chrysalis Vineyards wine and live music... no better way to spend a summer day!
Remember to check out our website at ChrysalisWine.com. It's full of great information about Chrysalis Vineyards and the Ag District Center and for those of you who don't have time to get out for a visit, now you can purchase your favorite Chrysalis Vineyards wines online!
Our VIP Pickup Party this month will be held on August 11th from 7:00 pm until 9:00 pm (Please note the time!). This event is FREE for our members (2 attendees per membership), but does REQUIRE advance RSVP no later than August 8th. To RSVP please send an email to VIP-Club@ChrysalisWine.com. Verbal RSVP's and voice mail responses cannot be guaranteed confirmation.
IMPORTANT ANNOUNCEMENT FOR OUR VIP CLUB MEMBERS
Chrysalis Vineyards' Annual VIP Appreciation Party will be held on September 15th from 7:00 pm to 10:00 pm. Reserve the date on your calendars and watch for details in next month's newsletter!
Our spring and summer hours began on April 1st and we are open 10am - 6pm Monday through Thursday and 10am - 7pm Friday through Sunday. Please remember… as always, our last full tasting will start an hour before closing. Last call for purchases of open bottles or glasses will be 30 minutes before closing!
The red wine selection for our VIP Club members this month is Chrysalis Vineyards 2015 Rubiana. The 2015 vintage is a blend of 50% Tinta Cão, 30% Fer Servadou, and 20% Norton. Rubiana opens with notes of violets, cranberry, cherry and pepper. Sour cherry, cranberry, rose petals and violets, and pepper follow and pair with medium tannins, tobacco and dark chocolate, making this an very food-friendly blend. Try it with an entrée of venison roast or a dark chocolate based desert.
Our white wine selection for August is Chrysalis Vineyards 2016 Viognier. Viognier is Chrysalis Vineyards flagship white and is produced with 100% Viognier, the state grape of Virginia. The immediate impression is of a mélange of white flowers - orange blossoms, wisteria and lily of the valley - with a definite undercurrent of white pear. Upon gustation, peach comes to the forefront, along with notes of citrus and limoncello, a touch of honey, and vanilla. Our Viognier will pair perfectly with a nice round of Locksley Farmstead Cheese Company's Maid Marion, a camembert-style cheese made right here at the Ag District!
As a reminder to our members, all VIP wine is available for pickup at the Ag District Center tasting room anytime during regular business hours. If you can't make it out to pick up your wines on a monthly basis, we will hold them for you. Due to storage limitations, however, we do ask that you pick them up once you accumulate a case (6 months). We can also arrange for wine to be shipped to most locations, at your request.
Also, please remember that you can always find your paired recipes and detailed tasting notes at www.ChrysalisWine.com in the Private VIP Club Area. Pairings and tasting notes are available for wines dating all the way back to 2007 (especially useful for any of those with older, aged vintages). Also check in with us or follow us on Facebook for updates and announcements.
NOTE: Please do not reply to this emailed Newsletter. Your email will not be handled in a timely manner or may even be lost.
---