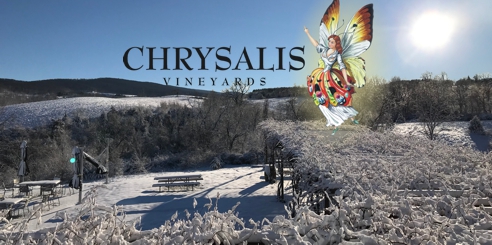 FEBRUARY NEWSLETTER 2022
IN THIS NEWSLETTER...
VIP Wines of the Month
Report from the Tasting Room
Report from the Cellar
Report from the Farm
Report from The Little River Bakehouse
Report from Locksley Farmstead Cheese
Note from Jenni
---

January's weather certainly wasn't as mild as December and it looks like we have another round of wintry weather coming to close out the month. Fortunately, the long term forcast looks like February will give us some milder temperatures as we progress toward spring. While it's always nice to enjoy the views at the Ag District from our deck and outdoor spaces, we also have plenty of warm space indoors until the weather breaks. So come out and pass the cold winter weather with some delicious Chrysalis Vineyards wine, Locksley Farmstead Cheese, and some goodies from the Little River Bakehouse menu.
If you're not a member of our Chrysalis Vineyard VIP Club, remember to ask one of our associates how to join. Our members enjoy complimentary wine flights, discounts on wine and food, exclusive access to VIP events and more!
NOTE TO OUR VIP CLUB MEMBERS
Our VIP pickup event this month will be held on Friday, February 11th from 5:00pm until 8:00pm at the Ag District Center.
Members must RSVP no later than February 7th by emailing TR-Manager@ChrysalisWine.com. Please include your name, number attending (up to 2 per membership), and your preferred tasting time (5:00, 5:45, 6:30, or 7:15). Please arrive in time to check in at least 10 minutes prior to your tasting time. When planning your visit please remember that we close at 8:00 pm.
The white wine selection for our VIP Club members this month is Chrysalis Vineyards 2020 Albariño Verde. This crisp white greets you with tropical aromatics comprised of banana and pineapple, reminiscent of sandy beaches and blue waters. The palate is greeted with bright acidity and slight pin pricks of effervescence with flavors fresh zested limes, sharp lemon rind, and ripe grapefruit. It's the perfect companion to a dinner of fresh seafood.
Our red wine selection for February is Chrysalis Vineyards 2019 Tannat. Dark, mysterious, and full bodied, this bold varietal has aromatics of reserved smoke, tobacco, and spiced plums. The palate is complex, tannic, and filled with structured licorice, black currant, and spices. Try it with a juicy grilled steak or a hearty winter stew.
As a reminder to our members, all VIP wine is available for pickup at the Ag District Center tasting room anytime during regular business hours. If you can't make it out to pick up your wines on a monthly basis, we will hold them for you. Due to storage limitations, however, we do ask that you pick them up once you accumulate a case (6 months). We can also arrange for wine to be shipped to most locations, at your request.
NOTE: Please do not reply to this emailed Newsletter. Your email will not be handled in a timely manner or may even be lost.
---
REPORT FROM THE TASTING ROOM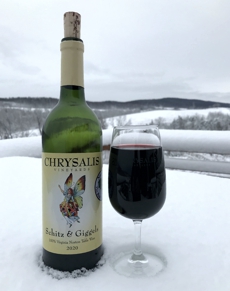 If you've visited the tasting room recently you may have noticed some changes in the lineup of wines that are avaiable by the glass or flight. Some of our fuller bodied, bolder red wines are now available. Look for our Petit Verdot, Tannat and Papillon and give them a try while they are available!
Come on out and support local agriculture while enjoying some great food and drink!
Our hours are 12:00pm - 6:00pm Monday - Thursday, 12:00pm - 8:00pm Friday and Saturday, and 12:00pm - 7:00pm Sunday. We have great wine, pizza, sandwiches, salads, farmstead cheese, fresh bread, eggs, and more - all availble 7 days a week. If you can't stay, you can always place a "To Go" order to enjoy at home! You can place your order ahead of time by calling 540-687-8222 or stop by to place your order.
---
REPORT FROM THE CELLAR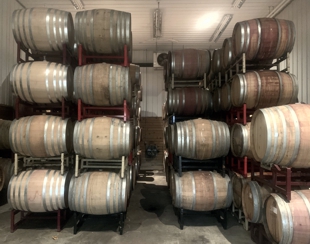 February starts with a bottling of our 2020 reserve reds. Jenni and I are excited to share these wines with you all, after they've spent the appropriate time in bottle. If you were at the last pick up party, you had the opportunity to do a semi-vertical with two our wines. Comparing the 2017 Private Reserve Red to the 2019 was a lot fun. Jenni and I hope this really illustrated why you should lay these wines down. During the tasting, the most popular question was, "how long do you age the wine in barrel?"
As we move the new vintage into the barrel room, I often forget these wines will age for up to 16 months. Only Jenni and I get a sense for how these wines evolve in barrel over time. Presently our Petit Verdot, Tannat, and Nebbiolo are overly astringent, this comes across almost unpalatable. Periodically, Jenni and I check in on these wines to evaluate the structure and mouth feel.
Only as time progresses and we begin to bottle the new vintage, do we get a sense for how these wines develop. Due to the fact that no two vintages are identical, they mature differently in barrel and never at the same pace. Nebbiolo can be difficult for this reason and often times requires extended aging to smooth out those rough tannins. Part of what makes Locksley so amazing is the time the Norton spends in barrel really honing in on the dark fruit flavors. Norton's fruity aromatics will eventually start to mature into floral notes.
Ultimately, determining ideal barrel age comes from Jenni's 20 years of experience and
the intention of crafting some of the finest wines in Virginia.
Jake Blodinger, Winemaker
---
REPORT FROM THE VINEYARD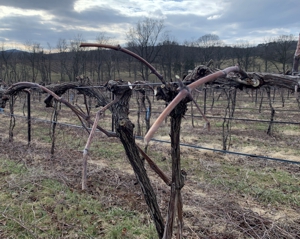 There seems to be some sort of correlation between us discussing the impact of weather on the vineyard and it actually coming to fruition. Last month, I discussed the positive impacts snow can have on a growing season and a week later I was shoveling 8 inches of powder from the walkway just to get into the winery. As the snow melts, we've begun to evaluate the quality of our soil in order to make adjustments for the upcoming growing season.
Every year the vines utilize what nutrients are available in the soil to grow quality fruit.
What we often don't think about is that nutrients found in the soil is actually a finite amount that will need to replaced annually. Consider a forest where the trees are growing tall, jutting from a forest floor filled with crunchy leaves, and small plants. As trees defoliate, their leaves fall to the floor, decompose, and become another layer of soil. These leaves are actually part of the nutrients that the forest draws from.
Vineyards function similarly but because they exist in a curated state, they don't always
get all of their necessary nutrients. Plants need a plethora of elements like magnesium, calcium, zinc, and manganese, but the most important is nitrogen. Without diving too deep, nitrogen is a major component of chlorophyll and thus vital for photosynthesis. Without enough nitrogen, vines can becomes stunted, produce lower yields, or even fail to ripen fruit. Best practice is to make nitrogen additions to the soil towards the end of winter, ideally after a snow.
While it might be just a bit too early for soil amendments now, it's critical that we care for our soil long before we get into the growing season. Growing the highest quality fruit happens long before the first bud break!
Jake Blodinger, Winemaker
---
REPORT FROM THE LITTLE RIVER BAKEHOUSE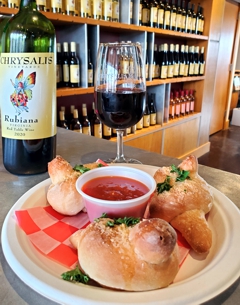 Greetings from the Little River Bakehouse, Chef Keaton here with some winter updates from the kitchen. I would first like to thank everyone that came out to our January "Keto" pick up party pairing. It was a lot of fun for me, creating these dishes and straying away from my usual non-keto friendly food. The theme for February event is going to be aphrodisiacs, so every food item in the pairing is going to incorporate an ingredient with aphrodisiac properties to get your Valentine's day weekend off to the right start. I am really looking forward to what I have planned for this one, so be sure to get those reservations in early to give us the time to prepare.
The main menu change for the winter is the addition of our Garlic Parmesan knots. They come with marinara sauce for dipping and they're a great shareable snack while you enjoy a bottle of wine with friends. Next time you are in be sure to give this new item a try. I recommend them with the Rubianna which pairs well with the garlic butter, nutty Parmesan, and marinara. Add one of our Smoked Apple Pulled Pork pizzas to your order for a delicious lunch or dinner.
Keaton Beus, Little River Bakehouse Chef & Manager
---
REPORT FROM LOCKSLEY FARMSTEAD CHEESE COMPANY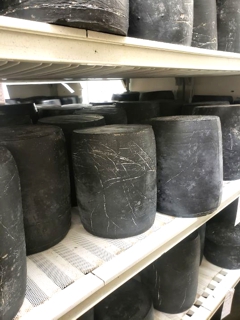 As the new Head Cheesemaker here at Locksley Farmstead Cheese, I feel that it's my responsibility to not only make a great cheese, but to also educate our consumers. So, over the next several months and hopefully several years to come, we will explore our cheeses here at Locksley, the history and process of making cheese, and talk of our general love of cheese. This month we will talk about our Little John Cheddar.
Cheddar cheese is a relatively hard, off-white natural cheese that originates from the English village of Cheddar in Somerset and has been produced since at least the 12th century. We create our Little John Cheddar as a truckle, a cylindrical wheel of cheese, usually taller than it is wide, and barrel-shaped, derived from the Latin trochlea, 'wheel, pulley'. An appropriate bulky stature that imitates the namesake character. It is the world's most popular variety of cheese and the second-most popular cheese in the US behind mozzarella. Made in the process of slow stirred curds then pressed over night. It is then waxed and placed in our aging cells for at least 6 months. The nice firm creaminess of the texture, and the slow developing sharpness in the flavor is well complimented with our Nebbiolo Hollin Reserve. When visiting the creamery, these truckles are visible to our guests in the basement of the tasting room where the creamery is located. And in this room you may also see some of the test cheeses that we may be experimenting with and get a preview of what is to come in the future at Locksley Farmstead Cheese. There is also a viewing area of the "make room" where our milk is pasteurized and made into cheese. So come visit, see what we're making and try a few of our pairings.
John Cline, Head Cheesemaker
---
Note from Jenni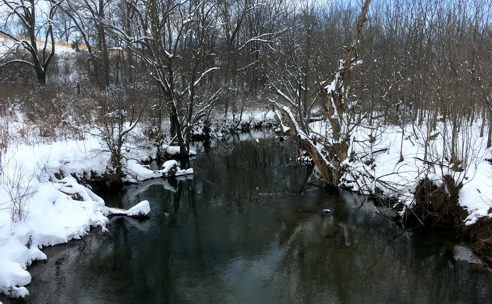 Here's a bit of history for y'all which for some might be one of those "you learn something new every day"! I took the picture above from the bridge we built over that little river you cross on the way to the Ag District Center (our tasting room/creamery/bakery and kitchen). That is, indeed, the Little River… you know (for those of you who traverse point's east in Fairfax and Alexandria)… the eponymously-named Little River Turnpike. That's where it gets its name… our little river… The Little River! (BTW, Aldie Dam, which "raises the waters of the Little River" which then runs the wheels at Aldie Mill, is on our land.
From http://www.novahistory.org/LittleRiverTurnpike/LittleRiverTurnpike.htm :
"In order to improve travel for farmers who conveyed their goods from the western counties to the port of Alexandria, the Little River Turnpike was constructed of gravel from Alexandria to the ford of Little River near present-day Aldie, Virginia. The road, almost 34 miles in length, was constructed using slave labor, which involved clearing the proposed route of trees and vegetation, quarrying gravel, and crushing stone. Construction, which began in 1802 in Alexandria, was completed nine years later at Little River in 1811.
"Before there were turnpike roads, local citizens were required to keep roads in good condition. The court assigned sections of roads to men who lived along the route, and if you didn't maintain your section, you could be fined by the court. Some roads were more heavily traveled than others due to large quantities of produce and grains being conveyed in wagons along main roads from the western counties to ports of navigation, such as Alexandria. Foreign goods were conveyed back in the reverse direction from the port westward. The men who lived along the main roads felt that the method of keeping the roads in repair resulted in their having an unequal burden so they petitioned the legislature to create toll roads so that the people who benefit from the road pay for its upkeep."
So, there you go! 200 years later, you can once again travel on the Little River Turnpike to Aldie for the agricultural bounty you'll find here at The Ag District. This land is so beautiful and we love sharing it and our artisan foods with our friends, neighbors and patrons. See you here!
Take care,

Jennifer McCloud
Chrysalis Vineyards at The Ag District
39025 John Mosby Highway (Tasting Room/Creamery/Kitchen)
23876 Champe Ford Road (Winery/Milking Center/Offices)
Middleburg, VA 20117

McCloud@ChrysalisWine.com
Office: 540-687-8222
www.ChrysalisWine.com
Facebook.com/ChrysalisVineyards