JANUARY NEWSLETTER 2021
IN THIS NEWSLETTER...
VIP Wines of the Month
Report from the Tasting Room
Report from the Cellar
Report from the Farm
Report from The Little River Bakehouse
Report from Locksley Farmstead Cheese
Note from Jenni
---

What a long, strange trip 2020 was! The constantly changing regulations certainly kept us all on our toes, but our hard-working and resilient staff handled it all! Their efforts to provide a safe environment for our customers allowed us remain open through this entire ordeal. Their creative solutions to all of the difficulties that we had to work through helped us to make the best of a very bad situation. And our loyal customers certainly did their part by continuing to visit, take-out, and order online. So, as we ring in the New Year, let's all be happy that 2020 is in the rearview mirror and hope that 2021 is happier, healthier, and more prosperous for everyone!
The white wine selection for this month is Chrysalis Vineyards 2019 Albariño Verde. Light, pristine, and crisp, this wine cuts straight across the palate with intense citrus notes of lemon, lime, and blood orange. The finish lingers with honey dew, peach, and a touch of passion fruit. A slight effervescence reaffirms this crisp but full bodied wine. Ring in the New Year by pairing our Albariño Verde with a platter of fresh oysters or some seafood pasta with a rich, creamy white wine sauce.
Our red wine selection for January is Chrysalis Vineyards 2017 Papillon. This robust, tannic, and aromatic red blend illustrates the concept of "the sum of the parts make a greater whole". The aged Tannat component presents the back bone of a mature wine through sophisticated tannin structure, plum, black currant, and cooked spices, while Petit Verdot fleshes out the body with intense black cherry, ripe plums, and notes of jasmine or lavender. A bottle of Papillon and a bowl of hearty beef stew are the perfect pair to keep you warm on a cold winter evening.
As a reminder to our members, all VIP wine is available for pickup at the Ag District Center tasting room anytime during regular business hours. If you can't make it out to pick up your wines on a monthly basis, we will hold them for you. Due to storage limitations, however, we do ask that you pick them up once you accumulate a case (6 months). We can also arrange for wine to be shipped to most locations, at your request.
Also, please remember that you can always find your paired recipes and detailed tasting notes at www.ChrysalisWine.com in the Private VIP Club Area. Also check in with us or follow us on Facebook for updates and announcements.
NOTE: Please do not reply to this emailed Newsletter. Your email will not be handled in a timely manner or may even be lost.
---
REPORT FROM THE TASTING ROOM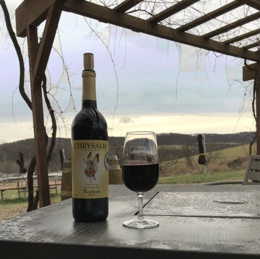 They have arrived!! The heated tables that we ordered have finally arrived and we are assembling them as quickly as we can. Our new tables seat up to 4 people and radiate heat from below the table surface to create a comfortable outdoor space to enjoy our delicious wine, cheese, pizza, and other goodies!
All of our seating, both indoors and outdoors, is first-come, first-served. We have limited indoor seating for adults 21 years of age and older on our upper floor and very limited indoor seating for groups with children on our main floor. We also have plenty of outdoor seating (some covered) with heat tables and patio heaters available at many tables. Our largest oudoor tables seat 8 people comfortably. We ask that you do not move our furniture, but you are welcome to bring your own seating as long as you maintain proper social distancing and group sizes remain within our current restrictions (please call ahead if you have more than 8 people in your group to discuss current restrictions). Regulations and protocols are subject to change at any time, so please call the tasting room at 540-687-8222 or visit our website for updates.
Our hours are 12:00pm - 6:00pm Monday - Thursday, 12:00pm - 8:00pm Friday and Saturday, and 12:00pm - 7:00pm Sunday. We have great wine, hot pizza, farmstead cheese, fresh bread, eggs, and more - all availble 7 days a week. If you can't stay, you can always place a "To Go" order to enjoy in the safety and comfort of your own home! You can place your order ahead of time by calling 540-687-8222 or stop by to place your order at the window.
---
REPORT FROM THE CELLAR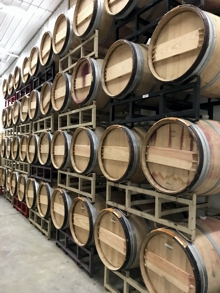 The new year starts not with a bang, but with a bottling of the new vintage. Our first bottling of the year will be on January 5th and includes an awesome lineup of everyone's favorites, Sarah's Patio White and Sarah's Patio Red, along with Mariposa and one of my favorites, the always racy Albariño Verde. I think we really captured that traditional "Vinho Verde" style with this vintage.
As we begin prepping the 2020 vintage for bottling season, the popular topic of discussion turns to "vintage variation". This term describes what makes one growing season different from another. Variations can be caused by the amount of rainfall in one vintage versus another, temperature variations or even when a certain variety achieves ripeness. 2018 was filled with heavy rains and cooler temperatures. This left the fruit engorged with water, preventing ideal ripeness. This can lead to red wines that are lighter in color or even fruit flavors that are delicate as opposed to rich and full flavored. The opposite was true for the 2019 vintage, warmer days and afternoon showers gave the vines more time to grow and develop full flavored berries. This allowed us to make wines with intense color and flavors that truly drive home the terroir of our Locksley and Hollin growing sites.
It is still too early to make assumptions about the 2020 vintage, but we are starting to see the effects of the growing season. If you will remember, harvest started off with a fair amount of rain and cooler temperatures that slowed ripening down. This led to lower brix than the 2019 vintage, but the fruit was able achieve a physical ripeness that really captures the typical varietal characteristics. Thus far, the 2020 vintage seems to showcase a bright acidity in the white wines that leaves your mouth watering and wanting another taste. The red wines, while still very young, are full flavored and filled with tannin begging for some time in barrel. I cannot wait to start exploring the new vintage and sharing these amazing wines with our wonderful customers!
Jake Blodinger, Assistant Winemaker
---
REPORT FROM THE VINEYARD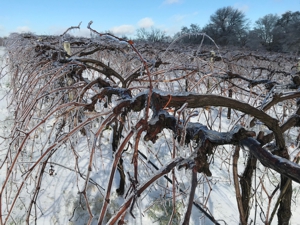 January marks the beginning of the new growing season. The crew has already begun to start pruning and working their way through the vineyard. Each vine is looked at separately and assessed for disease pressure, health, and the number of buds. Pruning is not just for the upcoming growing season, but it is also an investment in future vintages.
Pruning starts by looking at the health of the vine. We check the shoots and arms of the vine for any winterized diseases. This can appear as tiny black spots, scabbed over areas where the wood seems to have healed or even knots in the shoots and trunk which is a sign of virus. These areas are cut back and removed from the vineyard. Next the shoots are examined for any physical damage. For example, a shoot or cane bent at a 90-degree angle. This stems from heavy winds that may have bent shoots against a wire or a neighboring pole. If the damage is questionable, we remove it.
Once we finish removing the diseased and damaged areas, we turn our attention to how we want the vine to grow in the upcoming seasons. We do this by looking at the number of buds present on a shoot. Each bud is a new shoot for the next growing season. We want around 2-3 buds per shoot and around 12-18 buds per arm totaling around 24-36 buds per vine. Each bud will eventually grow a new shoot. When we pick and choose what buds to keep, we look at the growing position. We want all shoots to grow unobstructed and free of each other. This is the very beginning of developing an open or airy canopy. Each set of buds must be a palms width from each other. Anything that does not meet the criteria, is pruned away.
Lastly, we look at the independent arms of the vine. First, we consider the age, this is determined by thickness. We typically remove arms around the 4-year mark. This only happens if we have a cane to lay down in its place though. The replacement arm must come from lower on the trunk and be free of disease. Remember, diseased or unhealthy wood will only grow diseased or unhealthy shoots and in turn lower quality fruit. Pruning is the first step in growing quality fruit for quality wine.
Jake Blodinger, Assistant Winemaker
---
REPORT FROM THE LITTLE RIVER BAKEHOUSE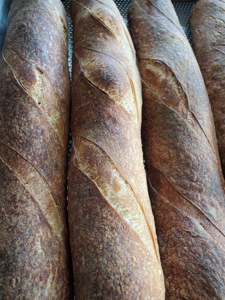 Happy New Year from The Little River Bakehouse! What a roller coaster of a year we just had. With things getting cold again it is affecting the restaurant industry greatly. Trying to be hospitable while worrying about the safety of patrons as well as staff during these times is stressful and exhausting. However, there is a solution where you can enjoy the food made by the hard working people in this industry while supporting the establishments you love and keeping other safe... takeout. We are fortunate to have a menu that includes a variety of delicious pizza which is the king of takeout. Pizza, along with our paninis made on fresh baked Foccacia bread, are available 7 days a week. They're the perfect alternative to dining out!
Sure, your New Year's resolution can be to try to work out or try to not drink as much, but I think we should just double down on carbs and alcohol and then double down on the resolution next year! No judgments from me if you would rather scarf down a pepperoni pizza than run on that treadmill collecting dust in the corner. I know I will be choosing the pizza resolution this year rather than the exercise one after this past year. If you want to join me and save a little money doing so I recommend joining our wine club which gets you a discount on our pizzas and breads as well as two bottles of wine a month. Frankly that sounds better to me than any old gym membership.
Keaton Beus, Little River Bakehouse Chef & Manager
---
REPORT FROM LOCKSLEY FARMSTEAD CHEESE COMPANY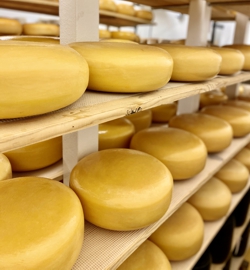 Happy New Year! I hope everyone had a wonderful holiday season and has a happy and healthy new year! As we begin this calendar year, I always find it fun and fulfilling to look back at a few statistics from 2020. Our fan favorite cheese of the year was our Nottingham Gouda. Aged 10-12 months, this golden yellow cheese is creamy and sweet with notes of toasted hazelnuts and butter. A nice crunch of crystallization can be found all throughout this well aged cheese. Try pairing with your favorite red wine!
Drumroll please…..in 2020 we made right around 22,000 lbs of cheese from over
250,000 lbs of milk! That's over 29,000 gallons of milk turned into 9 different types of cheese right here in Loudoun County! Not to mention, the majority of the 25,000 lbs of cheese made in 2019 was being stored and aged to sharp, tasty perfection over the course of this past year too. We are excited to see what 2021 has in store, we certainly have our work cut out for us to keep up with you alls cravings for our artisan cheeses! Thank you for all the support shown throughout the last year, helping us to continue doing what we love, bringing artisan farmstead cheeses from our farm to your table!
Happy Holidays!
Erin Saacke, Cheesemaker
---
Note from Jenni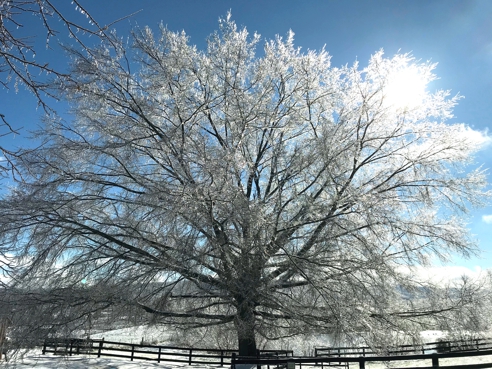 To the deficit, probably, of my spiritual wholeness, I'm not often moved by seeing things that make me think of John Muir, or Henry David Thoreau, or dare I say, in this harsh, skeptical and secular time… God. But this majestic tree, seemingly ancient to us when viewed through the lens of our own human time-frames, made me think of these things; the beauty of nature, those that spent their lives honoring and appreciating it… and the being who created it.
All of us here at The Ag District… Chrysalis Vineyards, Locksley Farmstead Cheese, and the Little River Bakehouse, wish you peace, health and happiness in 2021.
Take care,

Jennifer McCloud
Chrysalis Vineyards at The Ag District
39025 John Mosby Highway (Tasting Room/Creamery/Kitchen)
23876 Champe Ford Road (Winery/Milking Center/Offices)
Middleburg, VA 20117

McCloud@ChrysalisWine.com
Office: 540-687-8222
www.ChrysalisWine.com
Facebook.com/ChrysalisVineyards