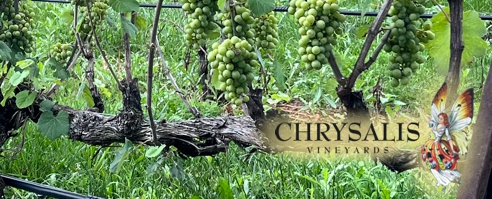 SEPTEMBER NEWSLETTER 2022
IN THIS NEWSLETTER...
VIP Wines of the Month
Report from the Tasting Room
Report from the Cellar
Report from the Farm
Report from The Little River Bakehouse
Report from Locksley Farmstead Cheese
Note from Jenni
---

WOW.. has it been hot this month! Fortunately we have lots of great ways to cool you down here at The Ag District! Along with our lineup of chilled wines like Albariño Verde, Sarah's Patio White, Tximeleta, and Mariposa to name a few, we also have wine slushies. Our slushies are made with real fruit concentrates (with no artificial flavors or preservatives) and Chrysalis Vineayards wine. Ask about our featured flavors the next time you need a little extra help beating the heat!
NOTE TO OUR VIP CLUB MEMBERS
Our VIP pickup event this month will be held on Friday, September 9th from 5:00pm until 8:00pm at the Ag District Center. In addition to sampling and discussing the wines for August we will be doing a vertical flight of our Private Reserve White and exploring vintage variations. We hope that providing these informative sessions occasionally will add value to your membership and keep you coming back to our monthly VIP Club events!
Members must RSVP no later than September 6th by emailing TR-Manager@ChrysalisWine.com. Please include your name, number attending (up to 2 per membership), and your preferred tasting time (5:00, 5:45, 6:30, or 7:15). Please arrive in time to check in at least 10 minutes prior to your tasting time. When planning your visit please remember that we close at 8:00 pm.
If you're not a member of our Chrysalis Vineyards VIP Club, remember to ask one of our associates how to join. Our members enjoy complimentary wine flights, discounts on wine and food, exclusive access to VIP events and more!
The white wine selection for our VIP Club members this month is Chrysalis Vineyards 2020 Mariposa. The 2020 vintage of this summer favorite is a blend of 6 different varietals that are whole-cluster pressed and fermented in stainless steel to preserve the fruitiness. This approachable claret-style wine is filled with summer aromatics of fresh strawberries and cranberries. The palate has flavors of lingonberries and red cherries accompanied with bright acidity. This is the perfect thirst quencher for a hot August day!
Our red wine selection for August is Chrysalis Vineyards 2020 Norton Locksley Reserve. Our flagship red best showcases what Norton can do when crafted with careful intention and attention. Elegant aromatics provide herbal notes of sage, with pronounced tobacco and dark red fruit aromas. This wine presents a frim structure and leaves a long finish of black pepper, spices, and black currant. Best enjoyed in 5-10 years, you may want to get a case and enjoy it over the years.
As a reminder to our members, all VIP wine is available for pickup at the Ag District Center tasting room anytime during regular business hours. BEGINNING SEPTEMBER 1, 2002 THE TASTING ROOM WILL BE CLOSED ON TUESDAY AND WEDNESDAY EACH WEEK. If you can't make it out to pick up your wines on a monthly basis, we will hold them for you. Due to storage limitations, however, we do ask that you pick them up once you accumulate a case (6 months). We can also arrange for wine to be shipped to most locations, at your request.
NOTE: Please do not reply to this emailed Newsletter. Your email will not be handled in a timely manner or may even be lost.
---
REPORT FROM THE TASTING ROOM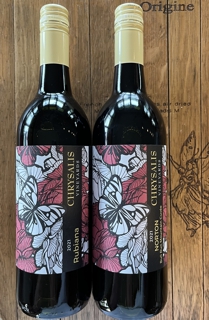 TASTING ROOM TIME CHANGES ****** always make new releases available to our VIP Club members first, this wine is currently only available for members but will be released to the public in the coming weeks. The second release of our new label also comes with a new name - Bull Run Mountain Cuvee. This is our old favorite, Norton Schitz & Giggels, with a bit of new branding.... same wine, new name and label. The new cuvee will also be released in the coming weeks to club members with public release to follow.
Something else that you will notice as we release new vintages is a change from cork and foil closures to screwcaps for some of our red wines. In the past screwcaps were generally seen on.... um, well... cheap wines. You remember those younger years when you craved wine in flavors like strawberry-kiwi and watermelon, I think it was called Boone's something-or-other, and the screwcap was the best thing ever when you didn't carry a wine opener. Well, times have changed and the technology in screwcap materials and production has come a long, long way. The lining of screwcaps now creates a seal that perfectly preserves the wine for many years. We'll always use traditional cork for our wines that are designed to be aged for 10, 20, 30 years or more, but screwcaps provide a convenient alternative for wines that are meant to be enjoyed now or at least within 5 years.
Watch our shelves for the new labels and let us know what you think!
---
REPORT FROM THE VINEYARD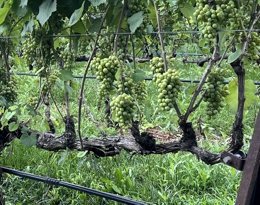 Woooooowie! Everything in the vineyard is looking stellar. A few times this past month I've stopped and just admired the quality of the fruit being grown here. I've had many
conversations with Freddy just talking about how clean and healthy the vineyard looks. I don't know what mother nature is doing exactly, but please, keep doing it!
Despite all the warm fuzzies, Freddy and I are stressing about the on coming months.
August is usually when "veraison" starts. Veraison is the French term for the change of color in grapes. This occurs in middle of the August just before harvest and it's when the grapes turn from lime green to yellow then gold, or pink to red. While we all spend time marveling at the color change, it's also the most stressful weeks of the growing year.
While the fruit is still vibrant green, the skins are thick or tough and resistant to most
physical damage. As the fruit is still unripe, the local wildlife is completely uninterested as these tiny green marbles are really tart and don't offer much in the terms of flavor. With the color change, sugar begins to develop in the fruit becoming more appetizing to the wildlife. Don't worry too much, Freddy and the crew have already begun to prep the deterrents.
Aside from the wildlife, the next concern is the advent for disease pressure. If you've
been following the weather recently, we've had long hot days and late afternoon showers. Due to the heat, disease pressure has been lower then the previous years. However, after every thunderstorm or deluge, the temperature drops anywhere from 8-10 degrees, which happens to be the cusp of microbial activity. Vineyard diseases and fungus are most active in the 85-89 degree range, this coupled with soft berries can be a recipe for disaster. Luckily, we've managed to keep the canopies managed allowing for quick drying and rapid air movement.
Everyone knows that when we talk about the vineyard, we don't discuss the "H" word,
especially after the "H" word storm of 2020 where quarter sized frozen marbles pelted our vineyard. While we did manage to pull of a double gold medal Albariño Verde that year, we also lost fruit. This is probably the biggest concern we have during veraison as it could mean reduced volumes, lesser quality fruit, or even the end of harvest. At the end of the day, this is part of agriculture and what it means to grow premium quality fruit on the east coast. Yes, we actually have weather here.
Despite all the things that could go wrong, everything is looking marvelous. 2022 is headed towards a blockbuster year and I have to be honest, we are all really excited to make delicious wine!
Jake Blodinger, Winemaker
---
REPORT FROM THE CELLAR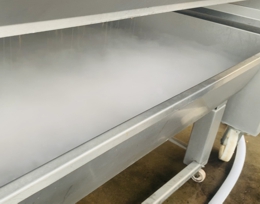 August is an exciting month for everyone at Chrysalis because it's the official beginning of harvest! We are finishing up the last bit of cleaning, the crush pad has been scrubbed, the drains are polished and any day now the new barrels will arrive. This month the popular discussion in the cellar is the debate of oxidative winemaking versus reductive winemaking.
If you remember last month, I discussed how we will be using a technique called delestage to encourage more fruit and corral the abrasive tannins. Wine is splashed through a screened cart, this is an oxidative technique. While introducing oxygen to the wine at later points in its life is mostly harmful, it does have its uses. For instance, ever open an old bottle of Locksley Reserve only to find that it has a strange "funk" on the nose? Well, this is a sign of "reduction" which is a scientific word for the absence of oxygen. Simply swirl the wine and low and behold, the funk is gone. That finesse of the swirl actually introduces a bit of oxygen allowing the aromatic compounds to volatize and drift into your olfactory. This is often referred to as "letting the wine open".
If that's oxidative, then what's "reductive" winemaking? Well, it's basically the inverse
but how is it that we remove the oxygen and why, if it creates a funky nose, would we do that? We often forget that wine is just the middle ground between grape juice and vinegar. Essentially, we stabilize the grape juice with alcohol preventing it from being salad dressing. One of the ways we can slow the decay is by reducing the amount of oxygen exposure.
This is done by first approaching the fruit on the crush pad. During the pressing process,
we can simply add nitrogen to the fruit pan to displace the oxygen. In the cellar, we can purge the tanks and wine hoses with nitrogen to prevent any browning or extra volatizing of the aromatics. This is one of the main reasons that our Albariño and Viognier fill the room with aromatics upon removing the cork. Simply focusing on the winemaking environment allows us to care for the wine on another level.
We've received a lot of feedback recently about the "purple flower" aromatics of our
2020 Barrel Select and 2020 Estate Bottled. This is solely because we take a reductive approach when handling our wines. Another method is our constant vigilance of keeping every barrel topped routinely. If there's no room for oxygen in the barrel, then we can't lose that wonderful floral aromatic.
This harvest we will continue to walk the tight rope of oxidative versus reductive winemaking. Our hope is to carefully evaluate and weigh every technique applied during our daily cellar routines to further raise that bar of quality wines produced here at Chrysalis Vineyards.
Jake Blodinger, Winemaker
---
REPORT FROM THE LITTLE RIVER BAKEHOUSE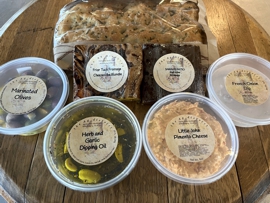 We've talked alot about the delicious pizzas, paninis, and salads that our kitchen crew produces, but did you know that they also make lots of smaller items for those times when you're just looking for a snack?
Matt, Maggie and the rest of the crew spend long hours during the week prepping for the main menu and also making some delicious spreads, dips, breads, and desserts. We have rosemary foccacia that goes great with our house made herb and garlic dipping oil, french onion dip and pimento cheese to spread on a baguette or slice of sourdough and house marinated olives. You can also opt for one of our dip plates if you want to sample a few of these items. When you're ready for dessert we have brownies made with our Sarah's Patio Red and cheesecake blondies made with our Friar Tuck Fromage Blanc. New to the menu... we now have hot pretzels with house made whole grain honey mustard!
So, if your looking for something to snack on while you're here just look for all these goodies in the tasting room!
---
REPORT FROM LOCKSLEY FARMSTEAD CHEESE COMPANY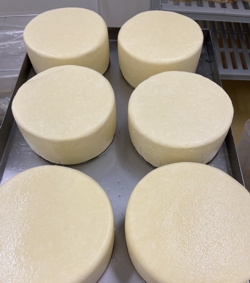 Am I supposed to eat that part? That's a question that is frequently posed when people are selecting and enjoying our cheeses, usually referring to the outside, or rind, of the cheese. The answer depends upon the cheese.
We have 3 varieties of hard cheese... Nottingham Gouda, Little John Cheddar and Merry Men Manchego-style. Both our cheddar and gouda cheeses are coated in a thin layer of wax that is not intended to be consumed. The wax on the cheddar is obvious due to its color and can easily be cut away, but the wax on the gouda is clear making it more difficult to determine where the wax ends and the cheese starts. To complicate matters, the outer edges of the cheese tend to be a bit drier and darker in color from the inner parts of the wheel. Those ouside edges can be some of the most flavorful parts, so be careful not to trim off too much! The wax coating should only be about 1/16" thick. Our manchego-style cheese has a natural rind that is completely edible and contributes to the flavor of the cheese. We also have 3 soft or semi-soft cheeses that have rinds: King Richard Blue, Maid Marian Camembert, and Prince John washed-rind. All three have edible rinds that lend to the flavor profile of the cheese.
While eating or not eating the rind of the cheese usually comes down to personal preference, you should definitely give it a try. You don't know what your missing until you try it!
---
Note from Jenni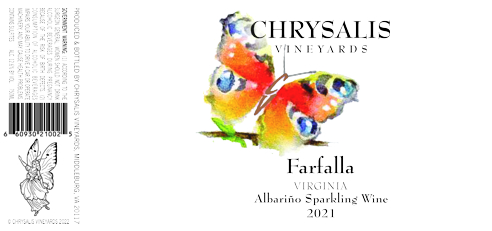 In my Note from Jenni last month, I showed y'all the new label for our Estate Level wines, commenting, "For more than 25 years Chrysalis Vineyards wines have been known by their colorful front label." Our new label, with the stylized flowers and butterfly, has brought us forward into the 2020s, and I'm not surprised that its receiving "thumbs up" across the boards from young and old for its exciting, modern design. But for those that find comfort in the simplicity of the past… not to worry! I haven't done away entirely with our bright butterfly colors in a simple design… at least on a few select wines.
As a matter of fact, the butterfly in our new Farfalla (Italian for butterfly… hah.. but, of course!... and what better fresh, bright and spritzy wine to serve with some pasta primavera this time of year!), was on one of the original label designs for Chrysalis Vineyards that I did way back in 1997. The Victorian faerie was the overwhelming favorite at the time, and has magnificently established the Chrysalis Vineyards brand over the last 25 years. But I always loved the watercolor butterfly, and I've pampered myself with a little nostalgic indulgence in labeling a really beautiful sparkling wine made from our Albariño grapes.
So… there you have it. All the way from 25 years ago. We like it... and we hope you do, too.
Take care,

Jennifer McCloud
Chrysalis Vineyards at The Ag District
39025 John Mosby Highway (Tasting Room/Creamery/Kitchen)
23876 Champe Ford Road (Winery/Milking Center/Offices)
Middleburg, VA 20117

McCloud@ChrysalisWine.com
Office: 540-687-8222
www.ChrysalisWine.com
Facebook.com/ChrysalisVineyards