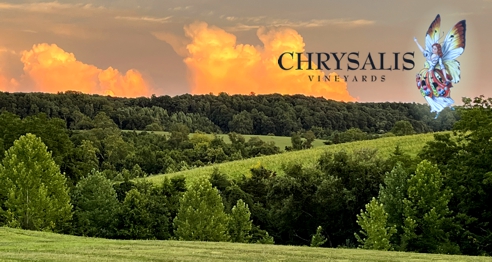 SEPTEMBER NEWSLETTER 2023
IN THIS NEWSLETTER...
VIP Wines of the Month
Report from the Tasting Room
Report from the Cellar
Report from the Vineyard
Report from the Kitchen
Note from Jenni
---

It's here!!! It's Harvest!!! We all look forward to this exciting time of year for a few reasons. First, we get to see the results of all the hard work that has gone into our vineyards since last year's harvest. The fruit that is coming in is beautiful and shows what a great job Jake, Freddi, Filiberto, and crew have done making sure that our vines get the best care possible. The other reason to be excited is that the coming of Fall means that the tasting room will be full of wine lovers! Something about the changing temperatures and the trees turning color makes everyone think of wine. Here at The Ag District we have plenty of space to sit, relax, breath in some fresh fall air, enjoy the views...... and of course, enjoy our wines! We hope to see you soon!
NOTE TO OUR VIP CLUB MEMBERS
Our VIP pickup event this month will be held on Friday, September 15th from 5:00pm until 8:00pm at the Ag District Center. Members must RSVP no later than Septermber 11th by emailing TR-Manager@ChrysalisWine.com. Please include your name, number attending (up to 2 per membership), and your preferred time (5:00, 5:45, 6:15 or 7:00). Please arrive in time to check in at least 10 minutes prior to your tasting time. When planning your visit please remember that we close at 8:00 pm.
If you're not a member of our Chrysalis Vineyards VIP Club, remember to ask one of our associates how to join. Our members enjoy complimentary wine flights and tastings, discounts on wine and food, exclusive access to VIP events and more!
The white wine selection for our VIP Club members this month is Chrysalis Vineyards 2021 Private Reserve White. Our 2021 Private Reserve White is a blend of Albariño and Viognier. Crafted with finesse and respect to each individual varietal, this reserve-style white wine is bursting with white flower aromatics and hints of vanilla The palate has creamy notes of papaya with light acidity.
Our red wine selection for September is Chrysalis Vineyards 2021 Barrel Select Norton. Our 2021 Norton Barrel Select remains the truest example of Virginia's grape in Virginia's very own oak. Aromatics are mysterious notes of lush dark fruit, cloves, and a hint of purple flowers. An undertone of spiced plums and black currant become revealed as the wine opens up. Flavors of black cherry and embellished plum are intermingled with notes of mocha and dark chocolate for a smooth but lasting finish.
As a reminder to our members, all VIP wine is available for pickup at the Ag District Center tasting room anytime during regular business hours. If you can't make it out to pick up your wines on a monthly basis, we will hold them for you. Due to storage limitations, however, we do ask that you pick them up once you accumulate a case (6 months). We can also arrange for wine to be shipped to most locations, at your request.
NOTE: Please do not reply to this emailed Newsletter. Your email will not be handled in a timely manner or may even be lost.
---
REPORT FROM THE TASTING ROOM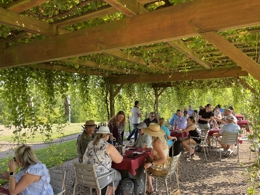 Hello there from our beautiful arbor! When this end of summer heat has you looking for some refreshment this is the perfect spot! A cold glass of wine, a nice breeze, and shade from those vines are sure to provide a relaxing break !
Be sure to check out our menu and weekend specials to accompany your wine selection. For Labor Day Weekend we have some great specials coming your way!
Come and get it while it lasts!
Hand stretched pepperoni rolls, Locksley Farmstead cheeses and nitrate free pepperoni

Grilled gulf shrimp with sunflower sprouts with Thai black garlic vinaigrette and croustade

Pizza with Blistered Norton grapes, Friar tuck fromage, toasted local sunflower seeds and sprouts, hot truffle honey, truffle shavings
Holly Morgan, Tasting Room Manager
---
REPORT FROM THE VINEYARD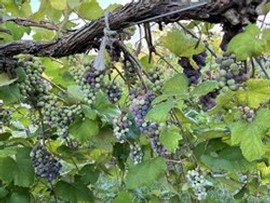 Well, harvest started an entire week early and while this may surprise some of you, Freddy and I have been paying very close attention to the weather. You may have noticed that the growing season started off cooler and the rain showers have been light. As we have moved into August it's been nothing but hot days and the empty threat of rain.
This culmination of unusual weather has led us to eliminating two entire pesticide sprays as the disease pressure is basically nonexistent. (We are officially 21 days from our last spray!) Even more so, we've actually been heavily irrigating all 70 acres for about 90 days. This has led to our vines growing strong thick shoots and canes with rather large leaves. As mentioned in previous newsletters this year, we've really upped our fertilization plan in the vineyard, and I would say our leaves are huge and dark green. We've had no lateral shoot push this year which has made the work a bit easier.
The overall health of the vineyard is incredible, everything is clean and beginning to taste fantastic. The most surprising thing is the size of each cluster. I would say on average, cluster size is almost double. Typically, bigger clusters mean less fruit but, in this case, there appears to be almost double the amount of berries on each cluster. In other words, the berry size is the same but the number of berries per cluster is higher.
It's too early to discuss the overall impact this may have on the fruit quality but as of right now, it's exciting. I can't stress this enough; the fruit quality is astounding and I'm eager to get my hands on it. As move along through the harvest, I'll be sure to share more details of how this incredible fruit will drive the quality of our wine.
Jake Blodinger, Winemaker
---
REPORT FROM THE CELLAR
Harvest has officially started! As many of you know, we start every vintage off with a little pick of our Albariño for our Vinho Verde style wine. Vinho Verde means green wine but doesn't refer to the color of the beverage but the color of the grapes themselves. Typically, white wine is made from yellow or golden grapes but we pick green grapes. If you were making a reserve style wine, this would be considered "unripe" fruit.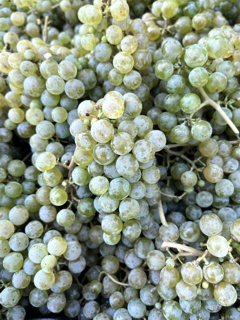 The key to making delicious Verde wine is the tropical fruit flavors, the citrus aromatics, and of course, the racy acid. As fruit ripens, acids go down and sugar rises. When making many of our other wines we tend to focus more on sugar levels as a way to assist with determining ripeness. The acid in our Verde really makes the wine pop on the palate setting itself apart from our Reserve Albariño and in order to achieve that pop, we need to retain higher acidity which does result in lower alcohol.
Aside from the salinity and tropical notes, we feel that it's a necessity to keep the alcohol percentage around 11-11.5%. While many of us have come to expect the 12-13% in many of our other products, a proper Spanish Vinho Verde will be lower in alcohol because it's regularly consumed with seafood during lunches and early afternoon meals.
Since I started in 2019, we have always picked the Albariño for Verde during the last week of August. It's like the pre-marathon stretch. This year though, due to the hot Summer and low rainfall, we actually had to pick an entire week early. This caught us a by a bit of surprise but I had a feeling something like this may happen and so we were ready! I think 2023 is going to be another unusual year but nonetheless another exciting vintage!
Jake Blodinger, Winemaker
---
REPORT FROM THE KITCHEN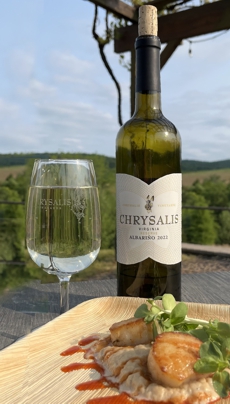 Now that Chef Erik and his Polished Foxx crew are all settled in as "The Polished Foxx at The Ag District" he's ready to show off with our first Wine Dinner! That's right, now's your chance to be one of the first to enjoy our delicious Chrysalis Vineyards wines paired with a gourmet menu created specifically to pair with them.
Our first dinner will focus on our Albariño wines. Albariño is the ultra-premium white grape variety in the southern part of the humid northwest region of Galicia, Spain. It's definitely found a home at Chrysalis Vineyards and we produce one of the best made in America. Floral aromas of gardenias permeate the nose, reminiscent of cool summer afternoon breezes. Dry and crisp, this wine is filled with rich, bracing flavors of citrus, almonds, apricots and peaches, with an inherent tartness and clean freshness, which is a true varietal characteristic.
Our wine dinner is planned for September 22, 2023 at 6:00. Ticket sales will be limited and will begin on September 3rd. For more information or to purchase tickets please contact us at TR-Manager@ChrysalisWine.com or use the link below.
No wine comes to mind more perfect for sipping while enjoying the ocean, than a cold and crisp, Albariño. Chef Erik has created the perfect menu to pair with our Albariño wines.
Greetings
Merry Men Manchego & Blue Crab Croquettes with Saffron Aioli
War Shore Oysters on the Half Shell with Albariño Pomace Mignonette
1st Course
Seared Scallop Vichyssoise, Mango, Melon, Albariño Gastrique, Picatostes
2nd Course
Bluefin Tuna Pipirrana, Heirloom Tomato, Persian Cucumbers, Local Red Onions, Padrón Peppers, Olives and Solara Vinaigrette
3rd Course
Mejillones y gambas con pulpo, Dutch mussels, gulf shrimp, charred octopus and barramundi with padron peppers, crisp potatoes and rich albarino fumet
4th Course
Majorcan Bread Flan with Norton Jam and Friar Tuck Custard
Note from Jenni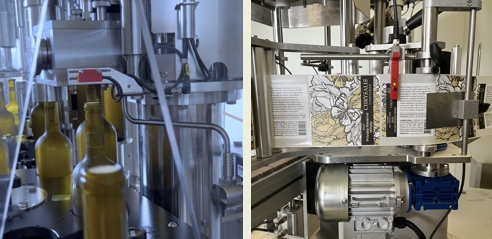 Most small wineries use the services of a mobile bottling line, which are either towed to the winery in a trailer or housed in the trailer part of a tractor-trailer setup. This is mostly because of the costs involved in purchasing one, which includes outfitting a space with all the needed electrical, water, and compressed air to house and run it. We, too, have used a mobile bottler over the years, but I've always planned on purchasing a high-quality line. In fact, in 2013 we used a mostly unused portion of our large crushpad to build a cold room and bottling room.
We finally pulled the trigger! We just took delivery of a "9-head" GAI bottling line with all the bells and whistles. We can cork and capsule wine, or put a screwcap on a bottle… and we can put any size labels (up to three, including a neck label) on the bottle, as well. But most importantly, we can put a wine into bottle at exactly the right time for that wine, when we and our wines are ready, not waiting for the remote bottler. This is another step in our efforts to craft high-quality wines by doing everything we can to improve every aspect of our grapegrowing and winemaking process. This is huge, and will only improve our efficiency and flexibility in producing our fine wines.
One other aspect of this new line is the opportunity to provide bottling services to other local wineries, helping them to improve their wine quality. In addition, we can provide businesses, restaurants and large party gatherings, like weddings and conventions, with their own private label wines.
For us, this adds another revenue source to our activities at the farm which supports one of my key personal missions to help advance the restoration and revitalization of agriculture in this historically beautiful and productive land. So, let us know if you're planning a big gathering and would like your very own private-label wine. We can do it!
Take Care,

Jennifer McCloud
Chrysalis Vineyards at The Ag District
39025 John Mosby Highway (Tasting Room/Creamery/Kitchen)
23876 Champe Ford Road (Winery/Milking Center/Offices)
Middleburg, VA 20117

McCloud@ChrysalisWine.com
Office: 540-687-8222
www.ChrysalisWine.com
Facebook.com/ChrysalisVineyards