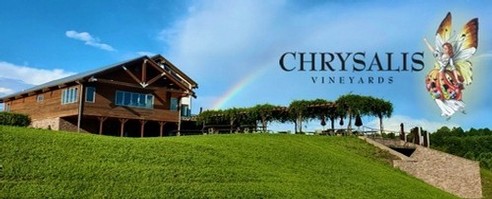 SEPTEMBER NEWSLETTER 2022
IN THIS NEWSLETTER...
VIP Wines of the Month
Report from the Tasting Room
Report from the Cellar
Report from the Farm
Report from Locksley Farmstead Cheese
Note from Jenni
---

It's that time of year again! As this newsletter reaches you, Jake, Freddi, Filiberto and our vineyard crew are making the final preparations for harvest. Netting has been put up around the vines to try to limit the damage and loss done by hungry deer. Bins and lugs have been cleaned, the final rounds of canopy thinning are in process, and the crew is getting ready to head into the final stretch of the growing season. As usual, the first fruit that will be picked will be the Albariño used in our Albariño Verde followed by the remainder of the Albariño a few weeks later. The rest of the white fruit will follow, then the red vinifera, and finally our Norton. Harvest is a flurry of activity that won't be complete until the end of October or beginning of November. It's the exciting time when we get the first glimpse of our new vintage and this one definitely looks exceptional!
NOTE TO OUR VIP CLUB MEMBERS
Our VIP pickup event this month will be held on Friday, September 9th from 5:00pm until 8:00pm at the Ag District Center. This month our VIP wines will be presented by Jenni and Jake!
Members must RSVP no later than September 6th by emailing TR-Manager@ChrysalisWine.com. Please include your name, number attending (up to 2 per membership), and your preferred tasting time (5:00, 5:45, 6:30, or 7:15). Please arrive in time to check in at least 10 minutes prior to your tasting time. When planning your visit please remember that we close at 8:00 pm.
If you're not a member of our Chrysalis Vineyards VIP Club, remember to ask one of our associates how to join. Our members enjoy complimentary wine flights, discounts on wine and food, exclusive access to VIP events and more!
The white wine selection for our VIP Club members this month is Chrysalis Vineyards 2021 Albariño Verde. The fruit for this wine is picked about two weeks earlier than our traditional Albariño to capture the crisp acid and tropical flavors and mimic a traditional Portugese vinho verde style. Aromatics of banana and pineapple are reminiscent of sandy beaches and blue waters. The palate is greeted with racy acidity and slight pin pricks of effervescence with flavors of fresh zested limes, sharp lemon rind, and ripe grapefruit. Have a glass with a dinner of Parmesan Risotto with day boat sauteed scallops for a perfect pairing!
Our red wine selection for September is Chrysalis Vineyards 2019 Papillon. The 2019 vintage of this tasting room favorite is a blend of 57% Tannat and 43% Petit Verdot. that is barrel aged for 16 months before bottling. Our Papillon captures the classic refinement of two noble varieties. Refined aromatics of roses, leather, and ripe black cherries precede a palate of spices and plums. The pronounced tannin structure encourages a lengthy finish. Enjoyed now, but it betters with cellar age and can be kept for 10 or more years before enjoying a glass. Be patient and bring this wine out of the cellar for an elegant meal with a juicy filet mignon!
As a reminder to our members, all VIP wine is available for pickup at the Ag District Center tasting room anytime during regular business hours. If you can't make it out to pick up your wines on a monthly basis, we will hold them for you. Due to storage limitations, however, we do ask that you pick them up once you accumulate a case (6 months). We can also arrange for wine to be shipped to most locations, at your request.
NOTE: Please do not reply to this emailed Newsletter. Your email will not be handled in a timely manner or may even be lost.
---
REPORT FROM THE TASTING ROOM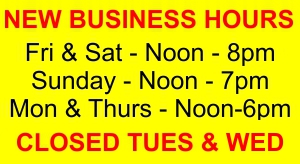 After more than 20 years of being open 7 days a week, Jenni has made the decision to change our business hours a bit. Beginning on September 1st, the tasting room will be closed on Tuesdays and Wednesdays. This was a difficult decision that was primarily driven by our mission to provide not only exemplary quality in our wines, cheese, foods and service, but also the care and support of our kitchen staff. We've had great difficulty in hiring additional qualified staff for our kitchen and food service. Matt, Maggie and crew do an excellent job providing delicious pizzas, salads, sandwiches, breads, spreads, and more for our hungry tasting room guests, but there are only so many hours in a day and not enough people to help them get the job done in a quality manner that folks have come to expect from The Ag District. Rather than having days when the tasting room is open without offering our delicious menu to pair with our world-class wines, we've decided to close on those days of the week. This will allow our team to rest up a bit and continue to provide you, our loyal friends and patrons, with our best wine, food, and customer service on the other 5 days of the week! We hope that his doesn't cause too much inconvenience for everyone, and we look forward to seeing all of you Thursday through Monday!
---
REPORT FROM THE VINEYARD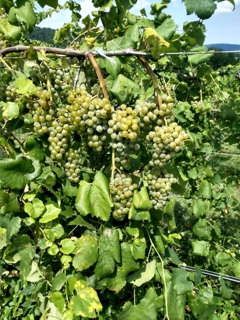 I don't think in my four vintages with Chrysalis, I've ever seen the vineyard crew this excited to pick fruit. It's not from exhaustion but out of pride in their hard work. So much so, that Freddy has sent me pictures of the fruit every day, fishing for compliments. Believe me, he deserves them! I've received a lot of questions during the pick up parties regarding what makes some of the wines so unique, especially when we use the same varieties for two completely distinct wines, the Albariño Verde and the Albariño.
In 2020 and in 2021, I put a little effort…okay, a lot of effort, into trying to figure out if any of the blocks were unique. As mentioned in the Report from the Cellar, the first thing to arrive was the Albariño for Verde production from the "Hill Block". I'm sure you are wondering, what does that mean and why does the location matter. Well, so far it matters a whole lot. Turns out, the Albariño grown on the slope at a lower elevation, tends to be higher in acid.
This is most likely due to the creek found at the bottom of the hill. This creek is around 5 degrees cooler all year and with the tree line casting shadows on the block throughout the day, the overall temperature is about 3-5 degrees cooler than anywhere else on the Locksley Estate.
The Albariño planted at our Hollin vineyard is at an elevation around 1,100 feet and on a much steeper slope. This planting received more direct sunlight all year, ripening more intensely. This fruit is allocated to our premium Albariño, which is richer in flavors and more aromatically expressive making it better for a medium body white wine.
I think the vineyard crew use to roll their eyes when I would talk about the differences between the blocks but now, after a few vintages of stellar wines, they are believers. You can taste the difference yourself at the tasting room!
Jake Blodinger, Winemaker
---
REPORT FROM THE CELLAR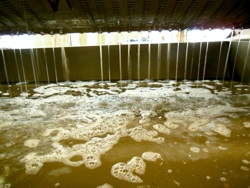 It's harvest time! After all the hard work and anticipation, it's finally time! As always we are all excited and a bit nervous. The past 9 months of prep work, speculation, and all the hard work leading up to this point will finally show the fruits of our labor. Pun intended.
To kick this harvest off, the Albariño will be carefully picked from the "Hill Block". If you'll remember, our Albariño Verde is crafted in this style to emulate the Spanish style "Vinho Verde" or green wine. I'm sure you know, that the wine isn't green but this actually refers to the ripeness of the fruit, which is more green than yellow. The slightly under ripe fruit lends itself to that racy acid we've all come to love.
No special tricks are involved in the production of this wine. The real secret is carefully monitoring the chemistry of the fruit in the vineyard. We shoot for a 3.3 pH and 19.5 brix. This ensures that this wine is lighter on the alcohol but still filled with the tropical, citrusy notes on both the palate and the nose. To really keep the spritz in the bottle though, careful handling of the wine post fermentation is vital.
We do this not by adding CO² but by letting the natural CO² from fermentation stay in the wine. This is done by racking the wine off the gross lees just a few days after fermentation, locking the tank down tight, and keeping the wine "on ice". Keeping the wine at 34 degrees allows the CO² to remain in the wine, even integrating itself so it doesn't readily volatilize out of the wine. Holding the wine at this temperature for the better part of 3 months also allows us to naturally cold stabilize the wine, essentially removing the tartrates. This keeps all those "wine diamonds" from forming on the bottom of the bottle.
This is just the beginning of the harvest but, shortly after the verde, we will pick the mountain Albariño for everyone's favorite medium body white. After that comes Mariposa, Viognier, and Tximeleta. I don't want to jinx it, but this harvest is looking really good and I'm super excited to apply the techniques I've been writing about all year!
Jake Blodinger, Winemaker
---
REPORT FROM LOCKSLEY FARMSTEAD CHEESE COMPANY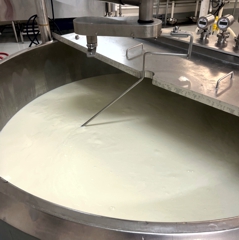 Do you know where your food comes from? That's a question that we've all heard, especially in recent years. Where your food originates affects more than just the quality of the product. Sourcing your food locally limits transportation, which reduces the carbon footprint to help with environmental issues. It also helps to build a strong community by supporting local farmers and small businesses to build the local economy. Farms also help to preserve greenspace with minimal need for public services.
One of the biggest reasons for supporting local food sources became even more apparent since the onset of the recent pandemic.... supply chain issues. Disruptions in the supply chain have frequently left large store shelves empty and our dependence on the convenience of purchasing food from commercial producers has led to the demise of local farming. Supporting local agriculture helps to ensure that food is accessible, fresh, and delicious!
Here at The Ag District we know where our food comes from. We grow the fruit for our wines. We care for our pastures that feed our cows. We care for our cows that provide our milk. We make high quality cheeses from the milk that our happy cows provide. We use our cheeses in our menu items and we use other locally produced ingredients whenever possible. So support local agriculture and local small businesses by visiting The Ag District and Keep It Local!
---
Note from Jenni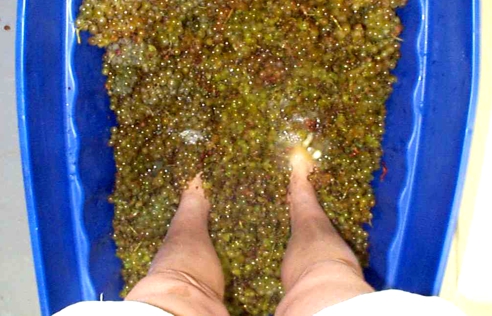 So… as you can see in the above photo, we just got started pressing the white grapes from this harvest!... Huh?! No, just kidding, of course. But those, indeed, are my lovely gams. But that was from the first harvest at Chrysalis Vineyards at Locksley Estate, the 1999 vintage.
I mean c'mon, I had to stomp grapes at least once in my life. And that turned out to be exactly right. Once! Our illustrious Dr. Bruce Zoecklein, Commonwealth Enologist, told me he didn't think the Bureau of Alcohol, Tobacco and Firearms would probably approve. But what the hell, ya' gotta do it at least once, right? (And my feeties were really clean!)
We've come a very long way from making wine in my garage that first harvest. The wines were pretty good, actually, because the processing and care I took is the same fundamental care and attention to detail that Jake Blodinger and I put into every bottle of wine we make today. We don't cut corners, period. And it shows!
On another topic, I feel sad that we have to close our doors on Tuesdays and Wednesdays after being open every day, except Thanksgiving, Christmas and New Year's Day for 21 years. But we're just killing our staff, and I don't want to ruin their palpable satisfaction in crafting their delicious foods. Also, I don't want to have exhausted and frustrated people serving our friends and customers. That's just not good.
It goes without saying, but if you, or someone you know, would like to help out in the tasting room and/or kitchen part time, we sure could use the help. Reach out by calling our Tasting Room at 540-687-8222.
Take care,

Jennifer McCloud
Chrysalis Vineyards at The Ag District
39025 John Mosby Highway (Tasting Room/Creamery/Kitchen)
23876 Champe Ford Road (Winery/Milking Center/Offices)
Middleburg, VA 20117

McCloud@ChrysalisWine.com
Office: 540-687-8222
www.ChrysalisWine.com
Facebook.com/ChrysalisVineyards