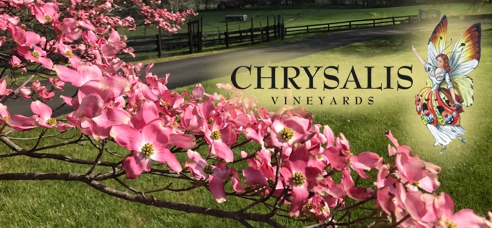 MAY NEWSLETTER 2020
IN THIS NEWSLETTER...
VIP Wines of the Month
Report from the Tasting Room
Report from the Cellar
Report from the Farm
Report from The Little River Bakehouse
Report from Locksley Farmstead Cheese
Note from Jenni
---

When the last newsletter reached you we were still shifting gears everyday, trying to figure out how to operate under constantly changing guidelines. Since then we have settled into our new "normal" routine and we appreciate all the business that our loyal customers have been continuing to provide. We are now offering pickup window service for wine, cheese, pizza and other food purchases. We can also deliver to your car by ordering ahead and calling the tasting room when you arrive.
Chef Keaton and his crew have done an outstanding job switching over to pizza service 7 days a week, while also baking fresh sourdough, white bread, baguettes, pita chips, and crostini. They also created a new item that has been a big hit... take-home pizza kits! Kits contain pizza dough, house-made marinara sauce, mozzarella cheese, pepperoni (other toppings can be added), and instructions. They're really easy to make, delicious, and alot of fun, too!
We're all doing our best to keep the farm up and running during these difficult times... caring for the animals, tending to crops, working on our wines, making cheese... so that we're still here when we can return to more normal operations. We're also doing all this for YOU, our customers. We want to make sure you still have access to fresh, local food and, of course, wine. This tragedy has helped to emphasize the importance of locally sourced products. When we can't rely on suppliers from around the globe, it's your local farmers and small businesses that are still here to help you so, help THEM. Place an online order or visit a business with take-out or curbside service. I think you'll discover that the best products are made right here in your backyard!
Due to our current operating restrictions related to the COVID-19 virus, we will not be holding our monthly VIP pickup party in May. Stay healthy and we will see you when things return to normal!
Our pickup window is open 12:00pm - 6:00pm Monday - Thursday, 12:00pm - 8:00pm Friday and Saturday, and 12:00pm - 7:00pm Sunday. We have great wine, hot pizza, take-home pizza kits, farmstead cheese, fresh bread, eggs, and more - all availble 7 days a week. You can place your order ahead of time by calling 540-687-8222 or stop by to place your order at the window.
The white wine selection for our VIP Club members this month is Chrysalis Vineyards 2017 Viognier. Originating in Condrieu in the Northern Rhone region of France, Viognier has found a home in Virginia and has become the signature white varietal in the Commonwealth. Chrysalis Vineyards has been producing award-winning Viognier since the late 1990s. Our Viognier exhibits a rich mouth feel from the sur lie and battonage technique or "stirring of the lees" and a slight crisp acidity on the tip of the palate. Subtle rose and honey suckle greet the nose with white peaches and nectarines ripe on the tongue. Viognier always pairs best with roasted chicken and sautéed vegetables, but it can be enjoyed with or without a meal. Try this vintage with a dinner of roasted chicken, garlic mashed potatoes, and sautéed green beans.
Our red wine selection for May is Chrysalis Vineyards 2017 Norton Schitz & Giggels, one of our six 100% Norton wines. The first impression is aromas of raspberry and currant followed by blackberry and mocha. This medium-bodied red pairs best with fatty meats and red sauces lke a big plate of spaghetti alla puttanesca!
As a reminder to our members, all VIP wine is available for pickup at the Ag District Center tasting room anytime during regular business hours. If you can't make it out to pick up your wines on a monthly basis, we will hold them for you. Due to storage limitations, however, we do ask that you pick them up once you accumulate a case (6 months). We can also arrange for wine to be shipped to most locations, at your request.
Also, please remember that you can always find your paired recipes and detailed tasting notes at www.ChrysalisWine.com in the Private VIP Club Area. Also check in with us or follow us on Facebook for updates and announcements.
NOTE: Please do not reply to this emailed Newsletter. Your email will not be handled in a timely manner or may even be lost.
---
REPORT FROM THE TASTING ROOM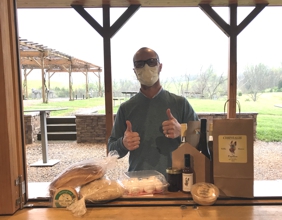 What a perfect view! As much as we would love to have the building and grounds filled with customers, those mask covered smiles in our pickup window are a beautiful sight! We've actually been pleasantly surprised by the number of people who venture up our hill each day to pick up bread, eggs, pizza, cheese, wine and other goodies. We've always known how good our products are and we're excited that more of our local friends are discovering that, too!
We're here seven days a week to continue bringing you the best local products, so go to our website, call in your order or just stop in! We appreciate your business, so please continue to support local, support agriculture..... support US!
Cheers!
Laurie Stevens, Tasting Room Manager
---
REPORT FROM THE CELLAR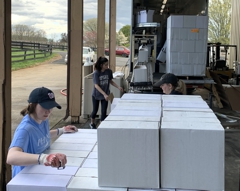 It has been nothing short of exciting here in the winery. While we are headed for a June bottling, the current objective of the cellar is the racking of the 2019 reds. All the reds have been in barrel for roughly 4-5 months now and it's time to rack them off of their lees.
Racking is simply the process of transferring wine from one vessel to another. In this case, from barrel to tank and then back to barrel. The wine is carefully racked from the barrel so as not to disturb any fine lees that have settled on the bottom. Fine lees are generally smaller particles such as dead yeast cells, fine tartrates, and various other matter that slowly precipitates to the bottom of the barrel. We let the 2019 reds rest on the fine lees to add additional mouth feel, aromatics, and complexity. Though, too much of a good thing can be a bad thing and that is why it is essential to rack them.
After the wine is racked, the barrels are thoroughly cleaned and the wine is assessed for quality. 2019 was an amazing vintage and the wines truly capture one of the best growing seasons Virginia has ever seen. While things have become difficult for everyone, I can proudly say that Chrysalis Vineyards remains focused on quality wine production. Jenni, Jason, and I are constantly devoting our time to producing top quality wines that showcase the capability of both Virginia, as a growing wine industry, and Chrysalis Vineyards as your favorite winery.
In these trying times, those of us here at Chrysalis Vineyards truly appreciate all of your support! We could not do this without our wonderful patrons, new and old. Thank you so much for your continued patronage, stay safe, stay healthy, and we look forward to seeing you all very soon!
Jake Blodinger, Assistant Winemaker
---
REPORT FROM THE VINEYARD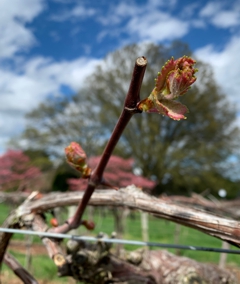 Bud break has officially happened in the vineyard! While this is the official kick-off for the 2020 growing season, we've already faced a big challenge. The nights have been a little too cold for comfort and frost is the biggest threat for the new growing season.
As temperatures approach freezing, cold air which is heavier than warm air, will settle around the vine. Unbroken buds can be tolerant of temperatures between 20-25 degrees Fahrenheit, while our young green shoots can only withstand temperatures of 32 degrees Fahrenheit for a very short period of time. Low points of vineyard surrounded by hills are the biggest concern, as this is where cold air will actively flow and settle into. Frost damage is easily identified because the shoots will be browned and withered. This usually means the end of fruit bearing shoots and reduced yields. In extreme cases, vines will produce no fruit or die altogether.
While the threat for frost damage is very real, Freddi is actively working hard to prevent frost damage. Starting as early as 3 am Freddi drives the tractor, with an empty airblast sprayer attached, through every row in our vineyard which pushes the cold settled air around thus helping to mitigate frost damage. Then, after countless hours on the tractor, Freddi walks the vineyard examining the vines for any frost damage. I can happily say that while we have had some extremely close calls, Locksley Vineyard is free of frost damage! At our Hollin vineyard location we are fortunate that it has an elevation of 1,100 to 1,250 feet and due to the higher elevation it is also free of frost damage!
This is both an exciting and scary time for vineyards everywhere. Luckily, we have amazing growing sites and a dedicated vineyard crew working around the clock to ensure that this growing season will be topnotch!
Jake Blodinger, Assistant Winemaker
---
REPORT FROM THE LITTLE RIVER BAKEHOUSE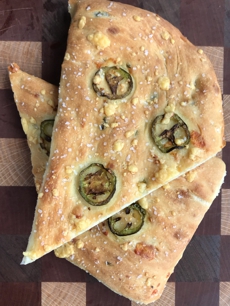 Greetings from The Little River Bakehouse, Chef Keaton here to tell you about everything we've got going on to keep our hungry customers, both new and old, well fed. First off, we we are now serving hot and fresh pizza 7 days a week with a weekly special coming out every Friday! In addition to hot pizza (in case you're are feeling a little crafty) we now offer pizza kits! Each kit comes with everything you need to make your very own pepperoni pizza or you can choose your own topping combniation. Get creative and feed the family at the same time!
If pizza seven days a week isn't enough, we are also doubling our bread production to include a soft and buttery Farmhouse White Bread, Jalapeno Little John Cheddar Foccacia and Zuchini Bread as well as our brick oven baked baguettes and sourdough. Needless to say, we are remaining quite constructive during these times to help keep people fed and stocked up on essentials. I would like to thank everyone that has helped support us through these difficult times. .Whether you are getting a case of wine or just a cheese pizza to take home to your family, Thank You. It is appreciated during these difficult and uncertain times. We hope to see you all soon, healthy and safe. In the meantime, stay safe and if you need some comfort pizza feel free to give us a call.
Keaton Beus, Little River Bakehouse Manager
---
REPORT FROM LOCKSLEY FARMSTEAD CHEESE COMPANY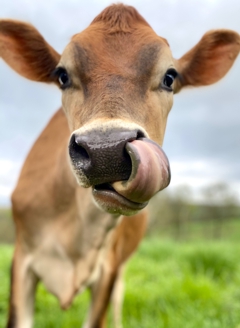 Spring has sprung! The weather is finally starting to warm up, buds are blooming, the days are getting longer, and the cows are enjoying grazing on lots of green grass. Despite current events, milking and chores on the farm as well as cheese making in the creamery haven't skipped a beat. The cows are producing lots of high-quality, buttery milk from all of this nutrient dense green grass. In the creamery, this means the cheese has turned that bright gold color again. Do you remember from a previous newsletter article what causes this change in coloration? (Hint: cross this type of fish known to fight with a certain orange veggie loved by rabbits).
That's right, a pigment and antioxidant known as beta-carotene, which is also most notably found in carrots is the answer! Beta-carotene is dissolved into the cow's fat stores after she chews her cud, which then in result forms globules in her milk. The membranes surrounding these globules prevent the color from being released into the cow's milk, hence why the milk in fluid form is still the white color we all recognize, however in the cheese making process these membranes are dissolved and release color into the cheese. Our Nottingham Gouda has this rich, buttery yellow color that will continue to deepen with age. During winter months however, the cheeses will not have this rich, yellow color as there is no beta-carotene in the stored forages that the cows are consuming due to lack of green grass. Naturally the milk, and in return cheese, during the winter months appears more white then that of the spring and summer months with the absence of this pigment. In contrast, goat cheese will always appear bone white, as the beta-carotene is broken down differently. Instead of storing it as fat, goats convert it to Vitamin A which lacks color. Each of our varieties has its own unique color, while the Nottingham Gouda is by far the most golden, they are all just as delicious!
Come swing by our pick-up window at the Ag District Center and stock up on ALL of our delicious cheeses! Don't forget to also check out all the great artisan pizzas, breads and more from Little River Bakehouse!
Erin Saacke, Assistant Cheesemaker
---
Note from Jenni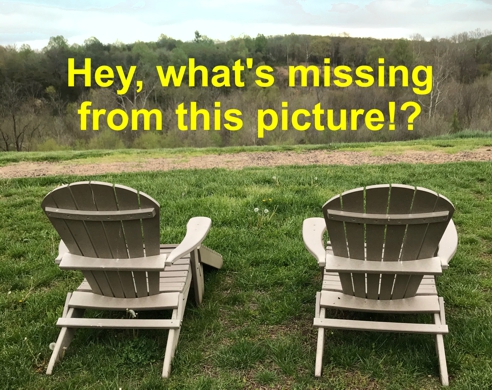 Wow!
Just read these reports from our managers here: Teri, Fredy, Erin, Steven, Jake, Keaton and Nate. I'm so proud of them. They're all keeping the farm going strong… pruning, tying and caring for the vines, making the wines (BTW, GREAT vintage… just you wait!), feeding and caring for the animals, managing the pastures… not to mention milking the cows twice a day, and making delicious cheeses, all in addition to handling all the admin and maintenance and cutting and wrapping and packing and labeling and shipping. Lots of work, under a lot of stress. Wow, indeed!
You know what's missing, though? YOU! (BTW, shout out to all of you who've braved the scare and come out to buy our stuff. Thank you, thank you.) All of our hard work is made worthwhile… and yes, made fun and pleasurable, by being able to share and have our work and products appreciated by our friends, family and customers. We miss you; we really do. Over the years, I've reminded my colleagues in agriculture that we don't raise cows and grow grapes because we want to "make a killing". We do it for the fulfillment, for being able to bring something good to our communities, and to ourselves; to share our joy in making our land productive, and to make food from that land when there once was none.
We need you. Our supporters and customers are part of the mix. In spite of how bleak things might appear right this moment, our team and I remain optimistic that we'll come through this successfully. There are some interesting (and promising) changes that are occurring. People are positively responding to our calls for help. We've had a number of people tell us that they have driven past our entrance for years, but never stopped in. Some have become repeat customers in just the last few days, despite the fact that all they can currently do is pick up an order and leave.
I believe folks have been jolted out of a sense of complacency and apathy about their food and where it comes from. I 'believe they're beginning to wake up to the fact that having safe and nutritious food produced by healthy folks and their healthy animals, just down the street, is very valuable. It IS. (BTW, Teri and I have been goofing around playing with words on this theme: like, "Good pizza is not made in a hut, and don't be surprised if eating pizza made from mystery ingredients out of a truck from mystery sources has a bad domino effect on your wellbeing." Hah! Just joking… but, come try Keaton's pizza. You know where the lion's share of its ingredients is coming from, and man, is it tasty!
Please support your local agriculture. That's US… get it! Take a short drive into the healthy countryside and get your wine (yes, it's essentialJ), your hot pizza/foods, breads, cheeses, eggs and other goodies right here from our farm.
Take care,

Jennifer McCloud
Chrysalis Vineyards at The Ag District
39025 John Mosby Highway (Tasting Room/Creamery/Kitchen)
23876 Champe Ford Road (Winery/Milking Center/Offices)
Middleburg, VA 20117

McCloud@ChrysalisWine.com
Office: 540-687-8222
www.ChrysalisWine.com
Facebook.com/ChrysalisVineyards