VIP PICKUP PARTY…
at the AG DISTRICT CENTER
Saturday, May 12th
6:00 pm – 8:00 pm
at The Ag District
(RSVP REQUIRED)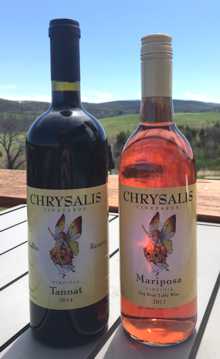 May is traditionally one of our busiest months in the tasting room. Warmer weather, fresh spring air, and longer days make everyone want to spend some leisure time at the Ag District. If recent weekends are any indication, this May could be our busiest ever! Chef Sarah is filling the Ag District with the aromas of freshly baked bread and other goodies so, be sure to check out all of her new food offerrings available to accompany your wine selections! Oh yeah.... remember to check out the creamery while you are visiting - we have some test batches of Gouda in the aging cell and soon we will be producing our first cheeses available for retail sale!

We will have live music every weekend in May, Saturdays May 5th, 19th and 26th and on Mother's Day Sunday (May 13th for those who need a reminder!). Speaking for all the moms in the tasting room - there's no better way to show your appreciation than an afternoon at the Ag District relaxing to the sounds of Lenny Burridge while sipping a cool glass of Mariposa!

Our VIP Pickup Party this month will be held on May 12th from 7:00 pm until 9:00 pm (Please note the new time!). This event is FREE for our members (2 attendees per membership), but does REQUIRE advance RSVP no later than May 9th. To RSVP please send an email to VIP-Club@ChrysalisWine.com. Verbal RSVP's and voice mail responses cannot be guaranteed confirmation.
Our spring and summer hours began on April 1st and we are now open 10am - 6pm Monday through Thursday and 10am - 7pm Friday through Sunday. Please remember… as always, our last tasting will start an hour before closing. Last call for purchases of open bottles or glasses will be 30 minutes before closing!
The red wine selection for our VIP Club members this month is Chrysalis Vineyards 2014 Tannat. The 2014 vintage is a blend of 86% Tannat and 24% Fer Servadou that has been fermented in stainless steel and barrel aged for 26 months. The first impression is one of stewed red and black fruits, plums and blackberries in particular, leading to a soupçon of Christmas spices, cigar and dark coffee. Imbibing delivers all of this plus a very noticeable touch of cranberry. The big structured tannins and moderate acidity portend a long life in the bottle. The tannins in this wine call out for fat. Try pairing it with a grilled pork belly in a cranberry reduction.
Our white wine selection for May is Chrysalis Vineyards 2017 Mariposa. Mariposa is a rosé-style blend of Tannat, Petit Verdot, Nebbiolo, and Norton that is fermented cold to retain as much of the aromatics as possible. The nose is redolent in fresh, ripe strawberry, watermelon, dark cherry and maybe a touch of sage. An initial surge of sweet strawberry and dark cherry is quickly tempered by the refreshing acidity that follows. Mariposa is a food-friendly wine that goes as well with lobster paella as it does with cherry cheesecake.
As a reminder to our members, all VIP wine is available for pickup at the Ag District Center tasting room anytime during regular business hours. If you can't make it out to pick up your wines on a monthly basis, we will hold them for you. Due to storage limitations, however, we do ask that you pick them up once you accumulate a case (6 months). We can also arrange for wine to be shipped to most locations, at your request.
Also, please remember that you can always find your paired recipes and detailed tasting notes at www.ChrysalisWine.com in the Private VIP Club Area. Pairings and tasting notes are available for wines dating all the way back to 2007 (especially useful for any of those with older, aged vintages). Also check in with us or follow us on Facebook for updates and announcements.
NOTE: Please do not reply to this emailed Newsletter. Your email will not be handled in a timely manner or may even be lost.
---