NOVEMBER NEWSLETTER 2018
IN THIS NEWSLETTER...
VIP Pickup Party... at the ADC
First Friday Art Walk
Creative Mankind Painting and Wine
Yin in the Vin
Report from the Tasting Room
Report from the Vineyard
Report from the Cellar
Report from the Farm
Report from the Creamery

Note from Jenni
---
VIP PICKUP PARTY…
at the AG DISTRICT CENTER
Saturday, November 10th
5:00 pm – 7:00 pm
at The Ag District
(RSVP REQUIRED)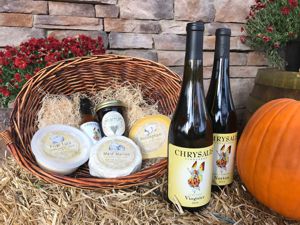 November ushers in shorter days, colder temperatures, and the holiday season, a time that is traditionally full of family gatherings, parties, and great meals. I can't think of a better gift for your host or hostess than a cornucopia of Ag District treats! Fill a basket with Norton jelly, Locksley Farmstead cheeses, and of course a few bottles of your favorite Chrysalis Vineyards wine! It will definitely move you to the top of the "favorite guests" list and beat the heck out of Aunt Edna's fruitcake! So, stop by the Ag District before your next event! If you need help selecting that perfect wine to pair with your meal, our tasting room associates will be happy to help you out!
Our VIP Pickup Party this month will be held on November 10th from 5:00 pm until 7:00 pm. This event is FREE for our members (2 attendees per membership), but does REQUIRE advance RSVP no later than November 7th. To RSVP please send an email to VIP-Club@ChrysalisWine.com. Verbal RSVP's and voice mail responses cannot be guaranteed confirmation.
Our spring and summer hours will continue through October 31st and we are open 10am - 6pm Monday through Thursday and 10am - 7pm Friday through Sunday. Our fall and winter hours will begin on November 1st and we will be open 10am - 5pm 7 days a week. Please remember… as always, our last full tasting will start an hour before closing. Last call for purchases of open bottles or glasses will be 30 minutes before closing!
The red wine selection for our VIP Club members this month is Chrysalis Vineyards 2016 Norton Barrel Select. This is one of the five 100% Norton wines produced by Chrysalis Vineyards. It gets its distinct characteristics through the process of carbonic maceration, an initial fermenation technique that is not commonly used. Prior to pressing, the whole clusters are fermented in a steel tank in which the ambient air has been replaced with carbon dioxide. This allows for a natural deacidification of the fruit. Carbonic Maceration is most famously known as the processing technique for the Beaujolais Nouveau wines of France. After pressing, a traditional yeast fermentation follows. The resulting wine gives the initial impression is of raisins, blackberries, dates, and a general 'grapiness, with underlying notes of blackberry jam, cloves and violets. Upon imbibing one experiences more date and blackberry with some herbal notes and a touch of floral. The overall impression is soft, with some oak tannins contributing to a pleasant finish. Enjoy our Barrel Select with an entreé of pan-seared lamb with rosemary, sage, and parsley.
Our white wine selection for November is Chrysalis Vineyards 2016 Albariño. Albariño is very rare in the United States, but has found a home at Chrysalis Vineyards, who produces one of the best made in America. Floral aromas of gardenias permeate the nose, reminiscent of cool summer afternoon breezes. Dry and crisp, this wine is filled with rich, bracing flavors of citrus, almonds, apricots and peaches, with an inherent tartness and clean freshness, which is a true varietal characteristic. This small and thick-skinned grape yields low amounts of high quality juice, producing a wine that is like a racy offspring of Riesling and Viognier! This wine pairs perfectly with shellfish, grilled fish, and fresh fruits and vegetables.
As a reminder to our members, all VIP wine is available for pickup at the Ag District Center tasting room anytime during regular business hours. If you can't make it out to pick up your wines on a monthly basis, we will hold them for you. Due to storage limitations, however, we do ask that you pick them up once you accumulate a case (6 months). We can also arrange for wine to be shipped to most locations, at your request.
Also, please remember that you can always find your paired recipes and detailed tasting notes at www.ChrysalisWine.com in the Private VIP Club Area. Also check in with us or follow us on Facebook for updates and announcements.
NOTE: Please do not reply to this emailed Newsletter. Your email will not be handled in a timely manner or may even be lost.
---
Chrysalis Vineyards New Website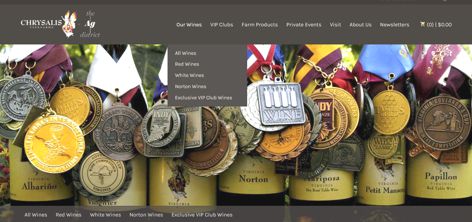 Please Visit Our New Web Site at www.ChrysalisWine.com !
The Chrysalis Vineyards web site is new and improved! We've added pictures, more information about our wines, and detailed info on how to become a VIP Club member. VIP members can create a website account that allows them to acess the VIP area, puchase exclusive VIP club wines, view their purchase history, and edit their account information. For instructions about creating an account Click Here .
Should you be unable to visit us at the winery, we've also added an easy ordering option. Please visit http://www.ChrysalisWine.com/Our-Wines to place your order today.
We're adding new pictures and content all the time - so be sure to become a frequent visitor!
If you have suggestions about content or questions about the site, please contact us at Info@ChrysalisWines.com.
---
First Friday
Friday, November 2nd
6 pm – 9 pm
at the
Ag District Center
39025 John Mosby Highway
Middleburg, VA 20117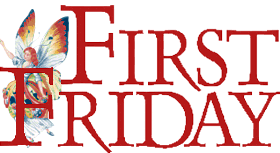 Have you been looking for that fun Friday activity? First Fridays will include gallery walks of local artists in the Northern Virginia area, and will occur every first Friday of the month. "First Fridays" started as events in 1987 that provided urban professionals an opportunity to socially network and share ideas on professional, educational, political and social issues. Since then, First Fridays have evolved into social meetups focused around the community and its artists, bringing together all walks of life. This month's First Friday event will be on November 2nd, from 6pm-9pm. We will have local artists, live music and food and wine available for purchase, so grab some friends and come out to enjoy an evening of great wine while supporting our local artists.
---
Creative Mankind Painting and Wine
Saturday, November 10th
1 pm – 4 pm
at the
Ag District Center
39025 John Mosby Highway
Middleburg, VA 20117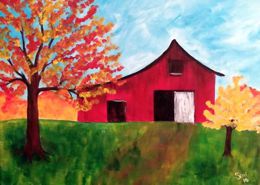 Creative Mankind will be hosting a "paint and sip" event at Chrysalis Vineyards on Saturday, November 10th. (From their website: Creative Mankind is an art company that offers art classes and hosts parties and events for all ages. Our motto is "Everyone is a Creative Genius!" It's just a matter of people reconnecting with their creative self. Our mission is to enrich our community with art education and culture in a fun and accessible way.)
So... come one out, enjoy the fall views, and spend a fun afternoon laughing, listening to music, creating your own masterpiece, and sipping your favorite Chrysalis Vineyards wine! This 3 hour event is just $40 and includes all art supplies, an awesome staff, and a lot of fun. No experience is necessary. For additional information please contact Creative Mankind at 571-403-1912 or go to their website listed below. [Editor's Note: cut and paste this long link if it doesn't activate by clicking on it. Thanks.].
https://sites.cimplebox.com/events/registration.aspx?s=5329&c=3146&eid=435051&r=0.2742673
---
Yin in the Vin
Friday, November 30th
5:30 pm – 6:30 pm
at the
Ag District Center
39025 John Mosby Highway
Middleburg, VA 20117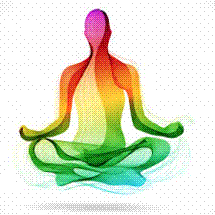 Chris Oemler, E-RYT 500 (an impressive certifiction that requires 500 hours of yoga instructor training and 2,000 of teaching) will be joining us at the Ag District Center on Friday, November 30th at 5:30 pm for a FREE yoga practice - "Yin in the Vin". Chris will lead us in stretching and meditation practices that will be sure to sooth you soul and if that doesn't work you can always try the tried and true method - have a glass of wine! So come on out for some yoga and stay for the views as we unwind!
Bring your mat and experience this awesome practice stretching and relaxing in the beautiful countryside (no previous experience necessary).
---
REPORT FROM THE TASTING ROOM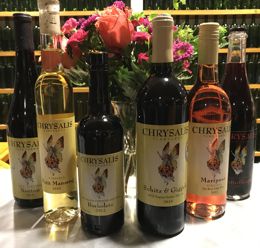 As we approach the start of our holiday season we are preparing for the question we will hear over and over again in the Tasting Room, "What would you serve that with?". We always tell our guests there are no wrong pairings. If you enjoy a certain wine with a certain dish, then you have found your pairing regardless of what may be recommended as the "perfect pairing". But, never fear, we do have some lovely recommendations for you to enjoy this Thanksgiving.
We would like to start our suggested wines with one of our favorites in the Tasting Room, Chrysalis Vineyards' first sparkling wine, our 2017 Buttorfleoge. A 100% Norton petillant-naturel (or Pet Nat) would replace champagne in your glass. It's rich flavor will dance on your taste buds as you enjoy your turkey dinner. Buttorfleoge would be an exciting addition to your Thanksgiving Day table. It would surely be something your guests will remember enjoying and speak of for some time after.
Our staff's recommendations are varied according to everyone's personal favorites but we have all agreed on a few for you. Our Mariposa and Viognier were right there on the list with Buttorfleoge for the perfect Thanksgiving Dinner wines. If you would prefer a red wine may we recommend our elegant Barrel Select Norton or the smoky Schitz and Giggels.
Now for desserts, may we recommend, our Petit Manseng and Borboleta. Petit Manseng is an homage to the "ice style" of dessert wines. (A bit of trivia for you, did you know in 2002, Jenni was granted by the BATF to include Petit Manseng on the list of "Primary Names" for varietally labeled wines in America. Our Petit Manseng is the first so labeled in the United States) this wine will pair perfectly with pecan or pumpkin pie. YUM! Our port-style wine, Borboleta, is 100% Norton and absolutely decadent. This wine makes the perfect after dinner indulgence all on its own.
We would like to invite you all to skip the traditional day after Thanksgiving shopping and join us here in our tasting room instead. We will have special Black Friday case sales on selected wines. What better place to start your holiday shopping! So stop by, spend the day sharing your favorite Chrysalis wine with family and friends, and kick off the holiday season. We hope to see you all soon in the Tasting Room.
Cheers!
Laurie Stevens, Tasting Room Manager
---
REPORT FROM THE VINEYARD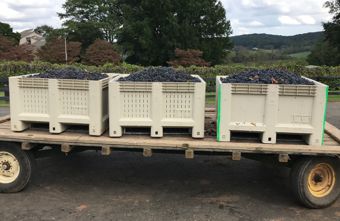 Well, the most challenging of years is almost over. It was nice to see 'some' sun the last couple of weeks of picking, but we certainly could have used more of it earlier in the year. Jim Law from Linden Vineyards says this was probably the worst growing season he has experienced in 40 years of growing grapes in Virginia, and I know I personally have never dealt with such an overwhelming amount of rainfall during the spring and summer, with only minimal periods of dry weather appearing now and again, and never sustained for very long. That's not to say everything was a wash. We brought in some very nice grapes for our Albariño Verde and Viognier earlier in September, and as I write this we still have a minimal amount of Norton and Petit Verdot on the vines trying to eke out just a bit more ripeness. And, having experienced less than ideal weather in other areas prior to this year, I certainly expect some surprisingly good wines to come out of this vintage. Fredy and his crew have done a tremendous job trying to keep the common fungal diseases at bay, and have had some success at it. Quite often challenging years produce some wines with an added degree of complexity and length, and I don't see why this won't be the case judging by the grapes we brought in. But, at last, it is almost over!
Mark Patterson, Winemaker
---
REPORT FROM THE CELLAR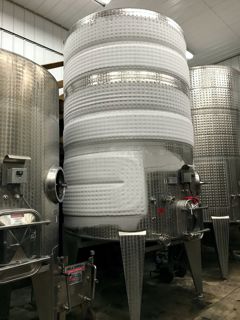 Almost all of our grapes have been brought into the cellar and are currently at various stages in their journey into wine. The Albariño Verde is complete and is showing a marked level of banana and peach at the moment, with a bracing acidity that screams for fatty foods (my favorite type as my body will attest). The regular Albariño showcases ripe peach and pear, with a bit of citrus and white flowers. Viognier is leaning more towards apricot and pineapple right now, but we don't know yet where it will land. The 2018 Mariposa, while not yet finished fermenting (low and slow is the way to go), is awash in ripe, red berries and violets and I anxiously await its completion. Our Nortons have yet to show themselves, but it is so early in their journey to wine that I would expect nothing less. As I write this, our Petit Verdot is still hanging at the Hollin Vineyard, scheduled to be picked in the next few days, and still hangs clean on the vine, so exciting things to come. With most of the work in the vineyard done, the cellar crew has now set its sights on pressing off reds and racking them into barrels, which is one of the most labor-intensive times of the year. Onwards and upwards, we've still got work to do.
Mark Patterson, Winemaker
---
REPORT FROM THE FARM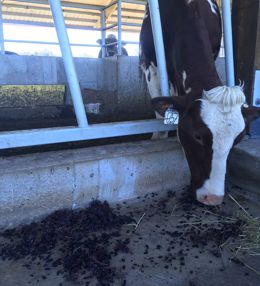 Hi Folks! --
With as many different agricultural enterprises as are active here on the farm, it takes careful consideration and constant evaluation to keep everything running at its most efficient and effective. These past few weeks of harvest, we caught ourselves discarding something that we now realize has great potential as a resource; grape pomace. Essentially the skins, seeds, and stems leftover from pressing juice for the winemaking process, pomace is usually brought far from our vines before it can rot and attract pests and organisms that could harm the remaining fruit. Recently, we took it straight from the crush pad and brought it up to our dairy cows. After a day or two, they were all sold on it. Milk output jumped up quite a bit, and we no longer have an issue of where to get rid of the stuff.
It is really nice when we can incorporate as many sustainable practices in what we are doing as possible. As I have said in the past, this place has more potential than any other operation that I have been associated with, and one of the biggest perks to working here is the ability to experiment with new or alternative management practices to keep ourselves moving forward as a farm. Bonus points for things that make cows happier, too. Go us!
Eric Hilgartner, Estate Manager
---
REPORT FROM THE CREAMERY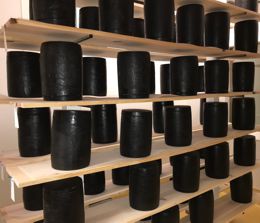 While everyone is out and about enjoying these crisp, beautiful fall days, Kelly and I have been busy downstairs in the creamery preparing for our hibernation this winter. Did you know that it takes around 220 pounds of milk to make just one wheel of cheddar weighing 20 pounds? That's almost 26 gallons of milk! With the arrival of our cheese press in August, we are now knee-deep in production of "Little John," our stirred -urd Cheddar, and we're excited to see how these wheels age come Spring 2019! Come by the Ag District Center and take a peak in the window downstairs to see these tall, cylindrical wheels called "truckles" that are painted with black wax! With Thanksgiving right around the corner don't forget to pick up some of our Nottingham, Maid Marian and Friar Tuck for hors d'oeuvres while preparing your feast.
Erin Saacke, Assistant Cheesemaker
---
Note from Jenni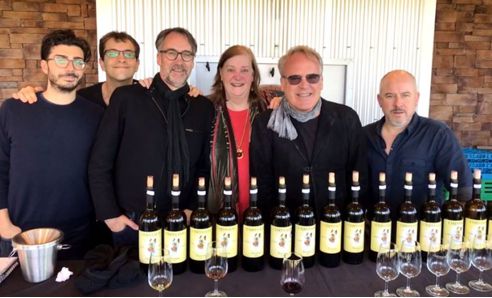 A couple weeks ago (10/12) we were visited for the better part of an afternoon by the folks from JamesSuckling.com. James Suckling, contributing editors Stuart Pigott, Nick Stock, William McIlhenny, along with sommeliers Rafa Vecchione and Marco Scolnik and Hollywood filmmaker James Orr were in attendance (and, of course, with moi). Many of you know these names… James, Stuart and Nick are world-renowned wine critics/palates, and Bill coordinates tastings and is a tireless advocate for regional U.S. wines. These fellows came to Virginia to taste and rate wines from top producers from all over the U.S. (except the west coast). According to Bill McIlhenny, they selected Virginia as their home base for this special project "because of Virginia's outstanding quality, regional diversity, and iconic historical significance. It's noteworthy that this was the
first time a top global critic has taken such an in-depth look, at one time, at so many of America's top regional wines. We tasted nearly 1,000 wines!" Thank you, Bill!
If you'll recall, JamesSuckling.com did a Virginia-only assessment last year, where Chrysalis Vineyards took 25% of the top twelve wines, including wine #2! For this broader tasting, I did something I've never done before… I opened every single Locksley Reserve Norton we've ever made, and we tasted through them all! One of the repeated comments from the group was the consistency of quality of our flagship wine over the years. Of course, we have weather here (my long-standing joke with Californians!) so this was "baring it all"; the great, the good… and the OK (really, there weren't any wines that were even close to undrinkable or foul). The wines didn't disappoint... at all!

So stay tuned for the report from JamesSuckling.com some time by the end of next week (end of October). We should do very well again!
Hoping everyone has a healthy and Happy Thanksgiving.

Jennifer McCloud
Chrysalis Vineyards at The Ag District
39025 John Mosby Highway (Tasting Room)
23876 Champe Ford Road (Winery/Offices)
Middleburg, VA 20117

McCloud@ChrysalisWine.com
Office: 540-687-8222
www.ChrysalisWine.com
Facebook.com/ChrysalisVineyards