JANUARY NEWSLETTER 2019
IN THIS NEWSLETTER...
VIP Pickup Party... at the ADC
Report from the Tasting Room
Report from the Cellar
Report from the Farm
Report from The Little River Bakehouse
Report from Locksley Farmstead Cheese
Note from Jenni
---
VIP PICKUP PARTY…
at the AG DISTRICT CENTER
Friday, January 25th
6:00 pm – 8:00 pm
at The Ag District
(RSVP REQUIRED)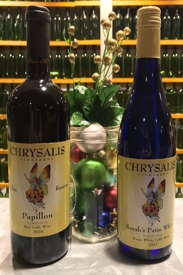 Happy New Year! After a somewhat challenging, but successful year here at the Ag District we are all excited to jump right into 2019. Jenni's vision for creating a model for local agriculture has continued to grow closer to fruition. 2018 saw the release of our first farm-fresh, artisan cheeses and, just in time for the new year, the first pizzas rolled out of the oven and into the tasting room. As we enter 2019 we will continue to introduce new items produced on the farm, in the creamery and in the kitchen. Remember to follow us on Facebook so that you are up to date on what's new around the Ag District
All the new activity at the Ag District and around the farm has created some great opportunities for enthusiastic, hard-working, and passionate people who would like to join our team! We are always looking for tasting room associates and currently have openings in the kitchen as well. If you are interested in exploring these opportunities email us at info@chrysaliswine.com with a brief description of your experience and availability.
Our VIP Club pickup event for January will be held on FRIDAY, JANUARY 25th from 6:00pm - 8:00pm. PLEASE NOTE THE DATE AND TIME and mark you calendars!
Our fall and winter hours began on November 1st and we are open 10am - 5pm 7 days a week. The Ag District tasting room will be closed on New Year's Day. Please remember… as always, our last full tasting will start an hour before closing. Last call for purchases of open bottles or glasses will be 30 minutes before closing!
The red wine selection for our VIP Club members this month is Chrysalis Vineyards 2016 Hollin Reserve Papillon. This blend of Petit Verdot and Tannat opens with notes of black currant, cherry and a bit of oaky smokiness with an underlying mélange of pepper, sage, and violets from the Petit Verdot portion of the blend. Flavors to be experienced may include cassis, black cherry, cedar and tobacco finishing with medium tannins. A big wine such as this Papillon, that is fruit-forward and has a firm tannin structure, will pair with red meats that are well caramelized from grilling or roasting and accompanied by a red-wine based sauce.
Our white wine selection for January is Chrysalis Vineyards 2017 Sarah's Patio white. The 2017 vintage of this perennial favorite is 93% Vidal Blanc with an addition of 7% Viognier. The first impression is of green apples, followed by grapefruit, peach, apricot and perhaps a hint of honeysuckle. On the palate, the upfront sweetness lends a silky character which is followed by a cleansing acidity. A glass of Sarah's Patio White and a plate of Locksley Farmstead Cheese would be a perfect way to ring in the New Year!
As a reminder to our members, all VIP wine is available for pickup at the Ag District Center tasting room anytime during regular business hours. If you can't make it out to pick up your wines on a monthly basis, we will hold them for you. Due to storage limitations, however, we do ask that you pick them up once you accumulate a case (6 months). We can also arrange for wine to be shipped to most locations, at your request.
Also, please remember that you can always find your paired recipes and detailed tasting notes at www.ChrysalisWine.com in the Private VIP Club Area. Also check in with us or follow us on Facebook for updates and announcements.
NOTE: Please do not reply to this emailed Newsletter. Your email will not be handled in a timely manner or may even be lost.
---
Chrysalis Vineyards New Website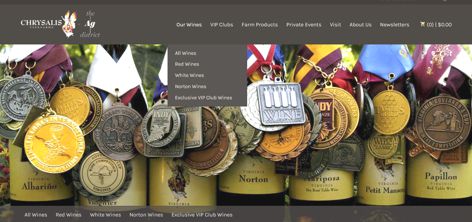 Please Visit Our New Web Site at www.ChrysalisWine.com !
The Chrysalis Vineyards web site is new and improved! We've added pictures, more information about our wines, and detailed info on how to become a VIP Club member. VIP members can create a website account that allows them to acess the VIP area, puchase exclusive VIP club wines, view their purchase history, and edit their account information. For instructions about creating an account Click Here .
Should you be unable to visit us at the winery, we've also added an easy ordering option. Please visit http://www.ChrysalisWine.com/Our-Wines to place your order today.
We're adding new pictures and content all the time - so be sure to become a frequent visitor!
If you have suggestions about content or questions about the site, please contact us at Info@ChrysalisWines.com.
---
REPORT FROM THE TASTING ROOM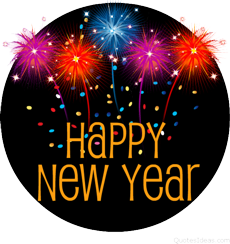 Happy New Year's, Friends! It seems like just yesterday we were welcoming in the first days of 2018. As we look forward to the start of a new year and all that it brings we would like to encourage everyone to make a New Year's Resolution… but, not your typical one. We ask that this year all of you make a promise to yourselves to stop, relax and enjoy yourself a little more often. Take the time to indulge in an afternoon with us here at The Ag District more often. Bring your friends, grab a bottle of your favorite wine, something delicious that our Chef has prepared from scratch in our kitchen, and enjoy yourselves. We have some beautiful new releases headed your way this year that you will want to enjoy over and over again. So take the time to make yourself the promise to stop and enjoy life a little more with us.
Happy New Year fron your Tasting Room Staff!
Laurie Stevens, Tasting Room Manager
---
REPORT FROM THE CELLAR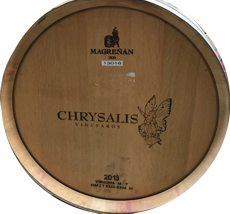 With the harvest behind us, January means buttoning up the new wines and preparing them for aging or bottling. Last month Mark already bottled the 2018 Albariño Verde and the 2018 Sarah's Patio Red. There's still a remnant of harvest activity, we've got some Viognier and Albariño going through malolactic fermentation. Malolactic fermentation is the bacterial fermentation that converts malic acid to less-tart lactic acid. The 2018 growing season gave us conditions for high acid fruit, and malolactic fermentation is a natural way to soften acidic wine.
In the near future we'll be gearing up to bottle the 2017 Estate Bottled Norton, 2018 Sarah's Patio White, and the 2018 Mariposa. Meanwhile, January gives us an opportunity to evaluate stylistic decisions made before harvest. Mark's selection of Hungarian oak will now be expressing itself in the wine. He also experimented with non-Saccharomyces yeast for some of the 2018 Viognier in barrel now. One of the last harvest activities to be performed at Chrysalis is the pressing and barreling down of the Norton made with the carbonic maceration technique. This is a natural way to metabolize much of the tart malic acid present in large amounts in Norton fruit. It also produces a wonderful, aromatic, fruity bubblegum character that is natural fit for Norton wine. Mark barreled down this wine in November and January is the perfect time to evaluate the wine and observe how the carbonic character is integrating.
The winemaking community in Virginia is relatively small, and as winemakers we share the bonds of a unique passion for our career. We lost one of our own with the tragic passing of Mark Patterson. I didn't know him well. We did reach out to each other from time to time, especially when Mark first arrived in Virginia. Over the years I've kept up with Jenni and the Chrysalis family and have always enjoyed Mark's wines. While I am happy to reconnect with my old colleagues at Chrysalis, I join them in mourning the loss of such an integral part of their family.
Jason Burrus, Consulting Winemaker
---
REPORT FROM THE FARM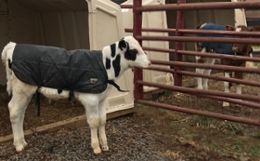 Dear Readers, --
This month the crew and I will have spent a significant amount of time with the majority of our bodies uncomfortably cold and damp, but with our left arms at an invigorating 101.5 degrees. It's breeding season!
All bull aside, we take our breeding decisions very seriously. Whether at the dairy or out with the beef cattle, the right genetics can often mean the difference between success and failure of animal agriculture. We use a process called Artificial Insemination to keep the cycle of life running on the farm. Coming back to my seemingly horrible pun, "all bull aside" in this instance serves several punny purposes- On one hand, it implies the missing bad word for doo-doo which is funny because doo-doo is in abundant supply when standing behind a cow at work. One must mentally put it "aside" to focus on the task at hand. Seen another way, "all bull aside" encompasses the true purpose of artificial insemination as a tool for animal husbandry. Literally, we are replacing the bull on the farm with our own two hands.
OK. Now you can chuckle a wise, knowing chuckle. Honestly, all of us involved love the work and have to take turns to keep our skills sharp. Wish us luck when we ultrasound and do gender reveal in a few days!
Warm Wishes!
Eric Hilgartner, Estate Manager
---
REPORT FROM THE LITTLE RIVER BAKEHOUSE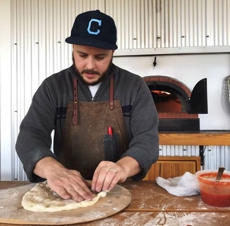 Happy New Year! --
After a few weeks of getting settled in here in the kitchen, we can now focus our attention on the production of fresh, local products. With each new day, there is immense opportunity to strive for something great at the Ag District. As a Chef, I am also very lucky to have so many passionate people around me working day in and day out to bring hand crafted, artisan foods, cheeses, and wine to you. In the coming weeks, the outside stone oven will be burning hot with fresh pizzas and breads. You can already find various items in the tasting room that were not here a few weeks ago including wine gummy bears, truffle popcorn, and fresh from scratch sandwiches. There are big things happening here and even though we'd like to see results over night, we know that patience is the key to success.
Chris Vincenzi, Chef
---
REPORT FROM LOCKSLEY FARMSTEAD CHEESE COMPANY
Happy New Year! The merry men and women of Locksley Farmstead Cheese are particularly excited to kick-off the year celebrating our variety of soft and hard cheeses crafted in 2018. Mark your calendars, Sunday, January 20th is a "Gouda" day to come out to the Ag District and enjoy our artisan farmstead cheeses as its National Cheese Lovers Day! To those that may just be joining us, here is a quick recap and description of our cheese selection:
Nottingham (Gouda) - smooth texture, mild and sweet with notes of toasted hazelnuts and butter, currently aged 7-8 months
Friar Tuck (Fromage Blanc "White Cheese") - soft, crumbly, absolutely spreadable cheese. Flavors of young cream with bold tang and a salty finish. Similar to goat cheese, but made fresh weekly with our cow's milk. Very versatile for mixing with a blend of herbs, balsamic or Norton jelly.
Maid Marian (Camembert Style) - earthy, mushroomy aromas, similar to Brie, but deeper, stronger flavors, spreadable texture. Try it topped with something sweet, like our Norton jelly!
Prince John (Washed Rind "Stinky Cheese") – soft, silky texture with a mild, meaty, savory flavor. Hints of fruit and nuts with pungent stinky, barnyard, aroma.
We are thrilled to have brought local, artisan cow's milk cheese back to Loudoun County and look forward to introducing several new varieties to you all this year!
Erin Saacke, Assistant Cheesemaker
---
Note from Jenni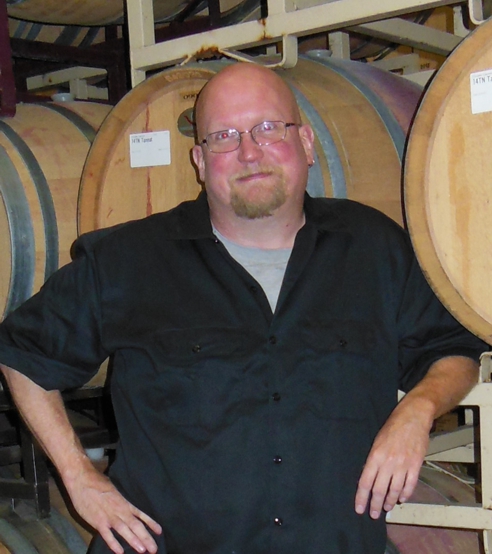 IN REMEMBRANCE
Some of you may have heard the tragic news that Mark Patterson passed away on December 17, 2018. Many friends and members of the Virginia winery community from across the Commonwealth have poured forth their heartfelt condolences to the Patterson family and to the Chrysalis Vineyards' family, as well. Here is my post from Facebook from Wednesday, December 19th:
The Chrysalis Vineyards' family is deeply saddened to inform you that our winemaker, Mark Patterson, passed away on Monday from a massive heart attack while at Fairfax Hospital, where he was being treated for complications arising from his diabetes. Mark suffered from this condition his entire life, yet never complained to anyone, just bravely carried on with a positive attitude and passion for his career, crafting beers and wines of the highest quality and distinction.

Mark has left a hole in our hearts and in our farm family. He was warmly admired by all of our staff, and I particularly enjoyed working closely with him in crafting Chrysalis Vineyards' wines. He will be missed.

Mark Ivan Patterson was a private person, and left instructions for a simple handling of his last affairs. His ashes will be returned to his home in Ontario, Canada, where he is survived by his mother, Diane, father, Gene, and brother, Kirk.
Thanks again to all who spoke so kindly of Mark in their sympathies and condolences.
Last week our former winemaker, Jason Burrus, stepped forward to assist us in continuing to craft our world-class wines. We could not have picked a better person for the job.
Jason is a highly-skilled winemaker with many years of experience not only here at Chrysalis Vineyards, but in other U.S. and international wineries, as well. He left Chrysalis Vineyards in 2015 to pursue a consulting winemaking career. He brings these many years of experience to help us in this trying time. I'm sure Mark would have been pleased to see his own hard work, those wines remaining in the cellar from the 2017 and 2018 harvests, in very good hands.
Thank you, Jason, for your support. And Mark, may you rest in peace.

Jennifer McCloud
Chrysalis Vineyards at The Ag District
39025 John Mosby Highway (Tasting Room)
23876 Champe Ford Road (Winery/Offices)
Middleburg, VA 20117

McCloud@ChrysalisWine.com
Office: 540-687-8222
www.ChrysalisWine.com
Facebook.com/ChrysalisVineyards