DECEMBER NEWSLETTER 2018
IN THIS NEWSLETTER...
VIP Pickup Party... at the ADC
Creative Mankind Painting and Wine
Report from the Tasting Room
Report from the Vineyard
Report from the Cellar
Report from the Farm
Report from the Creamery

Note from Jenni
---
3RD ANNUAL UGLY HOLIDAY SWEATER
& VIP PICKUP PARTY…
at the AG DISTRICT CENTER
Friday, December 7th
6:00 pm – 8:00 pm
at The Ag District
(RSVP REQUIRED)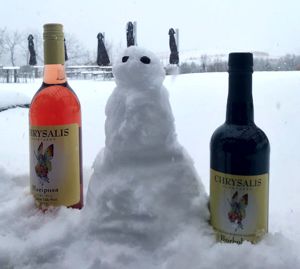 After a rather late and brief fall season, it seems that winter has set in. We've already had our first winter weather event at the Ag District and based on the number and fluffiness of the wooley caterpillars that have populated the farm this year I think we are in for a lot more snow this year! But never fear, The Ag District rarely closes due to inclement weather. Eric and his crew will do their best to make sure our road is cleared. And our tasting room staff is ready to welcome you in out of the cold and get you warmed up with your favorite Chrysalis Vineyards wine!
Our VIP pickup event this month will be our 3rd Annual Ugly Holiday Sweater party, so pull out your tackiest holiday garb and join in the fun! PLEASE NOTE THE DATE AND TIME and mark you calendars for FRIDAY, DECEMBER 7th from 6:00pm - 8:00pm. We planned a Friday event this month to avoid conflicts with all the holiday parties this month.
Our fall and winter hours began on November 1st and we are open 10am - 5pm 7 days a week. The Ag District tasting room will be closed on Christmas Day and New Year's Day. Please remember… as always, our last full tasting will start an hour before closing. Last call for purchases of open bottles or glasses will be 30 minutes before closing!
The red wine selection for our VIP Club members this month is Chrysalis Vineyards 2016 Borboleta. Like last month's Norton Barrel Select, Borboleta is one of the five 100% Norton wines produced by Chrysalis Vineyards. Made in the traditional method originating in the Douro Valley in Portugal, the grapes are fermented for a few days before distilled Norton spirits are added to stop the fermentation. The result is a deliciously sweet dessert wine wih aromas and flavors of stewed plums, figs, leather, and a touch of vanilla. Borboleta paired with a big slice of Chocolate Bourbon Pecan Pie would be the perfect ending for a holiday meal.
Our white wine selection for December is Chrysalis Vineyards 2017 Mariposa. Mariposa is a rose-style blend of Tannat, Petit Verdot, and Nebbiolo with a touch of Norton. It is fermented cold to retain as much of the aromatics as possible. The imbiber is immediately greeted with a nose redolent in fresh, ripe strawberry, watermelon, dark cherry and maybe a touch of sage. An initial surge of sweet strawberry and dark cherry is quickly tempered by the refreshing acidity that follows. Serve Mariposa with a holiday dessert of pomegranate poached pears for a festive treat!
As a reminder to our members, all VIP wine is available for pickup at the Ag District Center tasting room anytime during regular business hours. If you can't make it out to pick up your wines on a monthly basis, we will hold them for you. Due to storage limitations, however, we do ask that you pick them up once you accumulate a case (6 months). We can also arrange for wine to be shipped to most locations, at your request.
Also, please remember that you can always find your paired recipes and detailed tasting notes at www.ChrysalisWine.com in the Private VIP Club Area. Also check in with us or follow us on Facebook for updates and announcements.
NOTE: Please do not reply to this emailed Newsletter. Your email will not be handled in a timely manner or may even be lost.
---
Chrysalis Vineyards New Website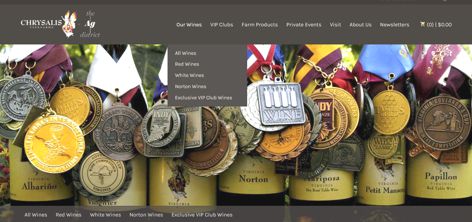 Please Visit Our New Web Site at www.ChrysalisWine.com !
The Chrysalis Vineyards web site is new and improved! We've added pictures, more information about our wines, and detailed info on how to become a VIP Club member. VIP members can create a website account that allows them to acess the VIP area, puchase exclusive VIP club wines, view their purchase history, and edit their account information. For instructions about creating an account Click Here .
Should you be unable to visit us at the winery, we've also added an easy ordering option. Please visit http://www.ChrysalisWine.com/Our-Wines to place your order today.
We're adding new pictures and content all the time - so be sure to become a frequent visitor!
If you have suggestions about content or questions about the site, please contact us at Info@ChrysalisWines.com.
---
Creative Mankind Painting and Wine
Saturday, December 15th
1 pm – 4 pm
at the
Ag District Center
39025 John Mosby Highway
Middleburg, VA 20117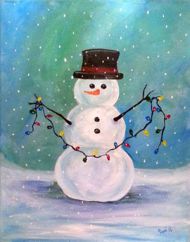 Creative Mankind will be hosting a "paint and sip" event at Chrysalis Vineyards on Saturday, December 15th. (From their website: Creative Mankind is an art company that offers art classes and hosts parties and events for all ages. Our motto is "Everyone is a Creative Genius!" It's just a matter of people reconnecting with their creative self. Our mission is to enrich our community with art education and culture in a fun and accessible way.)
So... come one out, enjoy the fall views, and spend a fun afternoon laughing, listening to music, creating your own masterpiece, and sipping your favorite Chrysalis Vineyards wine! This 3 hour event is just $40 and includes all art supplies, an awesome staff, and a lot of fun. No experience is necessary. For additional information please contact Creative Mankind at 571-403-1912 or go to their website listed below. [Editor's Note: cut and paste this long link if it doesn't activate by clicking on it. Thanks.].
https://sites.cimplebox.com/events/registration.aspx?s=5329&c=3146&eid=442984&r=0.0945908
---
REPORT FROM THE TASTING ROOM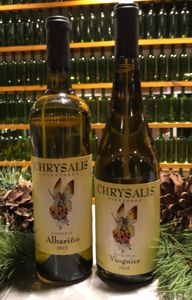 The holiday season has arrived! Here in the tasting room we will be filling lots of orders between now and the New Year. But this year will be a bit different thanks to our brand new updated website! Now you can order your favorite Chrysalis Vineyards wine from anywhere to be shipped to your favorite people or maybe treat yourself and order some of our favorites to enjoy at home. It's simple to do and we will have it shipped to your location in no time!
A few of our staff's FAVORITE THINGS this year are our big assertive 2008 Cellar Reserve Tannat, the beautifully balanced 2015 Norton Barrel Select and of course our elegant 2016 Norton Locksley Reserve. If you are looking for a whimsical treat for the wine lovers in your life may we also suggest the 2017 Snobby Bitch White Sangria and our 2016 Norton Schitz and Giggels. Whatever you decide to gift this year we promise the wine lovers in your life will love receiving a package from us!
Don't forget to get some of that holiday shopping done with a stop at the Ag District! We will have case sales on selected wines (25% off for VIP Club members and 20% off for non-members) and our farm products make great gifts for your host at holiday get togethers!
Happy Holidays fron your Tasting Room Staff!
Laurie Stevens, Tasting Room Manager
---
REPORT FROM THE VINEYARD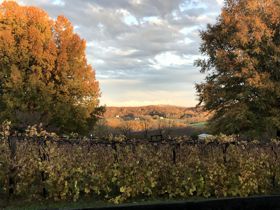 Well, harvest is officially completed, and I could not be any happier about that. This year I have seen the worst conditions for optimal grape growth in over 18 years in this business. It seemed that it never stopped raining from early May until the final two weeks of October, at which point it wasn't much help, but we got through it. And it wasn't all a wash. We did get some decent Norton, so there is definitely an advantage to having extensive plantings of a grape bred for this area. Our Albariño and Viognier also show some promise, albeit it reduced quantities.
But that's enough about this growing season. Overall I'd rather forget it. At this time of year we are busy in the vineyards cleaning up, repairing trellis and posts, and beginning to lay down some soil amendments to help replenish depleted nutrients. Mainly nitrogen in the fall, with the optimum time for potassium, magnesium and many other of the building blocks for future vine and fruit development (and, indeed, for our own development) being a pre-budbreak application in late March or early April. So we are currently spreading compost and other nitrogen-rich fertilizers under the vines, with a second application coming in the spring, as well as a fairly heavy dose of dolomitic limestone. Soils in the East tend to skew towards acidic, and become even more so after several years of fertilizer applications, so it becomes necessary to raise the pH of the vineyard to around 6.5 for optimal nutrient uptake using lime. AgLime, which is pulverized limestone (chalk), is the most common soil amendment you will find in most garden stores and it does a very good job of raising soil pH and adding calcium back to the soil. We are actually using a similar type of limestone-dolomitic-which will also raise soil pH and calcium levels, but has the added benefit of introducing magnesium back to the soil, which is an essential nutrient in the chlorophyll molecules that are responsible for turning sunlight into sugars (and, ergo, wine!). And we conveniently have a dolomitic limestone quarry near Winchester. Luvly jubbly!
Mark Patterson, Winemaker
---
REPORT FROM THE CELLAR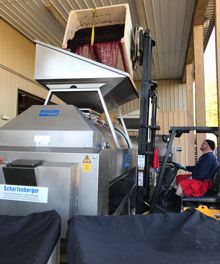 As difficult as it was in the vineyards this year, the difficulties also found their way into the cellar. We were sometimes required to bring in less than optimal fruit this year with low sugars, high acids, and sometimes issues with rot that required careful handling, and modified vinification practices that will continue through to bottling. Volumes were also down somewhat this year because of poor fruitset initially, and the need to hold some grapes on the vines longer in order to eke out a little bit more sugar and bring the acids a bit more. This invariably leads to more raccoons, more deer, and more bird predation, with wild turkeys also especially abundant this year. We do have a youthful bald eagle at Locksley at the moment though.
As difficult as the year has been, neither have we wrapped everything up for the season, nor are all fermentations complete. Malolactic fermentations, which I've discussed in the past, are ongoing, and we are still lees-stirring (bâtonnage) our barrel-fermented Albariño and Viognier on a regular basis to extract the richness and creaminess that comes with yeast autolysis. Good times are still to come!
Mark Patterson, Winemaker
---
REPORT FROM THE FARM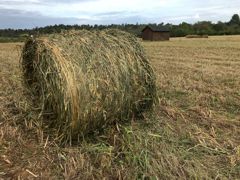 Howdy! --
Harvest is over, hay is cut and stored, and our winter annual crops are in the ground! Whew. What a busy growing season. Other than hunkering down and keeping cows milked and fed, winter is the time of year when deferred maintenance and infrastructure improvement is addressed. Some sage wisdom once came my way (from Jenni) by describing this ebb and flow of priorities as a "cope and organize" cycle. Actually, it fits the agricultural business model pretty well- one hustles about 8-9 months out of the year, then spends the other few months just getting ready to do it again. Taking time to step back and reevaluate methods and materials to see if there are more effective ways of doing things is super important. We have made a lot of progress this year together and will be set to raise our standards and goals again next year. Those of you interested in what's going on with the plants, animals, and people behind what we offer in the tasting room and beyond, get in touch - we want to share the beauty of our farm and the story of where your food comes from! As always, many thanks for your continued support and shared enthusiasm for what we are doing.
Happy Holidays and the best New Year to you!
Eric Hilgartner, Estate Manager
---
REPORT FROM THE CREAMERY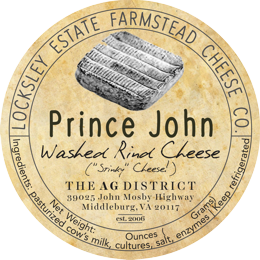 This month, we are excited to announce we have released our washed rind "stinky" cheese, Prince John! This cheese has a soft and silky texture with a mild, meaty, savory flavor. Hints of fruit and nuts with pungent stinky, barnyard aroma can be sensed. So what exactly is a washed rind and why does it smell so bad, like Estate Manager Eric's stinky socks and boots from the farm? A washed rind cheese is one that is washed by hand in a brine (saltwater) solution to inhibit mold growth and encourage growth of a specific bacteria called brevibacterium linens (commonly referred to as B. Linens) which thrive in this briney environment and result in a tacky, orange, smelly rind. A sulphur compound called Methanethiol produced by B. Linens is the molecule largely responsible for the pungent, stinky aroma. Needless to say, this stinky cheese lives up to it's antagonistic (or "bad guy") name, Prince John! Be sure to entertain your guests this holiday season by stopping by the Ag District Center and picking up some of our farmstead cheeses Nottingham, Friar Tuck, Maid Marian and Prince John. Happy Holidays!
Erin Saacke, Assistant Cheesemaker
---
Note from Jenni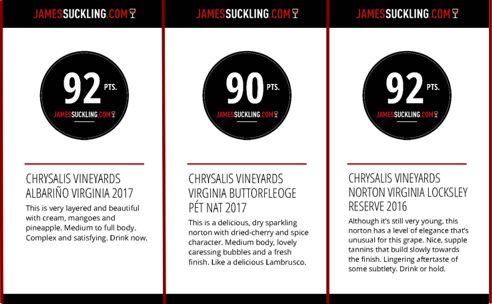 UPDATE ON JAMES SUCKLING TASTING
Last month I told you about very special visitors to The Ag District… James Suckling and his top-flight crew of world-renowned wine palates. Well, we got the scores, and as I predicted, we did GREAT!!!
I'm most proud of the varieties we grow here at Locksley Estate and Hollin Farm that I think stand on the world stage as some of the best made anywhere in the world. Our Albariño, Viognier, Papillon and Locksley Reserve Norton all scored 92 points or above. In fact (and I'm very proud to tell you), the average score of our 17 Locksley Reserve Nortons assessed by Mr. Suckling was 91 points. Wow! Every one of them, going back to our first vintage of Locksley Reserve in 2000 are eminently drinkable still, with years more of pleasurable enjoyment. So, pick up a case or two of Locksley Reserve Norton and put them away. You'll be greatly rewarded for your patience.
I could go on, but I think the photo above says it all. Pour the wines! They speak for themselves.
Have a very happy and healthy holiday season. And enjoy a little of our holiday cheer by visiting us here at The Ag District this December.

Jennifer McCloud
Chrysalis Vineyards at The Ag District
39025 John Mosby Highway (Tasting Room)
23876 Champe Ford Road (Winery/Offices)
Middleburg, VA 20117

McCloud@ChrysalisWine.com
Office: 540-687-8222
www.ChrysalisWine.com
Facebook.com/ChrysalisVineyards