OCTOBER NEWSLETTER 2018
IN THIS NEWSLETTER...
VIP Pickup Party... at the ADC
First Friday Art Walk
Creative Mankind Painting and Wine
Yin in the Vin
Report from the Tasting Room
Report from the Vineyard
Report from the Cellar
Report from the Farm

Note from Jenni
---
VIP PICKUP PARTY…
at the AG DISTRICT CENTER
Saturday, October 27th
7:00 pm – 9:00 pm
at The Ag District
(RSVP REQUIRED)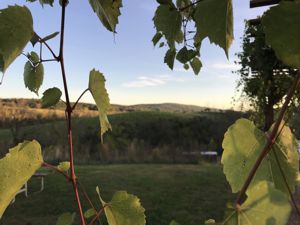 These last few days of September have finally brought a reprieve from the summer heat and the first signs that fall is here. The cooler temperatures and the changing color of the leaves that mark this time of year always draw people out to the Ag District. Maybe it's the unbeatable experience of sipping a glass of wine and nibbling on some Locksley Farmstead cheese in the crisp fall air or maybe it's the desire to get outside a few more times before winter sets in... either way, October is the busiest month of the year at the Ag District. So, check out all of the activities that we have planned for the month and block off a few dates on your calendar to spend at the Ag District!
Our VIP Pickup Party this month will be held on October 27th from 7:00 pm until 9:00 pm and will have a Halloween theme! Get creative and come dressed to impress -- there will be a prize for the best costume! This event is FREE for our members (2 attendees per membership), but does REQUIRE advance RSVP no later than October 24th. To RSVP please send an email to VIP-Club@ChrysalisWine.com. Verbal RSVP's and voice mail responses cannot be guaranteed confirmation. Mark your calendar now so you don't miss a night of spooktacular fun!
Don't forget.... we have live music at the Ag District Center every Saturday from 2:00-5:00 pm (October 6th, 13th, 15th, 20th and 27th). Chrysalis Vineyards wine and live music... no better way to spend a fall day!
Our spring and summer hours will continue through October 31st and we are open 10am - 6pm Monday through Thursday and 10am - 7pm Friday through Sunday. Our fall and winter hours will begin on November 1st and we will be open 10am - 5pm 7 days a week. Please remember… as always, our last full tasting will start an hour before closing. Last call for purchases of open bottles or glasses will be 30 minutes before closing!
The red wine selection for our VIP Club members this month is Chrysalis Vineyards 2015 Norton Estate Bottled. Norton Estate Bottled is Chrysalis' largest bottling of Norton and our traditional introduction to Norton as a variety. Smooth and rich, this aromatic wine exhibits the classically unique and fruit-forward character of Norton with notes of dark cherry, plum, raspberry, and dark chocolate with a touch of mint. The added Nebbiolo offers more red berry character and structure from the high tannins natural to the varietal. The wine finishes with an understated oak character with some vanilla and cocoa which mingle harmoniously with the overt fruit character of Norton and the fine tannins provided by the Nebbiolo and the Norton. Enjoy our Norton Estate Bottled with and entree of slow-cooked beef barbacoa for a perfect fall meal.
Our white wine selection for October is Chrysalis Vineyards 2017 Private Reserve White. Private Reserve White is Chrysalis Vineyards' creative approach to blending a limited quantity wine that is only available to our VIP Club Members. The wine presents fresh notes of apricot and honeysuckle, with some pronounced peach and pear notes also present. A touch of vanilla and spice comes through from the barrel routine, with overall experience being a well-integrated sensory mélange with no one note dominating. There would be no better way to start then to pair this wine with our own Locksley Estate Farmstead Cheese Company's selection of cheeses and some crusty bread. Follow this with some fried calamari and spicy marinara sauce for dipping. End your meal with a peach and apricot pie with some real vanilla bean ice cream.
As a reminder to our members, all VIP wine is available for pickup at the Ag District Center tasting room anytime during regular business hours. If you can't make it out to pick up your wines on a monthly basis, we will hold them for you. Due to storage limitations, however, we do ask that you pick them up once you accumulate a case (6 months). We can also arrange for wine to be shipped to most locations, at your request.
Also, please remember that you can always find your paired recipes and detailed tasting notes at www.ChrysalisWine.com in the Private VIP Club Area. Also check in with us or follow us on Facebook for updates and announcements.
NOTE: Please do not reply to this emailed Newsletter. Your email will not be handled in a timely manner or may even be lost.
---
Chrysalis Vineyards New Website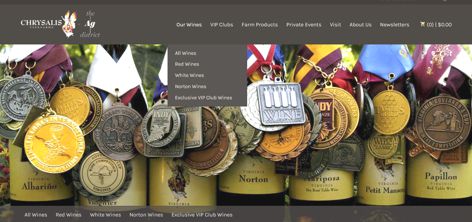 Please Visit Our New Web Site at www.ChrysalisWine.com !
The Chrysalis Vineyards web site is new and improved! We've added pictures, more information about our wines, and detailed info on how to become a VIP Club member. VIP members can create a website account that allows them to acess the VIP area, puchase exclusive VIP club wines, view their purchase history, and edit their account information. For instructions about creating an account Click Here .
Should you be unable to visit us at the winery, we've also added an easy ordering option. Please visit http://www.ChrysalisWine.com/Our-Wines to place your order today.
We're adding new pictures and content all the time - so be sure to become a frequent visitor!
If you have suggestions about content or questions about the site, please contact us at Info@ChrysalisWines.com.
---
First Friday
Friday, October 5th
6 pm – 9 pm
at the
Ag District Center
39025 John Mosby Highway
Middleburg, VA 20117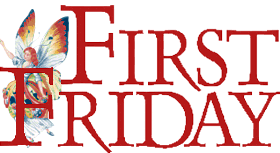 Have you been looking for that fun Friday activity? First Fridays will include gallery walks of local artists in the Northern Virginia area, and will occur every first Friday of the month. "First Fridays" started as events in 1987 that provided urban professionals an opportunity to socially network and share ideas on professional, educational, political and social issues. Since then, First Fridays have evolved into social meetups focused around the community and its artists, bringing together all walks of life. This month's First Friday event will be on October 6th, from 6pm-9pm. We will have local artists, live music and food and wine available for purchase, so grab some friends and come out to enjoy an evening of great wine while supporting our local artists.
---
Creative Mankind Painting and Wine
Saturday, October 20th
1 pm – 4 pm
at the
Ag District Center
39025 John Mosby Highway
Middleburg, VA 20117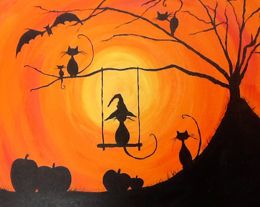 Creative Mankind will be hosting a "paint and sip" event at Chrysalis Vineyards on Saturday, October 20th. (From their website: Creative Mankind is an art company that offers art classes and hosts parties and events for all ages. Our motto is "Everyone is a Creative Genius!" It's just a matter of people reconnecting with their creative self. Our mission is to enrich our community with art education and culture in a fun and accessible way.)
So... come one out, enjoy the fall views, and spend a fun afternoon laughing, listening to music, creating your own masterpiece, and sipping your favorite Chrysalis Vineyards wine! This 3 hour event is just $40 and includes all art supplies, an awesome staff, and a lot of fun. No experience is necessary. For additional information please contact Creative Mankind at 571-403-1912 or go to their website listed below. [Editor's Note: cut and paste this long link if it doesn't activate by clicking on it. Thanks.].
https://sites.cimplebox.com/events/registration.aspx?s=5329&c=3146&eid=411075&r=0.5688816
---
Yin in the Vin
Friday, October 26th
6 pm – 7 pm
at the
Ag District Center
39025 John Mosby Highway
Middleburg, VA 20117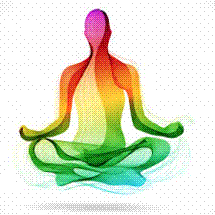 Chris Oemler, E-RYT 500 (an impressive certifiction that requires 500 hours of yoga instructor training and 2,000 of teaching) will be joining us at the Ag District Center on Friday, October 26th at 6pm for a FREE yoga practice - "Yin in the Vin". Chris will lead us in stretching and meditation practices that will be sure to sooth you soul and if that doesn't work you can always try the tried and true method - have a glass of wine! So come on out for some yoga and stay for the views as we unwind! The tasting room will stay open an extra hour (until 8pm) for those who would like to relax with a glass of your favorite Chrysalis Vineyards wine.
Bring your mat and experience this awesome practice stretching and relaxing in the beautiful countryside (no previous experience necessary).
---
REPORT FROM THE TASTING ROOM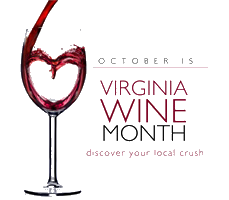 As we welcome the first few changing colors on the trees at The Ag District we also welcome Virginia Wine Month.
This year marks the 30th Anniversary of October being declared Virginia Wine Month. Did you know that Virginia Wine Month is the oldest wine month in the country? It began in 1988 as a way to support the state's young wine business – with just 40 wineries at the time – and promote travel to Virginia wine country. Today, Virginia ranks fifth in the number of wineries in the nation with more than 280 wineries and over 410 vineyards. We are so proud to be part of this amazing community and watch it continue to grow.
In honor of this special occasion we will be celebrating all month in our Tasting Room at The Ag. District. Come visit us for an afternoon and enjoy our beautiful views as we begin to reach the peak of fall foliage. Grab a bottle of your favorite Chrysalis wine and some delicious Locksley Farmstead Cheese (made fresh in our very own creamery), sit back, enjoy the views, and celebrate Virginia Wine with us.
Cheers!
Laurie Stevens, Tasting Room Manager
---
REPORT FROM THE VINEYARD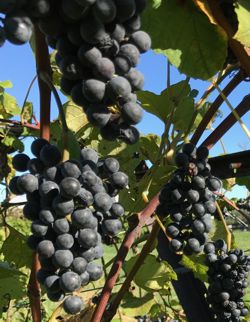 Okay, I've had enough! As I sit here writing this it is, once again, raining. With more rain in the forecast for tonight and tomorrow. It's definitely been one of the wettest growing seasons in years, with only a couple of minor dry spells since April. I had some worries that after how little precipitation we got all winter that we may have some issues with drought, as the water table was likely pretty low by the time April came around. Well, those worries have proven to be unfounded! The Albariño and Viognier have been picked and, although yields have definitely been impacted, they were in relatively good shape. As for our Red grapes? Well, it's a good thing our primary focus is on Norton, which continues to hang nicely on the vines, even with all this wet weather. That's not to say that it hasn't experienced some challenges. Even this hardy variety has had some misgivings about staying out in the rain and fog again, but at least it hasn't packed up and left like I hear red grapes have at many other vineyards in the region. You will likely find a lot of rosé around come spring and summer next year, so if you're a fan, and I am, that may be something to look forward to. For the red wine lovers there may be a dearth of excellent choices coming out of the 2017 vintage, but I'm sure we'll still find a few. I still have hopes for my Petit Verdot if it dries out for a few weeks..
Mark Patterson, Winemaker
---
REPORT FROM THE CELLAR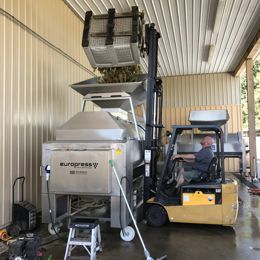 We currently have a fairly healthy volume of future Albariño Verde bubbling away in the cellar. The wet weather has, and will, definitely impact several of our wines in 2018, but the very nature of Verde makes it less affected than others. Picking early definitely has its rewards in a wet year. We also have lesser volumes of what will become our other white wines making noise in the cellar. Albariño is currently showing less pronounced peach than in previous years, but I'm sure I can coax a bit more out of it before it's ready for release. The Viognier may come in with more subdued peach and orange blossoms, but it is currently showing hints of citrus, honeysuckle, white flowers, and a pleasant spicy note which may or may not remain after fermentation is complete. Red grapes for Mariposa will be picked shortly and, although they are slightly shy in sugar, I do anticipate that a pleasant rosé will be cajoled from them for release next spring. After that we will start prepping for the arrival of whatever grapes may survive tonight's onslaught of rain. Oh joy!
Mark Patterson, Winemaker
---
REPORT FROM THE FARM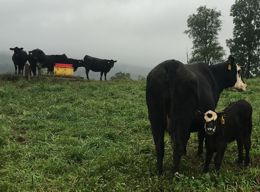 Hi Friends ! --
We are officially in the thick of calving season! This year marks our first calf crop specifically selected for the steak connoisseurs among us. Other than beef quality, the genetics of these animals brings us more predictable birth weights and growth, docility, moderate frames, and greater efficiency on pasture. In fact, we have yet to feed grain to our cow herd and reserve supplementation only for the more energy demanding dairy cows and for steers destined to our plates. Having come from more demanding and rugged environments like South Dakota, living in Virginia is a relative day spa for these cattle. With plenty of water, good grass, sunshine (in most years) and low stress handling and management, not only do our cows have a good life, but our beef quality stands to be top-notch. Check in this winter for your favorite cuts from our local, hormone free, antibiotic free, pasture raised beef.
Eric Hilgartner, Estate Manager
---
Note from Jenni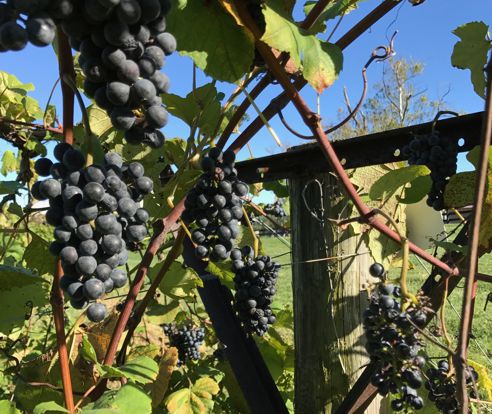 This year has been one of the wettest and toughest years we've seen at Chrysalis Vineyards, and that means 20 years of growing grapes. We started our plantings here at Locksley Estate in 1998 with a bunch of the Spanish grapes I love, but also Norton. In fact, that was our largest planting in that first year (and the second year… and so on. In case you didn't know, we have the largest planting of Norton in the world). And this year illustrates exactly why it's so well-suited to Virginia!
Norton is ours… Virginia's own great red grape, acclaimed around the world in the mid/late 1800s. And it happens to be the most disease resistant grape grown for any kind of commercial grape cultivation in the world, whether grown for wine, table fruit or raisins. Not one of… the most disease resistant grapevine. That's why I wanted to help restore this great native gem to its former glory, and that's what makes it perfect for Virginia. And, boy, did this season prove that!
So, share a bottle of Norton this Virginia Wine Month, and tip a glass with your friends and family while you offer up a toast to Dr. Daniel Norton for his great contribution to the world of fine red wines.
Here, here!!!

Jennifer McCloud
Chrysalis Vineyards at The Ag District
39025 John Mosby Highway (Tasting Room)
23876 Champe Ford Road (Winery/Offices)
Middleburg, VA 20117

McCloud@ChrysalisWine.com
Office: 540-687-8222
www.ChrysalisWine.com
Facebook.com/ChrysalisVineyards